Phuket Sports: Tyres, teams and tracks – F1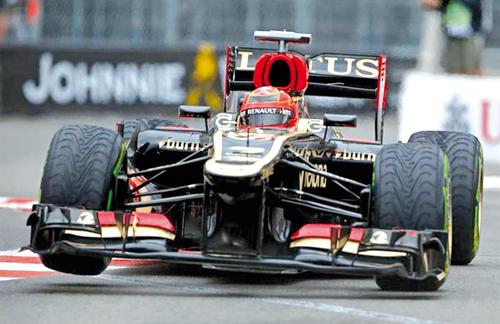 PHUKET: We are seven races down in a nineteen race season. It is a good time to reflect.
Pirelli succumbed to pressure and ran Montreal on intermediates instead of softs on a surface as smooth as a worm's belly. That proved what we all knew; with tyres that do not degrade on a smooth dry track, the fastest car will win. In good conditions, Christian Horner, Sebastian Vettel and Mark Webber are all good enough to keep Newey's great car on track to win. But therein is the problem. TV coverage in Montreal ignored Vettel, because starting first, racing away, and finishing first is dreary. Happily, there were great dogfights down the order, which maintained my will to live.
My Montreal "Man of the Match" was Fernando Alonso, who qualified sixth and finished second, going ahead of Kimi Räikkönen in the Championship. This year's Ferrari is a step up from 2012's, but still cannot qualify well. Ferrari probably cannot reduce the technical gap to Red Bull this year, so the team's fate rests on Alonso's astonishing skill and resolve. Felipe Massa is struggling, with just one podium finish so far.
Similarly, Lotus struggles to qualify, but also races well thanks to good tyre management and a great driver. The car looked bad in the wet Montreal qualifying and little better in the dry race. It seems Lotus has not managed its upgrades as well as Ferarri, and without improvements, I fear they will lose Kimi. They just lost Technical Director James Allison. Allison drove the Lotus vision, and it's hard to find a replacement of his calibre with their budget. But they are promising more for Silverstone; I'm looking forward to it.
Lewis Hamilton drove a blinder in Montreal, qualifying second and finishing third. His body language, however, still showed a man in a dark place. It could have been the rumbling Tyre Wars episode in Spain but that was Ross Brawn's problem. Or it could be Lewis' own issues. But he has certainly shown that on a glossy dry track even a Mercedes can manage its rear tyres. The FIA met on June 20 to hear the "Tyregate" case, and duly delivered Mercedes a minor slap. So all is back to normal.
McLaren is starting to look like a great aristocratic family fallen on hard times. McLaren is sixth in the constructors' championship, with the budget for a top three team. That cannot be sustained, so they are looking down the end of a barrel, with a colossal shortfall in prize-money to make good unless they can do something. They have promised it for Silverstone. I would love it if I am wrong, and they can do it.
When Ron Dennis ran McLaren, there was a visionary at the helm, and from 1997 to 2006 they had Adrian Newey as their technical lead. McLaren was undone by the "Spygate" scandal in 2007 where, for many, Alonso covered himself in slime. Dennis handed over to Martin Whitmarsh as Team Principal in 2009, and he has yet to win a title. The McLaren increasingly looks like the proverbial camel built by a committee designing a horse. Even McLaren's public reactions are corporate, dull, bureaucratic and repetitive. If McLaren could get James Allison from Lotus, that could be an answer. But the clever money is on him joining Ferrari.
Force India will be pleased to have had two cars in the points at Montreal. It is now the leading team of the second division, and is pushing for promotion. The car is not on the pace, but is excellent on tyres – in Montreal Paul di Resta amazingly completed 56 competitive laps on one set of mediums. Williams, which must have hoped for a point when Valtteri Bottas qualified third, ended with nothing. Williams is another grand old team wandering in the wilderness.
Pirelli announced that their tyres will remain unchanged. Teams failed unanimously to accept the prototype tested in Canada, so "The tyre construction will remain unchanged, contrary to Pirelli's initial plans", said the Italian manufacturer.
But Pirelli also announced the tyres for the next three races; harder compounds than last year. Silverstone and Hungaroring get the two hardest compounds in the range; Nurburgring gets soft and mediums. Lotus has already criticized the exceptionally conservative choice, which favors Red Bull and Mercedes. The sound of Pirelli crumbling under pressure is starting to mimic thunder.
Red Bull looks formidable and, having gained from "tyre wars", I fear a return to the dark Schumacher days. And I am not the only one. The mind-numbing Vettel Factor has affected Silverstone, where tickets are not sold out. Fans are voting with their feet.
Given the tyre choices, I dread seeing nothing but Vettel's exhaust pipe for the next three races. The podium in Silverstone looks like being Vettel, Alonso, and Hamilton or Räikkönen. Let's hope I am mistaken. Silverstone is a classic track, the home track for so many teams, and one of the fastest circuits in F1, and there is always the possibility of rain. Let's hope for an upset! And look for something from Force India.
Join me at the Green Man to watch the race on the big screen on Sunday at 7pm. Qualifying rounds are at the same time on Saturday (click here for map).
Keep checking our online Phuket Sports pages, join our Facebook fan page or follow us on Twitter for the latest local, national and international sporting news.
— The Digby
Phuket News

Join the conversation and have your say on Thailand news published on The Thaiger.
Thaiger Talk is our new Thaiger Community where you can join the discussion on everything happening in Thailand right now.
Please note that articles are not posted to the forum instantly and can take up to 20 min before being visible. Click for more information and the Thaiger Talk Guidelines.