Phuket Gazette World News: Egypt tensions rise, one American killed; Snowden tips US return; Vatican cleric arrested for money laundering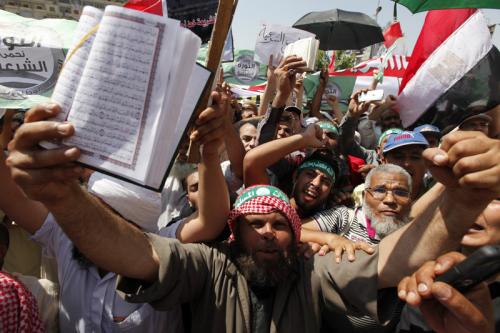 PHUKET MEDIA WATCH
– World news compiled by Gazette editors for Phuket's international community
Egypt cleric warns of civil war, American among protest dead
Reuters / Phuket Gazette
PHUKET: Two people, one an American, were killed when protesters stormed an office of Egypt's ruling Muslim Brotherhood in Alexandria, adding to growing tension ahead of mass rallies aimed at unseating the Islamist president.
A third man was killed and 10 injured in an explosion during a protest in Port Said, at the mouth of the Suez Canal. Police on Saturday said the cause was unclear but protesters, believing it was a bomb, attacked an Islamist party office in the city.
Egypt's leading religious authority warned of "civil war" after violence in the past week that had already left several dead and hundreds injured. They backed President Mohamed Mursi's offer to talk to opposition groups ahead of Sunday's protests.
The United Nations, European Union and United States have appealed for restraint and urged Egypt's deadlocked political leaders to step back from a confrontation threatening the new democracy that emerged from the Arab Spring revolution of 2011.
The U.S. embassy said in a statement it was evacuating non-essential staff and family members and renewed a warning to Americans not to travel to Egypt unless they had to.
The Muslim Brotherhood said eight of its offices had been attacked on Friday, including the one in Alexandria. Officials said more than 70 people had been injured in the clashes in the city. One was shot dead and a young American man who was using a small camera died after being stabbed in the chest.
A Brotherhood member was also killed overnight in an attack on a party office at Zagazig, in the heavily populated Nile Delta, where much of the recent violence has been concentrated. Mursi's movement said five supporters in all had died this week.
"Vigilance is required to ensure we do not slide into civil war," said clerics at Cairo's ancient Al-Azhar institute, one of the most influential centres of scholarship in the Muslim world.
In a statement broadly supportive of Mursi, they backed his offer of dialogue and blamed "criminal gangs" who besieged mosques for the violence. The Brotherhood warned of "dire consequences" and "a violent spiral of anarchy".
It accused liberal leaders, including former U.N. diplomat Mohamed ElBaradei, of personally inciting violence by hired "thugs" once loyal to ousted dictator Hosni Mubarak.
Opposition leaders condemned the violence. The army, which has warned it could intervene if political leaders lose control, issued a statement saying it had deployed across the country to protect citizens and installations of national importance.
In the capital, Cairo, tens of thousands turned out for rival events some miles apart and there was little trouble. An Islamist rally included calls to reconciliation. On Tahrir Square, cradle of the uprising against Mubarak, there was a festive atmosphere and a determination to shake Mursi on Sunday.
In Alexandria, as several thousand anti-Mursi protesters marched along the seafront, a Reuters reporter saw about a dozen men throw rocks at guards outside the Brotherhood office. They responded. Bricks and bottles flew. Guns were fired.
Officials said dozens were wounded by birdshot. The party office was ransacked and documents were burned, watched by jubilant youths chanting against Egypt's Islamist leaders.
In Port Said, a bastion of anti-Islamist sentiment, police had suspected an accident but later said a device exploded among protesters. Canal traffic has not been affected by violence.
Cairo calm
Islamists gathered round a Cairo mosque after weekly prayers to show support for Mursi. His opponents hope millions will turn out on Sunday to demand he step down, a year to the day after he was sworn in as Egypt's first freely chosen leader.
Mursi, backed by the Brotherhood, has dismissed such demands as an assault on democracy, setting up an angry confrontation.
"I came to support the legitimate order," said Ahmed al-Maghrabi, 37, a shopkeeper from the Nile Delta city of Mansoura whose hand bore grazes from street fighting there this week. "I am with the elected president. He needs to see out his term."
Some speakers reflected fear and anger among Islamists that opponents aim to suppress them as Mubarak did. But there was also talk from the podium of the need for dialogue – a concern also of international powers worried by the bitter polarisation.
A few hundred opposition protesters gathered outside the presidential palace, a focus for Sunday's rally. Mursi has moved elsewhere. Thousands turned out after dark in Tahrir Square, waving national flags and sampling street food.
Abdelhamid Nada, a 32-year-old accountant, had come from the provinces with eight friends to camp out "until Mursi goes". "The Muslim Brotherhood has no plan at all," he said, standing by his white tent. "They don't have any economic plan, they don't have any social plan, they don't have any political plan."
Strategic importance
The army, which heeded mass protests in early 2011 to push Mubarak aside, has warned it will intervene again if there is violence, and to defend the "will of the people". Both sides believe that means the military may support their positions.
The United States, which funds Egypt's army as it did under Mubarak, has urged compromise and respect for election results. Egypt's 84 million people, control of Suez and its peace treaty with Israel all contribute to its global strategic importance.
U.N. chief Ban Ki-moon urged Egyptians to respect "universal principles of peaceful dialogue". European Union foreign policy chief Catherine Ashton called for peaceful protests, building trust and a "spirit of dialogue and tolerance".
In Alexandria, opposition marchers said they feared the Brotherhood was usurping the revolution to entrench its power and Islamic law. Others had economic grievances, among them huge lines for fuel caused by supply problems and panic buying.
"I've nothing to do with politics, but with the state we're in now, even a stone would cry out," said 42-year-old accountant Mohamed Abdel Latif. "There are no services, we can't find diesel or gasoline. We elected Mursi, but this is enough.
"Let him make way for someone else who can fix it."
It is hard to gauge how many may turn out on Sunday, but even those sympathetic to Islamic ideas are frustrated by the economic slump and many blame the government.
Previous protest movements since the fall of Mubarak have failed to gather momentum, however, among a population anxious for stability and fearful of further economic hardship.
Snowden needs legal guarantees to return to U.S., father says
Reuters / Phuket Gazette
PHUKET: Former U.S. spy agency contractor Edward Snowden might voluntarily return to the United States if given assurances of his constitutional rights, his father said in a letter to Attorney General Eric Holder.
Lonnie Snowden was "reasonably confident" his son, who faces espionage charges in the United States for alleged leaking of secret surveillance information, would return if certain conditions were met, the June 27 letter said. It was written by a lawyer on Snowden's behalf, and was obtained by Reuters.
The younger Snowden, a former contractor for the National Security Agency, should
— Phuket Gazette Editors
Keep in contact with The Thaiger by following our Facebook page.
Never miss out on future posts by following The Thaiger.


Find more SE Asian News courtesy of The Thaiger.

Broke? Find employment in Southeast Asia with JobCute Thailand. Rich? Invest in real estate across Asia with FazWaz Property Group. Even book medical procedures worldwide with MyMediTravel, all powered by DB Ventures.

Covid-19 projected to reduce Americans' life expectancy – USC/Princeton study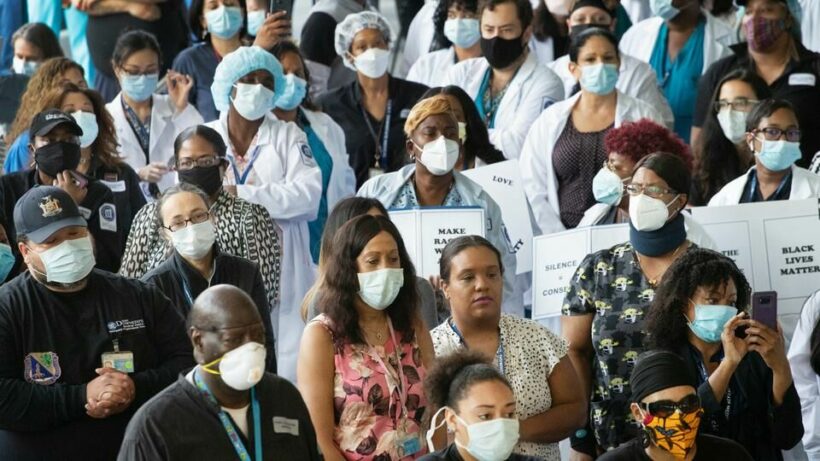 With Covid-19 linked to more than 336,000 deaths in the United States, American's life expectancy will decline, especially among black and latino people, according to researchers from the University of Southern California and Princeton University.
The study published in Proceedings of the National Academy of Sciences shows that life expectancy at birth for Americans will shorten by 1.13 years to 77.48 years, while blacks and latinos life expectancy is expected to shorten by more.
For blacks, their life expectancy would shorten by 2.10 years to 72.78 years, and for Latinos, by 3.05 years to 78.77 years. This is said to be the lowest life expectancy estimated since 2003. The disproportionate impact on the 3 groups of populations is believed to relate to social and economic advantages.
The study author Theresa Andrasfay, a postdoctoral fellow at the USC Leonard Davis School of Gerontology, says that why the study analyses the number of deaths and how it affects the life expectancy at birth, it also shows the consequences for marginalized groups.
"The Covid-19 pandemic's disproportionate effect on the life expectancy of Black and Latino Americans likely has to do with their greater exposure through their workplace or extended family contacts, in addition to receiving poorer health care, leading to more infections and worse outcomes."
The researchers say life expectancy is an important indicator of a population's health and a tool for examining the impact of COVID-19 on survival.
SOURCE: USA Today | University of South California
Keep in contact with The Thaiger by following our Facebook page.
Never miss out on future posts by following The Thaiger.
UPDATE: At least 34 dead and 600 injured after Indonesia earthquake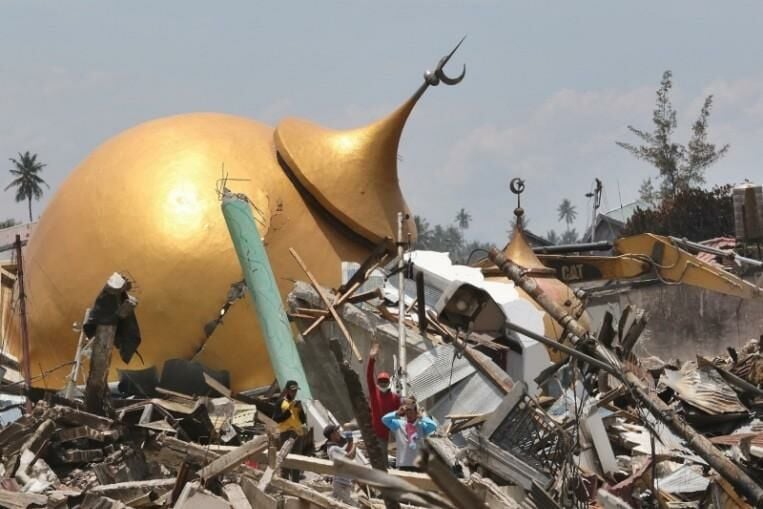 UPDATE: At least 34 people were killed after a 6.2 magnitude earthquake shook Indonesia's Sulawesi island just after midnight today. As of this evening, reports say more than 600 people were injured during the earthquake which caused buildings to collapse and residents to flee their homes in the dark.
Original story below…
Indonesian island Sulawesi was shook by a 6.2 magnitude earthquake shortly after midnight today, toppling over buildings and injuring hundreds. Reports are continuously being updated as rescuers search through rubble. As of early this afternoon, at least 10 people were killed.
Thousands evacuated their homes in West Sulawesi. The earthquake impacted the coastal city Majene where at least 3 people died and neighbouring Mamuju where at least 7 people died. Several buildings, including hotels, were severely damaged and many homes were flattened. A hospital was partially damaged and reports say more than a dozen patients and staff were trapped under the rubble. Others are trapped in rubble after their homes collapsed. A rescuer says "We are racing against time to rescue them."
Videos have been released of those crying for help. A father crying, calling out for help to save his children under their home's wreckage. In another, a girl's voice cried out from a collapsed home, saying "please help me, it hurts." The video was released by the National Disaster Mitigation Agency. Rescuers say they need an excavator to say the girl and other people who are trapped under the collapsed buildings.
The area was first hit by a 5.9 magnitude undersea quake on Thursday. It damaged several buildings, but no deaths were reported.
Since the most recent earthquake is inland, the district's disaster agency chief says it does not have the potential to cause a tsunami, but people in coastal areas ran to higher ground just to be safe.
The vast archipelago is located on the "Ring of Fire" of volcanoes and fault lines, prone to earthquakes, volcanic eruptions and tsunamis.
SOURCE: Associated Press
Catch up with the latest daily "Thailand News Today" here on The Thaiger.
Keep in contact with The Thaiger by following our Facebook page.
Never miss out on future posts by following The Thaiger.
US President Trump impeached for a second time, releases video | VIDEO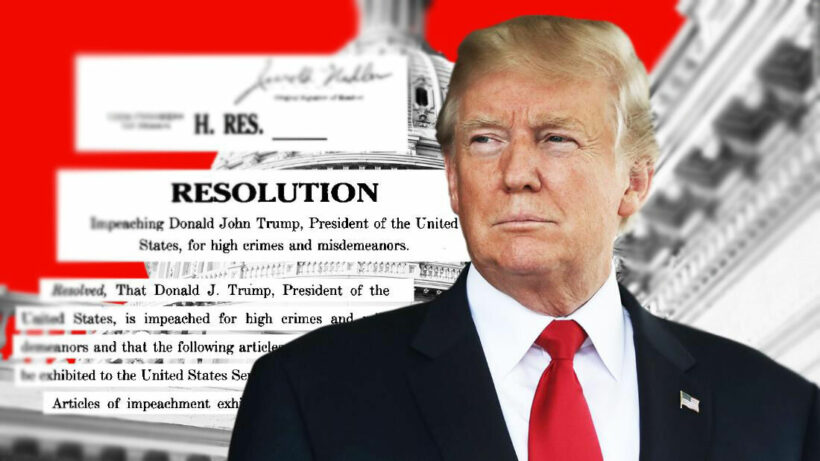 US President Donald Trump has been impeached for "incitement of insurrection" relating to last week's Capitol Hill insurgency. Armed National Guard troops guarded both the inside and outside the Capitol building following the riotous mob that invaded the hallowed halls of America's democracy, almost precisely one week before the impeachment vote.
Wednesday afternoon, Washington DC time, the US House of Representatives voted to impeach the President by 232 votes -197 votes. Donald Trump is the first president in the US to be impeached twice. Notably, 10 Republicans crossed the floor to vote with the Democrats to support the impeachment vote.
House Speaker Nancy Pelosi said ahead of the vote… "We know that the president of the United State incited this insurrection, this armed rebellion, against our common country. He must go. He is a clear and present danger to the nation that we all love."
President Trump will now face a formal trial in the US Senate. If convicted he will face being barred from holding executive office ever again. With less than a week to go before President-elect Joe Biden takes over as the next president, the Senate won't have time to reconvene. So the trial will be undertaken by a Senate controlled by the Democrats.
President Trump was defeated in the election on November 4, 2020, losing to to Democrat Joe Biden.
Shortly after the vote to impeach him President Trump released a video (below) calling on his followers to "remain peaceful". He also broadly mentioned his banning from Twitter, Facebook and YouTube, among other social media platforms, but didn't refer to the impeachment proceedings or show any contrition to his alleged role in inciting the rioters over the past 2 months since the presidential election.
"Violence and vandalism have no place in our country. No true supporter of mine would ever endorse political violence."
The President read the prepared speech in a calm tone and avoided his usual rancorous rhetoric.
The president was accused by the US Congress of inciting the storming of the Capitol with his January 6 speech to a huge rally of Trump supporters outside the White House. He urged his supporters to "fight like hell" against an election that he repeatedly told them had been "stolen", a similar message he had been falsely claiming since the election. His supporters then marched to the Capitol, broke into the building, forced lawmakers to suspend the certification of the Presidential election results and seek shelter. Five people died in the melee and many more were injured in the violent insurgency.
The impeachment charge is political, not criminal. The articles read that Mr Trump "repeatedly issued false statements asserting that the presidential election results were fraudulent and should not be accepted". It says the President then repeated these claims and "wilfully made statements to the crowd that encouraged and foreseeably resulted in lawless action at the Capitol", leading to the violence and loss of life.
Donald Trump now makes history as the first US president to be impeached twice. A year ago, the move was opposed by the Republican Party in the Senate. This time, a handful of conservatives backed the move. The falling out with some members of his own party and senior staff, and Senate majority leader Mitch McConnell's private support for the impeachment, is indicative of the President's declining influence in the fading light of his administration.
Mr McConnell said in a note to colleagues that he had not made a final decision on how he would vote in the forthcoming Senate debate. No US president has ever been removed from office through impeachment. Mr Trump was impeached by the House in 2019 but acquitted by the Senate. Same with Bill Clinton in 1998 and Andrew Johnson in 1868.
Keep in contact with The Thaiger by following our Facebook page.
Never miss out on future posts by following The Thaiger.