Phuket sports organizations make it to SPIA Asia finals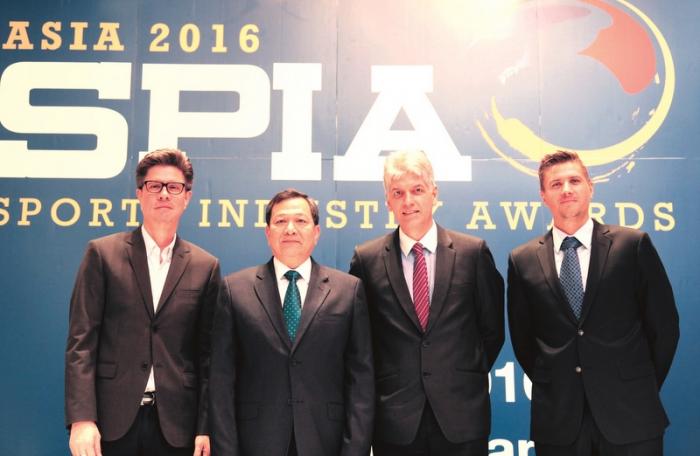 PHUKET: A handful of Phuket events and sports businesses have made the final shortlists of the 2016 Asian Sports Industry Awards (SPIA Asia) and will be competing against the best in Thailand and Asia for a prestigious SPIA award this year.
A total of 72 Thai entries made the final shortlist for SPIA Asia 2016 in a variety of categories, it was announced last week.
The awards are endorsed and supported by Thailand's Ministry of Tourism and Sports, the Sports Authority of Thailand, the Tourism Authority of Thailand and SPIA Asia.
The winners will be announced at the awards ceremony in Bangkok from October 3-4.
From Phuket, the Laguna Phuket Triathlon and the Phuket Rugby 10s were listed under 'Best Amateur Sports Event of The Year in Thailand'. The Laguna Phuket Marathon was recognized in the 'Best Mass Participation Event of the Year' and British International School Phuket was awarded a place in 'Best Sports Youth Academy of the Year in Thailand' category.
Several Thai organizations were listed in the 'Sports CSR Initiative of the Year' category. They were Human Run by Days Poet Company (Thailand); Kings Cup Elephant Polo by Chao Phaya Resort Limited (Thailand); and Care for Cancer Run by Anantara Siam Bangkok Hotel (Thailand).
The Senior Asian Wrestling Championships by the Thai Amateur Wrestling Association (Thailand) was listed in the 'Best Live Experience at a Professional Sporting Event'
Centara Grand, the Bangkok Convention Center and the Honda LPGA Thailand by Siam Country Club Pattaya were listed in the 'Best Hospitality, Recreation or Leisure Offering in Sports' category. The Youth Development by Thai Amateur Wrestling Association (Thailand) scored in the 'Best Sports Youth Program of the Year' category and Siam Inter Multimedia PCL (Thailand) was recognized as one of the 'Best Sports Organization of the Year'.
The National Olympic Committee (Thailand) made it into the 'Best Sports Marketing Campaign of The Year' for their feature 'Team Thailand – Millions for One', and Lab Bangkok made it into the 'Best Use of Social Media in Sport' category.
The Lab Bangkok also made it into the 'Best Sports Recreation Facility of the Year In Thailand' category, along with Centara Grand Bangkok & Convention Center; Royal Bangkok Sports Club; Siam Country Club Pattaya; The Green Cycle Track at Suvarnabhumi Airport; Muang Pattaya Sports Complex; and True Arena Hua Hin.
The Asian Sports Industry Awards series is the official celebration of business leaders, organizations, facilities and campaigns at the forefront of the sporting industry, that have made a contribution to the growth and development of sport across the Asian region over the past 12 months.
It was founded by MMC Sportz, a Dubai and Manila based sports advertising and communication agency, and Sport360, the leading daily sports content provider in the Middle East and North Africa.
Speaking at the announcement, Lt Col Ruj Saengudom, Deputy Governor for Professional Sports and Privileges, Sports Authority of Thailand, said, "Thailand has seen tremendous growth in the sports arena in recent years, both in terms of athletes' skills and the appearance of Thai athletes at international competitions all over the globe, including the Olympics and World Championships, and also in terms of our domestic facilities and sports industry.
"SPIA Asia is a great opportunity for Thailand's sports industry to gather with key players in international sports and showcase Thailand's talents and we hope to pick up a few of the prestigious awards which would be an additional catalyst and motivator for our local organizers and brands to encourage them to further invest into the local sports development.
"We are excited about hosting SPIA Asia 2016 from October 3-4 in Bangkok under the MOTS and SAT sanction and encourage our local sports community to participate and to reach out to the Asian Sports industry Community during the awards and the conference."
Sattahip drug addict arrested and jailed after threatening wife and children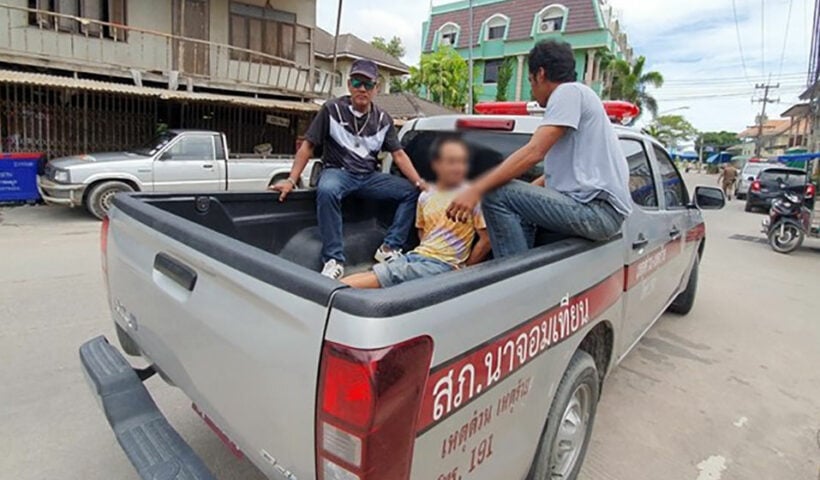 PHOTO: Pattaya Mail
Sattahip police have arrested a person with drug problems who allegedly threatened to kill his wife and two children. 39 year old Jarat Injom was found hiding in the bedroom of his Moo 4 village house where he had barricaded himself after 34 year old wife Sangwein Prasannet called police.
The wife told authorities she'd been married to Jarat for eight years and they had two children, aged 5 and 8. But for the past two years he has been addicted to crystal methamphetamine (ice).
She told police that he often acted crazy and aggressive but she had never sought help in the past. But today he threatened both her and her children with a knife, so she called police.
The man has been arrested and is currently in detention pending further legal proceedings.
SOURCE: Pattaya Mail
Indian and Pakistani rob foreigner on road trip to Pattaya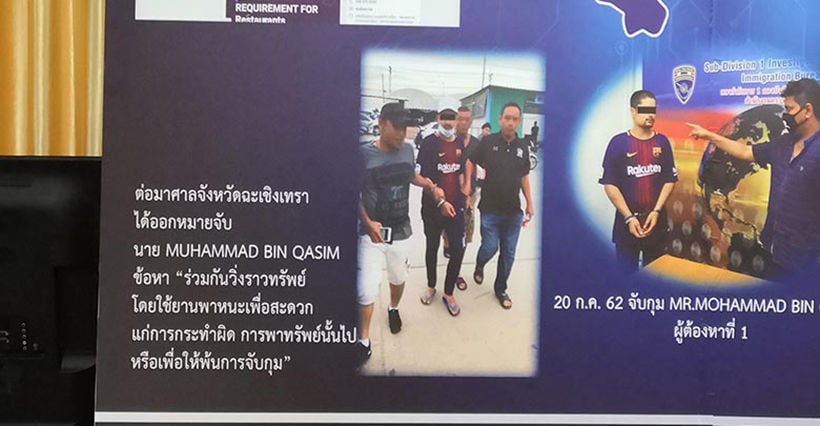 PHOTOS; INN News
The Immigration Police have arrested a pair of foreign criminals after robbing a fellow foreigner on a road trip to Pattaya from Bangkok. The two men made friendly contacts with their victims before arranging to meet and robbing them.
Mohammad, a man from Pakistan, and Kuldip, a man from India, have been charged with robbery. In this case the victim was another Indian who wanted to work in Thailand.
The traveller from India asked for help on a Facebook Page called Tesco Man Power PVT Ltd Thailand. This page aims to assist Indian citizens in Thailand and is a go-to blog for Indians working, retired or looking to work in Thailand.
The victim was contacted by the 2 suspects who made friendly overtures. After talking online for a while the man decided to travel to Thailand on June 25. The three met on Sukhumvit Road and agreed to travel together to Pattaya.
Things started turning sour during the road-trip. The suspects forced the victim to hand over his phone, and cash worth 100,000 baht. After they robbed him, they threw his luggage and passport out the car window before kicking him out of the car. The suspects then drove away leaving the man stranded in Nong Nan sub-district in Chachoengsao Province, basically the middle of nowhere.
Immigration Police contacted the Nong Nan Police to help investigate the case after the victim came in and reported what had happened to him. They eventually arrested Mohammad in a village in Samut Prakarn, south of Bangkok.
After arresting Mohammad, he told police more information that led to the arrest of Kuldip at a condo at Lad Krabang, Bangkok.
The pair will be prosecuted and deported back to their countries. Police suspect that the current victim wasn't their first victim falling for the same plan and ending up stranded somewhere between Bangkok and Pattaya.
SOURCE: INN News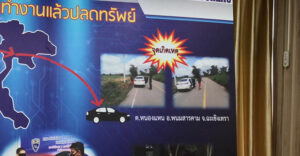 Pattaya bar owner arrested on human trafficking and prostitution charges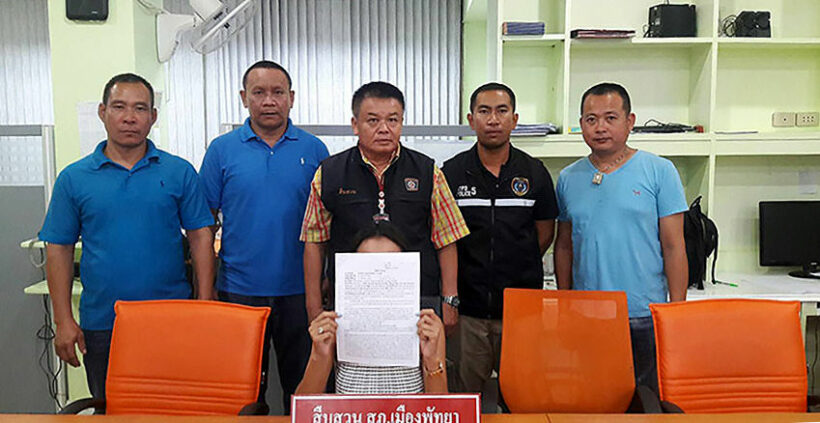 ORIGINAL PHOTO: INN News
A bar owner in Pattaya has been arrested on Saturday whilst on the run from police trying to arrest her over a string of human-trafficking and prostitution charges.
The Anti-Human Trafficking Division eventually arrested the 31 year old Pattaya bar owner, also known as 'Sudarat', 'Om Leelabut', and 'Nanthachai'.
Sudarat had an arrest warrant out in her name relating to human trafficking, seeking people persons to work as prostitutes, engaging underage persons between the ages of 15-18 to work work as prostitutes.
INN News reports that Sudarat also had charges waiting for her after owning a bar that "supports prostitution", including the sale of sexual services by persons over 15 years old but not exceeding 18 years old. In 2013 Sudarat and her foreign husband invested in a bar named "Sad Bar" which was providing prostitution services.
Police set up a sting by offering the "sale" of a person under 18 years old. But Sudarat evaded capture and continued hiding in the region. Sudarat was eventually arrested in a Chonburi restaurant and delivered to the Pattaya Police Station for formal charging.
SOURCE: INN News