Phuket food top of the tags on Instagram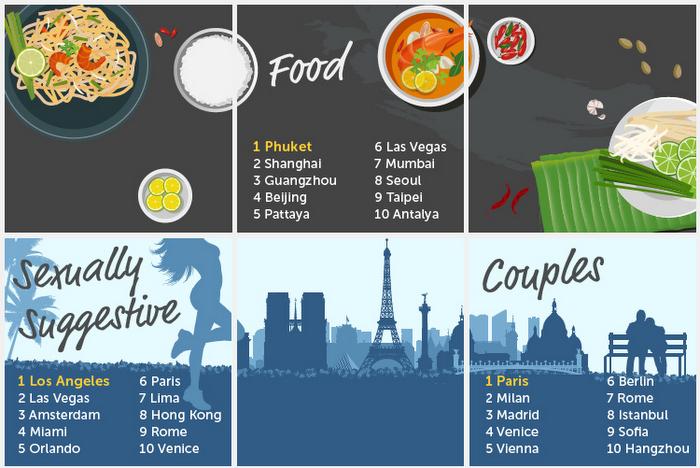 PHUKET: Though the sultans of Instagram selfies reign in London, it's Phuket food that gets the most publicity on the social media giant, according to research by airport transfer company Hoppa.
"In the modern era, the holiday experience doesn't just live in the moment and in the memory, it isn't even resigned only to traditional photo albums… Because now, the holiday experience lives and breathes through Instagram," Hoppa explained on its website. "If you have an account, it'll be one of the first places your holiday photos will probably go. Filters, hashtags and captions all seizing your holiday snaps and turning them into the envy of your friends."
During a one-month period, Hoppa collected 1,000 photos from the top 50 most-travelled-to destinations in the world. Though that offered some basic trending information, the company did some significant further data mining, breaking down the types of photos posted into the following categories: selfies, scenery, couples, food, shopping, group, wildlife, alcohol, sexual and marketing.
When it came to food photos, Asia nearly swept the top-ten list with only Las Vegas sneaking in at number six to represent the western world. And the cherry on top of the foodie photo buffet: Phuket. The island province was followed by Shanghai, Guangzhou, Beijing and Pattaya.
Adding more yeast to the rising trend of food photography on the island is United Nations Educational, Scientific and Cultural Organization (UNESCO) dubbing Phuket a 'City of Gastronomy', honoring the island's rich culinary history and unique cuisine (story here).
"Phuket Baba food combines recipes from Royal Thai Cuisine, common Thai dishes, Hokkien Chinese food and Malay cuisine, which together create a unique blend of delicate flavors that are not too spicy, not too sweet and not too salty," Dr Kosol Tang-Uthai, president of the Thai Peranakan Association, told the Phuket Gazette in 2011.
Among the dishes included in the application were the Baba recipes for moo hong (salted boiled pork), oh-aew (white jelly made from squeezed Chinese herbs and bananas, served with boiled red bean and shaved ice), mee hokkien (stir-fried Hokkien noodle), mee hun (stir-fried white noodle served with spare ribs soup), nam chub yam (spicy shrimp paste sauce) and bue tord (batter-fried grass with small shrimp).
Phuket is the fifth 'City of Gastronomy' as it joins Popayan City in Colombia, Ostersund in Sweden, Chengdu in China and Jeonju in South Korea.
However, despite its luxury pool villas and stunning beaches, Phuket didn't make the top ten when it came to sexually suggestive posts or any of the other sub-categories used by Hoppa.
In total, about 2,788,000 Instagram photos were given #Phuket in 2015, making it the 34th most tagged destination in the world.
Of course, those just wanting to generate some social media envy by garnering the most 'likes' on their photos should head to Los Angles or Bangkok. But even then, Phuket isn't a terrible choice, as it landed in 12th place, just behind Barcelona.
— Kongleaphy Keam
Keep in contact with The Thaiger by following our
Facebook page
.
The body of an unidentified foreigner found floating south of Pattaya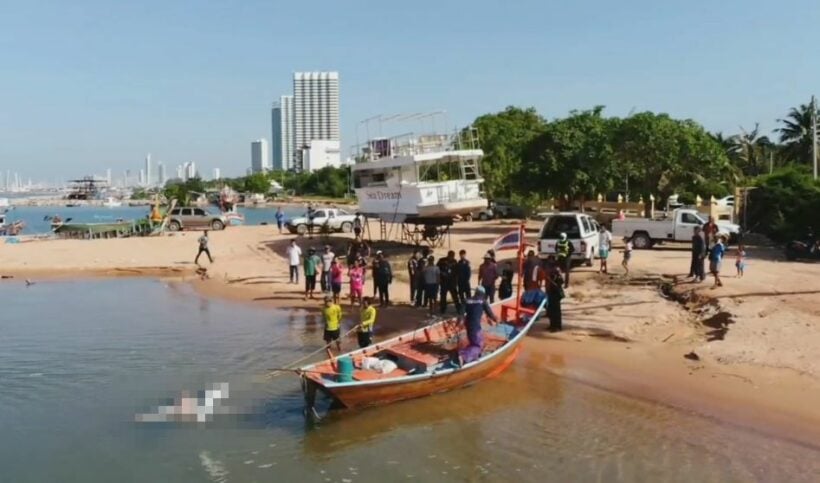 A fisherman has recovered a body, thought to be a foreigner, from the Gulf of Thailand off Sattahip.
Na Jomtien Police were notified of the body by 24 year old Teerapong Boonwat, a fishing boat captain plying the waters around Sattahip, south of Pattaya.
Mr. Boonwat had recovered the body found floating near Koh Ped (Duck Island), about three nautical miles from the Sattahip shore. Police and emergency responders rushed to the scene near Amparam Temple.
Police report that the male body appears to be a foreigner aged around 40 years old with a beard and little head hair. He was wearing a white T-shirt, long jeans and black sneakers.
No identification was found on the man. It is believed that he had died at least 7 days before his body was found floating in the water. The police didn't state if there was any signs of foul play or the condition of the body.
Police are investigating the incident and reviewing missing person reports to establish identification.
SOURCE: The Pattaya News
Keep in contact with The Thaiger by following our
Facebook page
.
Pattaya City's Police Chief dies from sudden heart attack on way to Bangkok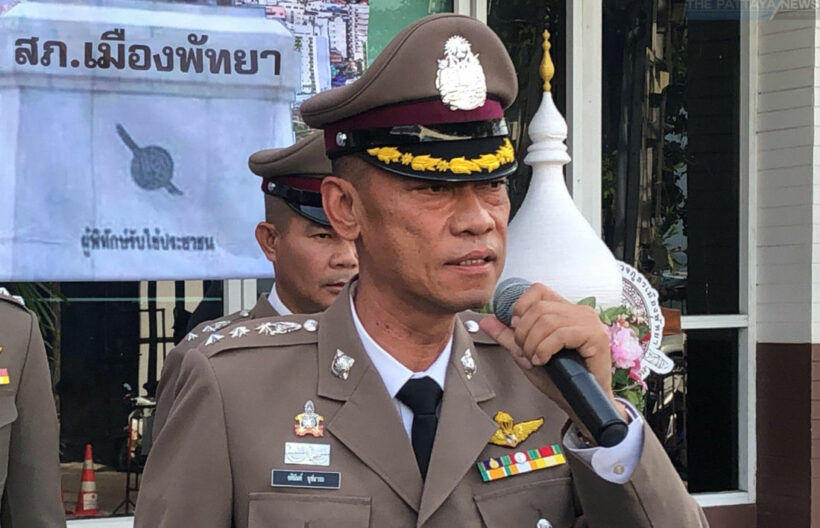 PHOTOS: The Pattaya News
The Pattaya City Police Chief Col. Atinan Nuchanart has died from a heart attack yesterday morning (Friday) while he was on the way to a meeting. 59 year old Col Atinan was the Pattaya City Police Acting Chief, new in the position, and died at the Chonburi Hospital from a heart attack.
Yesterday morning he and his team were heading to Bangkok from Chonburi for a meeting when he started complaining of chest pains before falling unconscious in the car. The Chief was rushed to the Chonburi Hospital by other officers in the vehicle. He was pronounced dead by doctors at 2pm.
Col Atinan was born in Lopburi and was the previous Police Chief of Mueang Chonburi Police Station. He was later transferred as the Pattaya City Police Acting Chief on September 2. He had only been in the top job for little over a month.
The previous Pattaya police Chief was removed from the position pending an investigation into large drug raids at local discos open after legal closing hours during this year.
A full funeral for the well respected veteran officer will take place in the near future but has not been announced at this time.
SOURCE: The Pattaya News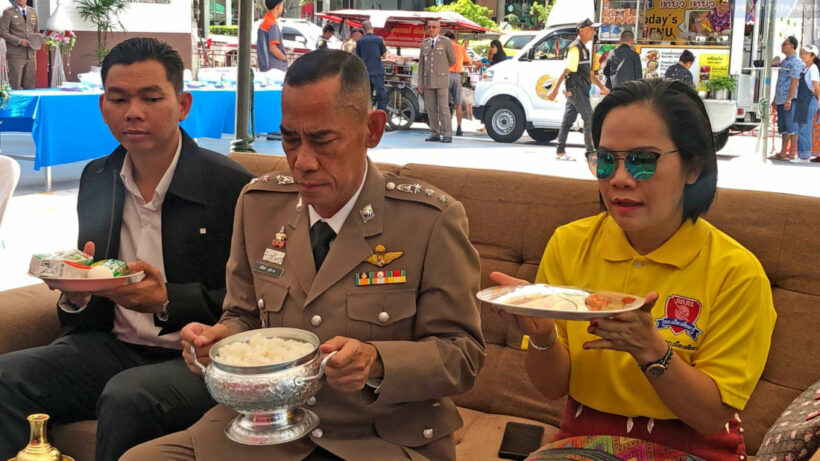 Keep in contact with The Thaiger by following our
Facebook page
.
Local residents and vendors demand action on Pattaya Beach erosion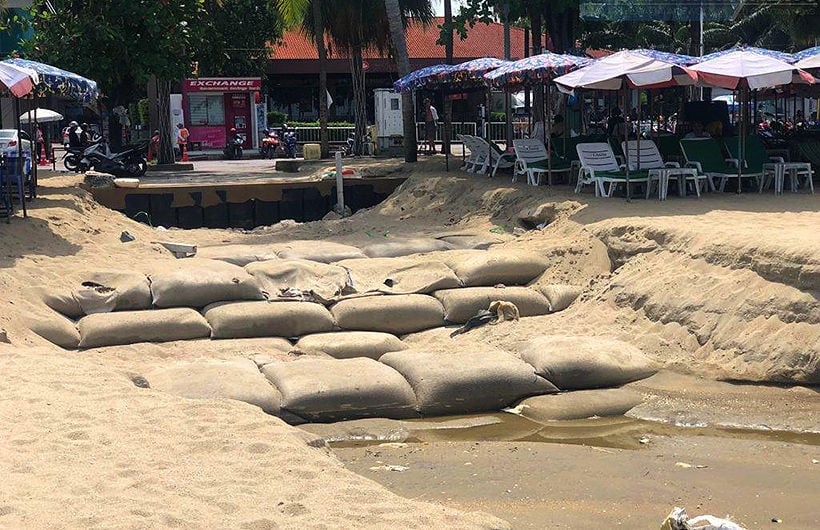 PHOTOS: The Pattaya News
Recent heavy rains over the past week in Pattaya have caused significant deep erosion and gaping holes on Pattaya Beach that have now been sitting in plain view for nearly a week. The situation is an unsightly embarrassment and a potential hazard for tourists, according to local residents and beach vendors.
The Pattaya News reports that, earlier this week, storm waters were flowing onto Pattaya beach into the Gulf after torrential rains, notably at the beach area near Central Festival Pattaya, and have been washed away.
The erosion is at least a metre deep in places, exposing some of the underpinning sand-bag foundations that were placed there doing the re-instatement works last year. Local vendors are complaining that tourists were avoiding the beach.
Beach vendors say this erosion has happened nearly a week ago and is very dangerous especially at night time. They are asking for city officials to speed up repair work and fix the problem.
Earlier this week residents were complaining about an unknown white sediment floating around some of the areas where the erosion had occurred. Last year some 400 million baht was spent re-building some of Pattaya's beaches which end up damaged and washed out to sea any time there are heavy rains.
SOURCE: The Pattaya News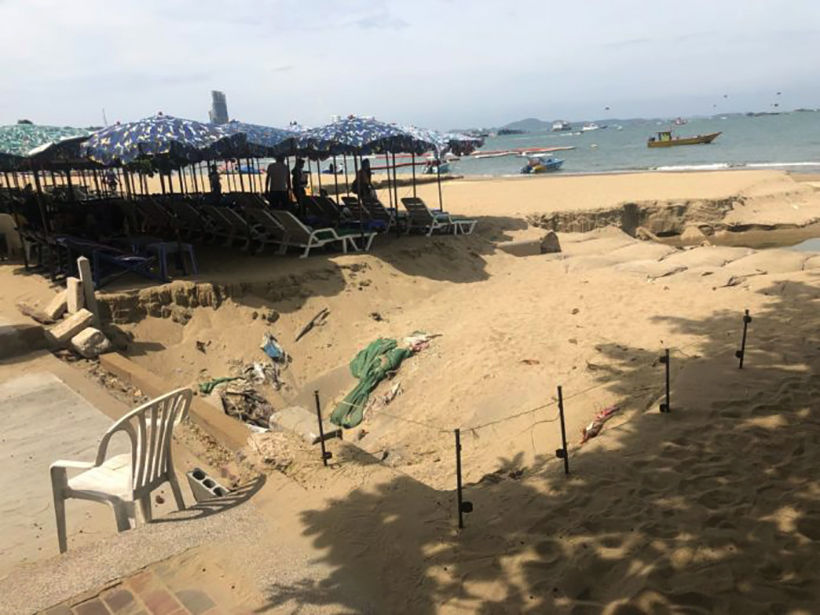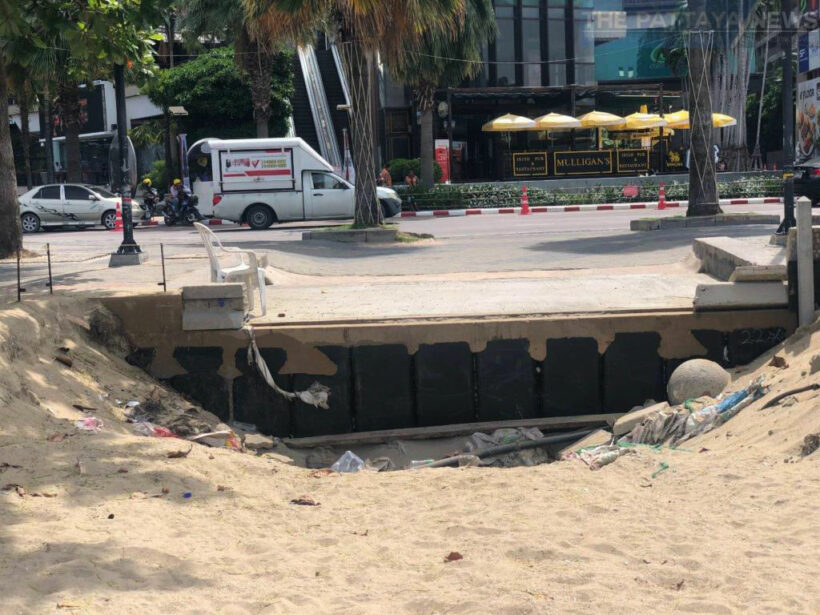 Keep in contact with The Thaiger by following our
Facebook page
.