Phuket food top of the tags on Instagram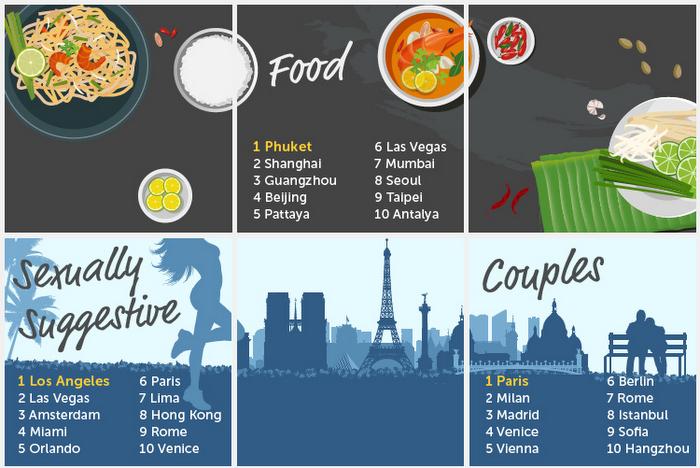 PHUKET: Though the sultans of Instagram selfies reign in London, it's Phuket food that gets the most publicity on the social media giant, according to research by airport transfer company Hoppa.
"In the modern era, the holiday experience doesn't just live in the moment and in the memory, it isn't even resigned only to traditional photo albums… Because now, the holiday experience lives and breathes through Instagram," Hoppa explained on its website. "If you have an account, it'll be one of the first places your holiday photos will probably go. Filters, hashtags and captions all seizing your holiday snaps and turning them into the envy of your friends."
During a one-month period, Hoppa collected 1,000 photos from the top 50 most-travelled-to destinations in the world. Though that offered some basic trending information, the company did some significant further data mining, breaking down the types of photos posted into the following categories: selfies, scenery, couples, food, shopping, group, wildlife, alcohol, sexual and marketing.
When it came to food photos, Asia nearly swept the top-ten list with only Las Vegas sneaking in at number six to represent the western world. And the cherry on top of the foodie photo buffet: Phuket. The island province was followed by Shanghai, Guangzhou, Beijing and Pattaya.
Adding more yeast to the rising trend of food photography on the island is United Nations Educational, Scientific and Cultural Organization (UNESCO) dubbing Phuket a 'City of Gastronomy', honoring the island's rich culinary history and unique cuisine (story here).
"Phuket Baba food combines recipes from Royal Thai Cuisine, common Thai dishes, Hokkien Chinese food and Malay cuisine, which together create a unique blend of delicate flavors that are not too spicy, not too sweet and not too salty," Dr Kosol Tang-Uthai, president of the Thai Peranakan Association, told the Phuket Gazette in 2011.
Among the dishes included in the application were the Baba recipes for moo hong (salted boiled pork), oh-aew (white jelly made from squeezed Chinese herbs and bananas, served with boiled red bean and shaved ice), mee hokkien (stir-fried Hokkien noodle), mee hun (stir-fried white noodle served with spare ribs soup), nam chub yam (spicy shrimp paste sauce) and bue tord (batter-fried grass with small shrimp).
Phuket is the fifth 'City of Gastronomy' as it joins Popayan City in Colombia, Ostersund in Sweden, Chengdu in China and Jeonju in South Korea.
However, despite its luxury pool villas and stunning beaches, Phuket didn't make the top ten when it came to sexually suggestive posts or any of the other sub-categories used by Hoppa.
In total, about 2,788,000 Instagram photos were given #Phuket in 2015, making it the 34th most tagged destination in the world.
Of course, those just wanting to generate some social media envy by garnering the most 'likes' on their photos should head to Los Angles or Bangkok. But even then, Phuket isn't a terrible choice, as it landed in 12th place, just behind Barcelona.
— Kongleaphy Keam
Keep in contact with The Thaiger by following our
Facebook page
.
Elephant gores German cyclist near Pattaya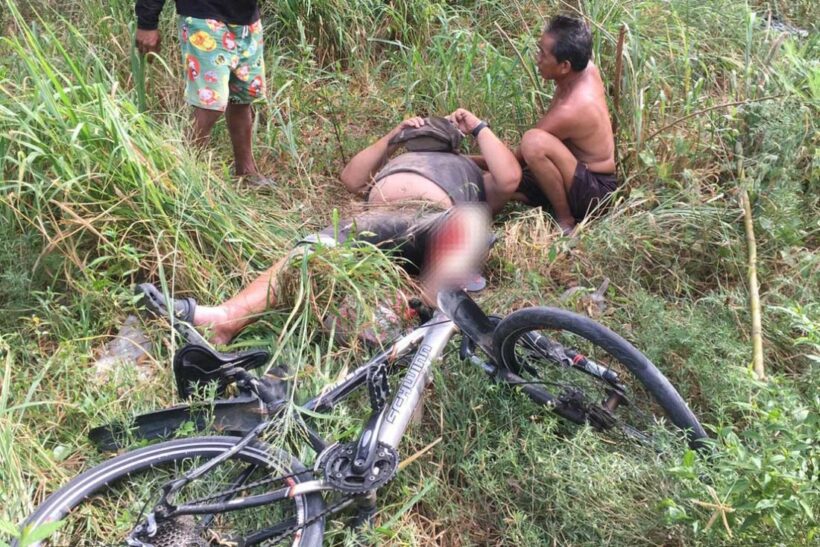 PHOTO: Chaiyot Pupattanapong
A 69 year old German cyclist is in hospital with serious injuries to his leg after a bull elephant charged at him near Pattaya yesterday morning (Saturday)
The incident happened near an elephant village in Pattaya.
Bangkok Post reports that Hans Dieter Sherding was found laying on the road near a forest in tambon Nong Prue. Members of the Sawangboriboon Thammasathan rescue foundation provided emergency first aid before he was rushed to the Bang Lamung Hospital.
47 year old 'Boonsom' who works for the Pattaya elephant village, says the German rode along the same road every morning. He told police that a 38 year old bull elephant 'Phlai Kham Khun' was in the area and was close to the road where the man was riding.
The man had been warned about the elephant but had stopped to watch the beast who suddenly charged towards him and then gored him with its tusk.
The elephant's mahout 'Bird' says he had been washing the elephant with tourists earlier but Phlai Kham Khun ran away from his care. He told police that he had bought the elephant a month before for a million baht.
Vets from the Noen Phlap Wan Animal Hospital headed to the scene and shot tranquilliser darts at the elephant to calm him down.
SOURCE: Bangkok Post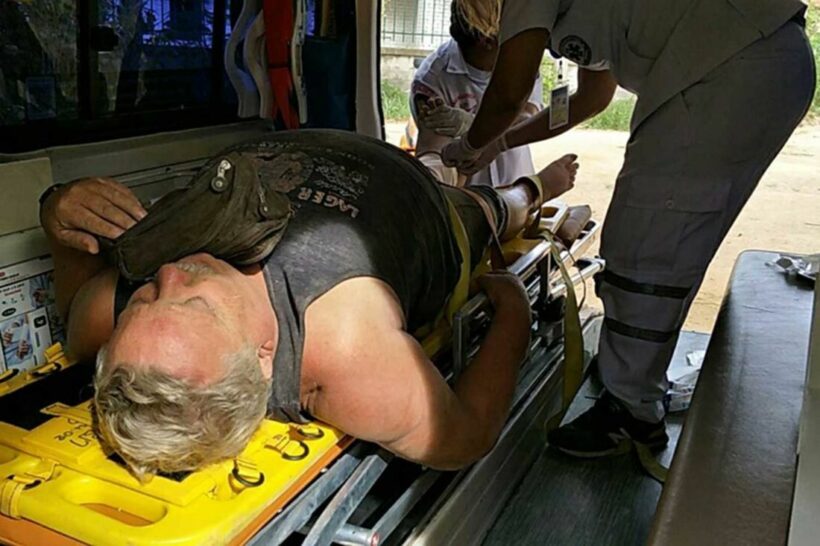 PHOTO: Chaiyot Pupattanapong
Keep in contact with The Thaiger by following our
Facebook page
.
German tourist dies after falling from Pattaya condo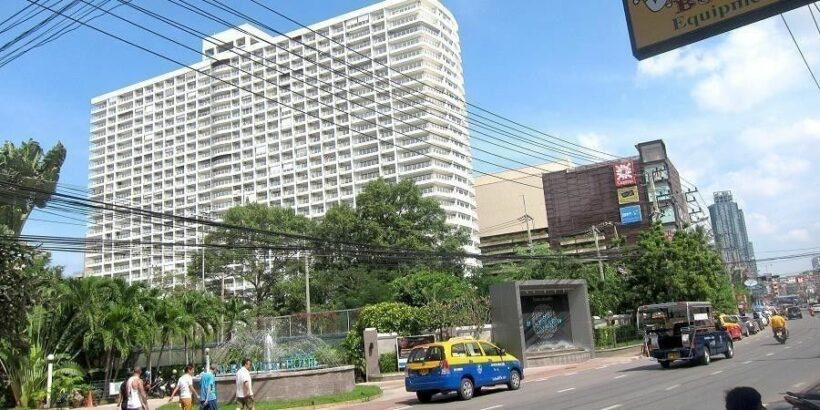 A German tourist died after falling from the 15th floor of a Pattaya condo this morning.
The Pattaya police station report that they were alerted at 6.30am of a foreigner falling from his room on the 15th floor of View Talay Pattaya Beach Condominium. Police haven't provided the man's name, but say he was between 40 and 50 years old and had a German passport.
Pol Maj Saijai Khamjulla from the Pattaya police says there was no sign of foul play in the room but police will investigate if it was suicide, an accident or something else. His friends have yet to be questioned. The the local German honorary consulate has been notified.
SOURCE: The Nation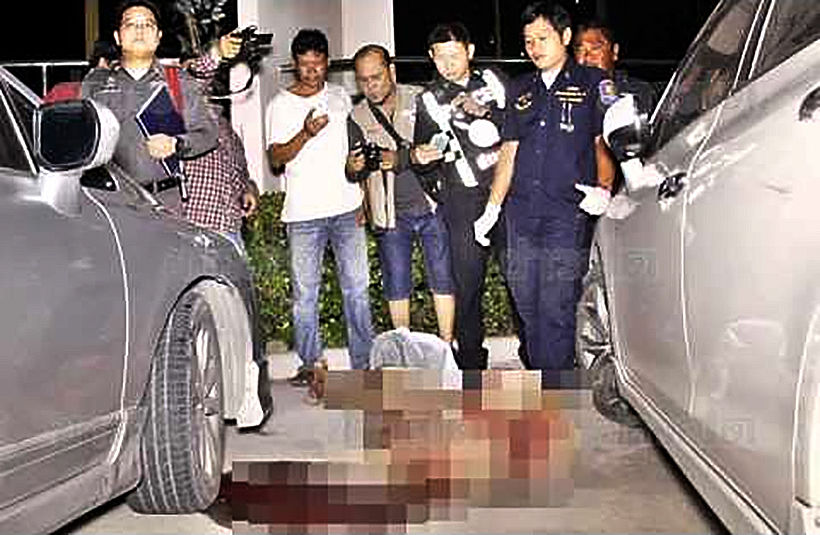 PHOTO: The Nation
Keep in contact with The Thaiger by following our
Facebook page
.
Two British men arrested for dealing drugs in Thailand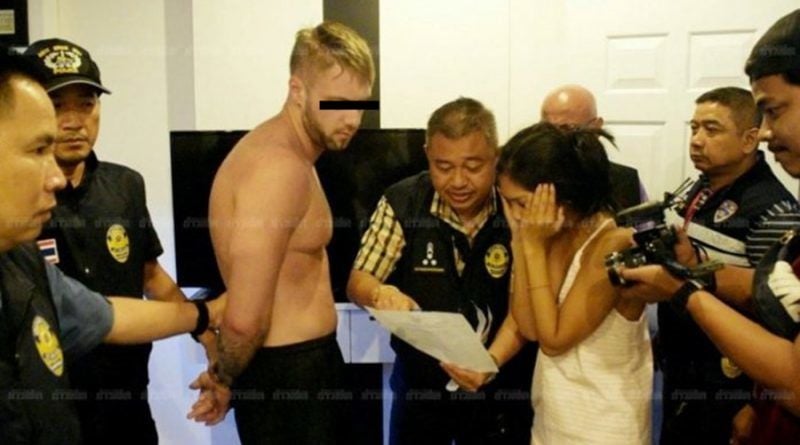 PHOTO: Sanook
On August 20, more than 20 police officers used a warrant to search a home in Chonburi, eastern Thailand, seizing nearly 5 grams of cocaine.
Police also seized the home itself, worth about 6 million baht, a car and motorbike, along with 3 bank books and some jewellery items.
The house was occupied by British man Luke Timmins, 28, already wanted for drug offences under an international arrest warrant issued by the UK , and a 24 year old Thai woman known only as Cherman.
Both tested positive for cocaine, with Timmins claiming he purchased the drug for 2,500 baht a gram from a Thai man on Pattaya's Walking Street.
Luke Timmins' father, Michael, was previously jailed for 6 years for smuggling mephredrone into the UK. The drug was used to make 30 kilos of bath salts, also known as the zombie drug.
At the same time, in Mahasarakham province, another team of officers arrested fellow Englishman Daniel Wood, 29, on charges of drug dealing. At the time of his arrest, he was taking his wife to the temple.
While Wood was not in possession of any illegal substances, he was found to have overstayed his Thai visa since October 17, 2016, and also had a warrant out for his arrest in the UK on charges of smuggling drugs into the country.
He had flown to Thailand, married a Thai woman, and worked with Luke Timmins selling drugs in Pattaya.
Both men were found to be connected to Adrian Matthews, who has gang connections in Pattaya, and was stopped by Customs officials in New Zealand in possession of methamphetamine (ice) worth about 17 million US dollars, in October 2017.
Source: Thai Residents
Keep in contact with The Thaiger by following our
Facebook page
.