Phoenix to be raised soon – VIDEO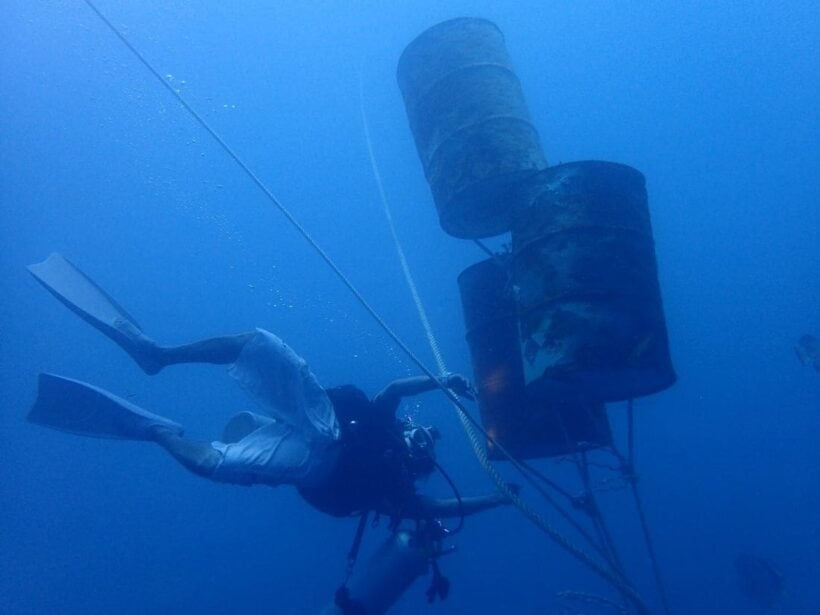 PHOTO AND VIDEO: The Phuket Marine Office
The Phoenix is ready to be raised as soon as the weather conditions are good enough. Officials say the equipment is all ready.
It's already been more than a month since the Phoenix salvage operation began. So far the wreck remains resting on the bottom of the Andaman Sea, 45 metres underwater.
Read more about the salvage efforts HERE.
The Phuket PR Office Chief Bussaya Jaipiam says, "We have been informed from the Phuket Marine Office Chief Wiwat Chitcherdwong that on Saturday divers went down under water again to check equipment which has been attached to the boat. To make sure that flotation tanks are in the proper position"
"Robes will be installed again to prepare for pulling the boat up to surface. Divers believe that the Phoenix will be rising soon 'if the weather conditions are suitable'."
Strong underwater currents and monsoonal weather have hampered efforts to rise the boat so far.
คืบหน้าการกู้เรือวันนี้ยังคงเดินหน้า ดำเนินการอย่างต่อเนื่อง นางบุษยา ใจเปี่ยม ประชาสัมพันธ์จังหวัดภูเก็ต กล่าวว่าได้รับการประสานจาก นายวิวัธน์ ชิดเชิดวงศ์ ผู้อำนวยการสำนักงานเจ้าท่าภูมิภาคจังหวัดภูเก็ต ถึงความคืบหน้า การกู้เรือฟินิกส์ ในวันนี้ (8 สค.61) ทีมปฏิบัติงานกู้เรือ ฟินิกส์ ได้ ออกไป ทำงานอีกครั้ง โดยไป เช็ค ถังที่อัดอากาศไว้ ว่าอยู่ ในตำแหน่ง ที่ถ่ายเท น้ำหนักเรือ และ จะทำการ ผูกเชือก ใหม่ สำหรับ เตรียมยก เรือ คาดว่า ถ้าสภาพอากาศเอื้ออำนวย และไม่มีปัญหาอุปสรรคการปฏิบัติงานใต้น้ำ ทีมผู้ปฏิบัติงานทั้งหมดก็จะสามารถยกเรือ ฟินิกส์ ขึ้นมาได้ โดยเร็ว สำนักงานประชาสัมพันธ์จังหวัดภูเก็ต /ข่าวสำนักงานเจ้าท่าภูมิภาค /ภาพ

Posted by ปชส. จังหวัดภูเก็ต on Saturday, September 8, 2018


Can't get enough Thaiger? Try Thaiger Radio with music, weather, traffic, news & local programming or view some Thailand Top 10s lists.

Read more headlines, reports & breaking news in Phuket. Or catch up on your Thailand news.
Man found dead in pickup with charcoal burner in Rassada, Phuket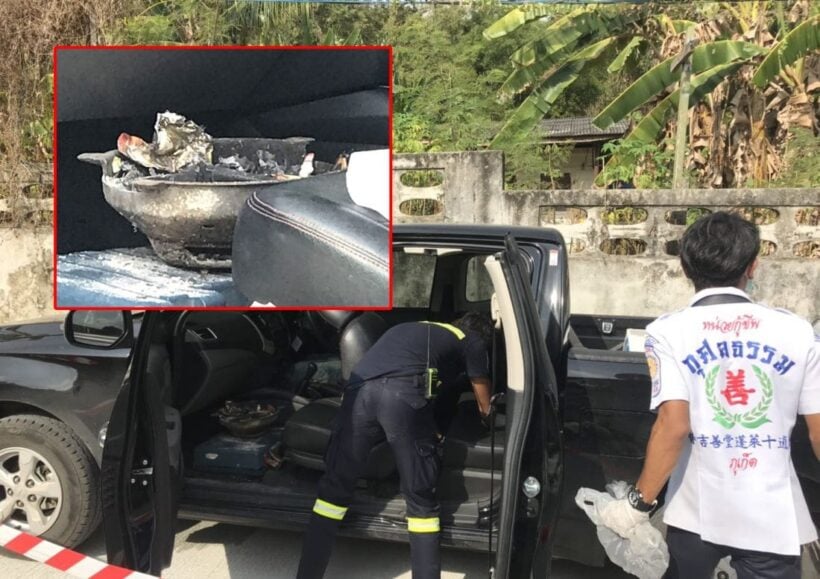 A man has been found dead inside a pickup truck with a coal burner also inside the vehicle in Rassada this morning. Police were notified of the situation in Soi Muen Sri in Rassada.
Police and emergency responders arrived to find the man's body in the parked pickup truck. The man was identified as 28 year old Weerawat Pakdeewirot from Phuket.
A coal burner was also found inside the vehicle. A suicide note addressed to his girlfriend was also found. The letter stated that he was facing financial problems. His body was taken to Vachira Phuket Hospital.
Police says that Mr Weerawat is a CCTV camera and internet contractor. His home was only 50 metres from the scene. Yesterday locals noticed his pickup parked at the scene. Today they saw the pickup in the same location and went to check out the situation.
Police are continuing their investigation.
If you or anyone you know is in emotional distress, please contact the Samaritans of Thailand 24-hour hotline: 02 713 6791 (English), 02 713 6793 (Thai) or the Thai Mental Health Hotline at 1323 (Thai).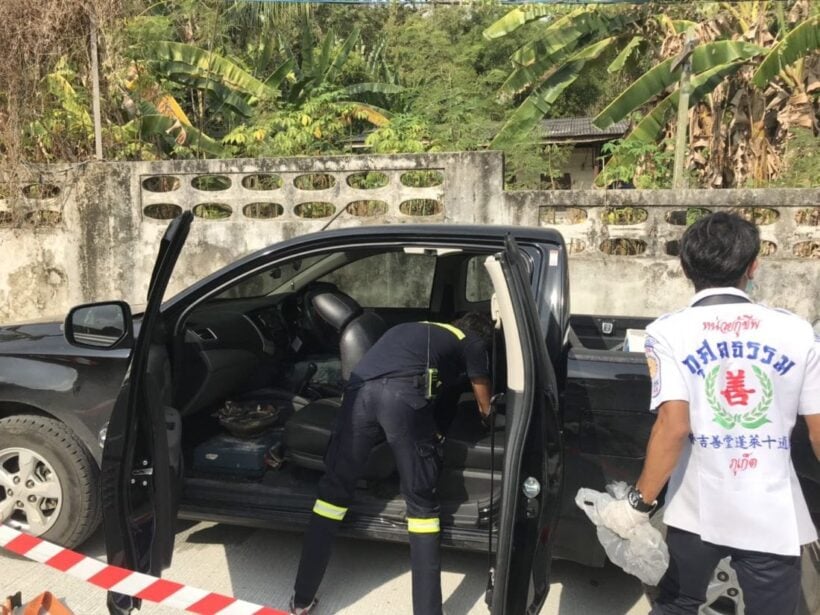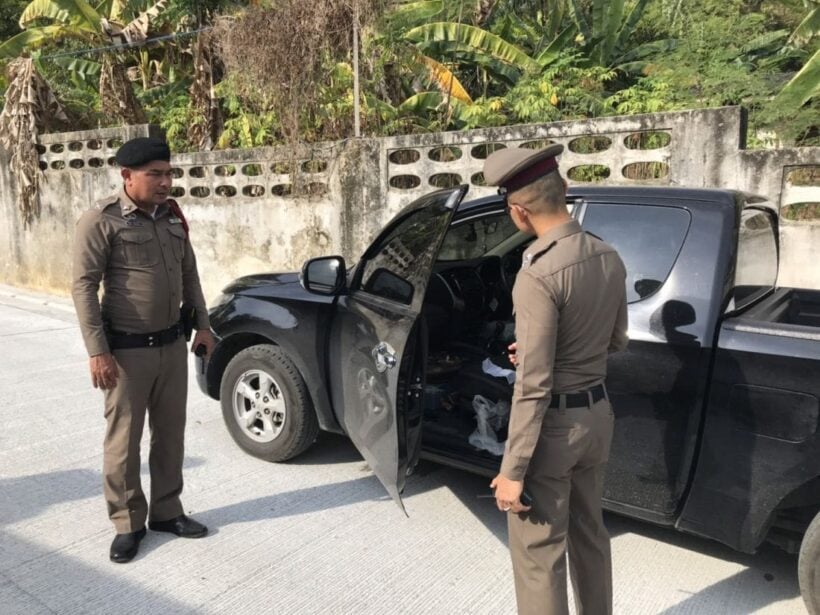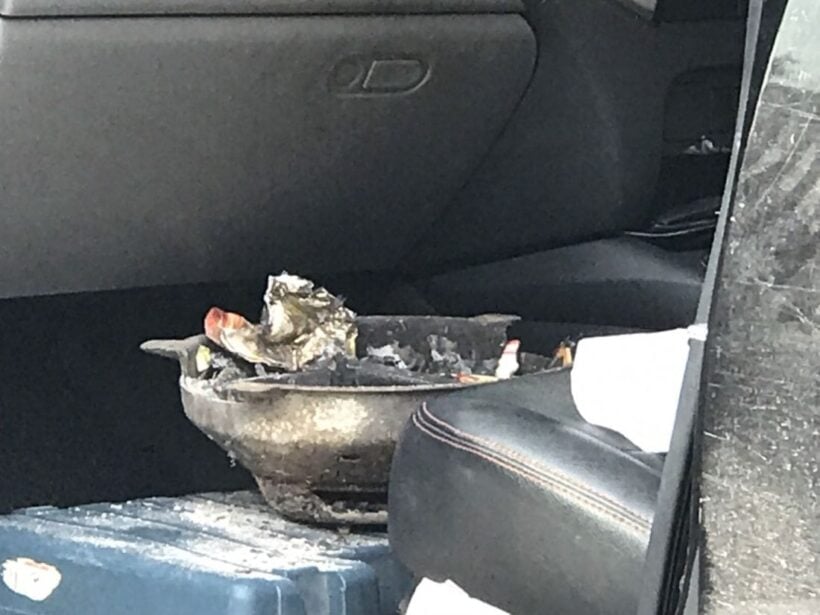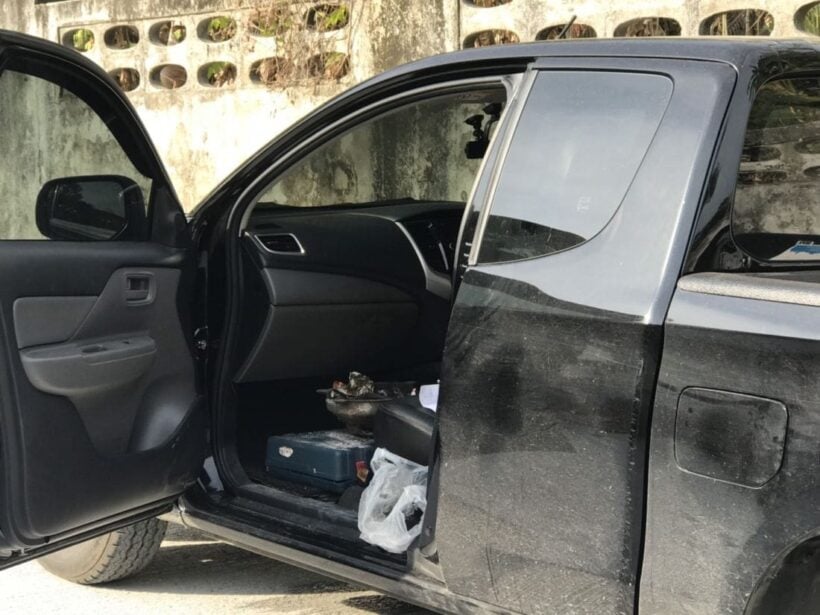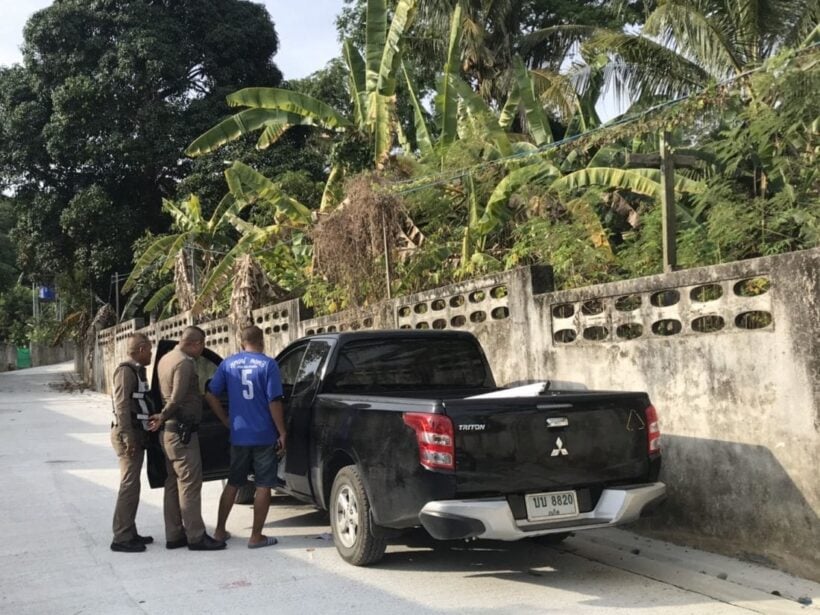 Injured Brahminy Kite (bird) rescued in Karon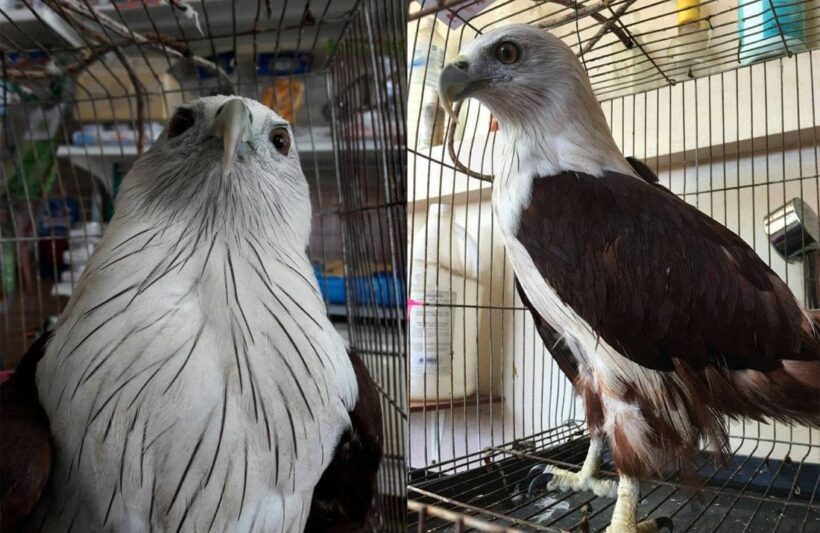 An injured Brahminy Kite has been rescued by locals in Karon, Phuket.
The mature Brahminy Kite was found in Karon this week. Locals who found the bird contacted the head of Khao Phra Thaeo Non-Hunting Area, Pongchart Chueahom.
The Brahminy Kite had a wound similar to a bite wound under its wing. It was unable tp fly. It is now being treated at a pet hospital in Thalang until it is ready to be set free.
The Brahminy Kite is a protected species in Thailand.
The brahminy kite (Haliastur indus), also known as the red-backed sea-eagle in Australia, is a medium-sized bird of prey in the family Accipitridae, which also includes many other diurnal raptors, such as eagles, buzzards, and harriers. They are found in the Indian subcontinent, Southeast Asia, and Australia. They are found mainly on the coast and in inland wetlands, where they feed on dead fish and other prey. Adults have a reddish-brown body plumage contrasting with their white head and breast which make them easy to distinguish from other birds of prey – Wikipedia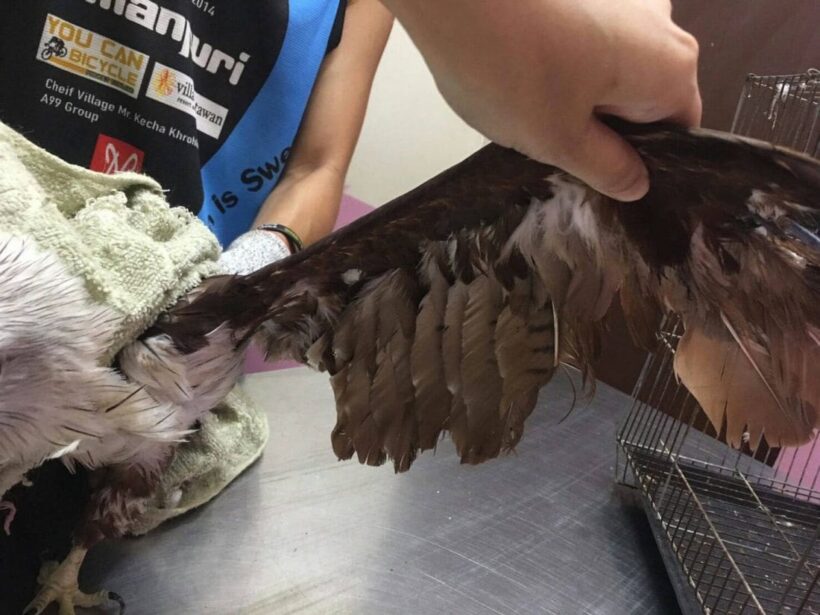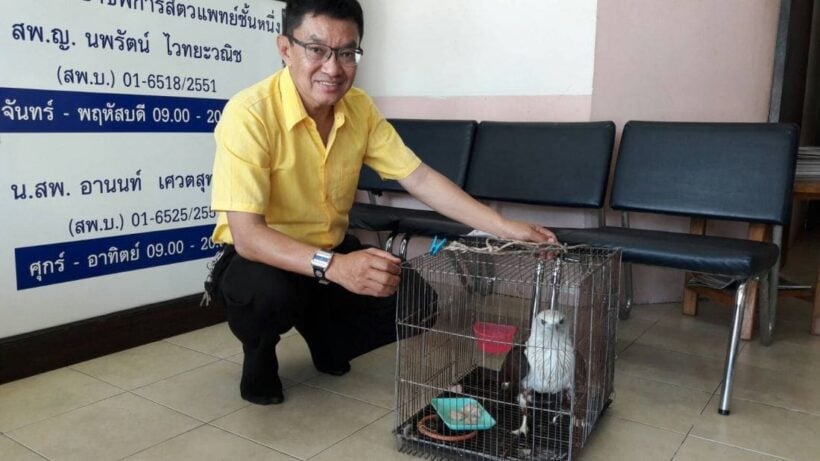 Army commander visits Phuket residents to discuss water shortage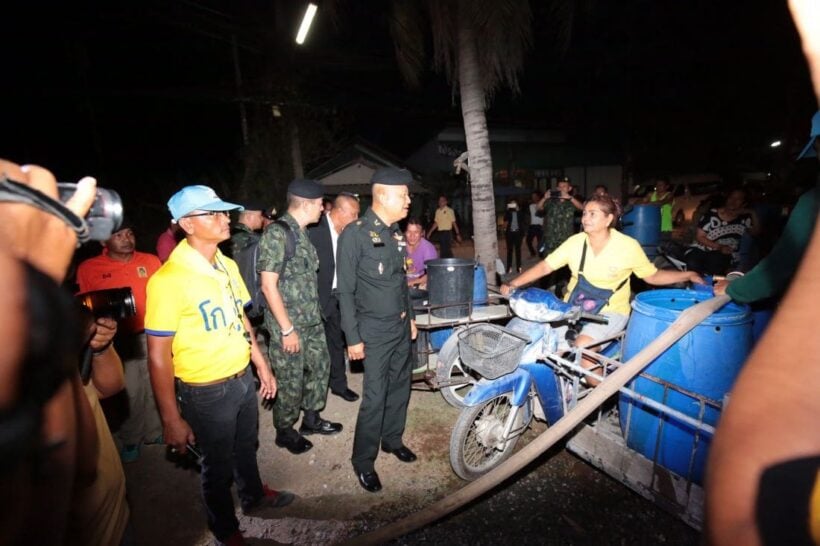 Lt Gen Pornsak Poonsawat, the Commander of the Fourth Army Region (Southern) in Nakhon Si Thammarat, came to Phuket to visit residents over water shortage issues in Rassada.
Lt Gen Pornsak says "we were contacted from the Phuket Governor that Phuket is facing serious water shortages. We have come here with water trucks to help residents to join with other government agencies in Phuket.
There are now 23 water trucks which are delivering free water to residents around Phuket. However we need cooperation from every one to save water."