Phuket
Phoenix might be raised today – VIDEO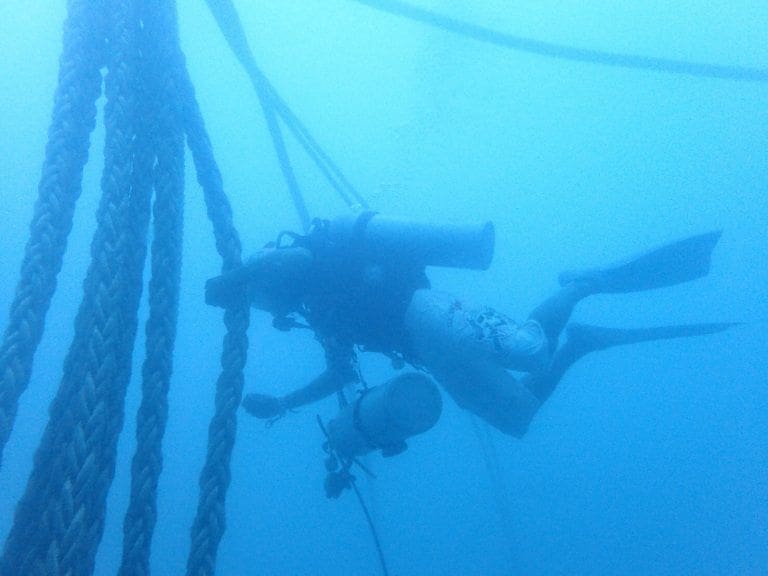 PHOTOS AND VIDEO: The Phuket Marine Office
Divers headed underwater again yesterday (September 13) to check attachments to Phoenix in readiness to bring the wreck up to the surface.
The Phuket PR Office reports that… "a team of divers yesterday morning (September 13) went down 45 metres underwater again. The first diver team arrived at the boat at 10am to check equipment which has been attached to the boat. To make sure that flotation tanks are in their proper position."
"The underwater current and waves were good yesterday. Divers completed the operation at 6.00pm last night."
"Today (September 14), if the water current is not too strong, the operation team will try and float the boat to the surface."
"On the other hand, if the water current is strong, the operation will not happen today as the situation is uncontrollable and very dangerous."
The Phoenix sank in early July causing the drowning of 47 Chinese tourists. The investigation into the causes continues.
https://www.facebook.com/prphuket2018/videos/2358057274234865/?fb_dtsg_ag=AdwPc1774wwNHVd0Q2G_GObSTEHtWB2WzE-LUd_poOqRlA%3AAdxkiI3vGfz50y7n2JKFtL0bcaDAO4_Q_e52TKgPe6rn-g
The Phoenix is ready to be raised as soon as the weather conditions are good enough. Officials say the equipment is all ready.
Read more about the salvage efforts HERE.