Phoenix might be raised today – VIDEO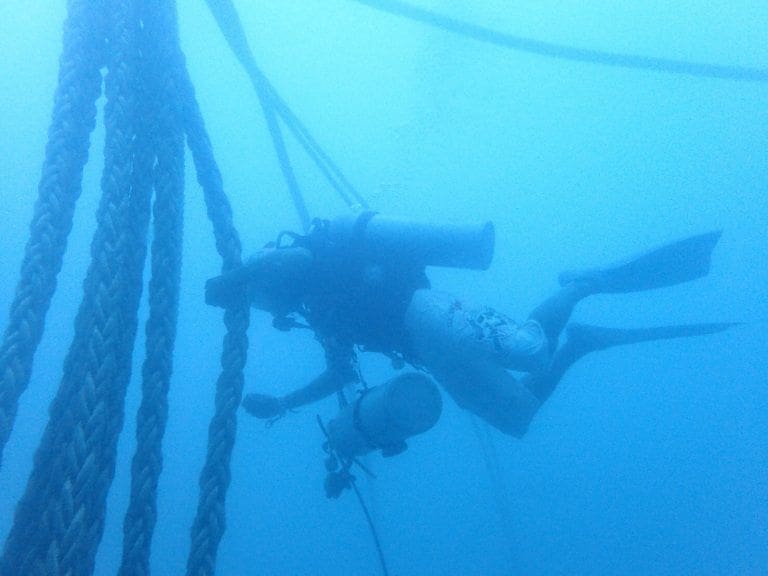 PHOTOS AND VIDEO: The Phuket Marine Office
Divers headed underwater again yesterday (September 13) to check attachments to Phoenix in readiness to bring the wreck up to the surface.
The Phuket PR Office reports that… "a team of divers yesterday morning (September 13) went down 45 metres underwater again. The first diver team arrived at the boat at 10am to check equipment which has been attached to the boat. To make sure that flotation tanks are in their proper position."
"The underwater current and waves were good yesterday. Divers completed the operation at 6.00pm last night."
"Today (September 14), if the water current is not too strong, the operation team will try and float the boat to the surface."
"On the other hand, if the water current is strong, the operation will not happen today as the situation is uncontrollable and very dangerous."
The Phoenix sank in early July causing the drowning of 47 Chinese tourists. The investigation into the causes continues.
ทีมปฏิบัติงานกู้เรือ Phoenix ยังคงดำเนินการอย่างต่อเนื่อง วันนี้ (13กย.61) ทีมปฎิบัติการกู้เรือฟินิกส์ได้ ออกไปปฎิบัติภารกิจ เมื่อเวลา 08.20 น. โดยดำน้ำ ทำงาน ดำน้ำไดร์ แรก เวลา 10 .00น. ลงไป ปรับ แต่ง ตำแหน่ง ถังทั้งสอง ข้าง ให้เท่ากัน ในเรื่องความสูง เพราะลงอัดใกล้ ตัวเรือ มากที่ สุด อากาศ ตรงนี้ มาเริ่ม ดี ทั้งกระแสน้ำ คลื่น และ ลม ตอน เวลา 17.20 น.นักดำน้ำ สามารถลงทำงาน และกลับขึ้นมา ทั้งหมด ตอน 18.05 น. และกลับเข้า ฝั่ง ส่วนพรุ่งนี้ 14 ก.ย. น. จะต้องประเมินสถานการณ์หน้างานอีกครั้ง ถ้ากระแสน้ำข้างใต้ ไม่แรง ทีมงานพร้อมลากเรือไปอยู่ในตำแหน่งที่ บริเวณเกาะเฮ และเกาะแอล แต่หากสถานการณ์เหมือนวันนี้กระแสน้ำแรงข้างใต้ จะไม่สามารถทำงานได้ ซึ่งเป็นอุปสรรคที่สำคัญและไม่สามารถควบคุมได้

Posted by ปชส. จังหวัดภูเก็ต on Thursday, September 13, 2018
The Phoenix is ready to be raised as soon as the weather conditions are good enough. Officials say the equipment is all ready.
Read more about the salvage efforts HERE.

Tourist Police service centres being set up on Phuket beaches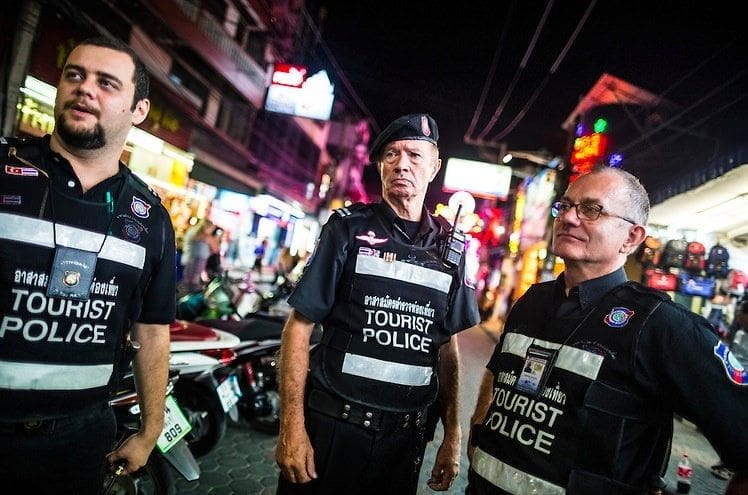 PHOTO: TravelScams.org
The Phuket Tourist Police are poised to improve marine and coastal safety by setting up service centres on Phuket beaches, starting initially with Kamala and Karon Beach.
The Tourist Police Division 3 Chief Major General Unggoon Klaiklueang says, "We have been planning on the project to set up the tourist service centres at Phuket's busiest beaches."
"The centres will be based in mobile modified shipping containers. Each centre will has two tourist police with an ATV vehicle (All-Terrain Vehicle)"
"We are planning to set up these centres on 12 Phuket beaches. We will start with Kamala and Karon Beach first. It is expected to be done before New Year as there will be a lot of tourists during that time, especially those locations."
"By providing tourist police on beaches we be able to improve beach safety, for example if swimmers don't listen to the warnings from lifeguards."
Phuket Police officer transferred after gambling den raid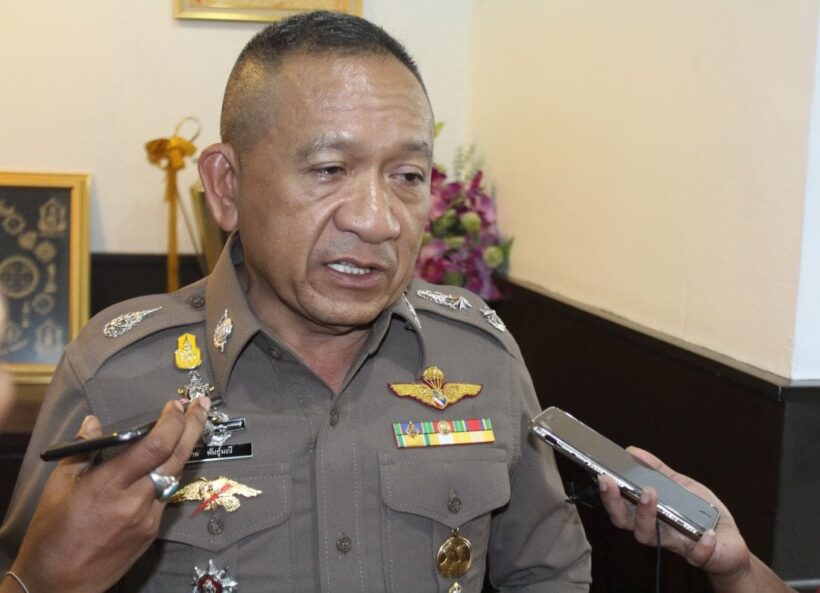 Five Kathu Police have been transferred to the Phuket Provincial Police Station after a gambling den raid. Soldiers raided a gambling den in Kathu on Tuesday night. More than 56 gamblers were arrested.
Read more about the raid HERE.
The order issued yesterday was signed by the Phuket Provincial Police commander Maj Gen Wisan Panmunee stating that five Kathu Police have been moved to the Phuket Provincial Police Station.
The five Kathu Police have been named…  Kathu Police Chief Col Jakkrawat Boontaveekunsawat, Kathu Police Deputy Chief Lt Col Chalermchai Hernsawat, Lt Col Chao Pomna and Maj Nopparut  Sukkree, and Inspector of investigation Police Maj Jaronthorn Donnayanrit.
Maj Gen Wisan says, "All five police are now working at the Phuket Provincial Police Station while an investigation is being undertaken on allowing gambling den in the area. We have been strictly enforced on preventing any gambling den in Phuket."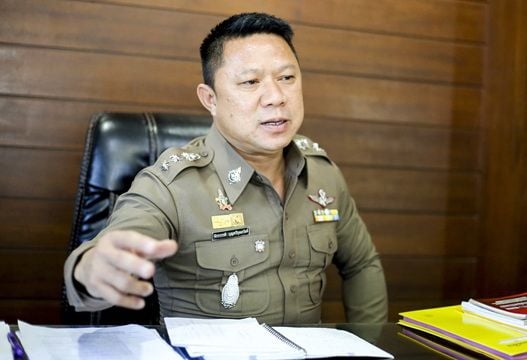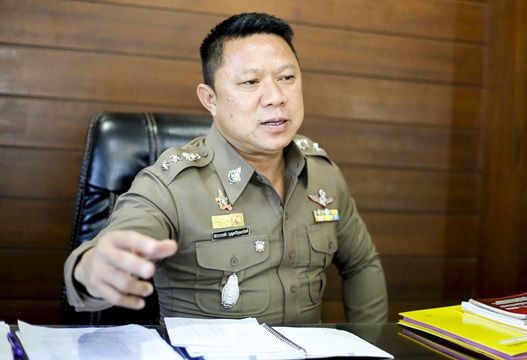 Woman sues Bangkok Phuket Hospital for 19 million baht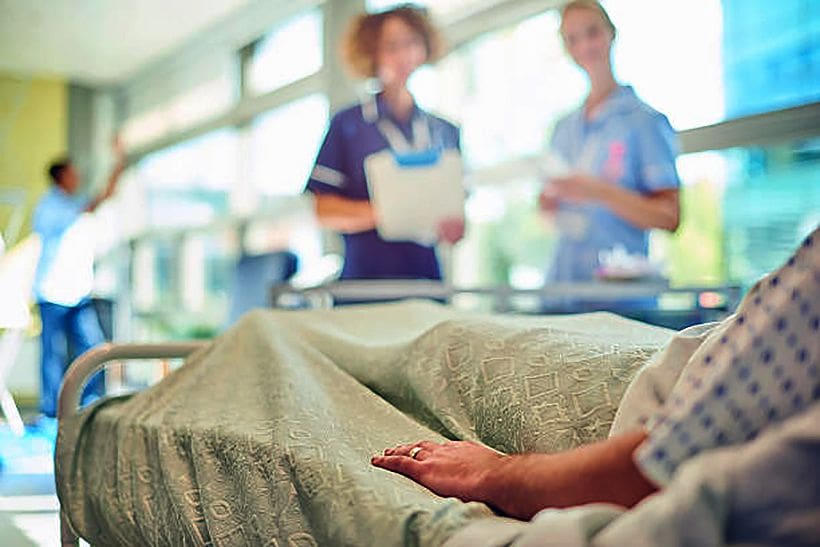 A Phuket woman has filed a lawsuit with the Civil Court against Bangkok Hospital Phuket for 19 million baht in compensation after an alleged error during an operation has left her bed-ridden.
Nonglak Srisaeng assigned Chalermpong Klubdee, an official of the Foundation for Consumers, and Sakolrat Ritsamitchai, a lawyer, to file the lawsuit on her behalf.
The lawsuit was filed with the consumers' case division of the Civil Court.
The lawsuit alleged that a mistake on the part of the hospital caused Nonglak to become bed-ridden after she received an operation to remove a tumor in her uterus in August, 2016.
She is demanding 19 million baht in compensations for the difficulties to live her life and for subsequent medical costs.

STORY: The Nation