Peter Denman from Channel 3 visits Phuket's Soi Dog Foundation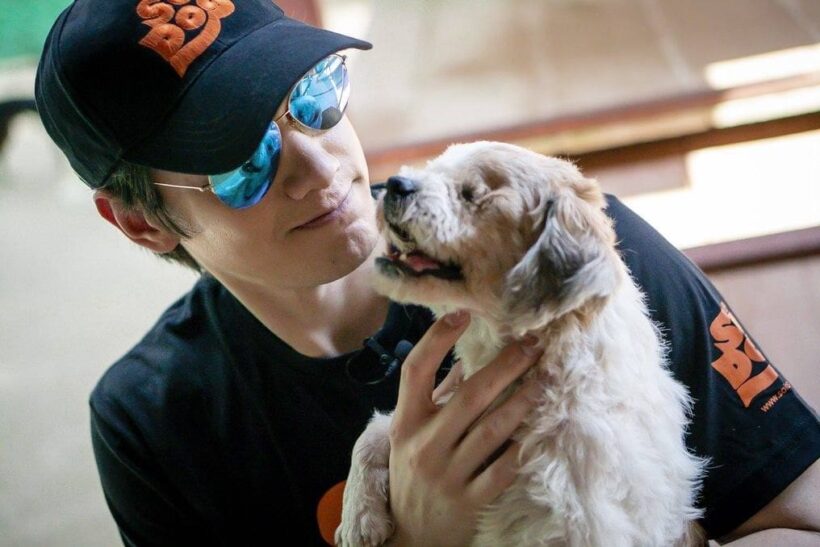 The famous actor from Channel 3, Thai-British Peter Denman, paid a visit to Soi Dog Foundation in Phuket on January 28. He visited so he could get to know more about the work they do and spend some quality time with the animals.
He has also been nominated to be one of Soi Dog's Brand Ambassadors as well.
During the visit, he had a tour around the sanctuary that houses more than 1,000 rescued dogs and cats. The tour began by seeing some of the dogs that were saved from the dog meat trade followed by some of the lucky dogs recently rescued by Soi Dog from the Nakhon Phanom shelter, which is an ongoing program.
These dogs spend time at the sanctuary and are then flown to the U.S. and Canada as part of Soi Dog's International Partner Rescue Program, who help the dogs find their forever homes.
The actor was then introduced to many of the other resident dogs at the sanctuary before spending time with some of the resident puppies. He also had an opportunity to cuddle some cats who were pleased to lay on his lap, looking for a comfortable place for a daytime nap!
After seeing many of the sanctuary dogs and cats, he then visited Soi Dog's hospital to see, first hand, the great work of the staff and where over 3,800 animals were treated last year.
The tour also took Peter to the sterilisation suite where he observed a sterilisation by the vet team. Soi Dog Foundation sterilised over 80,000 animals during 2018 which took the total number to over 260,000 since it began in 2003.
After the tour, he got the chance to spend some one-on-one time with one of the most lovable dogs in the sanctuary – an 8-year-old mix breed dog named Hancock – before sitting down and chatting with the Adoption team about the process of adopting dogs and cats from Soi Dog.
"Not only the puppies need loving forever homes, but the adult dogs do too. All creatures need caring families where they belong. Street dogs are strong and they are also very friendly and loyal. Adopting dogs and cats from Soi Dog is free of charge and your future pet also gets sterilised and vaccinated against known diseases such as rabies. Tick control and dental care are also included", said Peter.
"I really always appreciate seeing the hard work at Soi Dog Foundation but they cannot do it without valuable help from the public. We should support this wonderful foundation to save stray dogs and cats – to give these animals better lives. Ways to contribute include donations, adoptions or spreading the word about Soi Dog Foundation."
Peter had a leading role in a soap opera on Channel 3 named 'Rak Plig Lock' which has recently ended and will have more shows coming up soon. He will also come back to Phuket to join the renowned Thai Fight as one of the heavy-weight Muay Thai fighters.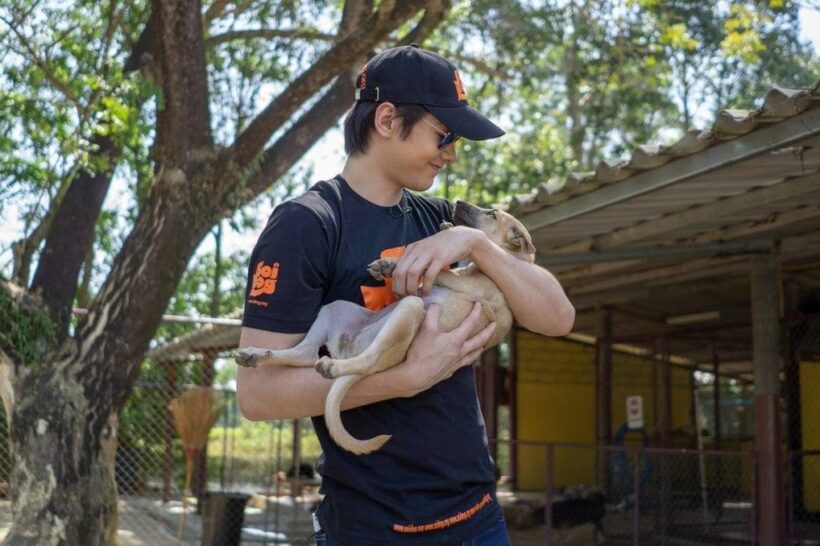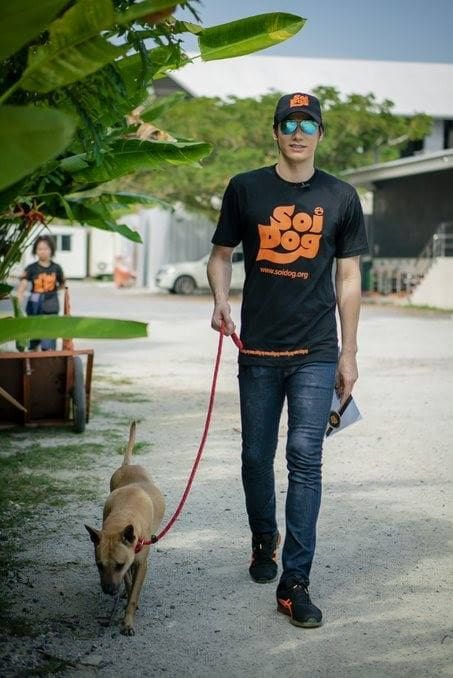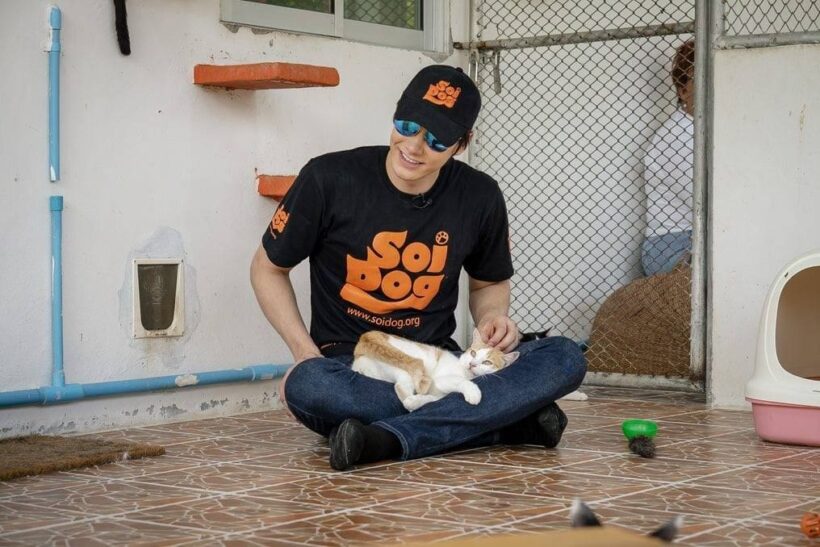 Read more headlines, reports & breaking news in Phuket. Or catch up on your Thailand news.
Alleged Greek murderer of Phuket beautician remains at large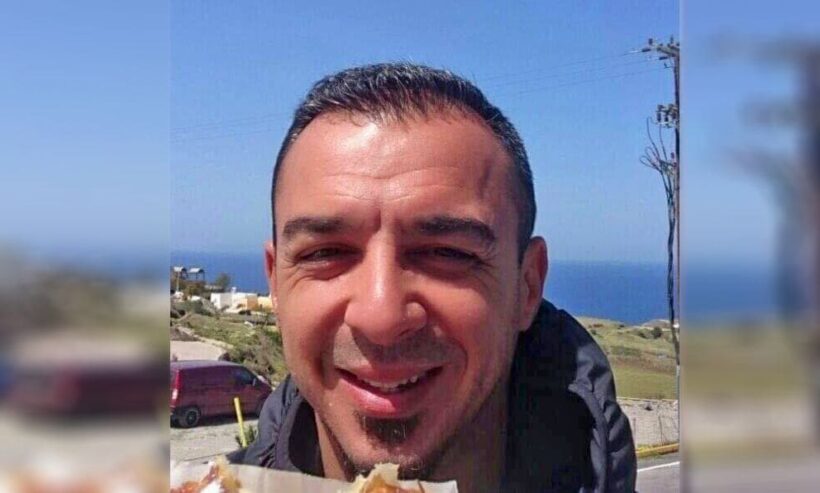 PHOTO: Dimitrios 'Dim' Chairopoulo, wanted and believed to be living in Greece
Local Phuket police are yet be informed of the latest in an international hunt for a Greek alleged murderer Dimitrios Chairopoulos. He remains wanted as a suspect in the murder of local beautician 43 year old Niramon 'Bea' Aewkaew in Phuket during February.
Cherng Talay police say they want an Interpol Red Notice issued so that they can track down and arrest 42 year old Dimitrios 'Dim' Chairopoulos, wanted for the murder. Bea and Dim were seen leaving their accommodation on February 11. It was the last time Bea would be seen alive.
Mr Chairopoulos was recorded as clearing Immigration at Phuket International Airport to board a flight to Dubai in the hours after Ms Niramon was last seen alive. He boarded an Emirates flight EK0379 to Dubai, departing Phuket at 2am. Police also confirmed that he arrived in Dubai on the same day.
"If he comes back to Thailand he will be arrested," said Chief Col Sen Kwannimit of the Cherng Talay Police.
A request for a Red Notice was submitted with the Foreign Affairs Division of the Royal Thai Police on February 19 but, for now, no formal international's notice has been published..
Cherng Talay Police confirmed that Dim was seen leaving the room at a guesthouse in Bang Tao where Ms Niramon's body was found on Saturday, February 16.
In the days leading up to her murder her family had been desperately trying to contact her.
'Bea' was the eldest of 5 children from Phatthalung province and had been working in Phuket as a beautician at the time.
One of her sisters, May' was contacted on February 15 by one of Bea's workmates trying to locate her.
Neither May or Bea's other sisters, relatives or friends were able to contact her. Bea had just moved to a new house so nobody knew where she was living. Another sister, Pichy, spoke to friends and was able, using Google Maps, to locate the guesthouse she was staying.
The owner of the room told the family that the air-conditioning was on in the room but there was no response. When the owner returned with a key he informed the family that Bea was found on the bed with a black cloth stuffed in her mouth and her hands and feet bound.
CCTV footage shows the couple leaving the room in the afternoon of February 11, the last time that Bea was seen alive.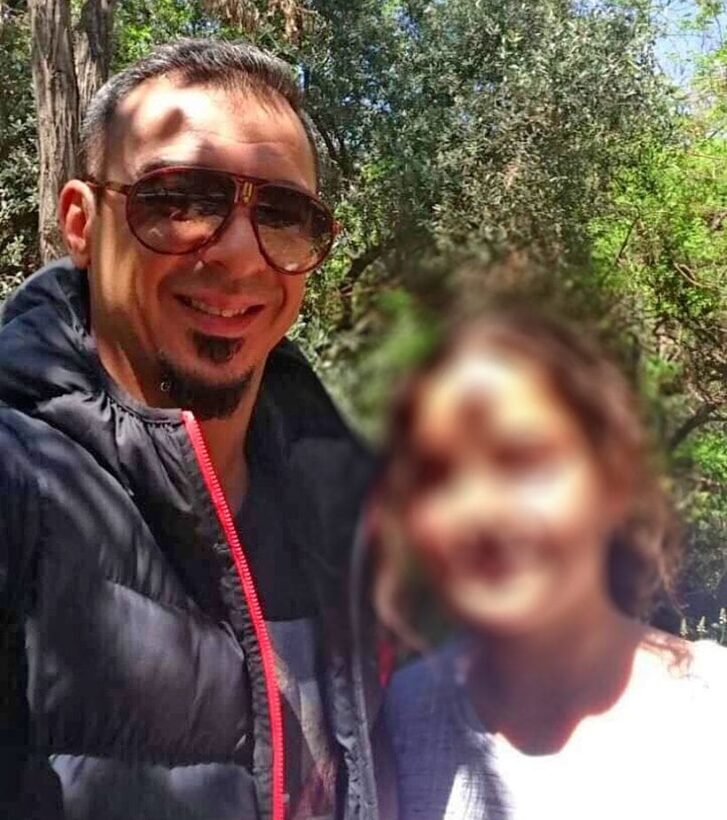 Dimitrios 'Dim' Chairopoulos with his daughter from another relationship
What we know about the alleged murderer?
Dimitrios 'Dim' Chairopoulos, who remains at large and thought to be in Greece, worked as security in a night club in Athens. He already had a daughter to another woman in Greece.
During his relationship and marriage with Bea he was said to be 'controlling' and 'jealous' by members of Bea's family. A close family friend told The Thaiger that the family had concerns for Bea's safety and were 'uncomfortable' with her ongoing relationship and marriage with Dim.
"We tried to get to know him at family functions but he was not easy to know and seemed very possessive of Bea," said one of the close family members who asked not to be named.
"He did threaten to kill her if she ever left him and Oh, another of her sisters, went with Bea to file a report of the threats at the Cherng Talay police station at the time," they explained.
That report was made to police in 2016. A year later the pair married and were still married at the time of the murder.
"He would drive past the beauty shops that Bea worked at and spy on her."
The family claim that, apart from his own possessions, he also stole Bea's phone before he headed to the Phuket International Airport on the evening of the murder.
So where is Dimitrios Chairopoulo?
At this stage the Greek Embassy has made no comment about the case or followed up with Greek Police about the pursuit for the fugitive man.
There are currently approximately 58,000 valid Red Notices worldwide of which only 7,000 are public. An Interpol Red Notice has not been issued to alert international police or Immigration officials to be on the look-out for Dim.
For now, the alleged murderer of Bea – an innocent Phuket beautician, beloved sister and family member – remains at large, most probably in Greece.
If anyone has any information about Dimitrios 'Dim' Chairopoulo's whereabouts or information that may lead police to arrest him, please send a confidential message to The Thaiger.
Hermès opens its first store in Phuket at Central Floresta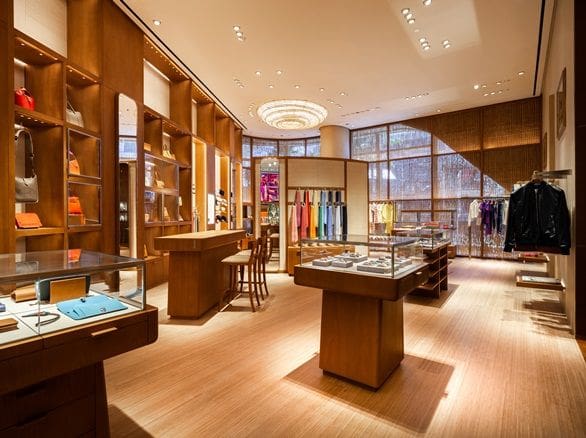 Hermès has opened of its first store in Phuket at Central Floresta, the newly opened lifestyle shopping destination in the heart of the island, opposite Central Festival.
As Hermès' first venture outside the Thai capital, the new Hermès Phuket store makes a significant statement of expansion and confidence in the market. The new address in this world-renowned island will allow the growing population of local residents, along with domestic and international tourists, to discover the abundant variety of Hermès métiers and savoir-faire.
Designed by the Parisian architecture agency RDAI, the elegant 172 m² retail space is located by the shopping centre's main entrance and benefits from a double exposure with an exterior and an interior façade.
A bamboo claustra follows the line of the mall's exterior glass, filtering the daylight that bathes the indoor space, and further illustrates Hermès' high regard for local craftsmanship. The interior façade is composed of a refined lacquered metal, featuring a large window display, complemented by four recesses with illuminated silk scarves.
Upon entering the store, visitors are welcomed by the House's ex-libris and signature Grecques lights, designed for Hermès in 1925. The store is decorated with natural and local materials – bamboo floors and claustra, cognac toned Cherrywood walls, toffee coloured silk and fibre fabrics – tastefully blending various elements of Thai culture and modern architecture. The soft colour palette evokes the sand and the sun in their various shades, providing a delightfully serene and convivial atmosphere.
The overall volume is divided into two main areas by the feminine silk grid facing the entrance. The first one, with the iconic Faubourg pattern mosaic floor, allows guests to explore the silk, fashion jewellery, fragrance, art of living, and equestrian departments.
Opposite the leather goods display, an intimate space invites guests to uncover the watch and jewellery collections. Further along, one can discover the women and men's universes. A sand coloured carpet on the floor outlines the area dedicated to the shoe collections, enriched by a delicate custom-made bamboo light module as the ceiling centrepiece.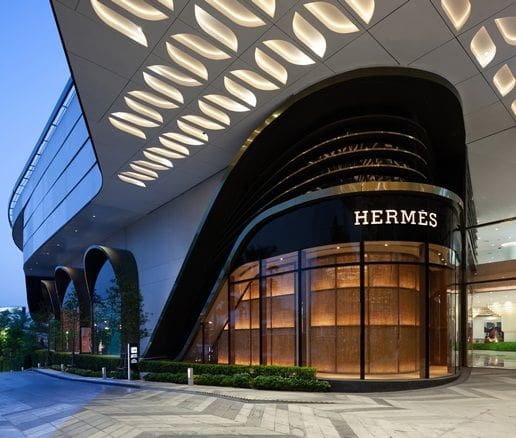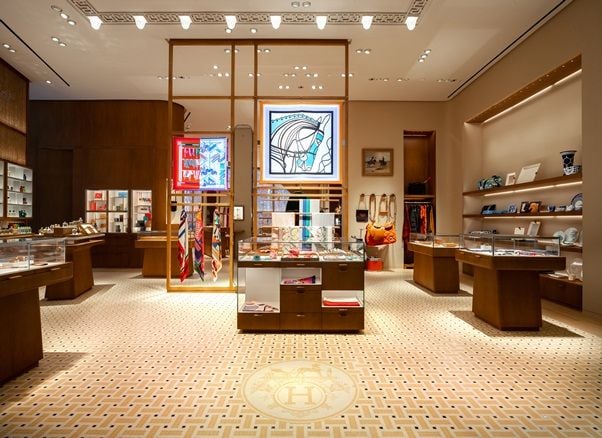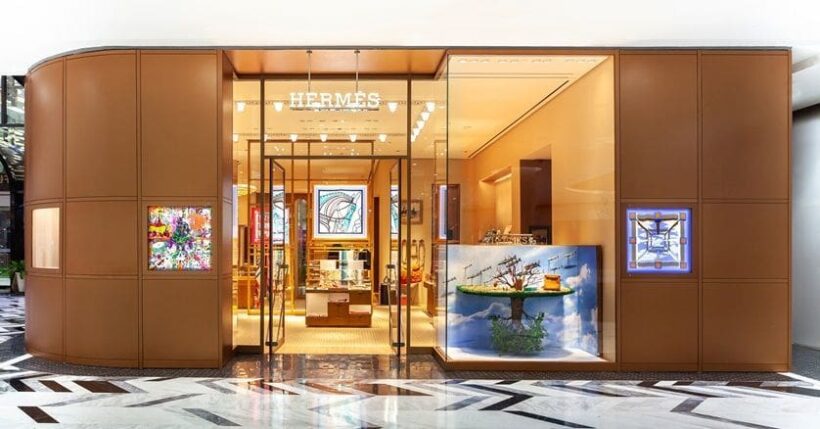 Red car 'gun flasher' arrested in Phuket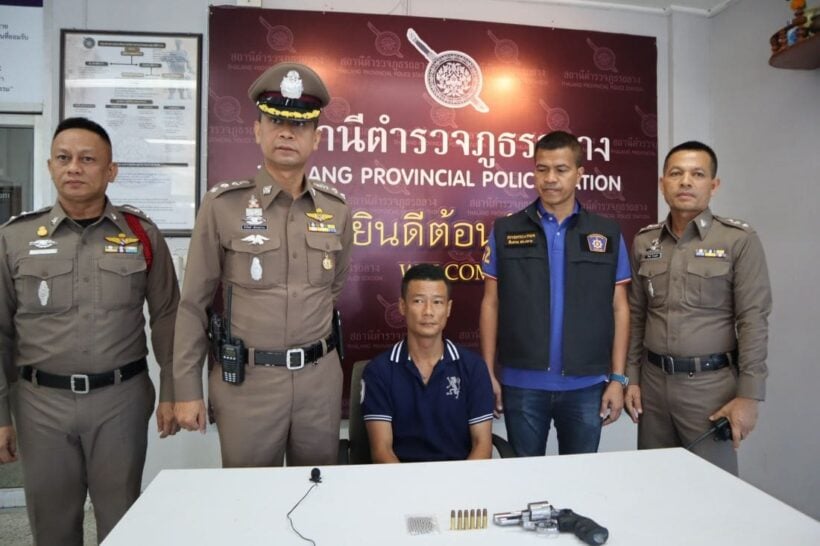 Phuket police have arrested and are questioning the driver of a red sedan following Friday's incident on Thepkasattri Road in Srisoonthorn where he appeared to wave a gun out of his driver's window (video in the link below).
Manop Sangpal was tracked down by police but they've confirmed that Mr Manop's 'gun' was just a BB gun, not a firearm.
The video of the man driving the red sedan and waving the 'gun' out of the driver's window spread around social media on Friday afternoon after a driver following recorded the incident and posted it.
Read the story and see the video below…
Police hunting for driver who threatened others with a gun on Phuket road – VIDEO
On the video the red Ford sedan cuts in front of the car with the dashcam then veers to the left lane while the driver waves the gun out of his window near Wat Srisoonthorn.
Police say Mr Manop was arrested at lunchtime yesterday (Saturday) in a workers camp in Soi Sukapibal where he lives with his Burmese wife and family.