Live Wire – Putting the pieces together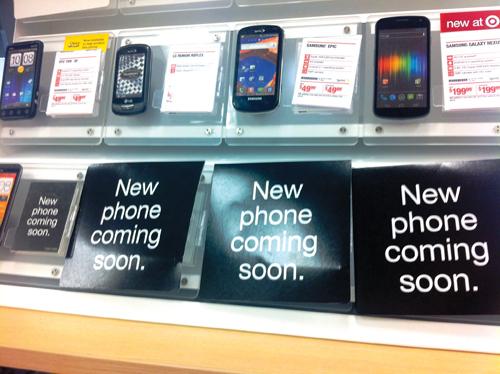 PHUKET: In the past three editions of Live Wire, I've taken you through a detailed list of the internet packages currently available in Phuket and a description of what kinds of packages – "3G," ADSL, Fiber, etc – most people will want.
Last week I warned you about the truly awful experience one reader had with the new TOT 3G (they call it a "3.9G") package.
This week, I'm going to start tying it all together, describing what kind of wireless internet I'm using, and how you may or may not want something similar. Next week, I'll talk about the land lines that I've chosen for my new digs in Kathu, and how and why I chose them.
Yes, I mean "lines" – in Phuket, if you need reliable internet, you must have at least two different lines, from two different providers. But more on that next week.
My wireless hardware situation is pretty normal: I have a Galaxy Note II, which is a cross between an overgrown phone and a shrunken tablet. My wife has an iPhone 4S. In addition, we have an iPad 2 with 3G capability, a Kindle Fire, and a handful of older phones.
Right now, I have three 3G accounts, all with TrueMove-H – one for each of the phones, and one for the iPad. Although it would be possible to tether the iPad to one of the phones, and use the phone account for internet access on the iPad, I'm glad we decided to get a 3G enabled iPad. It's convenient to be able to pick up the iPad and not worry about whether one of the phones is within tethering distance.
Our use of TrueMove-H is largely historical – a living demonstration of the fact that, once you've chosen an internet provider, it's a big hassle to change. All three of the devices run on TrueMove's most expensive 3G package: the TrueMove-H Net (i) package at 899 baht + VAT per month. Although it's advertised as "unlimited," that 899 baht buys me up to 5 GB of data at 3G (actually, HSPA+) speeds, over TrueMove's network, which is owned and operated by CAT. If I go over 5 GB in any month, the phone or iPad gets throttled back to a very, very slow speed.
I've had a TrueMove account for many years. When we bought the iPad 2, TrueMove had the largest discount of any of the three 3G ISPs at the time (TrueMove, DTAC, AIS), so we bought the iPad from TrueMove. When my wife was looking for an iPhone, she already had an account, and phone number, at DTAC. But TrueMove had a better deal on the iPhone we wanted, so we bought the phone from TrueMove.
My wife moved her number from AIS to TrueMove (a process I described in the Live Wire from December 31, 2011).
TrueMove, DTAC and AIS generally offer the most popular new phones with a discount, if you agree to set up a new phone number with them, and pay for the new number for 6 to 12 months.
If I were starting out fresh with a new phone, I'd compare the monthly charge for CAT's 3G service, which is currently 790 baht + VAT for "unlimited" up to 4 GB, and see if any of the three main 3G service providers (TrueMove, DTAC or AIS) offer enough of a discount on a new phone to make it worthwhile. For example, if I bought a new phone from DTAC I'd probably end up paying 100 baht more per month than if I just bought the phone at a phone shop, and used the cheaper CAT service.
The trick, of course, is that I get stuck with a new phone number (which doesn't have to be used in the new phone!) for 6 to 12 months.
Is your head spinning yet?
All of the 3G services (or 3G+ or 3.9G or whatever they want to call them) work about the same. In real world use, as we've seen time and again at phuketinternetspeed.com, 3G in Phuket is fast enough to sustain a video Skype connection, and YouTube videos usually play OK. The ISP's claims of 26 Mbps or 42 Mbps or 56 Mbps are nothing but advertising malarkey, with absolutely no semblance to the real world. Real 3G download speeds in Phuket are closer to 0.4 to 0.8 Mbps. And your location – proximity to a 3G tower – makes an enormous difference.
That may change, though. AIS, for example, announced just last week that it's building out a new 3G network on the 2.1 GHz frequency. The frequency, in and of itself, doesn't mean much. The key factor is that AIS's 2.1 GHz network will be different from its current network – the one owned and operated by TOT. I'm holding out hope (against all experience) that AIS will build a much faster "backhaul" on this new network, and connect it to a relatively unthrottled connection to the internet backbone. If that happens, we'll see the effects first at phuketinternetspeed.com.
When I buy another tablet, I probably won't pay extra for 3G. (Warning: as I predicted two months ago, Apple in Phuket now calls its network capable devices "4G" – when there isn't a single 4G signal available in Phuket.) In the future, I'll probably tether my new tablets to a phone. That not only shaves 3,000 to 4,000 baht off the purchase price of the tablet, it saves another 800 to 900 baht per month for the extra 3G connection.
My next wireless purchase will probably be a MyFi box – the little portable box not much bigger than a deck of cards that connects to the internet over 3G, then lets you share that internet connection with any device that supports WiFi. MyFi boxes are pretty cheap now – a few thousand baht – and they work very well indeed.
One final wireless note: when you go shopping for phones, tablets, 3G connectors (USB dongles, MyFi boxes, whatever), be intensely aware of one fact. 3G is on its way out, all over the world. Unless Thailand completely screws up 4G – I'd ballpark it at a 70/30 chance, given the self-flagellation we saw with 3G – you're going to want to replace your 3G equipment with 4G in a couple of years.
Why? 4G really is that much better – and in two or three years from now, you're going to have plenty of uses for a faster line. As I described in the August 11 Live Wire, in the real world, 4G runs three to five times faster than 3G. Of course, it'll be up to Phuket's ISPs to create the infrastructure that will support those higher speeds, so our results may well vary.
I don't want to leave the topic on a dyspeptic note. The fact is that wireless internet access in Phuket has made breathtaking advances in the past three or four years. Granted, our 3G isn't as fast or reliable as Singapore's or Hong Kong's – or even Cambodia's. But it's usable, and getting better.
Starting this month, a German-language group will hold informal computer clinics at the Sandwich Shoppe in Patong on Sunday mornings, at 11am. Sehr gut!
Our regular weekly computer clinic roundtables continue every Sunday morning, 10am at the Sandwich Shoppe, Chalong. If you have a Windows problem that needs to be solved, or a question about internet service in Phuket, drop by and ask one of the assembled gurus. It's always free. Sponsored by the Phuket Gazette and Khun Woody's Sandwich Shoppes.
Live Wire is Woody Leonhard's weekly snapshot of all things Internet in Phuket.
Follow him on Twitter, @PhuketLiveWire, and "like" the pages at — Woody Leonhard
Keep in contact with The Thaiger by following our
Facebook page
.
Never miss out on future posts by
following The Thaiger
.
Strong wind and waves this morning closes Phuket's beaches, one swimmer rescued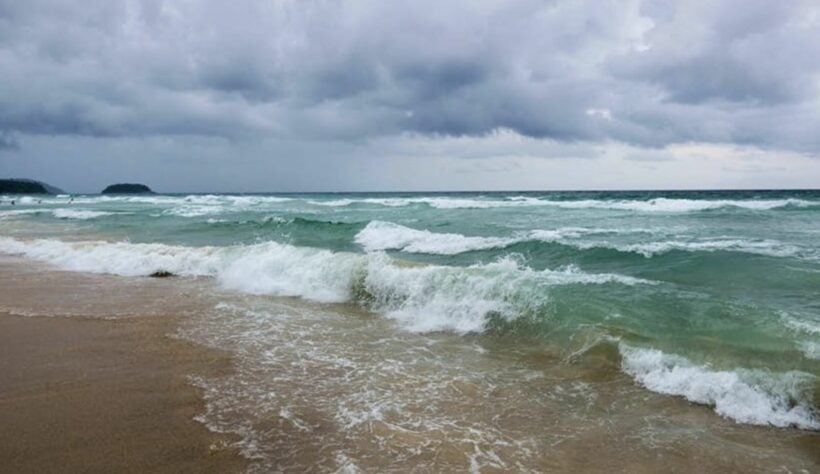 Phuket's Rawai Mayor, Aroon Solos, ordered all beaches in the area to close after a foreigner was rescued this morning after being unable to make it back to shore. The foreigner was swimming off Ao Sane beach, just north of the popular Nai Harn Beach, when lifeguards were sent out to help bring him back to shore. The recent weather has been partly attributed to Tropical Storm Noul as other beaches areas around Patong have been closed since Friday.
Mayor Aroon ordered both the Nai Harn and Ya Nui beaches closed until further notice.
Noul crossed over the Vietnamese coastline in the early hours of Friday morning and tracked westwards into Laos, then Thailand's north east, dragging in moisture from the Indian Ocean and intensifying the south-west monsoon.
The Chief of the Cherngtalay Tambon says that, once weather is more stable, the island's beaches will reopen.
"All beaches in our area, Surin Beach, Bang Tao beach and other beaches, are closed today. We will reopen them when the weather improves." Strong winds have contributed to falling trees and power outages across the island with one tree falling on the island's main traffic artery, Thepkasattri Road, blocking traffic.
Officials are also warning road travellers to drive carefully after a car reportedly flipped over yesterday during wet conditions. The Thai Meteorological Department has also re-issued a weather warning today, saying that Noul has been now downgraded from a Category 3 tropical storm to a tropical depression.
The remnants of Noul currently sit over the Kancanaburi province after surging through Thailand's north eastern and central provinces earlier today.
"Strong wind waves are likely in the Andaman Sea and the Gulf of Thailand. In the upper portion of both seas, the waves will be likely 2-4 meters high and more than 4 meters high in thundershowers. In the lower portion, the waves will be likely about 2 meters and in thundershower areas more than 3 meters high. All ships keep ashore through 20 September."
SOURCE: The Phuket News
Keep in contact with The Thaiger by following our
Facebook page
.
Never miss out on future posts by
following The Thaiger
.
Phuket residents going hungry after local government assistance runs out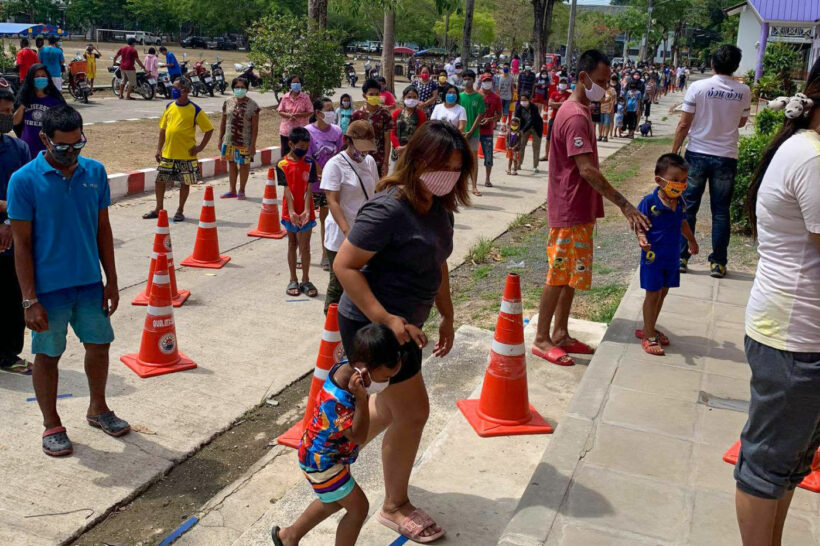 Residents in Phuket, particularly those living in and around the west coast townships, are reportedly going hungry as the government's municipal budget to provide food has been depleted. Despite efforts to revive tourism in the area, thousands of people are still in need of donated food to survive and continue to queue up for donated food every day. A public relations staff member at the Patong municipality says, sadly, there is no budget to do any more food handouts in the near future and that there is no word on when or if there will be any more handouts.
The Phuket Town Deputy Mayor told The Phuket News that there has only been 2 handouts since the pandemic struck the tourist-reliant area. One handout was in March while the last handout was in June with the mayor saying 28 million baht was spent in those 2 handouts. Meanwhile a number of foreign residents in the town have been providing supplies for food queues for many months to help the impoverished residents.
One Phuket expat says the majority of those affected in the Patong area are Burmese migrant workers, with long queues for private donations still being seen on the streets of Patong. Such private donations are a result of charity events that are being held across the island with the assistance of dedicated volunteers.
Like Thailand's Mental Health Department, many are concerned about the impact that food insecurity is having on those struggling. According to the department, 2,551 people had killed themselves across Thailand in the first half of 2020, a 22 % increase, year on year. In response, the National Reform Committee on Labour was ordered on September 11 to issue an amnesty on all outstanding debts, while providing financial support anyone who remains unemployed on the island.
At a recent meeting, other requests were made that include the government giving incentives for more Thais to visit the island and to use social security funds and soft loans as support for local business owners. For now, the situation is grim as Phuket residents are resorting to relying on private charities for food donations.
Phuket's vice governor Phichet saysd that Phuket has been badly affected by the Covid crises, and delivered 3 requests to the Senate Standing Committee on Tourism… to extend the financial support by the Social Security Office for a further 3 months, allow workers from other provinces to transfer their house registration to Phuket so the Phuket government can receive more funds to provide better care for them, and ask the Ministry of Labour to provide assistance to at least 1,000 unemployed in Phuket.
Whilst the government unveiled plans for a "Phuket Model" to revive tourism on the island, it came to nothing, despite a high power delegation of Ministers and Bangkok officials who visited Phuket 2 weekends ago.
One such charity is set to record a song by leading Phuket musicians with the hopes of continuing to help feed those in need on the island.
SOURCE: The Phuket News
Keep in contact with The Thaiger by following our
Facebook page
.
Never miss out on future posts by
following The Thaiger
.
Heavy rain across the country this weekend – local forecasts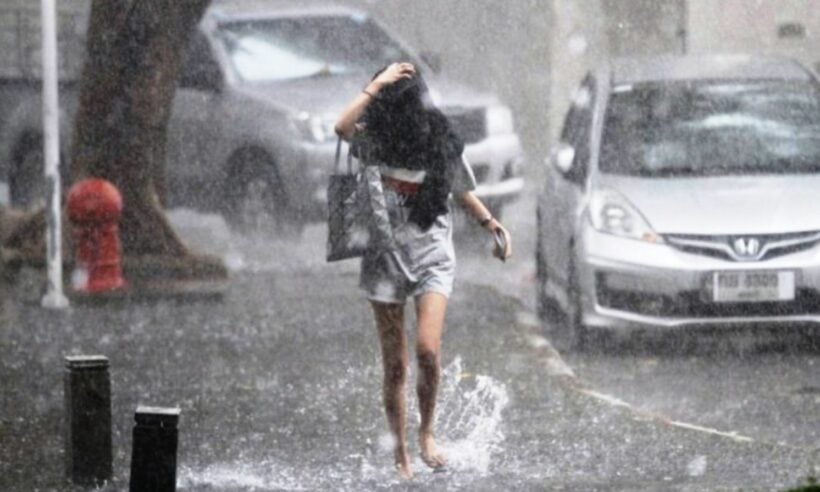 Heavy rain is expected across much of Thailand over the next few days, mostly as a result of the intensity of a tropical storm crossing into Vietnam today, 'Noul', from the South China Sea. The low pressure cell will help intensify the effects of the south west monsoon too. But the remnants of the storm won't "slam" into Northern Thailand as one news site claimed – rather it will be a lot of rain and increased winds. The storm is expected to cross into Thailand around the Mukdahan province some time early tomorrow,
Around the country, Saturday will be the worst with rains easing during Sunday. Thailand north east 'Isaan' provinces will be the worst affected as they are in the direct track of the storm as it crosses Vietnam, into Laos, and then crossing Thailand's borders in the upper north east in the early hours of tomorrow morning.
Whilst tropical storm 'Noul' has been packing winds from 80 – 120 kilometres per hour as it reaches the central Vietnam coast areas, including popular tourist locations like Da Nang and Hoi An, the storm will continue to dissipate as it moves inland. The storm has been tracking across the South China Sea this week, gathering strength, in a west northwesterly direction.
Residents in the coastal town of Hoi An report that it rained continuously last night, with strong winds, and that they expect widespread flooding to be reported during the day.
The forecast for heavy rain in Bangkok will probably dampen some of the enthusiasm for tomorrow's anti-government rally to be held in and around the Thammasat University Tha Prachan campus.
Here are the forecasts for Saturday and Sunday around the country…
Bangkok

Phuket

Chiang Mai

Pattaya

Khon Kaen

Koh Samui

Read more about Thailand's annual monsoons HERE.
SOURCE: weather.com
Keep in contact with The Thaiger by following our
Facebook page
.
Never miss out on future posts by
following The Thaiger
.