Injured Phuket monkey captured after swimming around Ao Po marina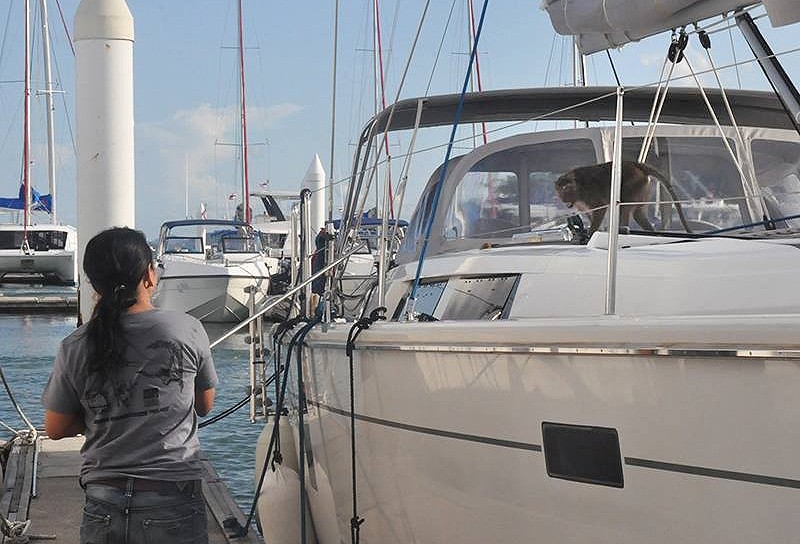 A monkey which was found injured in Ao Po, on the north-east coast of Phuket, is now recovering and getting veterinary attention. It was found at the Ao Po Grand Marina.
The Wildlife Animal Rescue Foundation of Thailand was notified last week about the monkey which some of the staff at the Ao Po marina believed had swam back from Koh Payu (where Phuket's excess monkey population were re-homed three weeks ago – The Thaiger doubts this theory).
Officers from the Khao Phra Taeo National Park were called when the distressed and injured monkey was discovered on a yacht in the marina.
A team arrived and were directed to find the panicked long-tailed macaque on a yacht. The monkey had a bad cut on its shoulder and neck.
Officers anaesthetised the monkey and took it to the national park centre for treatment. Witnesses told staff members of The Wildlife Animal Rescue Foundation of Thailand that they think the monkey might have swum from one of the small islands offshore and might have been struck by a boat propeller near the busy marina entrance.
Pongchart Chouehorm, the Director of the Natural and Wildlife Education Centre at Khao Phra Thaew Non-Hunting Area in Thalang, says that the monkey is now being cared for and should fully recover from its adventure.
Khun Pongchart also discussed the monkey matters with Jim Poulsen, a yacht broker of Lee Marine, who were looking after the yacht where the monkey was found.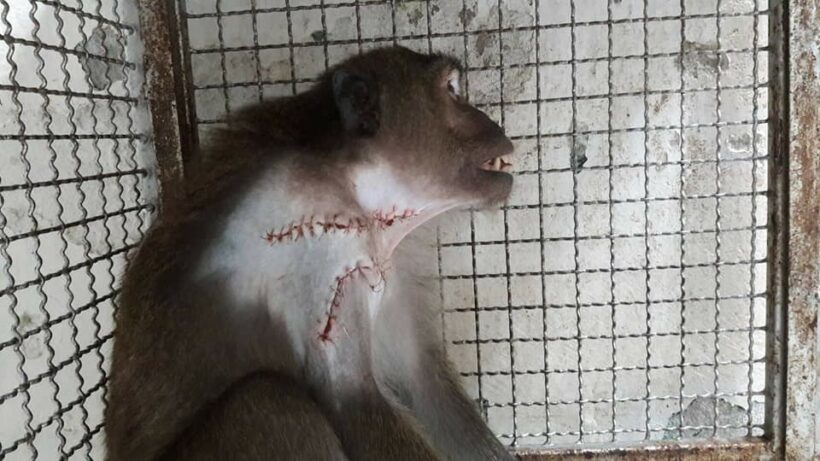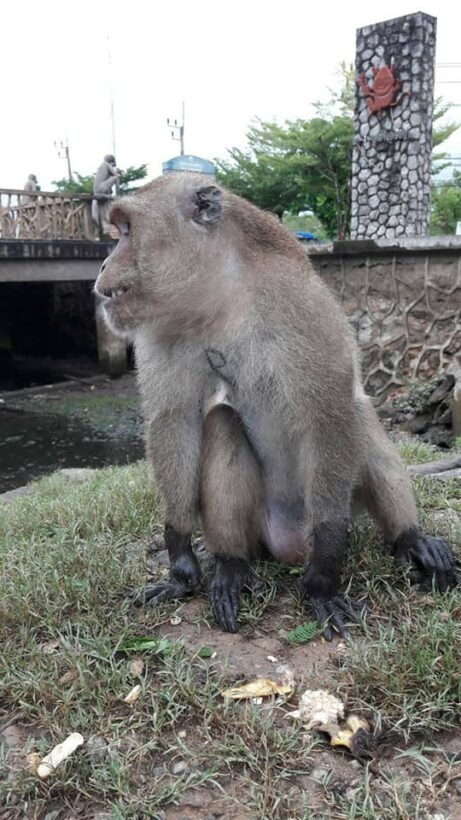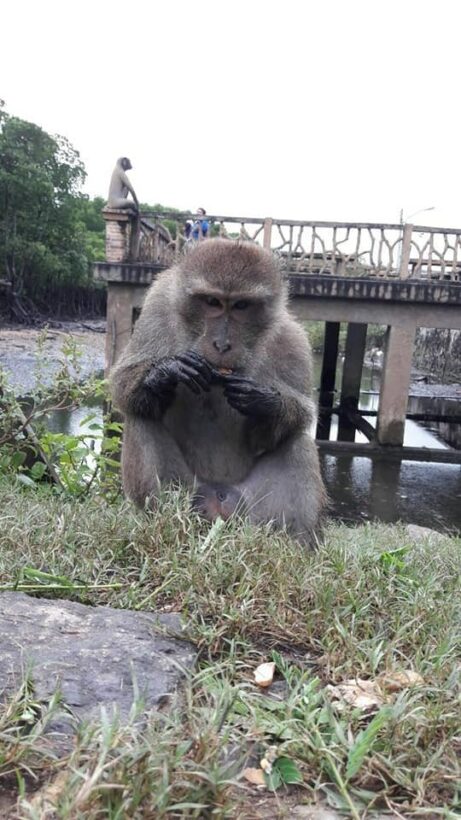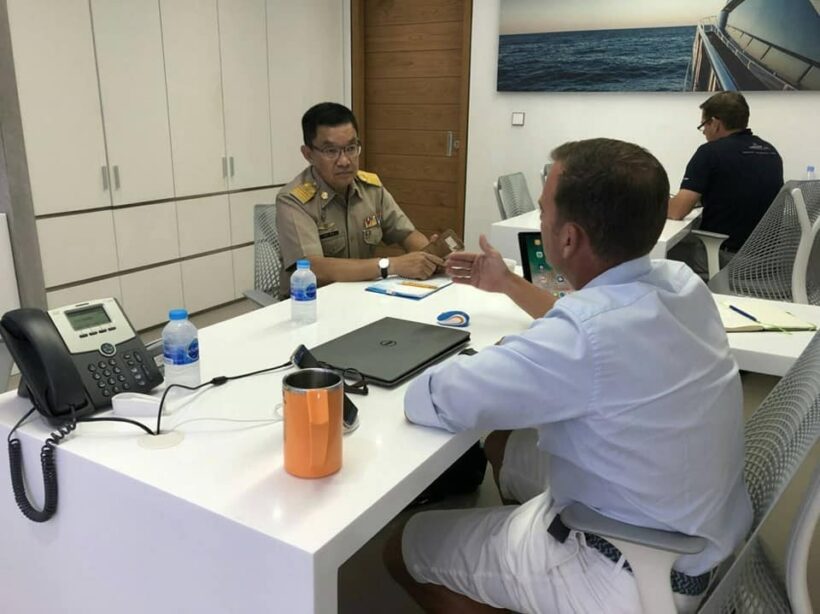 PHOTOS: Natural and Wildlife Education Centre at Khao Phra Thaew Non-Hunting Area and The Wildlife Animal Rescue Foundation of Thailand

Russian tourist stung by 'fire jellyfish' at Patong Beach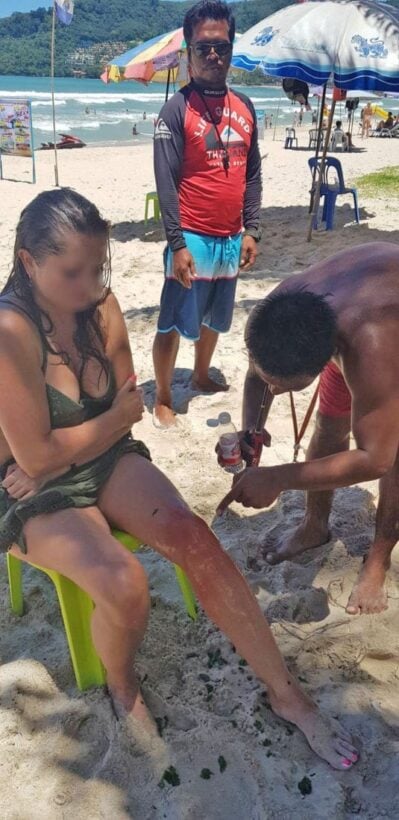 PHOTOS: Patong Lifeguards / Newshawk Phuket

A female Russian tourist has sustained a painful sting on her leg from a 'fire jellyfish' at Patong beach today (September 20).

Patong lifeguards are warning of jellyfish known locally as the 'fire jellyfish' at Patong Beach.

Fire Jellyfish or Morbakka fenneri can be discovered in tropical watersa. The physical appearance of this jellyfish is slightly larger than most jellyfish. The fire jellyfish can be seen from their pink coloured body, four inch body length and their bell is two-inches in diameter. Their stings are also painful but no worse than other jellyfish.

Patong lifeguards say, "We have provided first aid to a the Russian lady who refused to go to a hospital. If you are stung by one, pouring sea water or vinegar on the affected area can help relieve some of  the pain. Please don't use fresh water and don't scratch."

"Many tourists sustai...
Soi Dog congratulates the Hanoi people's committee ban on dog and cat meat trade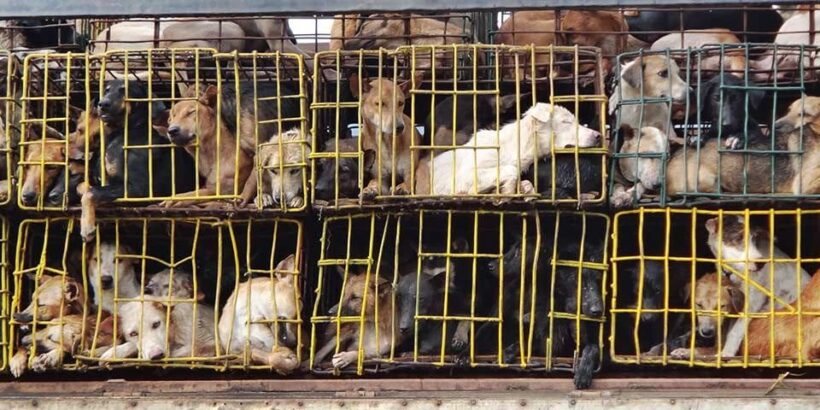 Barely 24 hours after urging citizens to stop eating dogs and cats, Hanoi's authorities have announced that the sale of dog meat will be banned from the central districts of the city from 2021.
The director of the city's Department of Animal Health, Nguyen Ngoc Son, told Lao Dong Newspaper on Wednesday (September 12)...
"Following a direction from the city's People's Committee that called on residents to ease off eating dog meat, we are building a plan to gradually phase out the slaughtering and trading of dog meat.
"By 2021 there will be no dog meat restaurants in the city centre."
The People's Committee had asked city residents the previous day to stop eating dog and cat meat, and urged local district authorities to launch campaigns to warn people about the risks of contracting diseases, includi...
Koh Payu monkeys have a fruit feast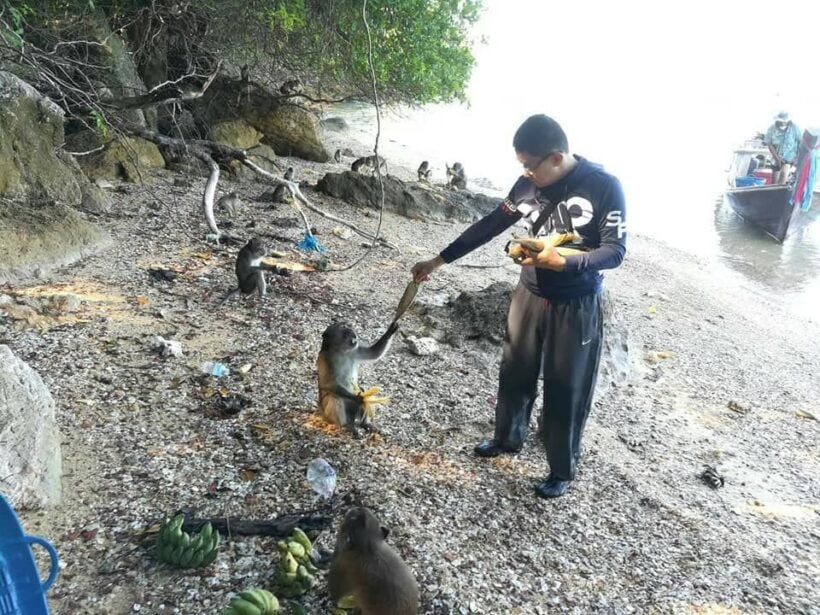 PHOTOS: Pongchart Chouehorm
A team of officers from the Natural and Wildlife Education Centre headed out to Koh Payu where monkeys were released to their new home over two months ago. The visit was to check on their welfare and give them a fruit-fest - LOTS of bananas.
Today (September 20), 80 monkeys, which had already been sterilised and released onto Koh Payu off the coast of Phuket, hosted some visitors from the mainland. The island covers 26 rai of land.
Read more about the release of the monkeys to their new home 
HERE
.
Pongchart Chouehorm, the Director of the Natural and Wildlife Education Centre and his team, took the short trip out to Koh Payu.
They took some fresh fruit to feed the monkeys that were settling into their new home. Water levels in a tank were checked to make sure that there ...