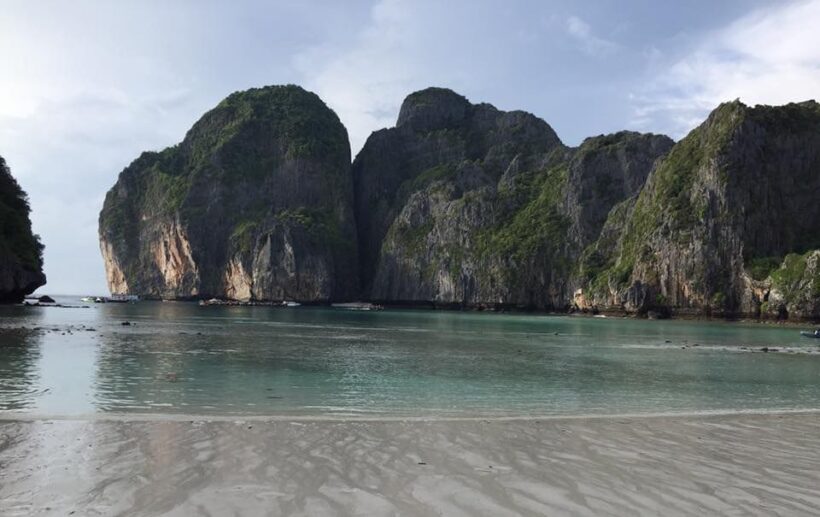 In one corner, marine scientists and biologists who are urging the government to keep Maya Bay closed as it struggles to rehabilitate following years of tourism abuse. In the other, local tour operators who say that the region's main money-spinner has been taken away from them affecting their pockets and the many people they employ.
Meanwhile Maya Bay is slowly recovering without the visit of 5,000 tourists and boats every day.
Marine ecologists are asking the tourism sector to desist from pressuring authorities for an early reopening of the world-renowned Maya Bay to help ensure a proper rehabilitation process.

But local tour operators, affected by the closure, will meet tomorrow to discuss their next move as the peak tourism season draws near. The pressure on authorities to re-open the tourist magnet is intense.

On September 28, the National Parks Department issued an order for indefinite closure of Maya Bay in order to allow more time for damaged coral reefs to recover.

Experts say the four-month closure of Maya Bay was insufficient for rehabilitation due to the popular site's fragile ecosystem.

Assistant Professor Datchanee Emphandhu of the Forestry Faculty of Kasetsart University, said Maya was like a seriously ill patient who needs more time to recover. Rushing to reopen the place would result in the likely collapse of its ecosystem.

"The damage could be irreversible."

She was speaking in response to a call by tour companies in the area to reopen the destination once the tourism industry enters the high season later this year.

On September 28, an official announcement was made in the Royal Gazette about the indefinite closure of Maya Bay from October 1, after the previous closure order was supposed to end on September 30.

One of the world's most-visited tourist destinations, made popular by the Hollywood movie "The Beach", Maya Bay's limited 30-rai (4.8 hectares) area, attracts about 5,000 tourists per day on average, or between 1.5-2 million visitors per year.

The National Parks Department, after holding consultations with its advisers and marine experts, said earlier that Maya Bay had been seriously environmentally degraded because of overcrowding.

The department has allowed boats to bring tourists to watch Maya only from a distance while officials work on rehabilitating the area and its fragile ecosystem, including the damaged coral reefs that need more time to regrow.

Marine ecologist, Sak-anan Plathong, from Prince of Songkla University, suggested that the department ensure protection of the fragile ecosystem at Maya Bay and prevent further disturbance to the fragile beach forests inside the nearby island.

"An elevated boardwalk over the fragile sand and forests should be built to help reduce pressure on the ecosystem. If there is going to be a reopening of the beach, it should be delayed beyond the high tourist season, maybe a month or two after the season."

"In addition, the beach should be given one or two days' break per week to allow natural replenishment of sand on the beach."

The number of visitors, he added, should also be restricted.

Assistant Professor Thon Thamrongnawasawat posted on Facebook that the front of the bay should be off limits forever to allow corals to rehabilitate and regrow otherwise all the efforts invested now would become useless.

National Parks Office chief Songtham Suksawang said the department wishes to see the bay's ecosystem fully rehabilitated before it decides to reopen the bay to tourists again.\

The department is in the process of procuring projects to build a boardwalk and a new floating pier at the back of the island so that coral reefs at the front of the beach will not be disturbed. The department has also commissioned four universities to conduct research on the appropriate number of tourists who should be allowed to visit six popular beach destinations in Thailand: Samet islands in Rayong province; Surin, Similan and Tapoo islands in Phang Nga province; Chang island in Trat province; and Lanta island in Krabi.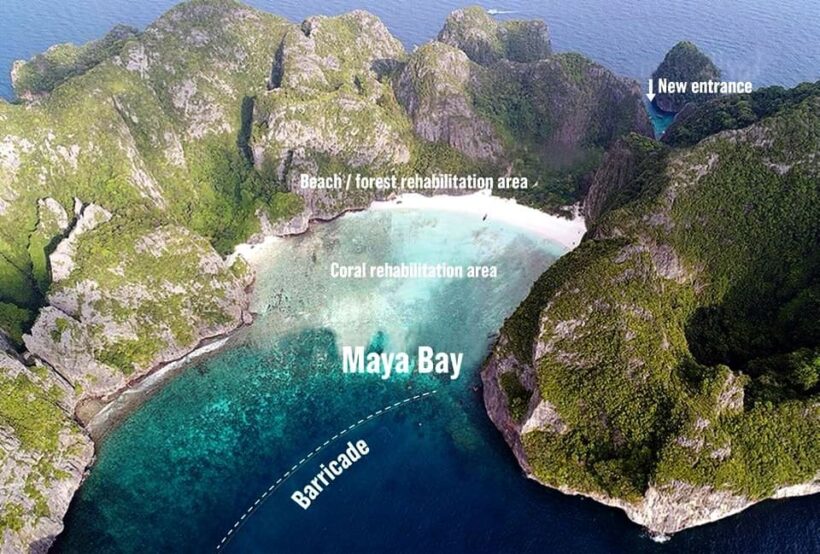 STORY: The Nation


Read more headlines, reports & breaking news in Krabi. Or catch up on your Thailand news.

Krabi rescue workers stop a python and cobra fight – VIDEO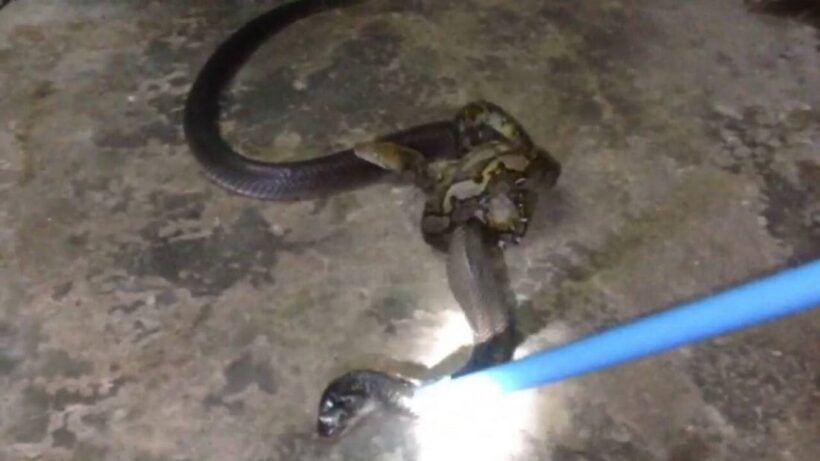 Rescue workers have stopped a fight between two snakes.
Rescue workers in Nuea Klong, Krabi were trying to stop a fight between a two metre python and a one and a half metre cobra while they were fighting inside a local house.
Rescue worker used a snake snare to move the python and the cobra out of the house. It took about 10 minutes to stop the fighting. Neither were injured in their short battle.
38 year old Kanokkorn Maidam, the owner of the house says, "When I returned home last night I found that these two snakes were fighting. I think that they were searching for a rat and just happened to be find the same rat at the same time. I think they were fighting over who would claim the rat."
KRABIRescue workers in Nuea Klong, Krabi were trying to stop a fight between a two metre python and a one and a half metre cobra while they were fighting inside a local house.

Posted by The Thaiger on Tuesday, December 11, 2018

Man arrested for possessing exotic wild cats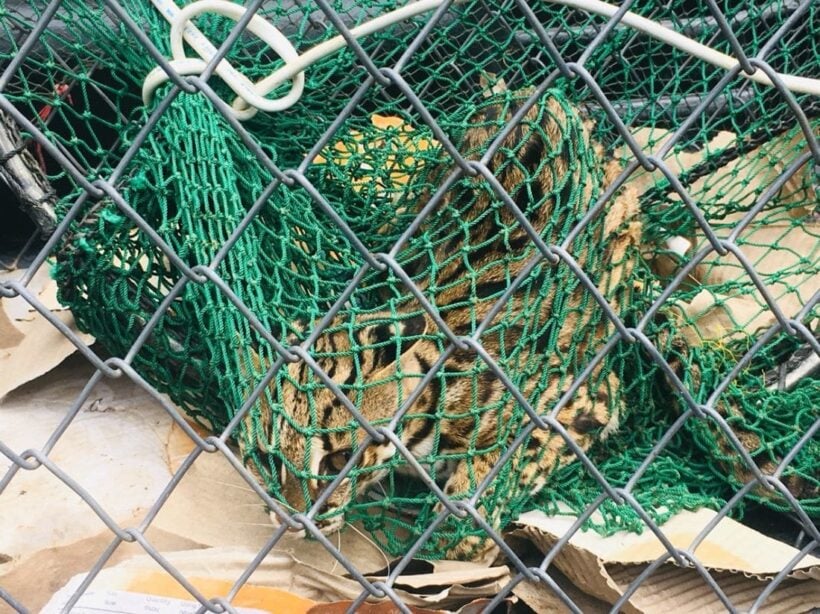 A man has been arrested after being found in possession of mixed protected wild cats which, authorities claim, are very 'fierce'.
Officers went to a house in Koh Lanta, Krabi after they were notified that a man was keeping protected Leopard Cats.
A male three year old Leopard Cat weighing two kilograms were found inside a big cage at the house. 33 year old Supakdee Sangkhao said he was the the owner of the cat.
Officers also found a female Bengal Cat and 17 kittens walking around the house. Officers believe the kittens are a mixture of Leopard Cat and Bengal Cat.
Officers have now sterilised all kittens as the cats are potentially very fierce. Supakdee has also been charged with illegal possession of protected animals.
Supakdee says, "Local people gave me this Leopard Cat since it was very young. A European tourist gave me the Bangal Cat. I didn't know that keeping them was illegal."
The mixture of these two wild cat cat breeds are very popular amongst people who like cats. They are quite large and have fur like tiger. They cost from ten thousands to hundred thousand baht. Police suspect that Supakdee was breeding the cats commercially and are conducting further investigations.


Krabi Police tracking down durian thief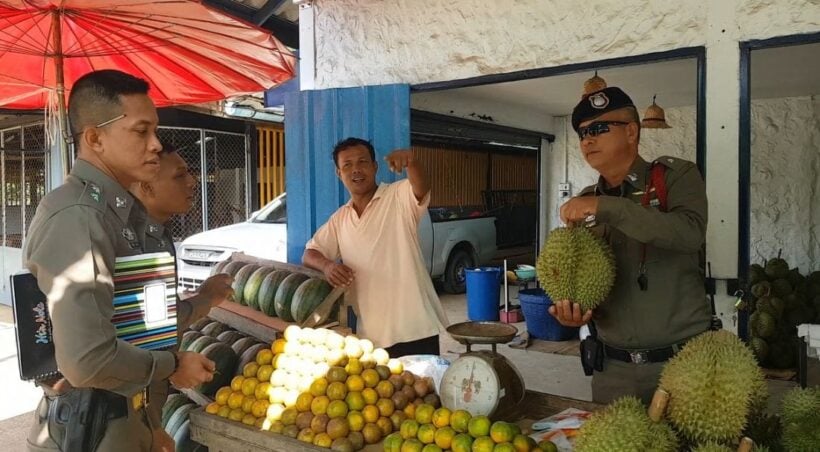 A hungry thief in Krabi has stolen 10 durians from a shop yesterday with a value of more than 5,000 Baht.
The Krabi City Police were notified about the incident at the fruit shop in Mueang Krabi District.
Police arrived at the scene to find 38 year old Nittaya Kampueak, the owner of the shop.
Khun Nittaya told police that yesterday morning, after opening the shop she later discovered that 10 of the durian had disappeared. Each durian weigh about 5 kilograms, a total cost of more than 5,000 baht.
She told police that the incident happened while she and her family were in the house, behind the shop.
Krabi Police are continuing their investigation to find Krabi's durian thief .