Entangled manta ray ensnares international attention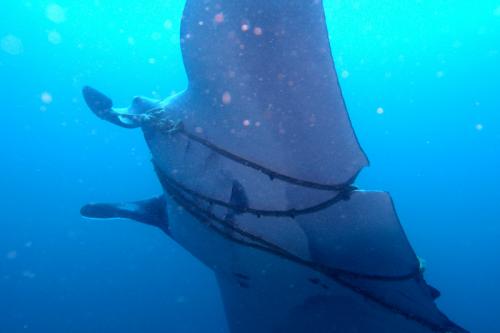 PHUKET: The sighting of a 5-meter manta ray entangled in heavy ropes off Koh Racha Noi has galvanized marine experts from as far away as Bangkok and Singapore to come to its rescue.

Nantarika Chansue, the director of the Veterinary Medical Aquatic Animal Research Center and faculty of Veterinarian Sciences at Chulalongkorn University in Bangkok, has called on the entire Phuket community for help, suggesting that community members post comments on "Save the Manta" Facebook event (here) if the pelagic animal is spotted again.

Once Dr Nantarika is notified of another sighting, she can coordinate her team, staff from the Marine Life Park in Singapore and relevant Thai government bodies to launch an emergency rescue mission.

Photos taken by Zylane Lee of the manta ray on February 12 started to circulate on Facebook within the Phuket dive community this week.

"It was swimming alright to our untrained eyes," Ms Zylane's mother, May Yuen Wu, who took video footage (view here) of the manta ray during the dive, told the Phuket Gazette.

"This was our first time to see a manta and we were very happy to see it as that's our purpose for returning to Phuket for diving every year," she said.

"It only dawned on us that the manta was having problems at the very end [of the dive] when it swam closer to me. We wished we could do something, but we couldn't. We were sad and heartbroken to see such a beautiful creature in such a state," she said.

Dr Nantarika told the Gazette that she hoped it wasn't too late to save the manta ray.

"I'm not sure if the animal is still alive, because the rope went across his mouth. So it depends on whether he can eat or not… If he can eat we have more time to get the rope out," Dr Nantarika told the Gazette yesterday.

"The first thing to do is find the animal," she said.

Staff at the Marine Life Park on Sentosa Island in Singapore are reportedly ready to come to Phuket to help in the rescue mission as soon as the animal is spotted.

The Marine Life Park, the world's largest oceanarium, houses the world's largest collection of manta rays, including the only giant oceanic manta ray in captivity.

"Members of the Marine Police and Department of Marine and Coastal Resources (DMCR) from Bangkok as well as Phuket are also ready to take action," Dr Nantarika said. "Everybody is ready, we just need to know the current location [of the manta ray]."

Even Phuket fishing boats have been put on alert and are ready to respond if necessary according to Dr Pinsak Suraswadi, Acting Director of Marine Resource Conservation and Restoration Division, Department of Marine and Coastal Resources.

Dr Nantarika explained that she has also been in touch with international animal handler, Fred Fan.

"Mr Fan is one of the best animal handlers in the world. I contacted him because has a great deal of experience with manta rays… he is willing to help us as much as he can," she said.

Dr Nantarika explained to the Gazette that Mr Fan suggested the possible need of an enormous net 300 to 400 meters across for the rescue mission.

"I would prefer not to give it [the manta ray] a tranquilizer, but if it looks like it will be dangerous for the people working with it we might consider the option," Dr Nantarika said.

"This is a huge animal, it's not like a dolphin where you can go in and cut the rope, a manta can actually flip you over," she added.

Dr Nantarika thanked the Phuket diving community, especially Darren Gaspari from Aussie Divers Phuket, who has been a driving force behind the movement to save the entangled manta ray.

With heads of relevant departments in Bangkok for the 16th Convention on International Trade in Endangered Species of Wild Fauna and Flora to handle a variety of wildlife issues including the protection of sharks and manta rays (story here), Dr Nantarika took the opportunity to bring the top brass together to discuss the establishment of a Marine Endangered Animal Stranded Network, which would be a contact point for sightings of stranded and distressed animals like the recently sighted manta ray.

"We need this network because at present there is no coherent way to deal with the many distressed dolphins, whale sharks and manta rays that we find. We can just appeal to locals and divers for help," Dr Nantarika said.

"The reason I want to do this is because so many of the animals we've attempted to save have died because we don't have enough resources," she added.

The center would help provide necessary training for locals in Phuket and other areas where distressed marine animals are often found.
— Isaac Stone Simonelli
Keep in contact with The Thaiger by following our
Facebook page
.
Never miss out on future posts by
following The Thaiger
.
Officials says no illegal land encroachment at Phuket's Sri Panwa resort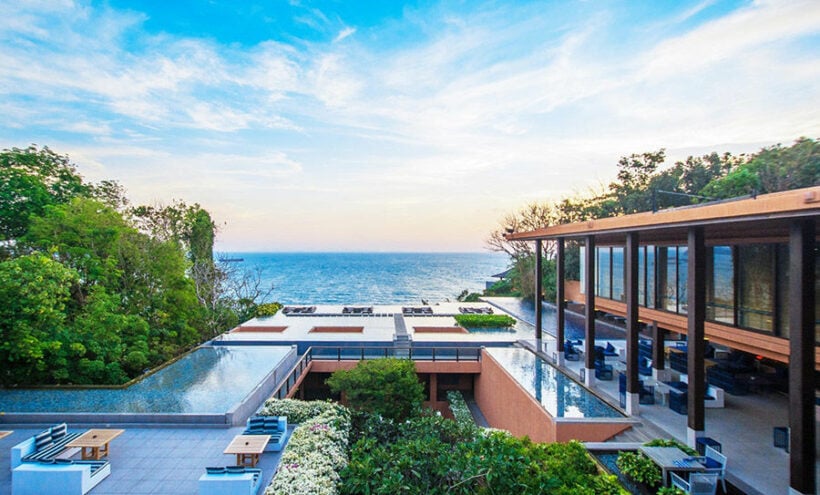 After coming in for some negative online attention recently, the land title deeds of the Sri Panwa Phuket resort have been investigated and found "to be in order". The 5-star hotel first attracted the attention of netizens when its owner, Vorasit Issara, publicly criticised anti-government activist Panusaya Sithijirawattanakul, calling for her arrest. He also claimed she wasn't Thai, a factually wrong and inflammatory statement.
His Instagram tirade prompted outrage from those who support the current protest movement, with netizens calling for a boycott of his property and leaving several negative comments on various review sites. Trip Advisor suspended the hotel's account due to the online attack.
Shortly after, the Civil Society for State Welfare called on the Social Security Office to clarify its investment in the resort's trust fund. This was echoed by at least one opposition MP and anti-corruption activists.
Responding to the land rights issue, the Phuket Land Office has issued a statement to say the hotel does not occupy state land. The resort stands on 56 rai of prime real estate, overlooking Phuket's south-eastern coast. The land office has confirmed its paperwork is all in order.
Meanwhile, it's understood Charn Issara Development, owners of the property, have threatened to sue the resort's critics for defamation.
SOURCE: Nation Thailand
Catch up with the latest daily "Thailand News Today" here on The Thaiger.
Keep in contact with The Thaiger by following our
Facebook page
.
Never miss out on future posts by
following The Thaiger
.
70% of Phuket's tourism businesses are closed, many for good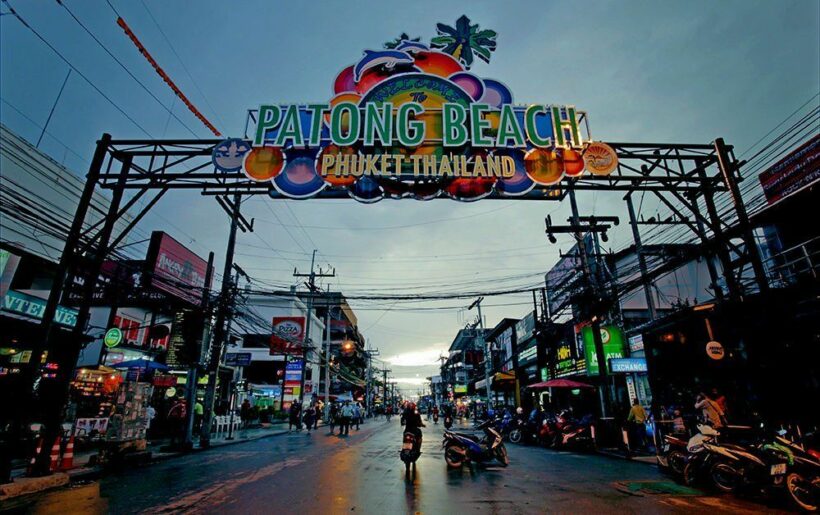 Most tourism businesses in Phuket have closed due to the Covid-19 pandemic, and they probably won't be up and running again until foreign tourists are let back in Thailand. Phuket Governor Narong Woonciew says around 70% of tourism businesses have closed, most of them just temporarily, but some have shut down permanently. But the statistics are not quite that simple, with the east side of the island, largely inhabited by locals with the central business district of Phuket Town and some of the more popular expat towns, doing far better than the tourist magnets of the west coast. The Thaiger estimates that on the west coast the number would exceed 90%.
Before the pandemic, tourism to Phuket brought in 450 billion baht a year with 400 billion baht from foreign visitors while the other 50 billion baht was from domestic tourists. Thailand has been trying to increase domestic tourism to help revive the industry after the pandemic. Phuket's governor says it helps, but not enough.
"Their visits can help solve some of our economic problems, but they cannot replace the need of foreign tourists."
66.8% of tourism businesses in Phuket have closed temporarily while 2.8% have closed permanently, according to data by the Digital Economy Promotion Agency. (Again the percentage along the west coast is MUCH higher – just take a drive through Paton, Kat, Karon). Phuket's governor is trying figure out how to recover the economy. And fast.
"By the end of September, the number of businesses to be closed will increase up to 70% for sure."
While many businesses are closed, the governor says Phuket is "almost 100% ready to welcome foreign tourists." The governor says he can't give an answer to when foreign tourists will arrive in Phuket, but he claims they've "prepared every step," from checking in at the airport to hotel quarantine. They're just going to install some new temperature check machines at the Phuket International Airport and review the procedures for welcoming the tourists.
"We have to work and prepare carefully to welcome foreign tourists… We have to gradually open our door to welcome small groups of people first, in order to test our system, and then open for bigger groups."
At the moment, only 3 venues in Phuket have been approved to operate as alternative state quarantine facilities. Anantara Phuket Suites & Villas has 100 rooms available, Anantara Mai Khao Phuket has 36 villas and Trisara resort has 15 villas. All are 5 star venues with a commensurate 5 star cost.
SOURCE: Phuket News
Catch up with the latest daily "Thailand News Today" here on The Thaiger.
Keep in contact with The Thaiger by following our
Facebook page
.
Never miss out on future posts by
following The Thaiger
.
Thailand's Social Security Office forced to explain investment in Sri Panwa Phuket Resort trust fund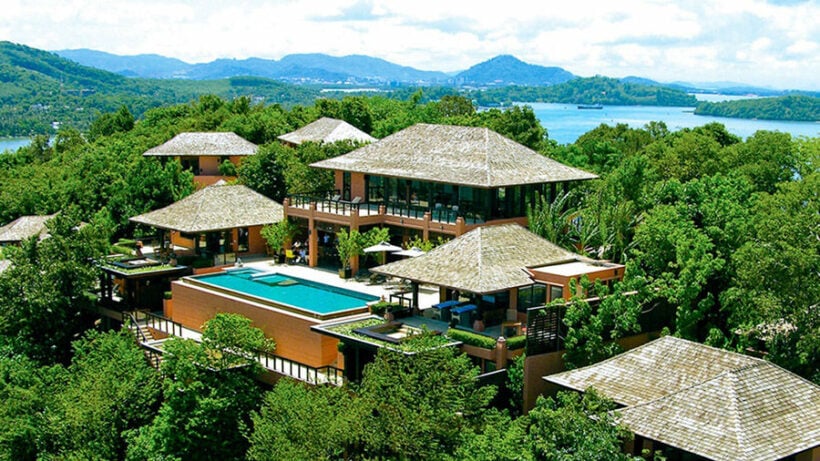 The Social Security Office, a department under the direction of Thailand's Ministry of Labour, is being asked to explain its investment in the trust fund of Phuket's Sri Panwa Phuket Resort. The demand comes as members of the opposition and political activists call for an investigation into the property's land rights. The owner of Sri Panwa Phuket, Vorasit Issara, has been condemned online recently, with his property attracting multiple negative reviews, after he criticised anti-government protest leader, Panusaya Sithijirawattanakul.
Thai PBS World reports that the Civil Society for State Welfare is calling on the SSO to clarify its investment in the Sri Panwa Hospitality Real Estate Investment Trust, thought to be worth around 500 million baht. Nimit Thian-udom says that, while the SSO's investment does not break any laws, the board must explain the reasons behind the investment decision and clarify the return on that investment. In addition, he says the SSO should attach more importance to good governance when choosing where to invest.
The call for clarity is echoed by opposition MP Chirayu Huangsap, from the Pheu Thai Party, who calls on the Labour Minister to explain the investment. He adds that any discrepancies will be reported to both the National Anti-Corruption Commission and the Public Sector Anti-Corruption Commission.
The land rights of the luxury Sri Panwa Phuket resort, which sits on prime land atop Phuket's Cape Panwa, overlooking the south-eastern tip of the island, are also being called into question. Veera Somkwamkid, from the People's Network Against Corruption, says he is looking into the property's land rights and will pass his findings to the Department of Special Investigations.
For his part, the Labour Minister, Somsak Thepsuthin, says he doesn't know if the property has been legally built, saying it's up to the DSI to investigate and that a complaint does not need to be filed in order for them to do so.
Meanwhile, review site Tripadvisor has had to suspend reviews for the Sri Panwa resort, as anti-government netizens exact their revenge on the proprietor by posting negative feedback on the property.
"Due to a recent event that has attracted media attention and has caused an influx of review submissions that do not describe a first-hand experience, we have temporarily suspended publishing new reviews for this listing."
SOURCE: Thai PBS World
Catch up with the latest daily "Thailand News Today" here on The Thaiger.
Keep in contact with The Thaiger by following our
Facebook page
.
Never miss out on future posts by
following The Thaiger
.