Buddhist ceremony commemorates deceased passengers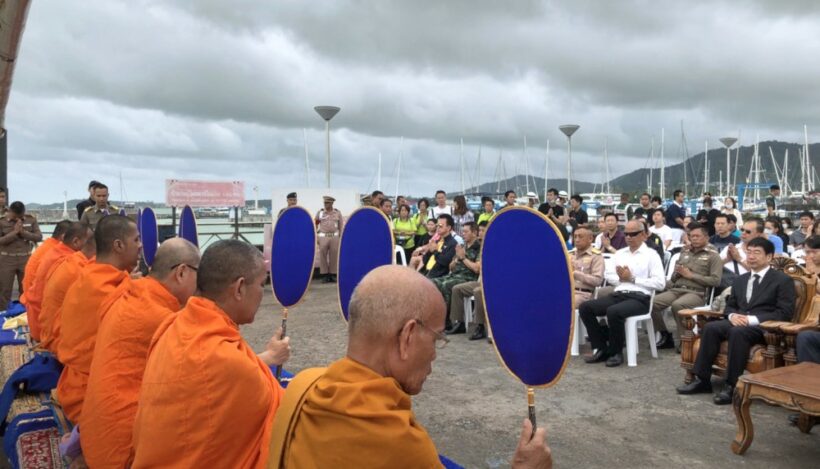 A Buddhist ceremony has been held to commemorate the passengers who died in last Thursday's tour-boat tragedy to the south-west of Phuket, while the search resumed for one person who remained missing.
The ceremony took place at the Ao Chalong pier early yesterday morning (Wednesday) to boost the morale of grieving relatives who were present, along with locals and Chinese authorities. The navy has deployed divers to the location where the Phoenix capsized on July 4 off Koh He to retrieve a body trapped under the shipwreck. Officials were also conducting patrols to search for the final missing person.
Phuket Governor Noraphat Plodthong said the death toll was at 45 and 43 bodies had been identified. Forty-two people survived the sinking of the tour boat. Most passengers on the Phoenix were Chinese.
Funerals were being organised at local Buddhist temples on the instructions of relatives, the governor said. According to Phuket's public-relations office, at the time of sinking the 103 Phoenix passengers numbered 14 crew members and 89 tourists, most of them Chinese.
The captain and all crew members survived.
At a media briefing yesterday morning, Norraphat said: "We have found 42 survivors, and 45 bodies have been recovered. One body is still stuck inside the Phoenix and unable to be recovered at this stage. So just one passenger remains missing."
The search area has been widened to include Phang Nga, Krabi, Phi Phi Island and Satun province. Meanwhile, the Tourist Police Bureau has revealed that the Phoenix was not "fit for purpose" for operations in the seas off Phuket. As well, the buoyancy aids that were provided to passengers failed to meet the minimum standards required for safety vests.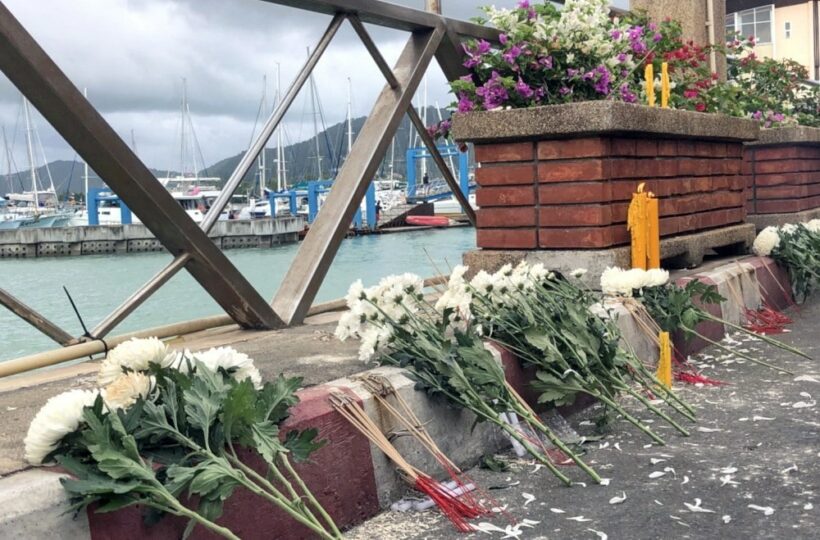 SOURCE: The Nation
Want more from the Thaiger family?
📱 Download our app on Android or iOS for instant updates on your mobile
📧 Subscribe to our daily email newsletter
👍 Like/Follow us on Facebook
🔔 Subscribe to or Join our YouTube channel for daily video updates
Testing increased in Singapore after unlinked Covid-19 cases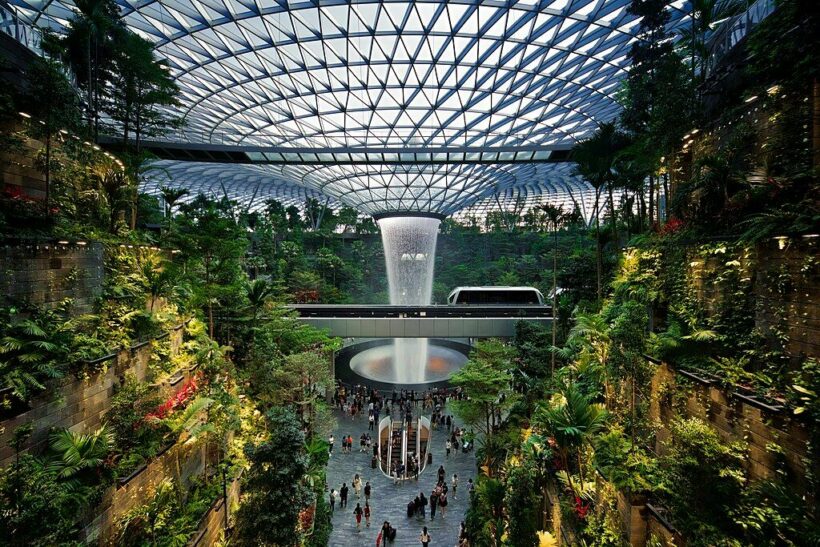 Singapore, where there has been over 61,000 Covid-19 infections and 31 deaths, is increasing testing to find sources for recent unlinked infections. Over the past few weeks, new cases of Covid-19 have been cropping up without any apparent connection to known Coronavirus infections.
The Health Ministry of Singapore said yesterday that a junior college student and 3 staff members at Changi Airport all were identified as infected with Covid-19 with no known connection to any other cases. Thousands of tests will now be given to try to connect the dots and find other unidentified infections that may link these cases.
Every student, faculty, staff member and visitor to Victoria Junior College will be tested for Covid-19, as well as all the staff at both of Changi Airport's terminals and the Jewel shopping mall. The testing for the junior college will encompass 2,200 people receiving swab testing, and over 100 people will be quarantined after being in close contact with the Covid-19 infected student. The details were confirmed by the Ministry of Education. The total number of people tested or isolated in the Singapore airport outbreak of unlinked infections has not yet been confirmed.
Singapore had been seeing positive trends in their fight against the Covid-19 pandemic, but a few weeks ago, things began to change. In the last 2 weeks about unlinked 10 infections have surfaced in Singapore without any apparent connection to known Coronavirus cases, which creates a troublesome question of how many undetected cases are floating around the small country. New outbreaks have been cropping up and the dreaded Indian variant was found inside Singapore. After talks of a travel bubble, Singapore instated a quarantine for travelers from Thailand.
Yesterday health authorities responded to these new clusters and mysterious unlinked infections by imposing new safety measures and tightening social distancing protocolsin Singapore. Officials are hoping to regain control of Covid-19 spreading before it worsens to a point that they will have to reinstate the harsh lockdown rules put in place last year during the initial wave of Covid-19 in the world.
To learn about the current Covid-19 situation in ASEAN countries and South Asia, click here for The Thaiger's roundup.
SOURCE: Bangkok Post
Want more from the Thaiger family?
📱 Download our app on Android or iOS for instant updates on your mobile
📧 Subscribe to our daily email newsletter
👍 Like/Follow us on Facebook
🔔 Subscribe to or Join our YouTube channel for daily video updates
Thailand Consumer Confidence Index hits record low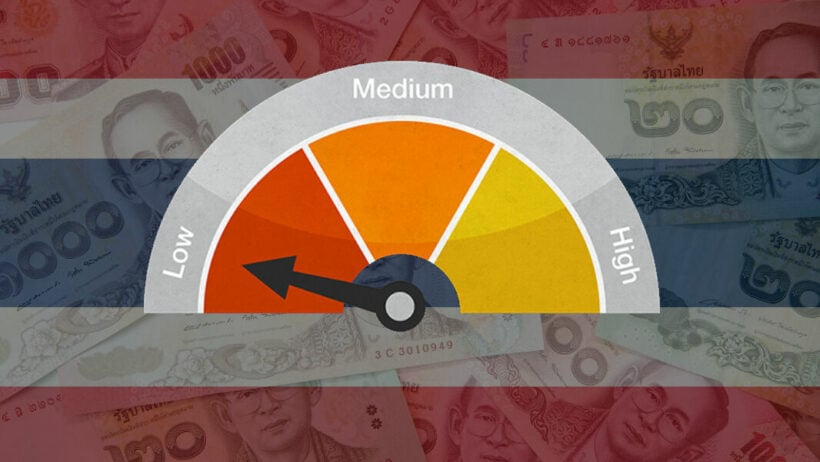 The University of the Thai Chamber of Commerce has reported that the Consumer Confidence Index has hit another new record low of 46.0 in April. The Covid-19 global pandemic has had a devastating effect on the economy and consumer confidence has fallen frequently to the lowest points that it has seen since 1998.
The president of the UTTC believes that consumers generally don't feel like there has been much of a recovery for the economy since the global pandemic began and without a stimulating event to motivate economic growth, the index is expected to continue to fall further. The university estimated that if the third wave of Covid-19 continues past the end of May the economy can expect to lose 400 to 600 billion baht.
The UTTC president stressed that the government should hasten to step up relief measures and make sure they continue relief and economic stimulus throughout the pandemic to avoid economic catastrophe. He predicted that the economy and the Consumer Confidence Index will continue on a downward slope without any hope of improvement until the vaccine rollout gets well underway towards herd immunity, and new Covid-19 infections are decreased dramatically.
Today saw another 2,101 new Covid-19 infections and 17 deaths in Thailand. Vaccination efforts are continually being stepped up, but still remain woefully slow.
The Consumer Confidence Index first started falling last year, with a drop below the previous record low in 1998 in April of 2020, when it fell to 47.2. A few months later, by July of last year, it had recovered significantly, climbing back over 50. But by March of this year, the index had fallen again to 48.5. With April's tumble of 2.5 points, the Consumer Confidence Index pushes once again to a new record low.
SOURCE: Thai Business News
Want more from the Thaiger family?
📱 Download our app on Android or iOS for instant updates on your mobile
📧 Subscribe to our daily email newsletter
👍 Like/Follow us on Facebook
🔔 Subscribe to or Join our YouTube channel for daily video updates
Thailand searches for cow vaccine for lumpy skin disease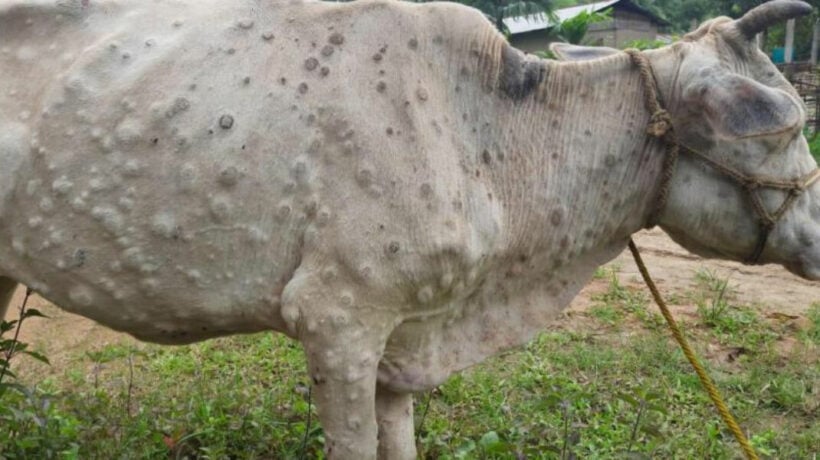 Move over Covid-19 there's a new disease sweeping the country as Thailand's cow population is afflicted with a lumpy skin disease. The Department of Livestock Development is now working on procuring vaccines from overseas manufacturers to import and treat the cattle population in Thailand. The lumpy skin is caused by pustules that are the most visible symptom, perhaps more detectable than other bovine signs such as drooling, loss of appetite and drowsiness.
The cow disease is spreading in the North, Northeast, and Central Plains area of Thailand and has been found in 18 provinces total. First identified in Roi Et, it has now spread in Chiang Rai, Kalasin, Kanchanaburi, Khon Kaen, Maha Sarakham, Nakhon Pathom, and Nakhon Phanom. The first case of the lumpy skin disease was reported in Don Daeng village last month and on April 9th officials reported it to the World Organisation for Animal Health.
The lumpy skin disease is found in cow pens and spread through flies, ticks, and mosquitoes, but the DLD says not to panic, it is not transmissible to humans. The department is distributing important information about symptoms and how the disease spreads to breeders and farmers in the area. They're requiring the breeders to monitor their cattle closely and have imposed measures to control the disease in heavy hit areas.
To prevent the spread of disease in livestock, traders are being requested to not buy and sell cattle within 50 km from disease-stricken regions. And for farmers caring for cattle, the DLD recommends spraying insecticide in all areas to prevent transmission via insects. Finally, in case the cattle were jealous of traveling humans, the DLD is advising farmers to prevent disease spread by isolating any new cow that comes into their farms with a 28-day bovine quarantine where they should be kept under nets to keep insects away.
SOURCE: Bangkok Post
Want more from the Thaiger family?
📱 Download our app on Android or iOS for instant updates on your mobile
📧 Subscribe to our daily email newsletter
👍 Like/Follow us on Facebook
🔔 Subscribe to or Join our YouTube channel for daily video updates