British children, abducted by Thai mother, reunited with father in Pattaya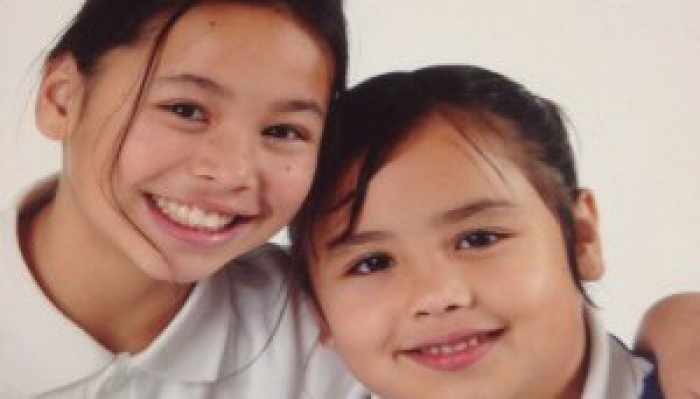 PHUKET: British school children Annie and Aleena Day, abducted by their Thai mother in June while on holiday in Thailand, have been reunited with their father in Pattaya.
"I've got them. They're with me now," a tearful Robert Day told Pattaya radio station Fabulous 103FM late Friday night (click here).
Onwarat Gamlem, the 36-year-old non-custodial mother of the children, was arrested at a Bangkok apartment on Friday morning, Mr Day told the radio station.
She was wanted on a nationwide warrant for charges of child abduction after she disappeared with the two girls on June 1, the agreed date she was to return the children to Mr Day (story here).
"They [police] said come to Chon Buri, we've got your children here and your wife has been arrested," Mr Day said.
The exhausting ordeal of finding his missing children saw Mr Day conduct a neighborhood by neighborhood grid search of Sri Racha, near Pattaya, where a "ping" from Ms Onwarat's mobile phone was discovered.
He also hired signboard trucks to roam the streets with photos of the two girls and offered a reward of 100,000 baht for information leading to their safe return.
Police in Phuket also took up the search following reports that Ms Onwarat, also known by her nicknames "Nok Lek" and "On", might be heading to the island (story here).
Several weeks ago, Ms Onwarat's family contacted police in an attempt to negotiate the children's return, Fabulous 103FM reported.
Mr Day agreed not to press charges against Ms Onwarat in exchange for the safe return of his daughters, but the children were not returned.
Col Supatee Boonkrong, acting superintendent of the Pattaya Police, confirmed to the Phuket Gazette this morning that, following her arrest, Ms Onwarat was charged with child abduction.
"She was released on 200,000 baht bail," he said.
Col Supatee welcomed the good news.
"Mr Day asked the police for help, and we were able to find his daughters and return them to him. It's good news. We are very happy for them. The children will go back to school [in the UK] on September 10," he said.
"We understand that the mother loves her daughters, but she must abide by the conditions set by the court. She cannot just take the girls away from their father."
Mr Day's family extended their heartfelt thanks for the support they received during the ordeal, including – but not exclusively to – the police in Pattaya, Jomtien and Chon Buri, the British embassy in Bangkok, the media and all Mr Day's friends and family.
To hear the full report by Fabulous 103FM, which provided comprehensive coverage of the ordeal as it unfolded, click here.
Keep in contact with The Thaiger by following our
Facebook page
.
The body of an unidentified foreigner found floating south of Pattaya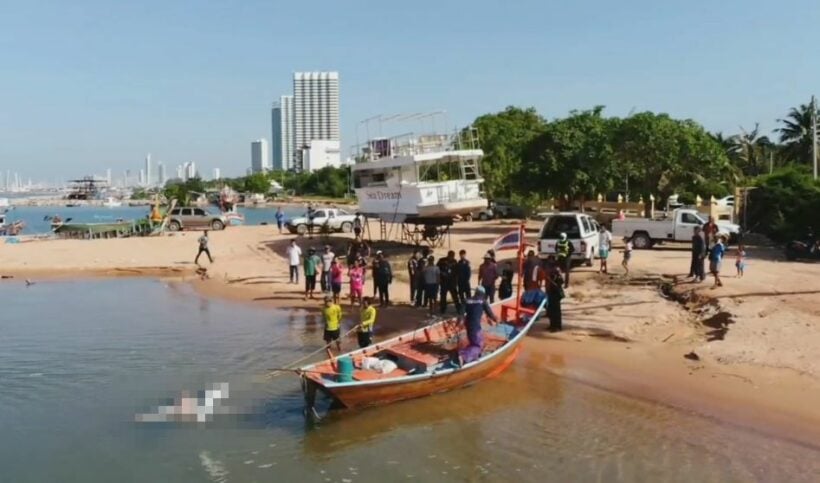 A fisherman has recovered a body, thought to be a foreigner, from the Gulf of Thailand off Sattahip.
Na Jomtien Police were notified of the body by 24 year old Teerapong Boonwat, a fishing boat captain plying the waters around Sattahip, south of Pattaya.
Mr. Boonwat had recovered the body found floating near Koh Ped (Duck Island), about three nautical miles from the Sattahip shore. Police and emergency responders rushed to the scene near Amparam Temple.
Police report that the male body appears to be a foreigner aged around 40 years old with a beard and little head hair. He was wearing a white T-shirt, long jeans and black sneakers.
No identification was found on the man. It is believed that he had died at least 7 days before his body was found floating in the water. The police didn't state if there was any signs of foul play or the condition of the body.
Police are investigating the incident and reviewing missing person reports to establish identification.
SOURCE: The Pattaya News
Keep in contact with The Thaiger by following our
Facebook page
.
Pattaya City's Police Chief dies from sudden heart attack on way to Bangkok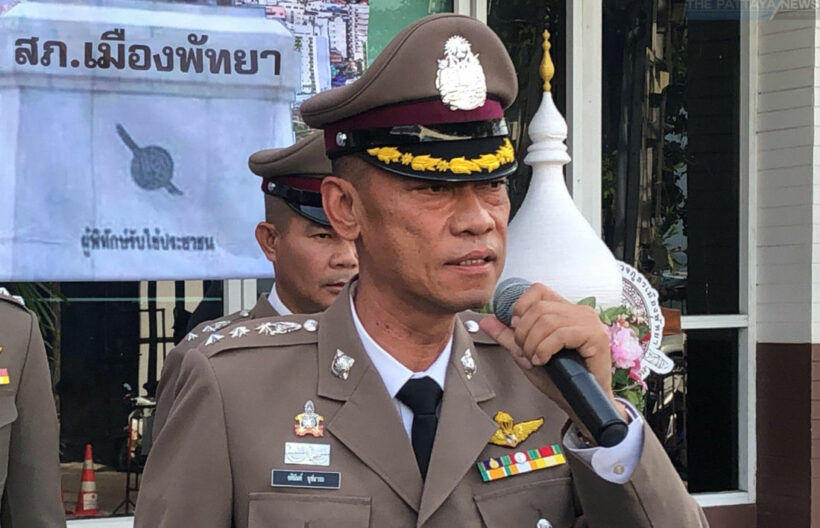 PHOTOS: The Pattaya News
The Pattaya City Police Chief Col. Atinan Nuchanart has died from a heart attack yesterday morning (Friday) while he was on the way to a meeting. 59 year old Col Atinan was the Pattaya City Police Acting Chief, new in the position, and died at the Chonburi Hospital from a heart attack.
Yesterday morning he and his team were heading to Bangkok from Chonburi for a meeting when he started complaining of chest pains before falling unconscious in the car. The Chief was rushed to the Chonburi Hospital by other officers in the vehicle. He was pronounced dead by doctors at 2pm.
Col Atinan was born in Lopburi and was the previous Police Chief of Mueang Chonburi Police Station. He was later transferred as the Pattaya City Police Acting Chief on September 2. He had only been in the top job for little over a month.
The previous Pattaya police Chief was removed from the position pending an investigation into large drug raids at local discos open after legal closing hours during this year.
A full funeral for the well respected veteran officer will take place in the near future but has not been announced at this time.
SOURCE: The Pattaya News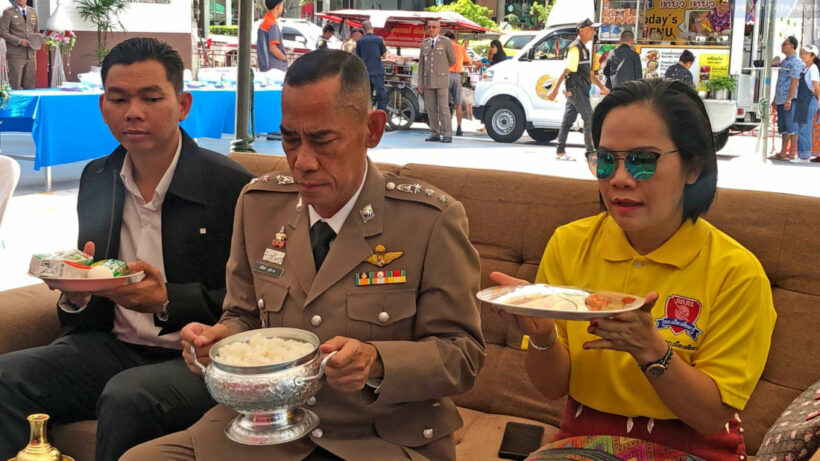 Keep in contact with The Thaiger by following our
Facebook page
.
Local residents and vendors demand action on Pattaya Beach erosion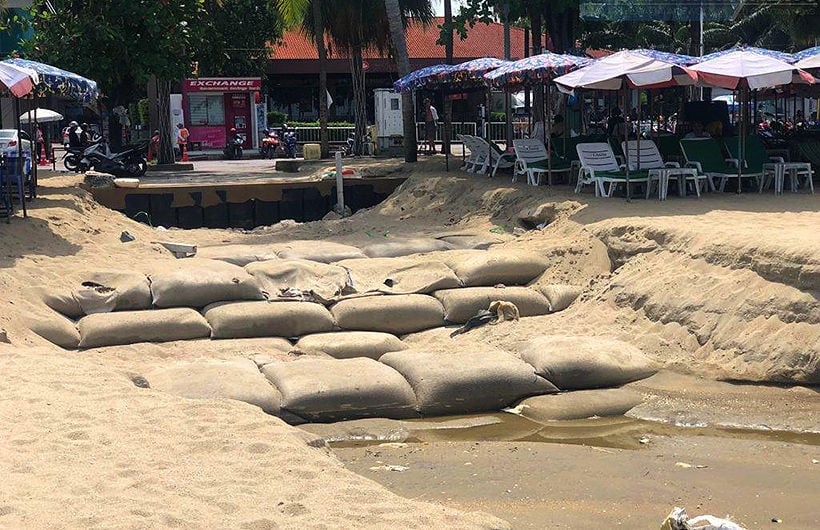 PHOTOS: The Pattaya News
Recent heavy rains over the past week in Pattaya have caused significant deep erosion and gaping holes on Pattaya Beach that have now been sitting in plain view for nearly a week. The situation is an unsightly embarrassment and a potential hazard for tourists, according to local residents and beach vendors.
The Pattaya News reports that, earlier this week, storm waters were flowing onto Pattaya beach into the Gulf after torrential rains, notably at the beach area near Central Festival Pattaya, and have been washed away.
The erosion is at least a metre deep in places, exposing some of the underpinning sand-bag foundations that were placed there doing the re-instatement works last year. Local vendors are complaining that tourists were avoiding the beach.
Beach vendors say this erosion has happened nearly a week ago and is very dangerous especially at night time. They are asking for city officials to speed up repair work and fix the problem.
Earlier this week residents were complaining about an unknown white sediment floating around some of the areas where the erosion had occurred. Last year some 400 million baht was spent re-building some of Pattaya's beaches which end up damaged and washed out to sea any time there are heavy rains.
SOURCE: The Pattaya News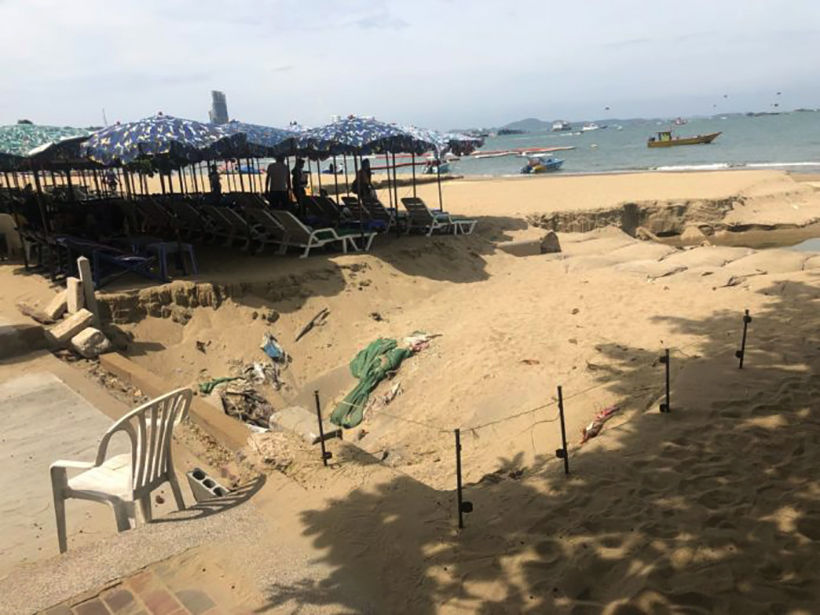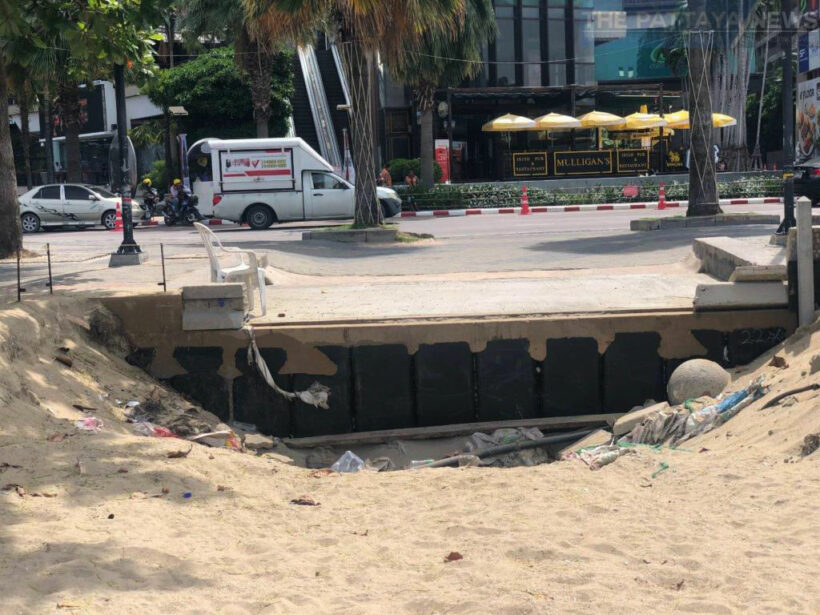 Keep in contact with The Thaiger by following our
Facebook page
.