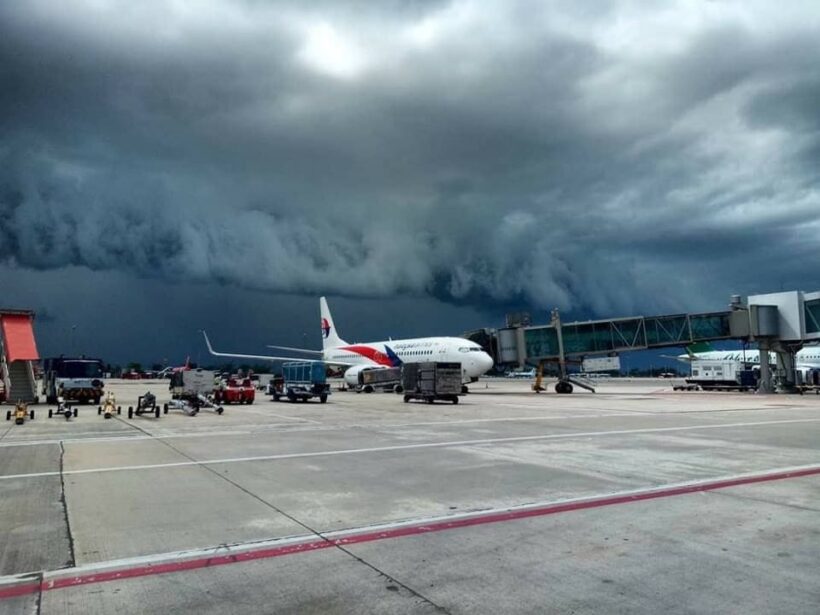 PHOTO: หญิง' โลนลี่ / ¥.OunG.¥ / เหยี่ยวข่าว ภูเก็ต
Yesterday a dramatic photo of an approaching storm front was a big hit, being shared many thousands of times. It was taken at the Phuket International Airport at 14.39, according to the time stamp. The photo was taken by members of the Newshawk news team in Phuket, news partners with The Thaiger.
But back to the actual storm front.
The frontal system is fairly rare in Phuket where tropical cells, developing quite randomly, are more the norm, dumping their rain, losing power and moving on.
This front could be seen on the radar for up to an hour before it reached the west coast. The weather front approached Phuket's west coast almost directly from the west. The official forecast was for an 80% chance of rain but nothing like this was predicted. Thanks to the radar service we could not only see it coming, we could predict almost exactly when it would hit – so could the air traffic controllers at Phuket International Aiport. There was no aircraft taking off until that beast had passed over!
In reality, when it hit, it wasn't quite as savage as it looked but certainly brought a brief, heavy downpour as it made its way across the island.
There were no tricks, no filters, just a quick-minded person with a camera who captured a moment of raw nature about to unleash itself on the island's airport.
As we do on The Thaiger, we posted a scary looking radar photo from about 100 minutes before the storm front arrived and another about 30 minutes before. As you can see, the storm was dissipating long before it reached Phuket, lucky for us.


PHOTO & FACEBOOK PAGE: เหยี่ยวข่าว ภูเก็ต