Winds, thrills pick up on Cape Panwa Phuket Raceweek 2013 day 2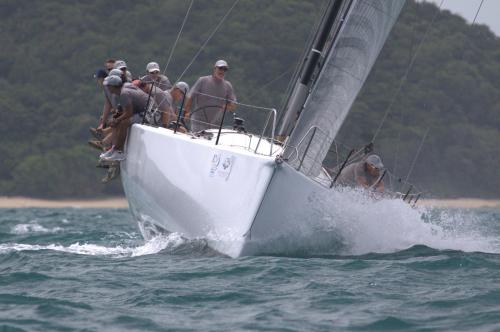 PHUKET: The 37-strong fleet at the 10th Anniversary Cape Panwa Hotel Phuket Raceweek enjoyed some fast and furious racing yesterday off Phuket's southeast coast.
Winds exceeding 15 knots, combined with 2-3 meter swells, made for perfect Phuket sailing conditions on Day One of the award-winning regatta.
Classic and IRC Cruising classes raced a single, long 'round-the-islands' course, enjoying the strong breeze and scenery in equal measure, while the two IRC Racing classes and two multihull classes completed two races to get their series underway.
Three boats lined up in IRC Racing I including the former Team Premier sporting a new paint job, renamed Oi! and with a new crew and Peter Ahern at the helm.
Although being away from the Asian big boat sailing scene for a few years, Ahern and crew were back where they left off winning the first race on corrected time.
The Reichel Pugh 45 Katsu, skippered by Ben Copley, was just one minute back in second with Thai favourite Wan Ma Rang, skippered by Kevin Whitcraft, in third.
The second race got underway in softening breeze and improved crew work with clean and slick mark roundings by Katsu saw them steal the handicap win in Race 2 from Oi! by less than a minute, with Wan Ma Rang again in third.
With just two to three minutes separating the three boats in IRC Racing I, any mistake could prove costly in this class.
The Benetau 44.7 Fujin, formerly Ichi Ban, now under new ownership and skippered by Peter Sorensen, had the best of the racing in IRC Racing II with a double daily double – two line honors and handicap wins. Stuart Williamson's Skandia Endeavour of Whitby scored 2,4 with Phoenix two third places.
Pre-race potential podium placer, Madame Butterfly, skippered by Peter Dyer, suffered equipment problems in Race 1 leaving them to finish the day with a DNF and DNS, and their hopes of a podium looking distant.
Tight racing in all the classes on Day 1 of the 2013 Cape Panwa Hotel Phuket Raceweek.
Ireland's entry, Peter Wood, sailing Windstar out of Phuket's Ao Chalong Yacht Club, led fellow-Ao Chalong skipper, Rob Azzopardi's Dreamtime in IRC Cruising class, with Aussie Mike Crisp, four minutes behind in third, helming Sail in Asia Venture.
The Firefly 850 sport catamarans were in their element in today's conditions with many flying a hull and covering the course in record time.
Defending champion in the Firefly 850 class, Voodoo skippered by Hans Rahmann, got off to a slow start by their standards with a 2,3 today. However, the glory belongs to John Newnham and his crew on Twin Sharks who nailed both starts and sailed impeccably to scored two bullets and take an early lead in the series. A 3,2 by Roger Kingdon's Moto Inzi puts them in a healthy position going into the second day.
Despite leading off the line in Multihull Racing class, Peter Wilcox and crew on Mojo suffered gear damage and retired from Race 1 leaving it open for Asia Catamarans Hurricane who was hot on their tail. However, they suffered a damaged spinnaker while leading and fell back to finish fifth overall opening to door for John Coffin's Java to take the win, marginally ahead of Phuket Raceweek co-organizer, Grenville Fordham's Nina, and DaVinci, skippered by Peter Gallagher, in third.
In Race Two, with lessening winds, Aussie Alan Carwardine's Asia Catamarans Hurricane made up for their problems earlier with a clear win over Java pushing them into second, and DaVinci again claiming third.
The Classic class race saw the lumbering "Queens of the Sea" led home by Simon Morris and crew on Sirius, with the 107-year old Seraph, skippered by Captain Bao, in second and Laurie Piper's Atlanta in third. The largest in the fleet, the stunning 90-foot Letizia, skippered by Capt. Bernd Gundel, was OCS and will be looking to make ammends tomorrow.
Four days of world-class yacht racing in Phuket, Thailand, combined with four nights of magical, beachside parties at the 5-star Cape Panwa Hotel, the 10th Anniversary Cape Panwa Hotel Phuket Raceweek takes place 17-21 July, 2013. Racing continues tomorrow.
The annual Cape Panwa Hotel Phuket Raceweek is proudly sponsored by the Phuket Gazette, PGTV and the nationally televised 'Phuket Today' show, broadcast daily on True Visions (channels 99 and 58).
Keep in contact with The Thaiger by following our Facebook page.
Never miss out on future posts by following The Thaiger.
Phuket national park officer fired over peeping Tom incident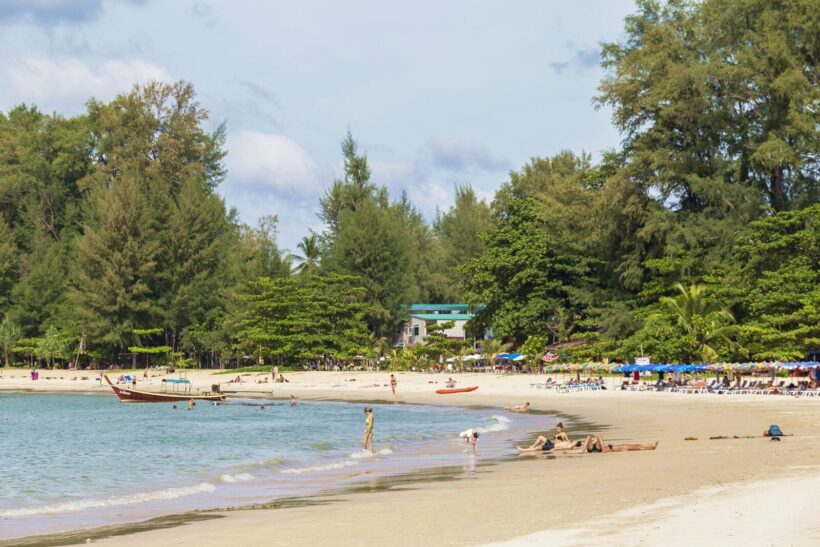 A national park officer has been fired after being accused of spying on a woman in the public toilet on January 17 at Phuket's Sirinath National Park. 28 year old Abdulrama Mahaderi, was accused by a woman named Sopita and her boyfriend Panupong Rungrueng of climbing a wall that separates the men's and women's sections of the toilet at Nai Yang beach in order to look at Sopita. Abdulrama allegedly also had his mobile phone in his hand.
Sirinath National Park Chief Pramote Kaewnam confirmed that an investigative committee had spoken to witnesses and determined that Abdulrama was guilty of "misbehaviour and improper actions."
Pramote confirmed that Abdulrama's employment contract was then terminated, effective last Wednesday, 3 days after the incident allegedly took place. On its Facebook page, the Sirinath National Park made a post about the incident.
"It has caused disgrace to the Department of National Parks, Wildlife and Plant Conservation and affected the image of the overall department."
Sura Lertthaisong of Sakhu Police confirmed that Abdulrama would be facing charges and that he was currently investigating whether a charge of "bullying in public" under Section 397 of the Criminal Code would be appropriate.
Abdulrama had previously posted on the official Sirinath National Park Facebook page that his understanding was that no charges would be pursued by Sopita and Panupong.
"The tourists told me that they did not want to press charges. They just told me that they did not want me to do anything like this again."
But after Panupong posted a photo of Abdulrama, detailing his alleged indiscretion on social media, others came forward with similar accusations.
"One group of women said that they were also spied on by this man on the toilet wall 2 months ago, but they did not report it and did not press charges – and the truth faded away as if nothing ever happened."
SOURCE: The Phuket News
Keep in contact with The Thaiger by following our Facebook page.
Never miss out on future posts by following The Thaiger.
Phuket wants Bangkok arrivals to skip quarantine to help tourism revenue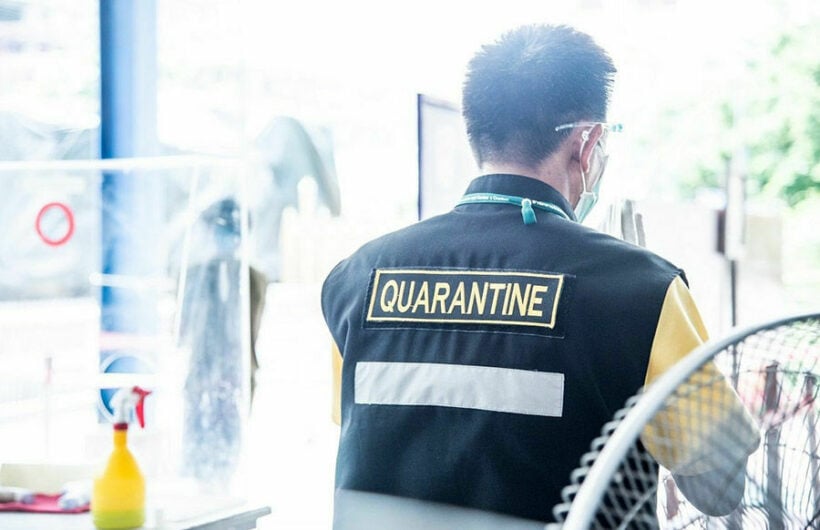 Phuket's tourism representatives are calling for an end to the mandatory quarantine levied at tourists arriving to the province from Bangkok. The tourism delegation have also told Phuket's provincial government to be prepared to start receiving international tourists starting in October.
According to The Phuket News, such a plan would include a requirement for all international travellers to Thailand to have the Covid-19 vaccine. By that time, it is expected that Phuket will have 70% of its population vaccinated, with the timeline possibly being sped up by the province planning to buy the vaccines with its own funds. Such a move would bypass the national government's timeline with the hopes of innoculating registered residents quicker. Governor Narong says such quarantine measures in place currently are preventing the province from profitting off domestic tourism.
"Phuket has been hit hard by the 2nd epidemic. Thai tourists do not come because they do not want to quarantine and follow the difficult steps to enter the province, not to mention there are no foreign tourists at this time."
In a meeting, the PTA President Bhummikitti, said the Covid-19 vaccine was "the last ticket and the last hope" for Phuket tourism, "because Phuket tourism has no way out at this time."
"Thai people are unable to travel due to the second outbreak, and foreign tourists are not to be mentioned at all. Vaccines are the hope of the Phuket tourism sector."
"The private sector wants to get clarity from the government whether we can follow this plan or not, because if it is left like this – open, close, lockdown and so on, as in the past – local businesses are all dead."
Bhummikitti pointed out that the government had promised to work with local industry on all matters related to Covid-19 and keeping the local economy alive. He said that the move would "allow tourism and the Phuket economy to be able to walk once more from having fewer Thai tourists."
Governor Narong said tracking systems will be in place when tourists do come back to the province.
"In order to ensure tourists that Phuket citizens as well as incoming tourists are safe from the Covid-19 virus, there will be a tracking system, and a fund established to be used as a remedy [sic] to help those affected if there is an infection from incoming tourists."
SOURCE: The Phuket News
Keep in contact with The Thaiger by following our Facebook page.
Never miss out on future posts by following The Thaiger.
Patong, Phuket Town, Chalong to fund residents' vaccination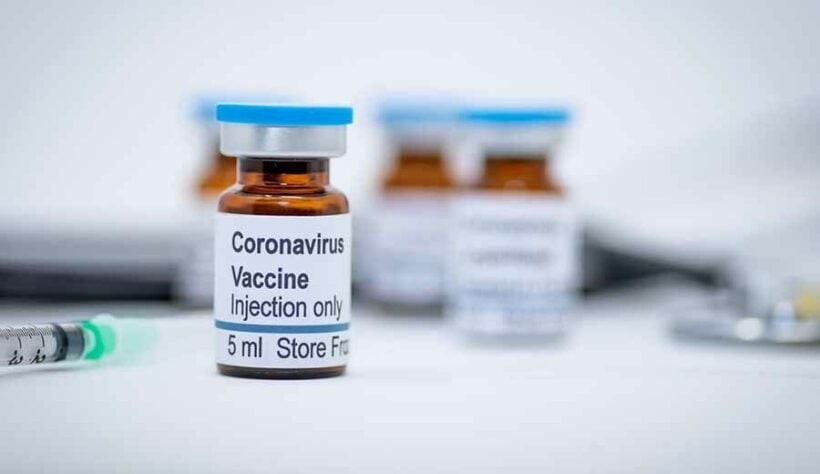 Patong and Phuket Town are planning to fund registered residents' Covid-19 vaccines, Thai and foreign, with the hope to speed up the inoculation process without waiting for the national government. The mayors of both cities say they have already allocated the funds to move forward with purchasing the vaccines after the government approves which ones may be used.
Like any other municipality in Thailand, the Covid-19 vaccine must be acquired from the Ministry of Public Health. A spokesperson says their office had yet to receive the news on how many doses of the vaccine Phuket could receive or in which order to vaccinate people.
"I don't want to wait in the queue to get the vaccine budget. Chalong people deserve to receive vaccines. They do not need to pay."
Chalong officials have confirmed that the Covid vaccines will be freely available to all people registered as living in Chalong Subdistrict, regardless whether the resident is Thai or foreign.
"There are about 20,000 to 30,000 people in Chalong. This includes everyone: Thais, migrant workers and other foreigners registered as living in Chalong, such as retirees and foreigners staying here for other reasons. They will all receive the vaccine."
Phuket City Mayor Somjai Suwansupana has also confirmed to The Phuket News that Phuket City Municipality will also administer free vaccines to the over 79,000 people living in Phuket Town. But he says only people who were registered as living in the city limits at the end of December would be eligible to receive the free vaccines. Chalermluck Kebsup, Mayor of Patong, is also following suit by offering free vaccines to registered residents.
"We deserve to get the vaccine quickly because Phuket is a tourism province, our people depend on tourism."
It has been 26 days since Phuket had any positive cases of Covid-19, but Chalermluck says a vaccine will curb worries of Covid spreading.
"The vaccine is our hope in stopping this fear. If local residents receive the vaccine as quickly as possible, I think people will be more confident in receiving domestic tourists. Then businesses can run."
SOURCE: The Phuket News
Keep in contact with The Thaiger by following our Facebook page.
Never miss out on future posts by following The Thaiger.