Video Report: Phuket researchers internationally recognized for breakthrough explosive-testing kit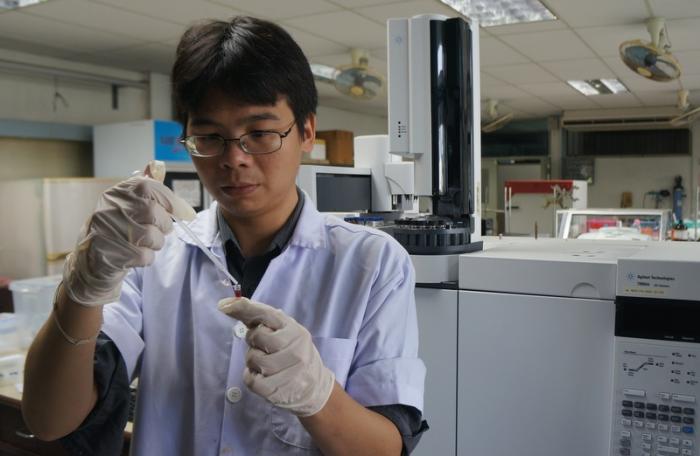 PHUKET: A six member research team from Phuket and Hat Yai was awarded silver medals for creating low-cost explosive testing kits at the 44th International Exhibition of Inventions Geneva 2016.
The invention comes in the wake of several recent bombings in Thailand. The competition included more than 800 inventions submitted by participants from more than 40 countries around the world.
The invention also won a special prize from the Association of Polish Inventors and Rationalizers.
Four of the research team members are professors from the Prince of Songkla University (PSU) Phuket Campus, namely Assistant Prof Dr Aree Choodum, Dr Wadcharawadee Limsakul, Asst Prof Dr Worawit Wongniramaikul and Jutaporn Keson. The other two are from the PSU Hat Yai campus, namely Associate Prof Dr Proespichaya Kanatharana, as well as Prof Dr Niamh Nic Daeid, who is originally from the University of Dundee, Scotland, but currently a member of the research team.
"Last week, we gave a presentation to the Ministry of Defence and received a very good response. They are very interested in our research and are planning to bring the prime minister up to speed on its usage," said Dr Aree. "In addition to local interest, our team has also been contacted by companies in Poland for commercial use of our testing kit in their country."
The team also had a chance to conduct a test at the remains of the Bangkok blast site. Even though the tests were performed a week after the bombings, they still found evidence of Trinitrotoluene (TNT) usage and submitted it to the police, Dr Aree told the Phuket Gazette.
Overall, Thailand won seven honor gold medals, eight gold medals, 17 silver medals, 18 bronze medals and 28 special prizes at the exhibition.
"Our main objective is to solve the recent problems faced by our society, such as bombings, terrorist attacks and other unstable situations that have been taking place not only in Thailand and Phuket, but all over the world. We felt there was a need to equip ourselves with simplified gear to deal with these new problems," said Dr Aree.
"The unique and extraordinary quality of this new invention is that it is cheap, portable, easy to use and quick to provide results; it can be used both before and after a bombing," she added.
"The test kits comprise a polymer in a small tube. We can take it to the scene, conduct the test, and know the results immediately," Dr Aree said.
"The testing kit only costs about 30 to 80 satang per tube, as opposed to other tests which cost up to 78 baht per test. It can also be reused up to nine times, which effectively brings the cost down to 10 satang per test," said Dr Aree.
Additionally, the results can be obtained immediately, whereas previously, officers had to collect evidence from the scene of the incident and then wait for lab technicians to perform tests and deliver their findings.
"Everyone can do it. However, the tests are more suitable for professionals, such as Explosive Ordnance Disposal (EOD) personnel, police, military and others in the field of national security," she added.
"The kit also allows the user to determine the type of the explosive and its origin right away. The procedure itself is deceptively simple. Acetone cotton buds are used to collect samples and water is then added to it. The change in color of the kits helps to identify what kind of explosives have been used," Dr Aree explained.
The sample can be obtained from virtually any surface in the vicinity of the blast – dirt, grass, clothes, body parts and so on.
"This means that the test can be performed before an explosion even occurs; we can use it to test suspects, suspicious items, or areas at risk, so that officers can take immediate action," explained Dr Aree.
The test kits can identify up to six types of explosive substances, namely, TNT, Nitrate, Nitrate esters, Nitrite, Nitramines, and Nitroaromatic.
There are eight types of kits available to test these explosive substances:
1. Thin film test kits to test Trinitrotoluene (TNT)
2. Nitrate Explosives test kits to test Nitrate
3. Test kits for Nitrate ester explosives
4. Nitrite test kits for Nitrite explosives
5. Test kits for Nitramines Explosives
6. Hydrogel test kits for Nitroaromatic explosives
7. Biodegradable film for Nitroaromatic explosives
8. Cryogel test kits for Nitroaromatic explosives
"There are currently eight types of chemical substances that people use to make bombs. At the moment, we have created kits for six of the most popular ones. We are researching the other two, which are now gaining popularity – Peroxide and Acid," said Dr Aree.
"TNT is the most widely used explosive material in the world, while in the deep south of Thailand, Nitrate is the most popular one," she added.
"This breakthrough is beneficial in many different sectors – economics, science, and security, to name a few. Even though these kits can be used both before and after explosions, we prefer to use them before. It is our hope that our work can help Thailand, as well as other countries across the globe," Dr Aree said.
"We are conducting research to help people in light of recent occurrences, and plan to do our best to find feasible solutions.
"We are glad to share our knowledge with everyone who wishes to use it," Dr Aree said.
— Kongleaphy Keam
Keep in contact with The Thaiger by following our Facebook page.
Never miss out on future posts by following The Thaiger.
Phuket holds vaccine administration rehearsal as it waits for green light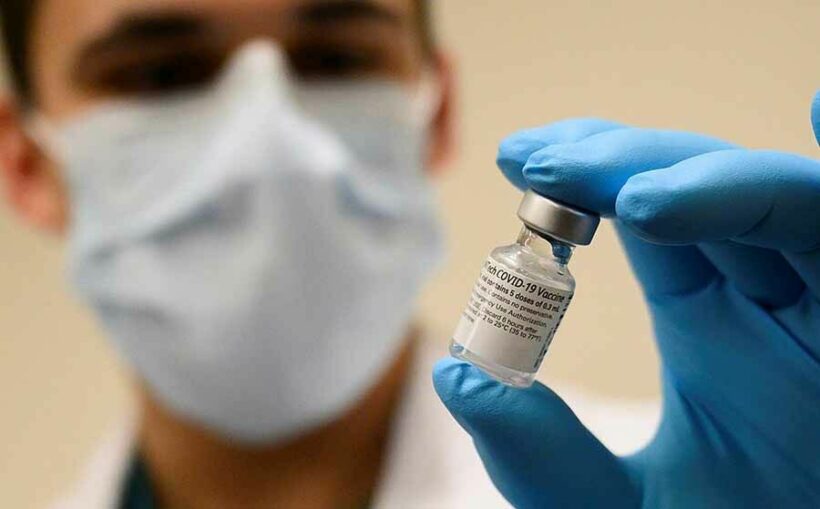 Phuket is rehearsing procedures to ready themselves for the Covid‐19 vaccine administration green light. A rehearsal at Vachira Hospital's Lan Muang Khao open area was held late yesterday to iron out any kinks in the administration process. Phuket Vice Governor Pichet Panapong watched over the procedures along with other health officials.
Pichet says the first vaccine round of 4,000 doses should arrive early in March, with the 2nd and 3rd set of doses, 16,000 and 48,000 respectively, to arrive in April and May.
"The government recognises the importance of the affected areas of the economy where the epidemic situation of COVID-19 must be stopped and has allocated the COVID-19 vaccine to Phuket Province to build herd immunity, restore the economy, return a smile to Thailand."
"We are preparing to COVID-19 mass vaccination to build confidence among the people that they will receive a quality, safe vaccine and to receive follow-up care after it has been administered."
Pichet says Phuket's first target groups to receive the vaccine include medical and public health personnel, with others on the frontlines to come next.
Then, workers aged 18-59 years old, people with underlying diseases including chronic respiratory disease, cardiovascular disease, chronic kidney disease, cerebrovascular disease, cancer, diabetes and obesity will follow.
"People with severe neurological conditions and pregnant women should be wary of taking the vaccine, as well as women who are breastfeeding and people with immunodeficiency."
The procedure to get vaccinated starts by recipients undergoing screening by having their temperatures taken, and then sanitising their hands before entering the administration area. Then, they will move their way through a series of steps, detailed below:
Step 1: Register
Step 2: Record weight and blood pressure
Step 3: Pass the screening process by have their medical history and risk assessment recorded and then signing a consent to receive the vaccine
Step 4: Wait for vaccination
Step 5: Vaccination
Step 6: Rest for 30 minutes, while being observed for symptoms. Then scan the official Line account "หมอพร้อม" ("Doctor Ready")
Step 7: Pass a final check before receiving a document confirming vaccination
Pichet says health workers will follow up with vaccine recipients after 1,7, and 30 days from being vaccinated to monitor any adverse reactions.
Those who are set to receive their second jab will have appointments made for them. Those who receive the Sinovac vaccine will be scheduled to have their second doses 2 to 4 weeks after the first. AstraZeneca vaccine receivers will be scheduled for their second doses 10 to 12 weeks after the first.
SOURCE: The Phuket News
Keep in contact with The Thaiger by following our Facebook page.
Never miss out on future posts by following The Thaiger.
Phuket police officer charged with attempted murder for shooting and critically injuring a noodle vendor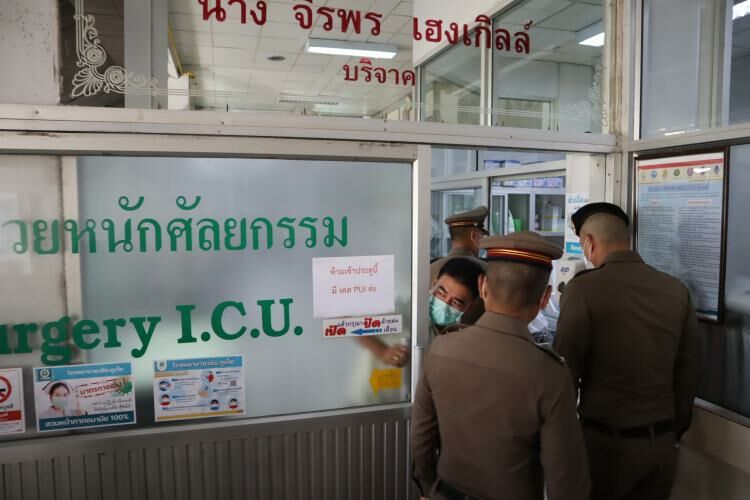 The drunk, off-duty police officer in Phuket who has caught on camera shooting and beating a noodle vendor on Bangla Road is now facing attempted murder charges as well as charges of carrying a firearm in public without a necessary reason and firing a weapon in a public area. The commander of the Phuket police station said he ordered investigators to prosecute the officer Pornthep Channarong with every criminal charge that can be applied.
The officer had gotten into an altercation just before dawn yesterday and shot a young vendor who was walking by. Surveillance camera footage show the 25 year old suddenly falling to the ground after being shot. The officer walks up and shoots the vendor at a close range, but it appears the second shot did not hit the vendor. The officer also slapped the vendor in the face, picked him up and shoved him over, and then kicked him as he lay on the ground.
The vendor has a 4 year old daughter and 3 month old son. His wife says normally he works as a motorbike driver, but he was helping his mother selling noodles. He was shot while he was walking back from collecting a noodle bowl, she says. The vendor is in critical condition and being cared for at Vachira Phuket Hospital's intensive care unit. He's in need of Type B blood.
"For his condition, the doctor told me that the bullet went through his lung. He lost a lot of blood. We need a lot of Type B blood for him."
A disciplinary investigation into the incident was launched by police and Pornthep was officially dismissed from the Royal Thai Police force. Region 8 Police Commander Kitrat Panpetch says the incident does not reflect the police force in Phuket.
"The incident was caused by an officer who did something wrong that our organisation does not want. We are a big organisation with more than 200,000 officers under our control. Our officers are not all bad like this."
Phuket Provincial Police Commander Pornsak Nuannu says he has reminded the police chiefs across the island to discuss reasons for carrying firearms in public.
"Carrying firearms is to prevent any type of crime that may happen, not to commit a crime by themselves like this incident. If I see any police doing such a thing, I will decisively proceed in terms of both officer discipline and criminal charges."
SOURCE: Phuket News
Keep in contact with The Thaiger by following our Facebook page.
Never miss out on future posts by following The Thaiger.
Thai Vietjet resumes Phuket-Chiang Rai flights, launches promotion on air fare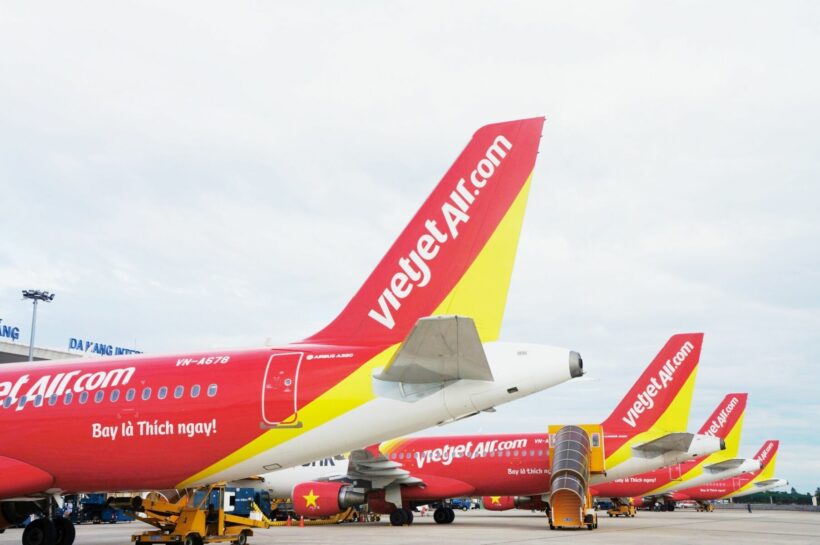 The following is a press release from Thai Vietjet on its new promotion "Welcome Back to the Sky" and the resumption of Phuket-Chiang Rai flights.
Thai Vietjet today announced the flight resumption of its domestic cross-regional service between Phuket – Chiang Rai, in response to the increasing travel demand after the government began relaxing travel measures in each province. The airline will resume the service for four (04) round-trip flights a week on Monday, Wednesday, Friday and Sunday, with the flight duration around 2 hours and 5 minutes, starting from 26 February 2021 onwards. The flight details are as follows:
| | | | | | |
| --- | --- | --- | --- | --- | --- |
| Flight No. | Departure from Phuket | Arrival at Chiang Rai | Flight No. | Departure from Chiang Rai | Arrival in Phuket |
| VZ400 | 8:15am | 10:20am | VZ401 | 10:50am | 12:55pm |
In addition, the airline also announced the resumption of other domestic cross-regional services including the flight between Hat Yai – Chiang Rai and Chiang Mai – Nakhon Si Thammarat from 19 March 2021 onwards.
Following the service resumption announcement, the airline launched special promotion "Welcome Back to the Sky", offering special fares from just THB 99 (not inclusive of taxes, fees, surcharges, and add-ons) for Thai Vietjet's flights between Phuket – Chiang Rai and the flights to/from Bangkok (Suvarnabhumi). The special fares are available for booking from 24 – 28 February 2021, with travel period between 8 March – 30 June 2021 on SkyFUN.vietjetair.com
As the COVID-19 situation is under control, Thai Vietjet has been adding flight frequency in line with the increasing demand for travel. The airline has also recently introduced its new product on SkyFUN, the 'TRIP EASY PLUS' – travel insurance with coverage of COVID-19 starting from THB 180, which provides further convenience and travel confidence to passengers to travel with the highest level of safety during the pandemic. For more information, please visit https://skyfun.vietjetair.com/insurance.
The promotional fares are available on SkyFUN.vietjetair.com, applied to Thai Vietjet's domestic flights in Thailand from Bangkok (Suvarnabhumi) to Chiang Mai, Chiang Rai, Phuket, Krabi, Udon Thani, Hat Yai , Khon Kaen, Nakhon Si Thammarat, Ubon Ratchathani and the domestic cross-regional flight Phuket – Chiang Rai. The tickets are also available on all other distribution channels including www.vietjetair.com, mobile app "Vietjet Air", via Facebook at facebook.com/VietJetThailand by clicking "Booking" tab, as well as travel agencies and booking offices. Payment can be easily made with 'True Money Wallet' and international debit/credit cards.
Thai Vietjet is committed to providing on time scheduled flights with the highest safety complied with the standards and regulations of the relevant authorities. Thai Vietjet was named the fastest growing low-cost airline in Thailand 2020 by The Global Business Outlook Award. The airline also owns one of the world's newest and most modern fleet with an average age of only 2.7 years and was awarded the highest ranking for safety with 7 stars by the world's only safety and product rating website airlineratings.com. The carrier has been strictly performing aircraft disinfection dailythroughout its fleet in compliance with Thai Ministry of Public Health.
Keep in contact with The Thaiger by following our Facebook page.
Never miss out on future posts by following The Thaiger.