Phuket
Two teens dead in Phuket Town midday shootout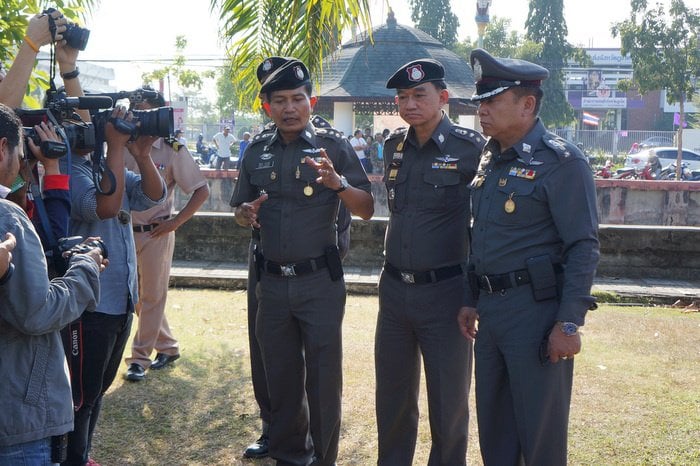 PHUKET: Two teenagers are dead after a rival gang of four second-year university students gunned them down in broad daylight, along with two others, on the streets of Phuket Town today.
Sakdarin Kiembuth, 17, a former student at Phuket Technical College, died at the scene.
Piaphat Jadsarng, a first-year student at Phuket Technical College, died from his injuries in hospital, after he was shot in the back of the head.
Fellow first-year student Sathaporn Muaydee, 17, was shot once in the chest, while classmate Rapee Sombat, also 17, escaped with a minor gunshot wound to his leg.
The four victims arrived at the scene at midday after the second-year students, who police declined to name as they are minors, called three of them to work out an argument that they had two days ago.
The four second-year students had been waiting at the school inside of a black Toyota Vios until the victims showed up on three motorbikes, Col Kraithong Chanthongbai of the Phuket City Police told the Phuket Gazette after the re-enactment of the crime this afternoon.
However, the second-year students were not expecting Mr Sakdarin – a recent college drop-out – to show up with the others, Col Kraithong explained.
"The driver of the car, who is also the sole shooter, told police that he thought he saw Mr Sakdarin reaching to pull a gun out from under his shirt, so he opened fire," Col Kraithong said.
The shooter fired at the group six times, before he and the other second-year students fled in the car toward the Korjan Bridge on Phun Phol Road.
Police were called to the scene at 12:30pm, and used CCTV footage in the area to identify and track down the suspects.
"We found and arrested three of the second-year students shortly after the shooting," said Col Kraithong.
After questioning the suspects, police learned that the shooter had absconded in the Toyota to his home in Kathu.
"We arrested the shooter at his home, where we also found the car and the 9mm handgun used in the attack," said Col Kraithong.
"After we took him into custody, the shooter confessed, claiming that he shot out of self-defense. He also told us that he had stolen the gun from his mother."
Col Kraithong told the Gazette that the shooter would be charged with murder with intent, as well as illegal possession of a firearm.
"We are continuing our investigation and interrogation of the suspects. We have yet to press charges against the other three second-year students," he said.
Mr Rapee was discharged after being treated for his wounds, but Mr Sathaporn remains in Vachira Phuket Hospital.
Additional reporting by Saroj Kueprasertkij
— Kritsada Mueanhawong