Tougher driving tests down the road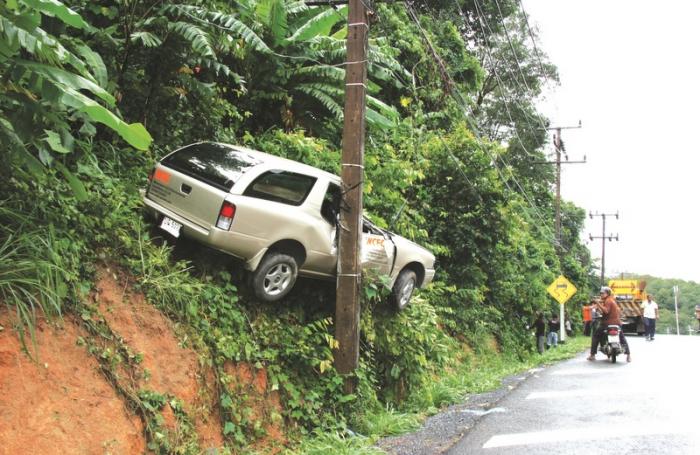 PHUKET: Thailand has the second worst death toll from road accidents in the world, according to the World Health Organization.
With more than 20,000 people killed annually throughout the country, Phuket officials have announced their support for more stringent guidelines before issuing would-be motorists with a driver's license.
Earlier this month, the Department of Land Transport (DLT) announced an initiative titled "Difficult to Get, Easy to Lose," at a meeting of the national road safety committee chaired by Deputy Prime Minister Prawit Wongsuwan.
The program is meant to amend laws related to traffic rules in order to improve road safety throughout the Kingdom.
The initiative comes after Thailand joined the United Nations' 'Decade of Action for Road Safety 2011-2020' campaign, which aims to halve road accidents and fatalities within 10 years.
Phuket Land Transport Office (PLTO) chief Sommai Sudkhao told the Phuket Gazette last week that he has yet to receive any official orders regarding the initiative. Despite that, Mr Sommai said he's already in complete agreement with the plan.
"At this stage, there is no further information on the program," he said. "The training and testing requirements proposed for people who apply for a driver's licence within the next two years are currently being examined by the DLT."
"Before it is officially put into place nationwide, the plan must be approved by the Ministry of Transport," Mr Sommai added.
Mr Sommai confirmed a report by The Nation that the new regulations would set a higher bar for driver ability, as well as increase the number of lecture hours for would-be motorists before they are issued a licence.
Currently, regulations require recipients of a driver's license to attend four hours of lectures. Next year and in 2018, that will increase to five lecture hours. Students are currently not required to practice driving before receiving a licence, but in the next two years nine hours of driving practice will become made mandatory.
"Getting a driving licence is very hard in many other countries," Mr Sommai said. "In Thailand, it's been very easy to get one, so some people aren't even really paying attention on the roads. The new program is a great idea, and so far feedback has been very positive. The longer they're trained, the better their understanding of traffic laws."
But Dr Wiwat Seetamanotch, the deputy chair of Thai Road Safety Network (RSN) and an executive adviser to the National Institute of Emergency Medicine, said he doesn't think the plan of adding training and driving practice hours is enough, particularly when compared to other countries.
"It could help to a certain point, but it's still not enough," Dr Wiwat said.
"Even though more hours will be added, we need a lot more rules to change if we really want to make Thailand's roads safe."
"Other countries use a Graduated Driving Licensing System (GDLS). During the first year of driving, drivers must have somebody capable sitting beside them at all times, and are only allowed to drive during the day," Dr Wiwat said. "This is something I expected Thailand to implement. Learners do not have enough experience on the roads, and could easily get into an accident."
The DLT plans to make it compulsory for people applying for a licence to take driving lessons at private schools beginning in 2018. The department said it would then step back, taking only a regulatory role. Applicants would be required to attend lectures and practice driving at the schools, he said.
"In Phuket we have one school already in our system and another one is now in the process of applying to become a driver's education training and testing school," said Mr Sommai of the PLTO.
"All the private schools will be qualified by the DLT, which will make sure they follow all of the standard requirements. However, until further notice we will continue with the regular process we now have."
Dr Wiwat said he agreed with the DLT's plans for opening the private academies.
"It will ease the workload for officials and it'll be good to have private schools involved because it'll save a lot of time, but the DLT must be the ones to certify instructors and check their qualifications. Most importantly, the academies must make sure that the drivers really pass the test by themselves and are not able to just bribe their way through the test," said Dr Wiwat.
The "Difficult to Get, Easy to Lose" program will also usher in an increase in the number of exam questions and require applicants to correctly answer at least 90 per cent of them to pass the test. The program also marks the first time that attending a driving academy would be required.
Besides raising the benchmark for the issuance of new licences, the DLT is considering implementing regulations that would make it easier for current drivers to lose their licences, including one amendment that would allow the authorities to revoke a driver's licence if they are deemed anyone too risky to use the Kingdom's roads.
The program would also launch a centralized database, containing the records of every infraction committed by individual drivers, as well as their identification information.
Mr Sommai said one of the biggest concerns for regulators in Phuket is the lengthy waiting times applicants must endure before taking their tests.
"I have ordered officials at the PLTO to make sure applications get processed more quickly," Mr Sommai said. "For example, if an applicant submits the required documents one day, he should begin his training hours the next day and take the driving test as soon as possible."
"Applicants cannot be waiting for months to get their training or conduct their driving test like it has been in the past," he added.
Currently, applicants must receive a physical check-up, are required to attend a four-hour lecture and must then take an exam at the DLT offices. Once they pass the theory and driving tests, they qualify for a licence.
"There are a lot of new applicants every day," Mr Sommai said. "We are doing our best to get to everyone as quickly as possible, and I like the idea of adding more hours and driving classes because the applicants will soon realize that it's not easy to get a licence in Thailand, but it will be easy for them to lose it if they are not a good driver."
DLT deputy director-general Nantapong Churdchoo said the DLT will push for a legal change to make sure that bad drivers can have their licences revoked easily.
"Today, 30 million people hold a Thai driving license," Mr Nantapong said. "Four thousand people apply for a new licence every day. These changes would make the system more efficient."
"The current system is not linked to other agencies, including the police," Mr Nantapong added.
— Chutharat Plerin
Phuket's lifeguards say goodbye to a champion of local beach safety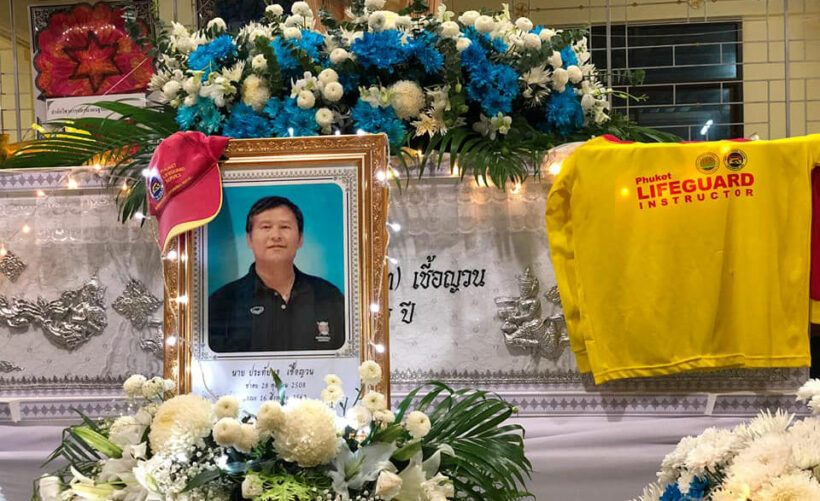 PHOTOS: Phuket Lifeguard Service
A commemoration ceremony has been held for Prathaiyuth Chuayuan, a local Phuketian who helped drive Phuket's first beach lifeguard services. He passed away on Friday morning after a heart attack.
He first experienced chest pains whilst delivering his daughter to school in Phuket Town on Friday morning, drove himself immediately to the Vachira Hospital nearby but succumbed to cardiac arrest around 9am.
He was 57 years old.
He worked with Australian lifesavers to help train local lifeguards and improve the skills of the Phuket's beach enthusiasts, and finally sought international accreditation for the growing body of competent Phuket lifeguards.
The Phuket Lifeguards Service, founded and run by Prathaiyuth and his wife Witanya, saved innumerable lives each year whilst battling Provincial Hall and local government for increased funding in annual contract negotiations.
Daren Jenner, a FOT (Friend of The Thaiger) and local safety officer for the International Surf Lifesaving Association, sent a message to us expressing his deepest condolences to Prathaiyuth's wife, family and friends.
"I had many good conversations with him over the years. He was a good-hearted man who did his best in difficult and changing circumstances. A very big loss for Phuket and the lifesaving community here. ISLA sends our deepest respect for his long commitment to ocean safety in SE Asia."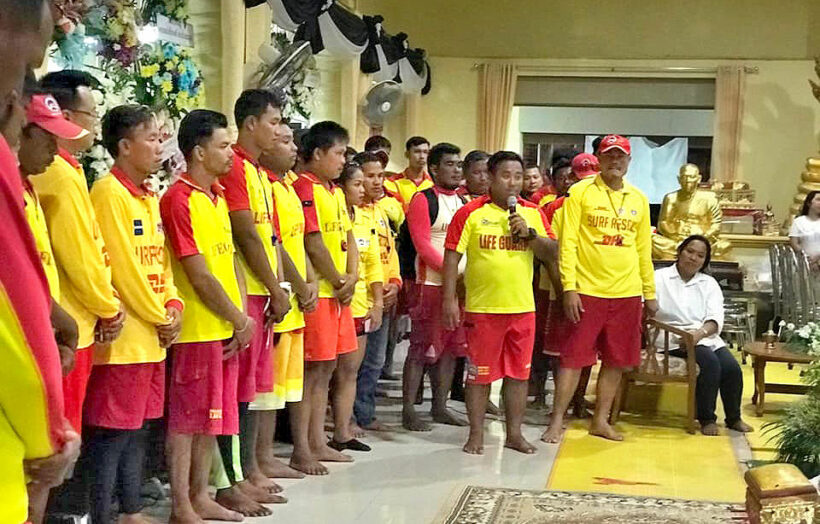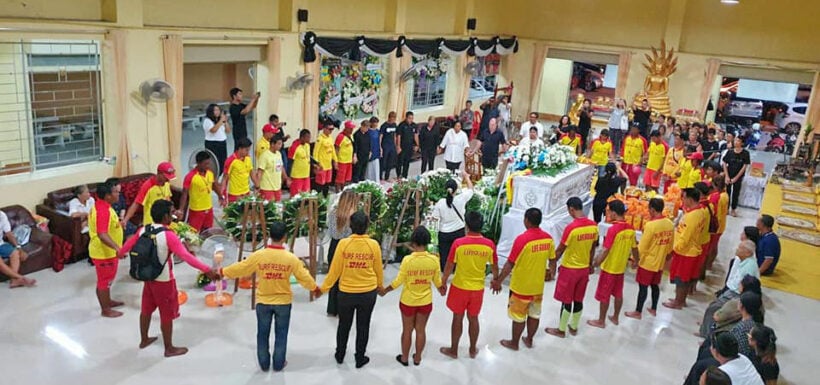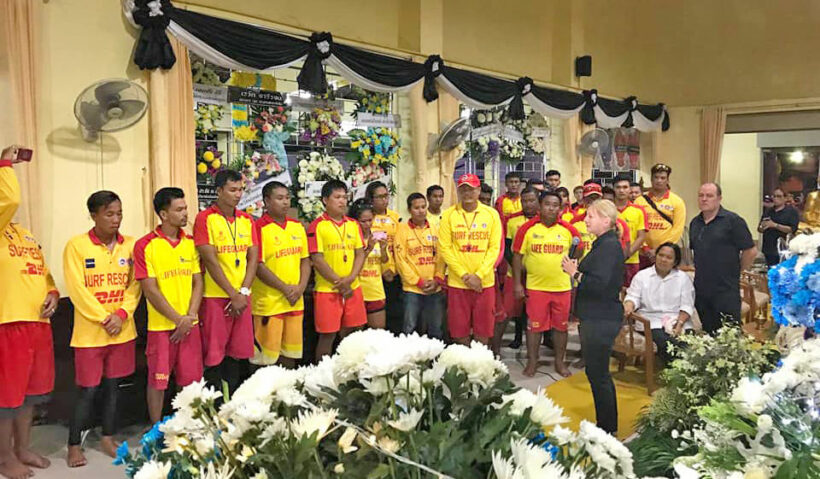 Phuket villager braves the surf to rescue tangled turtle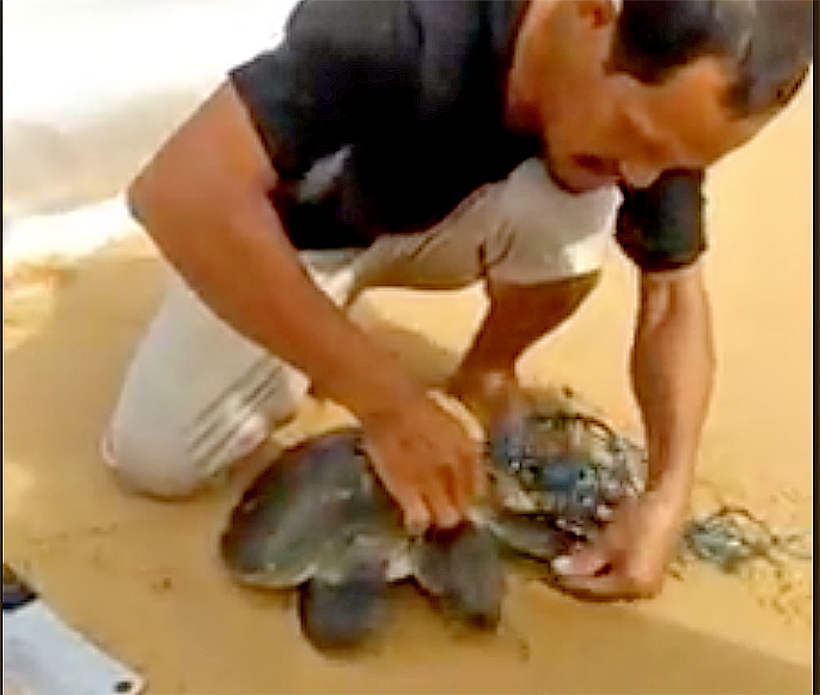 A local villager in Phuket's north has risked his own life to retrieve a young sea turtle caught up in fishermen's netting. The turtle was spotted, caught up in the branches of a fallen tree along the shores of Mai Khao beach. The monsoon was kicking up big waves and it's unlikely the locals knew how to swim, especially in the surf conditions.
The local villager makes a few attempts to retrieve the turtle, eventually separating the turtle and netting from the tree branches with a meat cleaver.
After clearing the netting from around the turtle's flippers and neck, it was taken by an officer from the local Phuket Department of Marine Resources for evaluation and treatment before it will be released back to the sea.
VIDEO: ห้องวีอาร์ ทะเลใต้ // @มานพ สิงห์ 8802
🔴 #ภูเก็ต #เต่าติดอวน วันนี้ 17 สิงหาคม 2562 ชาวบ้านได้ช่วยเหลือเต่าติดอวนพันตามคอลำตัว คลื่นได้ซัดเจ้าเต่าน้อย เข้าหาฝั่งหน้าหาดไม้ขาว ชาวบ้านได้แก้เชือกออกตามคลิป และได้เเจ้งเจ้าหน้าที่มารับไปอนุบาลเป็นที่เรียบร้อย #NewshawkPhuket Cr.ห้องวีอาร์ ทะเลใต้ // @มานพ สิงห์ 8802

Posted by เหยี่ยวข่าว ภูเก็ต Newshawk Phuket on Saturday, 17 August 2019
Marium, the baby dugong internet star, dies. Plastic found in stomach.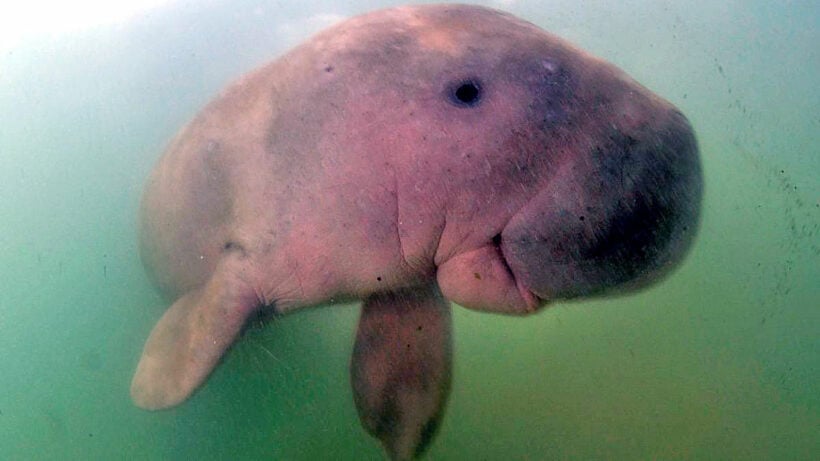 The orphaned female baby dugong, winning the hearts of many and helping to educate Thais about the importance of the local dugong population, has died with plastic waste lining its stomach, prompting a surge of mourning on social media.
Marium was found in April off the coast of Krabi, southern Thailand, and photos of her nuzzling marine biologists quickly went viral. When a second orphaned dugong was found, subsequently named Jamil by Princess Sirivannavari Nariratana Rajakanya, the pair became internet stars.
Dugongs, a species of sea cow, are listed as "vulnerable" on the IUCN Red List, facing environmental threats including pollution, habitat loss and hunting. In Thailand, Marium and Jamil soon became symbols for the conservation of the oceans. Fans could watch Marium on a live feed, receiving veterinary treatment, and being fed up to 15 times a day.
But last week the Department of Marine and Coastal Resources posted that Marium was sick and refusing food. Marium died just after midnight on Saturday morning. An autopsy revealed plastic debris in the intestine, resulting in inflammation and the accumulation of gas, as well as a respiratory infection and a buildup of pus.