Thailand's development as a sailing nation with the Phuket King's Cup Regatta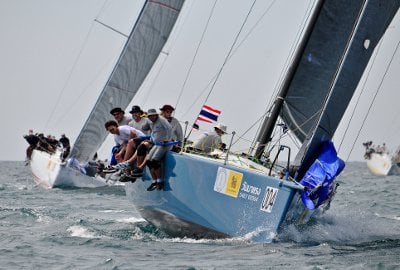 PHUKET: Kevin Whitcraft, owner and crew member of Wan Marang and president of the King's Cup Regatta Organizing Committee talks about the development of Thailand as a sailing nation, and one truly classic regatta.
Who is the skipper of your boat this year?
Our skipper, Jaray Tipsuk, is a sailor who has won two silver medals in the SEA Games, and a gold in the J24 SEA Games in Singapore in 1996. When he was very young, he had a relative at the Thai Naval base and he used to go watch the kids training in Optimist boats.
The Captain Sunan invited him in and he was the best kid there. He went on to the World Championships immediately. That was around 1979. He began helming at Royal Varuna Yacht Club in the early 80's and joined the national team in 1987 – the first year of the Phuket King's Cup Regatta.
Is it easy or difficult to find highly competent crew members in Thailand?
We have an almost complete Thai boat crew for the 2012 Phuket King's Cup Regatta, including a few Westerners who hold Thai citizenship. It's relatively easy, in fact, to find skilled Thai sailors. We have a lot of history of sailing here in Thailand, with most of our crew competing on and off internationally for over two decades, myself included.
Consequently, many of the crew have been racing together for a long time. Some of the other team members are, or were, a part of the Thai national team, of which I was a part for six years. The Royal Varuna Yacht Club has been instrumental for developing experienced Thai sailors.
How do you gauge the level of improvement in experienced and new Thai sailors?
It's definitely getting broader. I think the optimist program has been strong since the late seventies, and of course Thailand has maintained a strong reputation in sailing thanks to His Majesty the King.
Many of us have over the years put in time coaching optimists – and some of our crew have taught this for over ten years. We've got a culture and history of sailing in Thailand, so there's quite a lot of improvement already there.
Does having a Thai speaking crew help in terms of communication and teamwork?
We panic in Thai! Definitely when things get intense the language is occasionally in Thai because it's faster (laughs). But we speak in English as we have an American bow-man and a couple of Kiwis on the crew, so to give them half a chance, we talk in English.
The Phuket Dinghy Series has been effective in the development of young Thai sailors. Do many of them go on to crew large racing boats?
Not a large percentage, actually. The biggest 'problem' in terms of the development of sailing in Thailand is that Asian kids are focused more on studies when in their teens, and so they switch their focus to school following the growth of their experience in optimist.
The Yacht Racing Association of Thailand has tried to get the sport into universities so they now have sailing programs and they recognize qualifications in their student assessment activities. My kids are former optimist champions, but have continued to compete internationally in the 29er class.
People tend to fall away from sailing for a bit due to their studies and later due to their work commitments, but some come back and many of the crew out of Ocean Marina were former optimist sailors.
Is sailing a prohibitively expensive sport for most people?
Yes, it can be. You would regularly see 140 optimists and lasers competing in domestic events; then it (sailing) becomes more expensive and the field gets a lot smaller, not just in Thailand but internationally.
It's possible for a group of individuals to split the cost for a small keelboat, so there are ways and means for newcomers to access the sport, at least at entry level. To get to racing class it's pretty expensive, although there are a large number of Thai owners in the platu class, but it's not that costly as a hobby. It's reasonable, rather than affordable.
Please can you tell us about your boat?
The boat is from Croatia, and has been raced throughout the Med for about 18 months. It arrived the day before the Phuket King's Cup Regatta four years ago. It's very light – 4.5 tonnes and we've worked on it over the years.
Downwind we are pretty fast – it's our fourth year on board so we're pretty used to it, with all the new components we installed performing well. We've had a few practice weekends, which have helped us achieve strong finishes in 2012's Phuket King's Cup Regatta.
How you divide your attention between your roles?
When I'm out there on the water, I don't even think about the Phuket King's Cup Organizing Committee responsibilities much; the Committee, the organization, the structure, sponsorships and so forth. I'm just focused on being on the water and having fun, competing and challenging, pushing as hard as we can and being successful. And the jury, the organization and structure all help me in my capacity as President of the Phuket King's Cup Regatta Organizing Committee.
We have an excellent PR team with Vivaldi, and the organizational teams do a great job with the course, and in providing international standard race management. And needless to say the parties are well organized as well.
Why do you hold the Regatta at Kata Beach?
Kata Beach Resort & Spa is a strong supporter of the Regatta, and a great host sponsor. You have to consider the number of rooms available, facilities, the award ceremony.
So Kata Beach Resort & Spa is perfect in many respects. It's located in a beautiful bay and the resort is popular with Regatta competitors.
Is Phuket Thailand's leading destination for sports sailing?
Not just for sailing, but for runners, divers, surfers, windsurfing; it's an adventure sports playground. It's such a beautiful area in which to be outdoors and living life to the full – a large reason behind why so many people come here, return here, and enjoy being here.
What would you say to newcomers who want to take up sailing?
It's about getting started, so follow the advice of Nike and "just do it!" Get licensed, get your basic training down, and most importantly, get time on the water. That's the key.
Same as when I coach Optimist sailors; it's about experience and time spent getting out there and sailing.
— Press release
📱 Download our app on Android or iOS for instant updates on your mobile
📧 Subscribe to our daily email newsletter
👍 Like/Follow us on Facebook
🔔 Subscribe to or Join our YouTube channel for daily video updates
Phuket's July Sandbox no-quarantine model "needs a major revamp"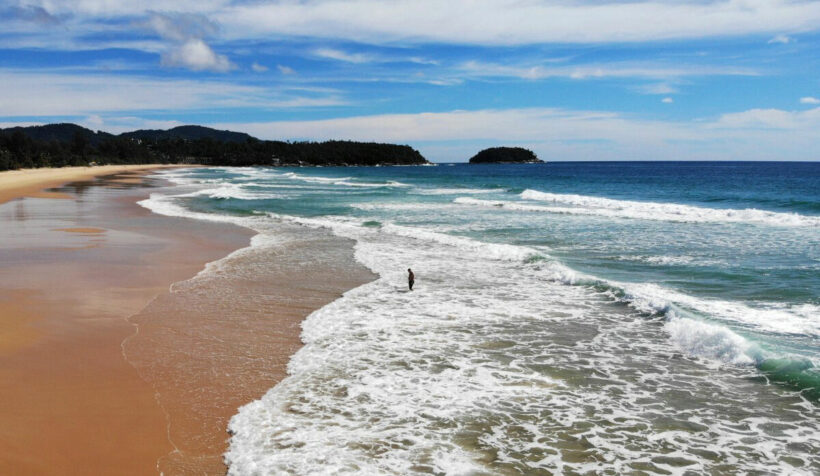 Thailand's Sports and Tourism minister Phiphat Ratchakitprakarn is acknowledging that Phuket's 'Sandbox' model for a no-quarantine re-opening in July will need "a major revamp". As the Songkran travel bubble bursts and the monsoon season waves start to roll onto the island's west coast beaches, Phuket's scheduled July re-boot suddenly seems a long way off.
Minister Phiphat says he plans to meet with "all related agencies" this week. Apart from the latest national re-surge in new infections, Phuket has been unable to get its hands on sufficient vaccines to meed its deadline of 70% of the island vaccinated by July 1. Thailand's limited supplies of the vaccine – including some 930,000 doses designated for Phuket – are being rerouted to other provinces as the government prioritises the limited supply.
"We are all concerned about the reopening timeline," he was quoted in Bangkok Post.
But the Minister did acknowledge that, if the 70% vaccination level couldn't be met, they may consider opening some areas of the island. Exactly how that would work hasn't been revealed at this stage.
The minister also brought up the ongoing travel bubble negotiations and says he hadn't heard back from some of the candidates with their reaction to the current outbreak.
Flights in and out of Phuket Airport's international terminal have been extremely patchy and the flights from feeder tourist markets will need to co-operate with any re-opening plans.
Phuket, whilst suffering a rise in new infections, hasn't been hit as hard as some of the other popular holiday provinces, like Chiang Mai, Chon Buri (Pattaya) and Prachuap Khiri Khan (Hua Hin).
This year's Songkran was going to be a major stepping stone for the island's recovery and many hotels, some who had opened especially to cater for Songkran holiday traffic, noted a lot of cancellations just prior to the break.
But some island hotels have still reported high occupancy rates over the past week. One Manager, who did not want his name published, said that their hotel was almost full with Thai patrons, most who had pre-paid for their flights and accommodation and decided to go ahead anyway.
Bhummikitti Ruktaengam, the president of the Phuket Tourist Association, says that they are opposed to any lockdown as it would cripple the island, with its tourist businesses already suffering greatly. He stated that 15% of people cancelled their Songkran bookings, while 30% had postponed their trips.
The Sports and Tourism Ministers is still in quarantine after having close contact with Transport Minister Saksayam Chidchob, who was diagnosed with Covid-19 2 weeks ago.
📱 Download our app on Android or iOS for instant updates on your mobile
📧 Subscribe to our daily email newsletter
👍 Like/Follow us on Facebook
🔔 Subscribe to or Join our YouTube channel for daily video updates
Phuket begs Kolour attendees to come for Covid-19 testing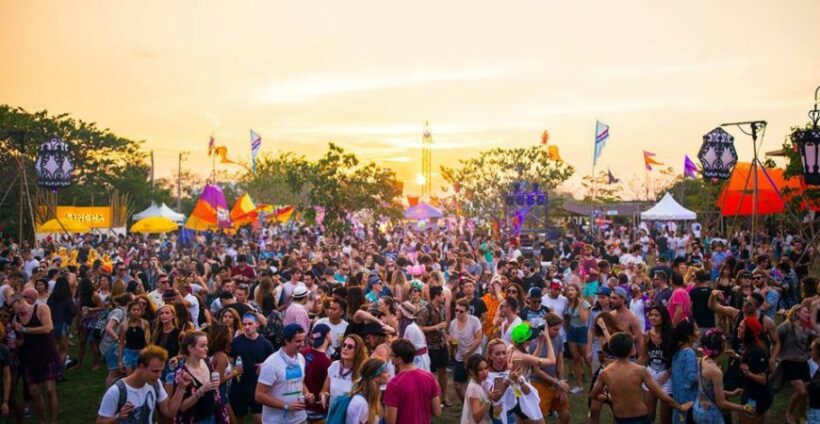 Health officials in Phuket put out a public statement this week compelling all foreigners who attended clubs and Kolour events to report for Covid-19 testing. As many might expect, the response has been lacklustre at best. Spreading the message around the foreigner and expat community in Phuket, the message is aimed at the multitudes of people, mostly foreign who attended Kolour and related events that turned into a Covid-19 superspreader event. Many foreigners have not come forward, much to health officials chagrin.
Online and on social media, foreigners and Thais shed light on why this urgent public health request is going largely unheeded. Foreigners fear the repercussions of coming forward, especially since Thailand is not allowing staying home or elsewhere in isolation if someone tests positive for Covid-19. Quarantine is mandatory, and with infection numbers exploding across the country, many fear the less-than-posh comforts of being quarantined in an emergency field hospital.
Cost is the other factor that likely is preventing foreigners from turning themselves in to be tested for Covid-19. While Phuket health officials may test people for free, anyone found infected with Covid-19 will be financially responsible for all the costs of their treatment and quarantine. Foreigners with limited financial resources, especially after a year of holing up in Thailand to ride out the Coronavirus, may resist reporting to authorities when they cannot afford the mandatory quarantine and medical treatment.
Perhaps recognizing this hesitation, the message includes a plea for all attendees to self-quarantine and self-monitor for any symptoms over the next week, even if they fail to report or test negative. The note also reminds everyone to wear masks in public at all times. The statement to the public also instructed anyone who attended any of the Covid-19 spreading nightlife events to report to the Acute Respiratory Infection Clinic area of Vachira General Hospital to receive a Covid-19 swab test.
SOURCE: The Pattaya News
📱 Download our app on Android or iOS for instant updates on your mobile
📧 Subscribe to our daily email newsletter
👍 Like/Follow us on Facebook
🔔 Subscribe to or Join our YouTube channel for daily video updates
Pattaya, Phuket and Hua Hin brace for increased restrictions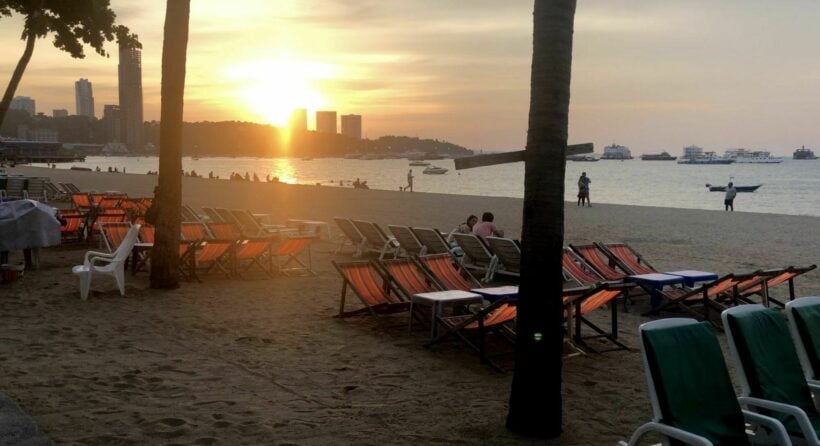 Three of Thailand's biggest expat areas are seeing sharp rises in new infections, partly from pre-Songkran traffic. The Songkran holidays, now officially over (but will see many people taking today off and making a weekend Songkran extension), and the government says they are expecting to see a rise in the cases numbers reported in the popular holiday locations.
Chon Buri Public Health office says they now have a total of 910 infections since April 1. They have 103 new cases in the past 24 hours. Most new cases are in Bang Lamung district which includes Pattaya City with 47, Siracha with 12) & Chon buri City with 8.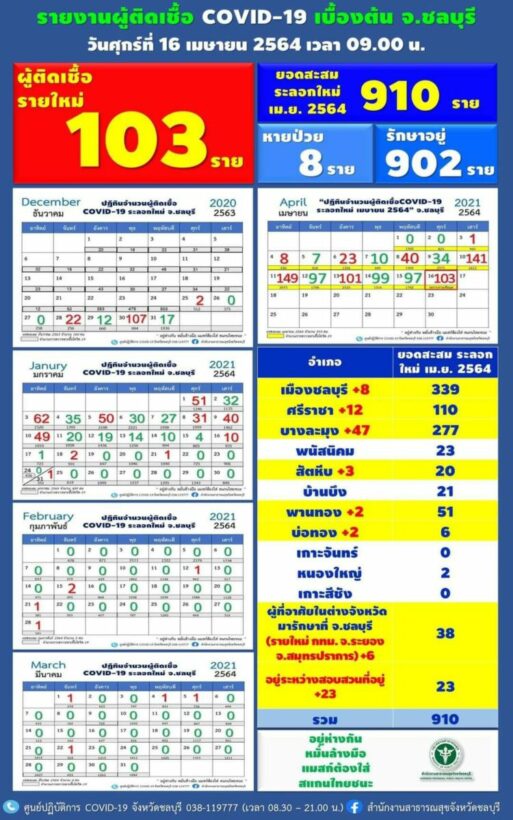 Meanwhile Phuket has a total of 142 infections recorded on the island with the Governor still insisting there will be no need for a lockdown. Here's a breakdown of the areas and the numbers of recorded infections so far (below).
Governor Narong announced that the Phuket Infectious Disease Control Committee won't be implementing an official lockdown, but will "strictly raise the intensity of public health measures to counter the spread of Covid-19″.
"Everyone should wear a face mask, maintain social distancing, wash their hands frequently and install the Mor Chana app (available for free from App Store and Google Play Store)."
A meeting of the CCSA, chaired by PM Prayut Chan-o-cha is expected to upgrade restrictions in red zone areas around the country, which includes Phuket and Pattaya. Read more about the latest red and orange zones HERE.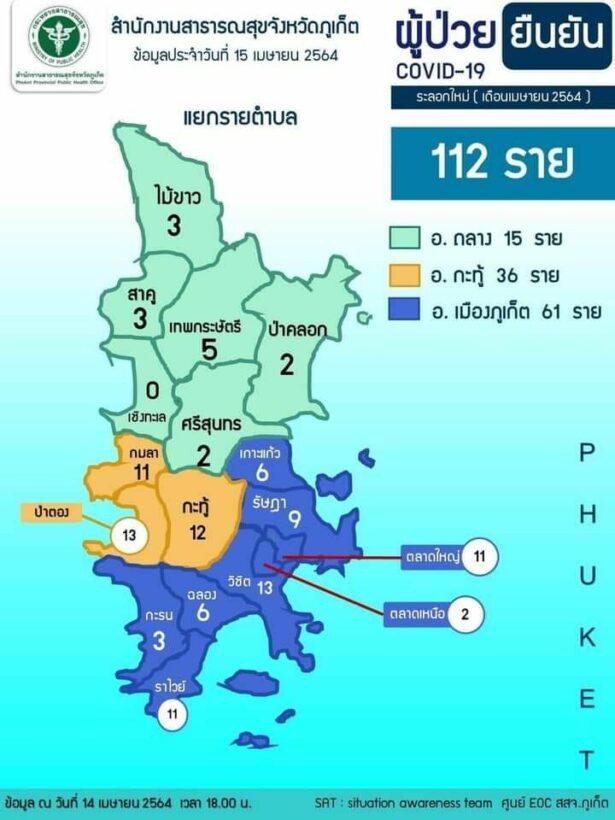 For Hua Hin expats, there's been 100 new Covid-19 infections announced in Prachuap Khiri Khan in the past 24 hours, 75 cases from Hua Hin. This takes the total in the province since April 1 to 625. Hua Hin accounts for nearly 90% of the district's total cases.
📱 Download our app on Android or iOS for instant updates on your mobile
📧 Subscribe to our daily email newsletter
👍 Like/Follow us on Facebook
🔔 Subscribe to or Join our YouTube channel for daily video updates