Thailand returns rescued orangutans to Indonesia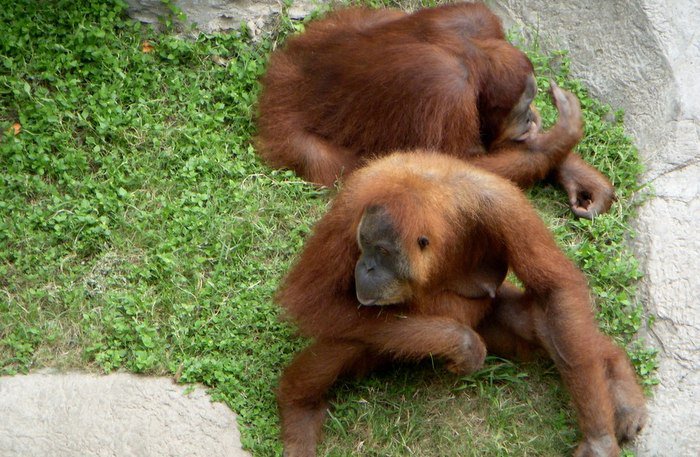 BANGKOK: A group of smuggled orangutans were returned from Thailand to Indonesia yesterday following years of diplomatic wrangling over who will care for them after the majority were discovered abandoned on a roadside.
Previous Thai governments sought compensation from Indonesia for the cost of housing and treating the 14 apes, but the junta government in Bangkok recently waived those demands and pushed ahead with the repatriation.
Indonesia sent a C130 aircraft to collect the animals, who were loaded in metal crates onto the plane before taking off from a military airport on the northern outskirts of Bangkok.
"Special care has been taken to ensure that the orangutans are ready to travel," said Tuenchai Noochdumrong, director of Thailand's wildlife conservation office, in a statement.
In Jakarta, preparations were under way to greet the returning animals.
"They will be greatly welcomed by the Indonesian government once they arrive back home. It is a homecoming," Indonesian environment spokesman Eka W Sugiri told AFP, adding that the government was very serious about the conservation of orangutans.
Orangutans are native to the rainforests of Borneo and Sumatra but are often illegally smuggled throughout Southeast Asia, either for private zoos or as pets.
The 14 apes, who travelled to Indonesia with their Thai keeper, will be taken to a safari park in West Java for examination before being reintroduced to the wild, said Mr Sugiri.
He added that officials still needed to determine whether the apes came from Borneo or Sumatra.
Despite their reputation as gentle animals, orangutans are not suitable pets. One Thai man lost a finger when one of the rescued apes bit it off.
"It happened [a] long time ago, not during the preparation of this repatriation," a wildlife official told AFP.
"It was a male orangutan who is quite fierce," he added. "They are six times stronger than human beings."
Of the 14 orangutans, 11 were found abandoned in Phuket in 2010. One was rescued elsewhere while two were born in captivity to the rescued parents.
In recent months, many apes in Indonesia have fled their forest homes after illegal fires set to cheaply clear land for plantations.
The fires and resulting region-wide haze occurs to varying degrees each year during the dry season, although in recent days persistent rains have doused many blazes and cleared the air across vast stretches of Southeast Asia.
Earlier this week, an animal rights group said it had released back into the wild an orangutan and her baby who were attacked by angry villagers in West Kalimantan province after straying out of their forest home to escape the fires.
Some locals view the apes as pests and there has been an increase in human-animal conflict in the area.
— The Nation
Keep in contact with The Thaiger by following our
Facebook page
.
Never miss out on future posts by
following The Thaiger
.
Phuket's Sri Panwa Resort's land title deed to be investigated for legality by DSI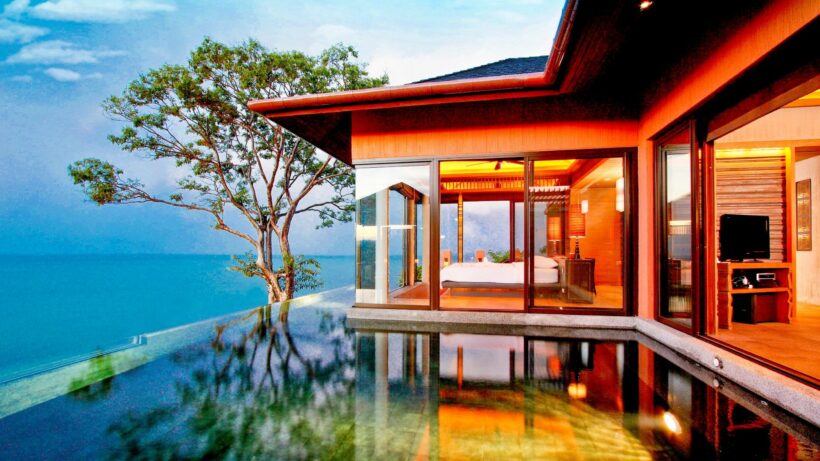 Back in the news again. Phuket's Sri Panwa Resort's land title deed is now to be investigated by the Department of Special Investigation after a petition was filed to determine whether the deed was procured legally. Veera Somkwamkid, the secretary-general of the People's Network Against Corruption, filed the petition along with 167 pages of documents pertaining to his accusations that Thawatchai Anukun, a land fraud suspect, had unlawfully issued land title deeds to plots of land in Phuket before he mysteriously died in a detention room while in DSI custody in 2016.
He was allegedly being investigated for falsifying land deeds between the years of 1998 and 2001. Veera claims before the title deed was issued on the plot, the land was part of a forest known by locals as Pa Kae.
"Back then, 10 families that had occupied the plots for about 40 years had title deed requests rejected. The reason given was the land was part of a forest reserve used by the navy."
However, Watchara Buathong, Phuket's current land official, says the Sri Panwa resort had legally acquired its 56-rai, none of which was ever state land. Local resident Khwanjai Khumban, backed this claim, saying her father and cousins had sold most of the land to the resort, and she could produce documents to account for at least 12 rai of the disputed area.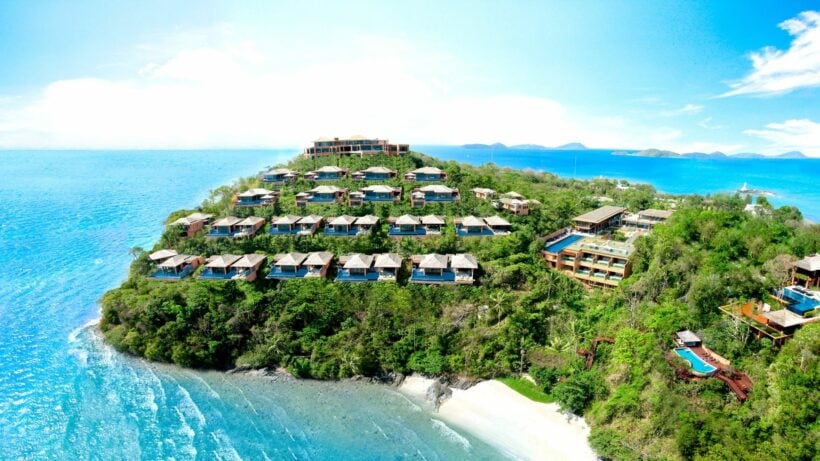 Meanwhile, the Social Security Office, is also
under fire
as it is being asked to explain why it invested in the hotel's trust fund. The department, which is under Thailand's Ministry of Labour, in which its minister says he doesn't know if the property has been legally built and points to the responsibility to the DSI to investigate. This was echoed by at least one opposition MP and anti-corruption activists.
The hotel, situated on Cape Panwa, in Phuket's Muang district, has been under recent scrutiny due to its owner, Vorasit Issara, accusing Panusaya "Rung" Sithijirawattanakul, a co-leader of the anti-government United Front of Thammasat and Demonstration group, of offending the monarchy at last weekend's protest at Sanam Luang.
Vorasit posted on Instagram that Panusaya Sithijirawattanakul should be jailed, further falsely claiming that she is not Thai when, in fact, Panusaya was found to have been born in Nonthaburi and is a Thai citizen.
"This bullshit has got to stop. She is not Thai. Who is she working for? This one needs to be in prison".
Such a statement has received wide backlash from netizens with some taking to Trip Advisor and other websites to post bad reviews of the resort, prompting it to suspend advertising on such sites.
Keep in contact with The Thaiger by following our
Facebook page
.
Never miss out on future posts by
following The Thaiger
.
Female prisoner on the run after escaping from Phuket Hospital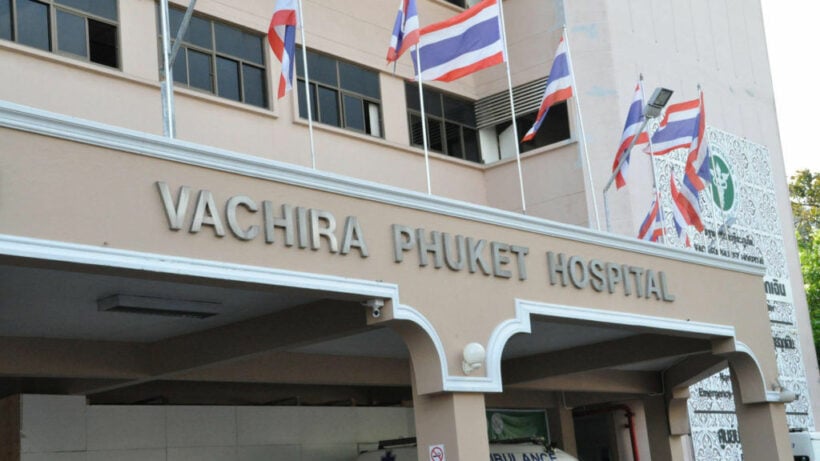 A female prisoner is on the run after escaping from Vachira Hospital in Phuket during a doctor's appointment. 58 year old Siri Phodam allegedly escaped after asking her prison escort officer to use the toilet. But she took a long time to come back, and was found to have escaped. CCTV cameras caught her dressed in a blue hospital patient shirt and a sarong leaving the hospital quickly. A Phuket prison officer says the woman is 158 centimetres tall and has dark skin.
"Some of our own officers are searching for her, and we have also sent the prisoner's description to all Phuket police stations. However, at this stage we have not found any clues."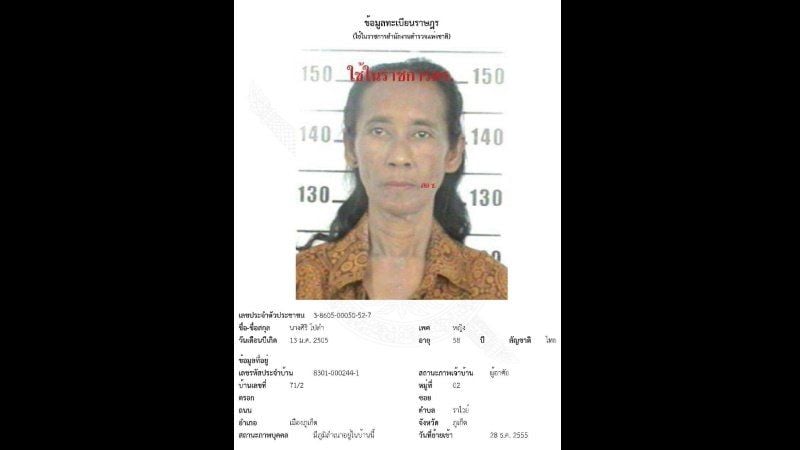 "If anyone finds a person matching the prisoner's appearance, please inform us by calling 076 212 104."
Siri was imprisoned after being charged with posessing illegal drugs and lived in Moo 2, Rawai.
SOURCE: The Phuket News
Keep in contact with The Thaiger by following our
Facebook page
.
Never miss out on future posts by
following The Thaiger
.
Phuket's annual vegetarian festival gets the green light – VIDEO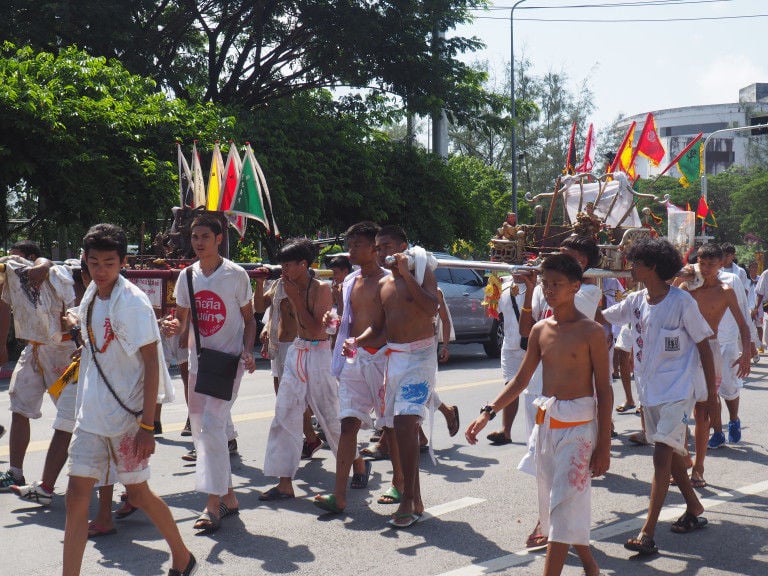 WARNING: The content below contains photos and videos of self-mutilation that some may find disturbing.
Somehow Phuket's annual vegetarian festival is to go ahead next month, but officials say they will ask participants to strictly observe social distancing. Good luck with that! For those who don't know, the festival isn't exactly known for the food. It's known for blood, body mutilation and more blood.
During street processions for the weeklong event, also known as the Nine Gods Festival, so called "mah songs" are known to practice self-mutilation and are said to enter a trance-like state, channeling spirits through their body. "Mah" means horse in Thai, and many suggest the mah song acts like a horse for the spirit to ride.
Many mah songs pierce their checks, ears and lips, some with large swords and thick needles. Some slice their tongues continuously for hours, blood dripping down on the street. Others appear to be in a trace walk barefoot as firecrackers explode on the ground.
Mah songs march down Phuket's streets for hours with a team of devotees to help tend to their wounds, adjust the piercings, wipe away drool and blood, and keep them hydrated. It's understood that devotees wear white as a symbol of purity. It's also reported that they abstain from eating meat, drinking alcohol and having sex during the weeklong festival.
It seems gruesome, but it's actually very spiritual. Business owners and locals line the street, some setting up altars. Mah songs stop at each one and do a quick ritual. Some mah songs carry a black flag, waving it over onlookers who bow their heads and place their hands in the "wai" position. Some spend time blessing the elderly and handing out bracelets to children. During a procession last year, a woman held up a bracelet as said "the 'Spirit' gave this to my mother."
This year, the festival will have to be a little different to abide by coronavirus prevention measures. The Bangkok Post says it's the first festival since the outbreak. The head festival organiser Prasert Fukthongphol says "we will seriously enforce social distancing measures and require all participants to wear face masks."
The grotesque piercings, noisy parades and visits to the shrine, are good news for Phuket's tourism and bad news if you're a vegetable. Many adherents to the Chinese-heritage local festival will go without sex, alcohol and meat for the week of so of the festival. The week of events and ceremonies hopes to scare away the bad gods again but, especially this year, attract some extra visitors to the festival.
Another Vegetarian Festival in Chon Buri has also been given the green light. The event is planned for October 16 to the 26. This year's main event for the festival will be in Naklua at Sawangboriboon Thammasathan Foundation at the Sein Sua Chinese Temple, but many other events will be around the city throughout the week.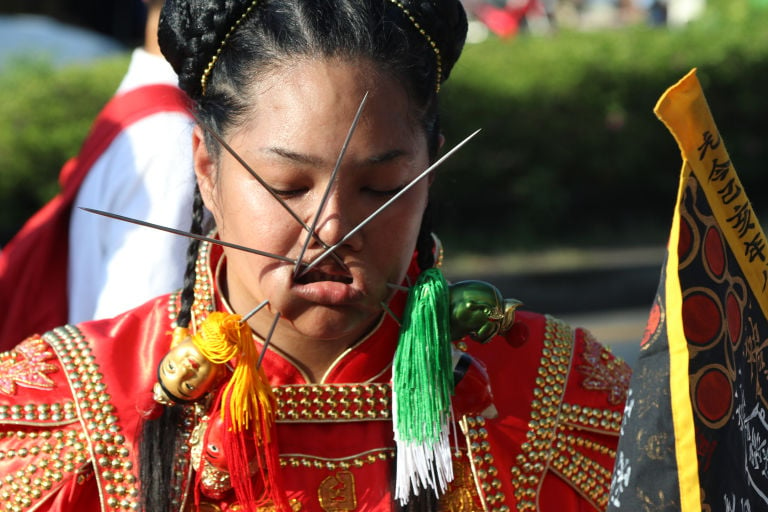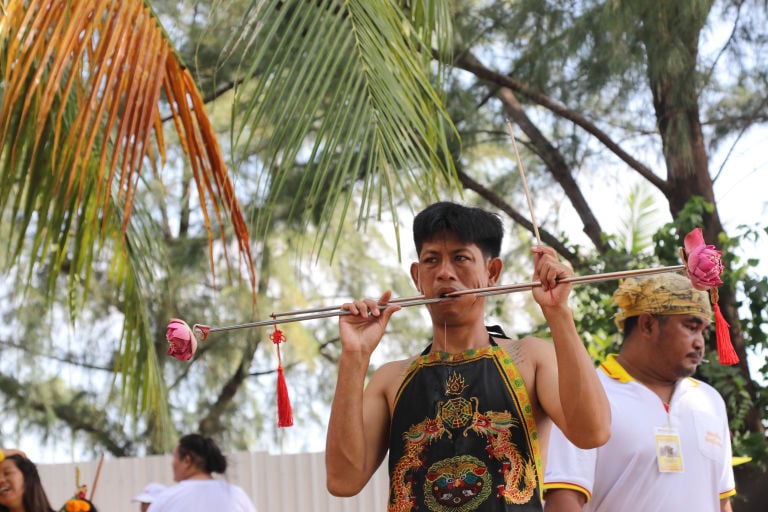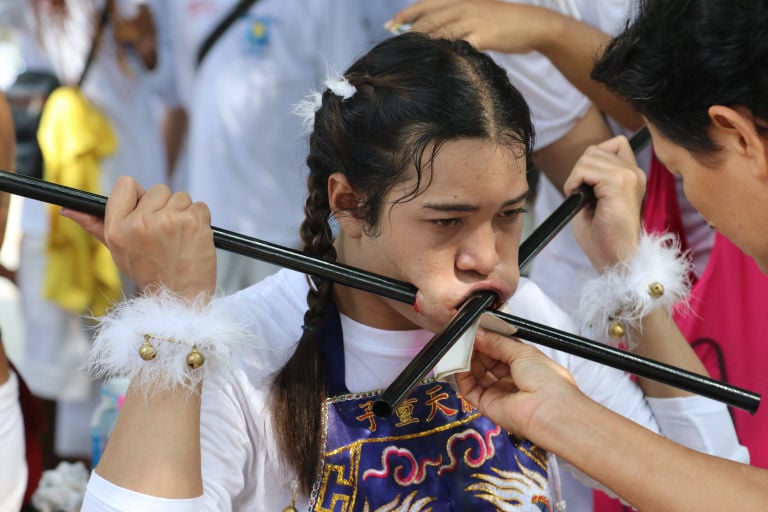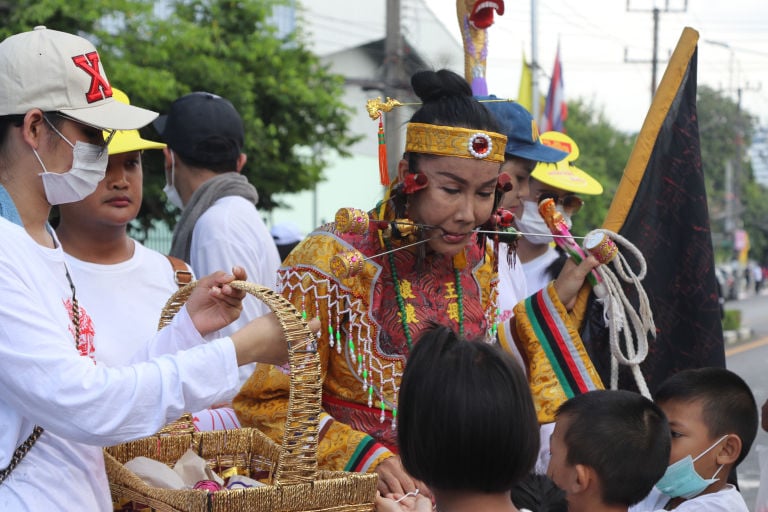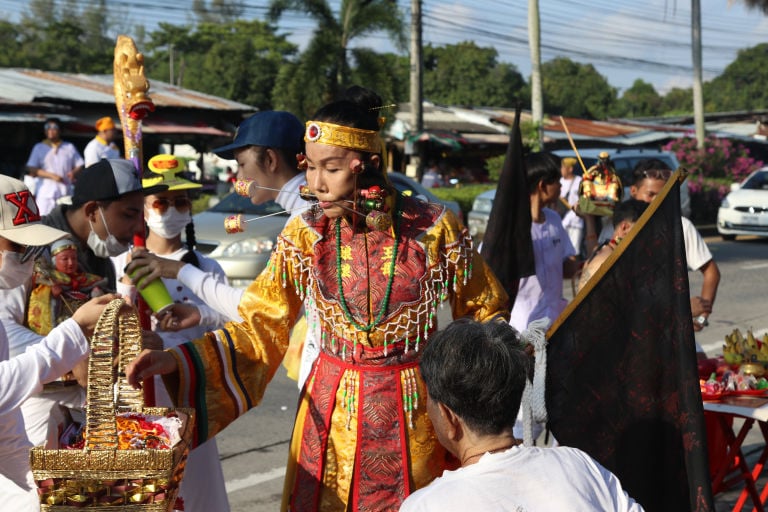 SOURCES: Bangkok Post | Pattaya News
Catch up with the latest daily "Thailand News Today" here on The Thaiger.
Keep in contact with The Thaiger by following our
Facebook page
.
Never miss out on future posts by
following The Thaiger
.