Special Report: Anatomy of a Phuket taxi driver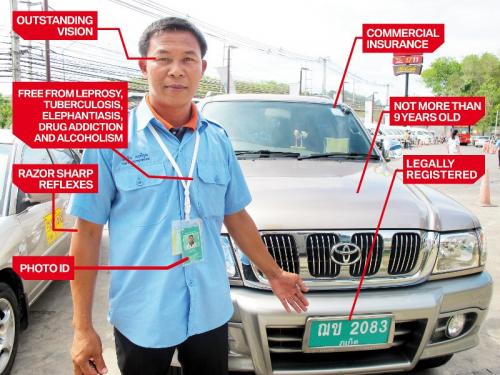 Special Report
The Department of Special Investigation (DSI) has opened an 'Organized Crime Center' [sic] at Phuket International Airport to crack down on illegal taxi drivers still operating there. The move follows widespread allegations of mafia operating on the island and illegal taxi drivers overcharging tourists. Here, the Phuket Gazette investigates what it takes to become a Phuket taxi driver.

PHUKET: There are currently 2,110 taxis legally registered to operate in Phuket; 129 of those are metered taxis. However, almost 1,000 more drivers continue to work illegally on the island, gleaning profit from freshly arrived tourists, often through outright gouging.
During the crackdown earlier this year, the Phuket Land Transport Office (PLTO) identified 2,882 illegal taxis in Phuket. The crackdown inspired a further 1,981 taxi drivers to apply to have their vehicles registered.
"The PLTO is currently processing those applications," explained PLTO officer Jaturong Kaewkasi.
However, that means at least 900 taxi drivers are operating without having made any attempt to become legal (story here).
"This is despite us granting them amnesty and helping them by negotiating with finance companies, banks and insurance companies to reduce the costs of re-registering their vehicles as private taxis in order to become legal drivers," Mr Jaturong said.
Although the amnesty ended on April 30, drivers can still apply to register their vehicles as taxis and apply for their taxi drivers' licenses, he added.
Along with the carrot came the stick. On May 1, police and PLTO officers were called upon to fine all drivers caught for "illegally operating a vehicle as a taxi". The fine levied was the flat maximum 2,000 baht for each infringement.
The enforcement enjoyed limited success. Phuket Provincial Police confirmed to the Gazette that across the island 170 drivers were each fined 2,000 baht in April for not applying to register their vehicles as taxis, while their counterparts who were still illegally operating taxis but who had applied to become legal, were let free.
A further 246 drivers were fined in May, and another 224 in June.
However, the penalty is no stiffer for repeat offenders. "We do not have stronger penalties for drivers who repeatedly break the law. So far, the fine is 2,000 baht every time they are caught," Mr Jaturong said.
THE CARS

Regardless of whether a taxi is fitted with a meter or not, the engine size must not be less than 1600cc. "It doesn't matter which make or model of car it is, and there is no restriction on the maximum size of the engine," Mr Jaturong explained.
The vehicle cannot be more than two years old at the time it is registered as a taxi, and cannot be used as a taxi after the vehicle turns nine years old from the date the car was first registered, he added.
Furthermore, there is no such thing as an independent taxi driver in Phuket. The car must be registered as working for a legally registered organization.
"This is a nationwide regulation so that the driver of each taxi can be identified and reached in case he does something wrong," Mr Jaturong explained.
"The person registering the taxi must provide evidence that he works for a formal organization. He can provide a signed agreement proving he works as part of a taxi co-operative, or an employment contract showing he works for a tourism business, such as a tour kiosk, or for some other form of legal entity," he added.
Regardless, so-called "taxi groups" are not held accountable for their members' actions, even if their members consistently break the law.
"If their drivers are involved in a crime, charges will be pressed against the driver, not the group," Mr Jaturong said.
"If there are complaints against a driver, the group will resolve the issue themselves. They have their own rules to punish drivers, such as suspending the drivers from work. The number of days' suspension – and hence lost income – will depend on what the drivers have done wrong," he assured.
THE DRIVERS

In order to carry passengers in a taxi, drivers must be Thai nationals, as ferrying passengers is a job prohibited to foreigners under the Alien Workers Act.
They must hold a commercial driver's license, be at least 22 years old and also hold a valid standard driver's license issued for five years.
Applicants must provide a medical certificate affirming they are free from leprosy, tuberculosis, elephantiasis, drug addiction and alcoholism.
And they must pass a test which takes place over a two-day period at the PLTO, during which applicants receive training in traffic law, basic English language, polite manners and common courtesy, Mr Konlayut said.
They also undergo an eyesight and reflex test.
As part of the process, police conduct a background check.
"Any applicants found to have served jail time for any crime will be rejected," Mr Konlayut assured.
"However, repeat offenders, even for traffic offenses such as reckless driving, will be issued a license to drive a taxi in Phuket so long as they have not served a day in prison," he added.
Once issued their license, on its large yellow card, the drivers must have it on display at all times while driving the taxi.
THE INSURANCE

Every vehicle being registered as a taxi must first have at least basic commercial insurance coverage, as stipulated by the national Office of Insurance Commission, before the PLTO will process its application.
The high cost of commercial insurance has been an ongoing point of dispute among many illegal taxi drivers in Phuket, who claim they cannot afford the rates.
To make insurance coverage more affordable, the PLTO directly engaged in negotiations with finance companies, banks and insurance companies on behalf of the drivers. The result, after months of talks, was base policies starting at about 30,000 baht per annum.
"We know it can be expensive, but we have done the best we can – and this is a mandatory requirement for a vehicle to be registered as a taxi," Mr Jaturong confirmed.
Yet Patong Police Traffic Inspector Ekkarat Plaiduang confirmed to the Gazette that his officers would not pursue charges against any driver found driving without the required insurance.
"Instead, we will report it to the insurance company and let them decide whether they want to file a complaint,' Maj Ekkarat explained.
"If they do, we will charge not the driver. but the owner of the car with providing false information on an official document. The penalty for that is a fine of up to 60,000 baht or up to three years in prison, or both," he said.
Maj Ekkarat did not elaborate on what action police would take in case passengers, including tourists, are injured in an accident involving a taxi with inadequate insurance coverage.
THE AIRPORT

The ultimate goal of nearly every taxi driver on the island is to serve Phuket International Airport, which Chanchai Doungjit, chief of the Tourism Authority of Thailand (TAT) Phuket office, last month reported was the primary tourist gateway on an island that attracts about 11 million visitors per year.
Tourists pump an estimated 200 billion baht into the local economy, said Mr Chanchai. The consequence is that, for many taxi drivers in Phuket, the airport represents an easy avenue to hard cash.
To legally serve the airport, however, drivers must work for one of the taxi co-operatives that have signe
— Chutharat Plerin
Keep in contact with The Thaiger by following our
Facebook page
.
The rise of the e-bicycle in Thailand, a bit of motorised assistance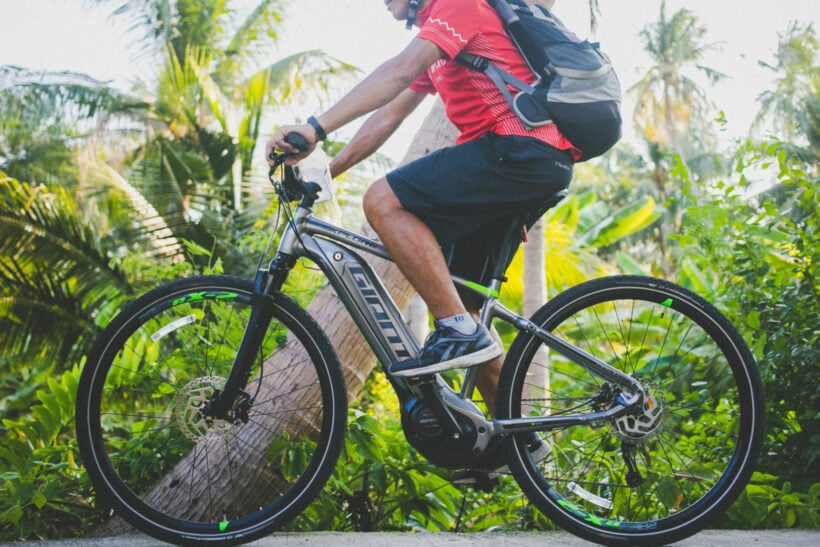 by Nicole Kash
Cycling tours offer a unique way to explore Thailand. Faster than walking but slower than driving, cycling tours cover plenty of ground while allowing cyclists to immerse themselves in the sights, smells, and culture of Thailand without the boundary of a car window.
Cycling tours can cover up to a heart-pumping 150 kilometre a day. Though exciting for many, some find longer distances daunting, especially newer cyclists or those out of practice. This is where the e-bike has begun filling a unique gap in Thailand's adventure tourism industry. Thanks to e-bikes, longer distance day tours and challenging multi-day cycling tours are no longer reserved for fitness fanatics. 
Popular in the US and Europe, the e-bike has made its way to Thailand is now thriving within the Kingdom's tourism industry. These motorised bicycles offer the option to assist cyclists with pedaling, which is especially useful for long distances and tough uphill climbs. Even with the help of the motor, cyclists still get plenty of exercise, as the pedal-assist system requires the rider to put some work in.
Unlike a scooter or motorbike, an e-bike does not run without the pedaling effort of the rider. They feature rechargeable batteries and an and off switch, allowing cyclists to challenge themselves as much as they'd like and get a little extra help when needed. 
The option of swapping our traditional bikes for e-bikes on cycling tours offer more tourists the opportunity to join in on cycling tours than ever before, growing the number of potential clients for Thai adventure tourism companies while fostering a climate of inclusivity.
Looking to join in on the fun? Here's a look into a few of the single-day and multi-day bicycle tours with e-bike options offered by Bangkok based SpiceRoads Cycling! 
Road Cycling Bangkok to Phuket (10 days)
Starting in bustling Bangkok and ending in along Phuket's sparkling coastline, this 10-day bicycle tour with e-bike options is the perfect mix of must-see sites and tucked away local spots all on smooth roads. Pedalling toward the scenic south, ride beyond the city lights and explore rural Thailand's rich culture and welcoming villages while making stops at the east and west coast's local beach spots along the way.
Rolling hills, golden sunsets, a real taste of local life, and of course serene sea views await you! This trip is fully supported with an air-conditioned van and riders can take a break and cool off while still enjoying the same views as the rest of the group. 
Phuket Highlights (½ day) 
Take a break from beach life to explore Phuket's unique and often overlooked old town on this ½ day bicycle tour with e-bike options. We start on the town's peripheral, exploring Koh Sirey's community of sea gypsies and on to see and smell the fresh catch of the day as locals bid for the best deals at the fishing port.
Then we head downtown to admire Phuket Old Town's Sino-Portuguese architecture, Jui Tui Shrine museum, and unique shops by bike. This leisurely 27 kilometre tour ends with a drive to stunning Khao Khad viewpoint for a scenic sea view and bird's eye view over where we have ridden. 
Kanchanaburi Explorer (3 days) 
Immerse yourself in Kanchanaburi's natural beauty and historic sites on this 3 day bicycle tour with e-bike options. Cycle along country roads and through local villages, enjoying mountain views and the thrill off jungle clad and dirt trails along the way.
Then explore off the bike, boarding a local train for a stunning train ride on Death Railway, visiting the historic and dark Hellfire Pass, and taking an optional boat trip to visit a Mon village. A diverse itinerary combining Kanchanburi's stunning natural sites with stops at historical must-sees on a mix of tarmac and dirt trails assures you will never get bored on this 102 kilometre bicycle tour!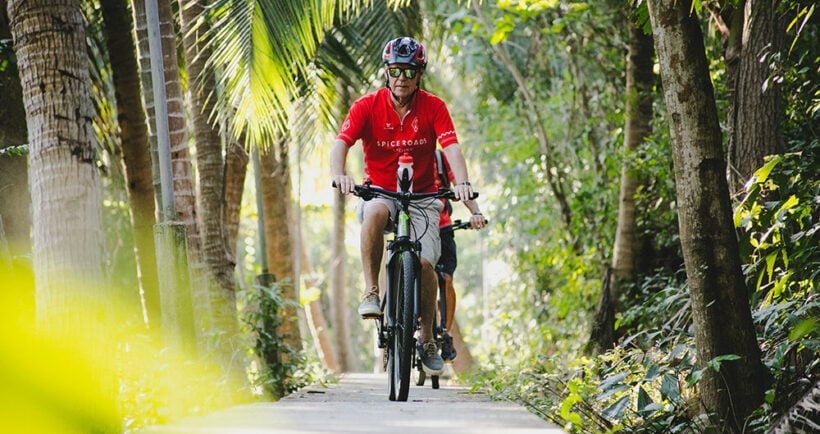 To find out more, and see more tours from the Spice Roads team, click HERE.
Keep in contact with The Thaiger by following our
Facebook page
.
82 year old Frenchman killed in motorbike crash with ATV in Phuket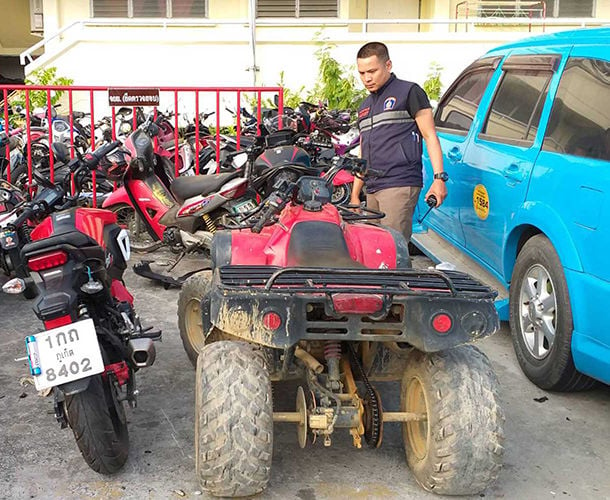 An elderly French man has died after an American woman lost control of her all-terrain vehicle (ATV) and crashed into his motorcycle in Chalong, southern Phuket. The woman was seriously injured. Police say the incident occurred on Soi Klum Yang in Chalong around 4pm on Thursday.
The crash involved a red ATV, and a black motorcycle ridden by the 82 year old Frenchman Robert Geoffray.
The woman, identified as 39 year old American Onome Alero Adeosun, suffered a broken right arm, leg and collarbone. Emergency workers found the elderly Frenchman lying unconscious on the road with serious head injuries. Medics performed CPR before sending both to Chalong Hospital, where the man was later pronounced dead.
His body was taken to Vachira Phuket Hospital for autopsy. The woman was transferred to Siriroj Hospital and is currently helping police with their investigation.
SOURCE: Bangkok Post
Keep in contact with The Thaiger by following our
Facebook page
.
Salty tap water and dirty air – Bangkok's environmental woes continue today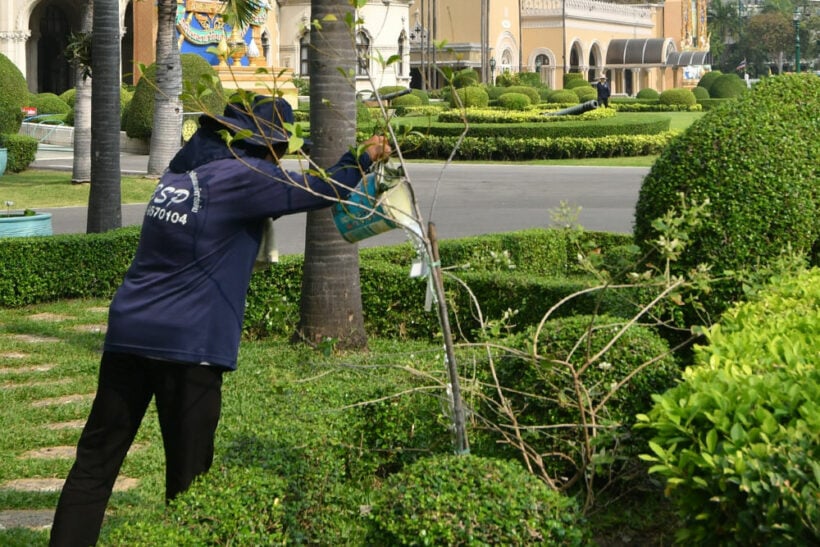 Brackish tap water, with increased salinity caused by seawater back-flowing into the Chao Phraya River, is threatening the gardens in and around the Government House compound. Government House officials are seeking assistance from the Agriculture Department.
Several small tree species – Lamduan, Chor Sumalee, Rachavadi, Nom Maew and Hom Muenlee – are more vulnerable to brackish tap water. The gardens are watered from a supply pumped in from the Chao Phraya.
It's been noted tha the saline level was around 400 milligrams per litre, still within the 1,000 mg/litre standard, but some of the species were already intolerant to the rising salinity.
Officials are seeking advice from the Agriculture Department about long-term measures to replant with species which would be more tolerant to the rising salinity of the water – situation they acknowledge will need to be managed in the short to medium term.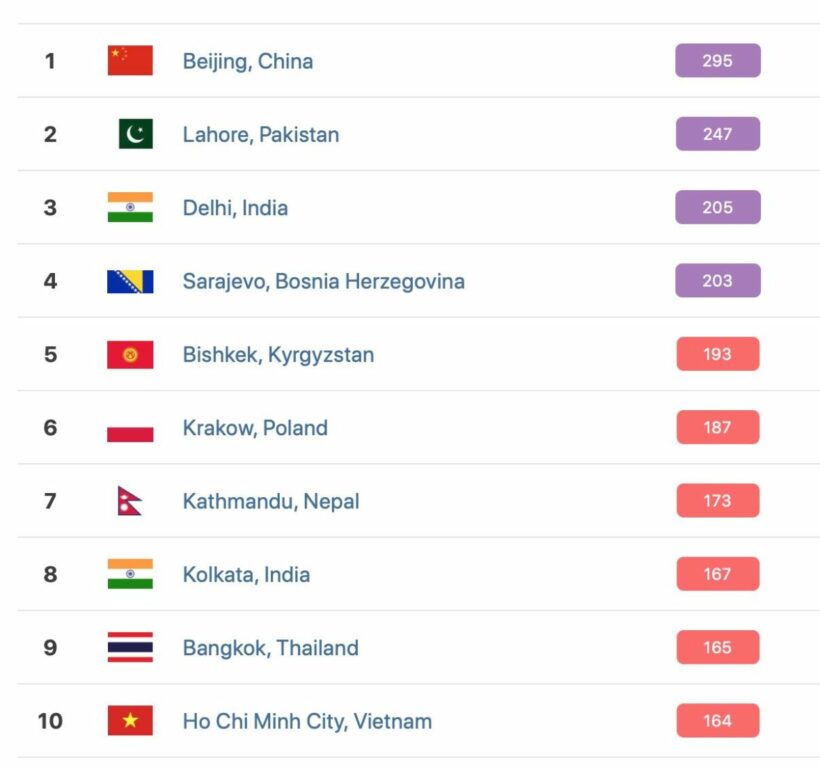 SCREENGRAB: Air Visual
Meanwhile, air around the capital today continues to be universally poor to very poor with readings as high as 187 near Suvarnabhumi Airport. Light airs, dust problems from northern-easter provinces and hot continental air flowing across the capital, continue to haunt Bangkok. Even with many factories closed today, and traffic lighter than weekdays, Bangkok's air has been recorded as the ninth worst city in the world for air pollution.
Right across the city the air quality readings are into the 'unhealthy' zone.
Chiang Mai, Lampang and Central Thailand are fairing no better – all with readings at least 3 times the Thai upper safe limit of 50 microns of 2.5micron particulate per cubic metre. The World Health Organisation sets its limit even lower at 25.
Pattaya has air quality readings today of 162, whilst even Phuket, in the south, is registering readings between 100 and 145 with reduced visibility today.
SOURCE: Thai PBS World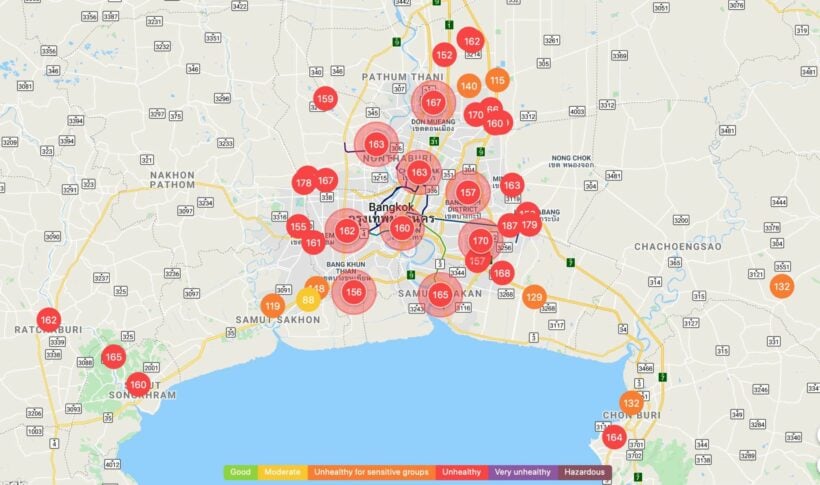 Keep in contact with The Thaiger by following our
Facebook page
.