Snake fever: Another Phuket resident attacked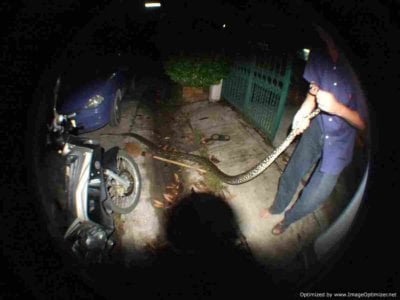 PHUKET: A 12-foot python attacked a Phuket-based jewelry designer when he returned home to find the aggressive snake outside his front door on Wednesday night.
Expat resident Daniel Clark said he and a friend fought with the snake for about two hours, fending it off until they were able to wrestle it to a nearby clearing at Ao Chalong Country Home Village.
His account is the most recent in a series of email and text messages to the Gazette following our reportof a python attack at Vachira Phuket Hospital on Wednesday morning.
"I came home from a late-night celebration at 3am on Thursday and the snake attacked me when I tried to enter my driveway," said Mr Clark.
He said he managed to fend off the snake with a stick but it wouldn't leave his car port so he called neighbor Neil Skeldon to help.
The snake continued to coil and lunge at the pair, eventually taking refuge under Mr Clark's car.
Not wanting to risk another encounter with the snake in the morning, Mr Clark dragged the python out from under the car.
"I didn't want to harm the snake, and I have friends at home who handle their pet python. We eventually managed to drag it to a clearing at the end of my soi, where it disappeared into the undergrowth," he said.
In addition to the reports from Vachira and Mr Clark, the Gazette has learned of two separate attacks, both on women in Rawai earlier this week; an attack on a Thai man in Chalong last night; and an encounter by PGTV producer Marc Mulloy at his home, also in Chalong, early this morning.
Mr Mulloy said that his dog had come under attack and was barking fiercely at about 2am today. He said he had to drive away, with a stick, a reticulated python of "at least 12 feet long," and that after about 20 minutes the snake finally abandoned the contest by scaling up and over a two-meter-high wall.
Reticulated pythons, a native variety commonly found throughout Southeast Asia, are recognizable by the strikingly colorful geometric pattern along their backs.
They are known as one of the world's longest snakes, measuring 25 feet or more and weighing about 300 lbs when fully grown.
Snake experts characterize them as docile, non-venomous reptiles which are not usually aggressive unless threatened. They are powerful and prey on small- to medium-sized animals such as cats, dogs and pigs, constricting and crushing them to death.
One snake expert, Phuket Ruamjai Rescue Foundation chief Saiyan Thamaphan, told the Gazette that he felt ongoing human encroachment on the natural habitat of snakes was the reason for the marked rise in reports of snake attacks and sightings in Phuket.
"When Phuket was less developed, snakes such as pythons and cobras used to appear only at the end of the dry season, normally in April, but that people are now encountering them throughout the year, especially near construction projects," he said.
He added that the reptiles are very sensitive to noise and vibrations from construction work.
Anyone encountering a snake is advised not to confront or disturb the animal, but to contact the Ruamjai Foundation (076-283346/7) or the Kulsudorntum Foundation (076-246216 or 076-211706). They will have the reptile removed, often to the Phuket Zoo.
Residents are also encouraged to report snake encounters to the Gazette's News Desk by emailing editor@phuketgazette.net or calling 076-236555. The newspaper is currently attempting to create a map of locations on the island where encounters are most likely.
— Nick Davies
Keep in contact with The Thaiger by following our
Facebook page
.
Thailand targeting specific Chinese provinces for "tourism bubble"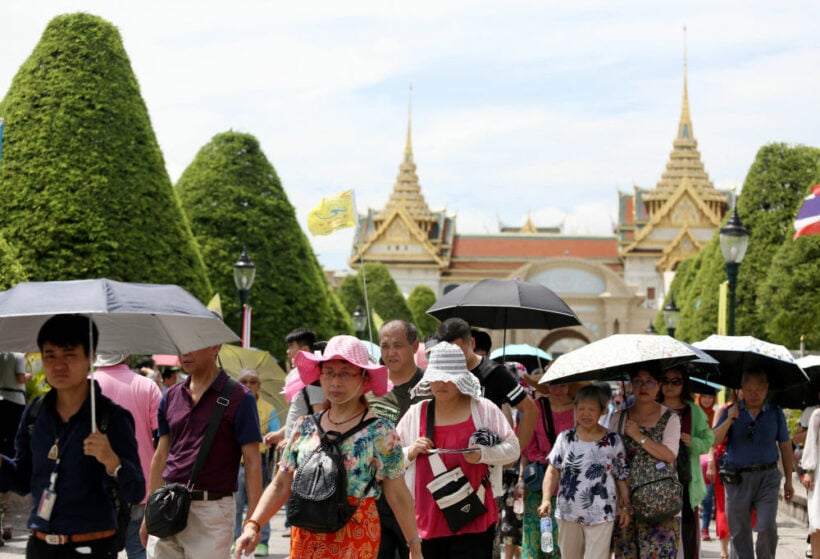 Thailand's minister of tourism and sports says his ministry will target specific provinces in China in a bid to attract tourists back to the resort island of Phuket as travel restrictions are gradually eased. Pipat Ratchakijprakarn says the ministry will not splash out money launching a tourist campaign all across China but rather target some of the many provinces that have brought Covid-19 under control.
He didn't specify which provinces, but said Phuket is being eyed to lead the planned "tourism bubbles" comprising Thailand and its selected partners. The primary target is selected Chinese cities and provinces.
"China is the first market with potential, because flying time to Thailand is less than six hours."
Other markets being discussed include South Korea, Japan, Australia, New Zealand and some south east Asian countries.
Before the pandemic, 1 in every 4 foreign visitors to Thailand was Chinese. There were almost 40 million foreign arrivals last year.
SOURCE: Bangkok Post
Keep in contact with The Thaiger by following our
Facebook page
.
Officials raid 2 Phuket casinos, arresting 87 illegal gamblers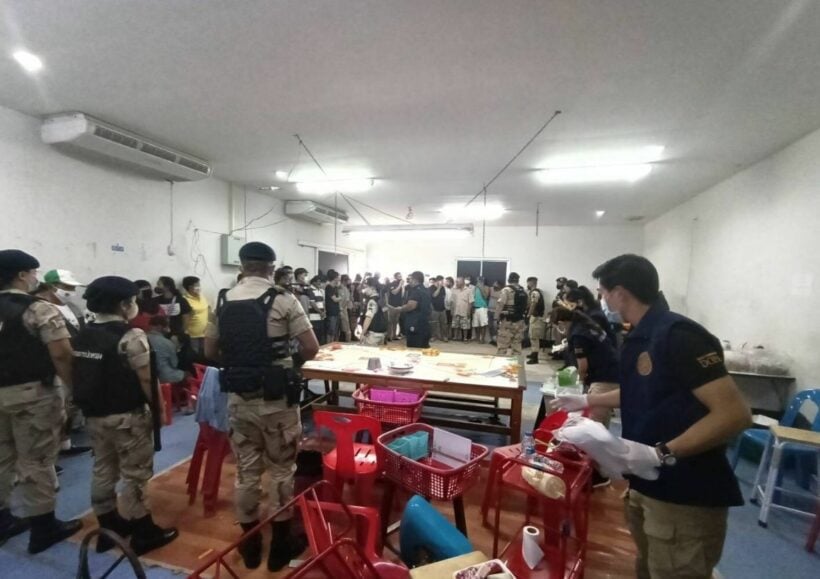 Officials have raided 2 Phuket casinos resulting in 87 people being arrested for allegedly gambling after the island's provincial police received complaints of gambling dens operating around the clock – a violation of the current Emergency Decree which bans crowds.
The first raid took place at about 3:30 pm and was at a casino in tambon Talat Nua of Muang district. The premises provided parking spaces for motorcycles and up to 30 cars, and was fenced on all sides with metal sheets. Officials arrested 45 gamblers-30 men and 15 women. They also seized 62,420 baht that was placed as wagers and a gold necklace that was 15 grams in weight.
Around the same time, a second team raided another casino tambon Sisunthon of Thalang district in Phuket's north. It was also fenced with metal sheets and featured an ample amount of parking space. 42 people- 22 men and 20 women- were rounded up with police seizing 64,260 baht in placed wagers.
All have been charged with illegal betting and violating the Emergency Decree which was recently extended through July.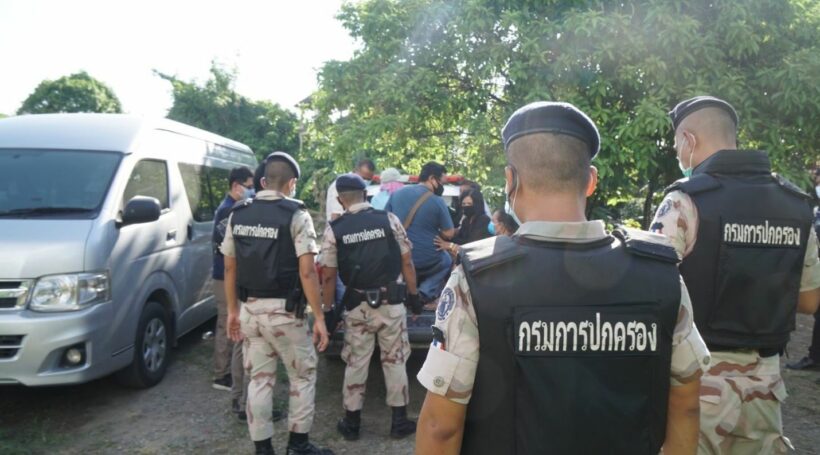 SOURCE: Bangkok Post
Keep in contact with The Thaiger by following our
Facebook page
.
Phuket's (in)famous "Soi Bangla" district reopens today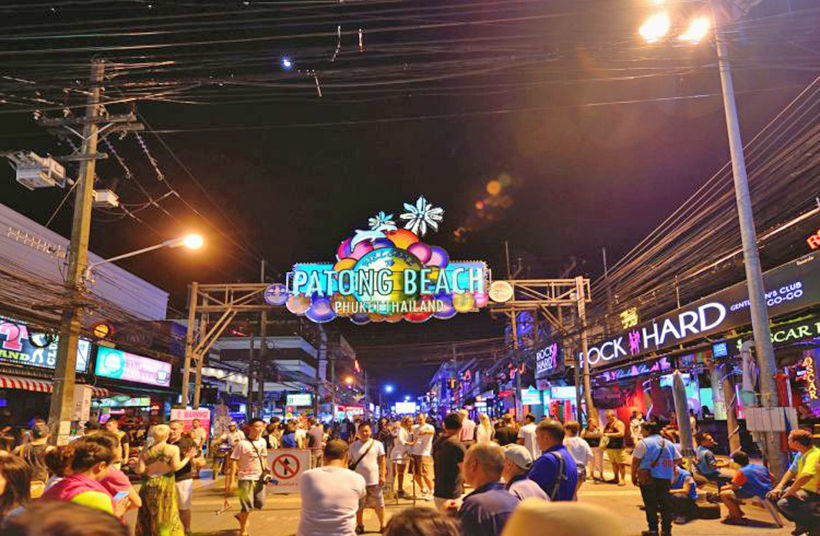 Today is the official reopening of Phuket's famous (or infamous) "Soi Bangla" nightlife district, but only about 20% of venues say they're reopening during this early stage. The Centre for Covid-19 Situation Administration announced yesterday that all night entertainment venues may reopen but must strictly adhere to health guidelines set out to prevent the spread of Covid-19.
Dr Taweesilp Visanuyothin, the spokesman for the CCSA, says night entertainment venues, including pubs, bars, karaoke venues and beer gardens will be allowed to open, but only until midnight. Social distancing measures will be strictly enforced, and customers must use the Thai Chana app to check in and out.
The Patong Entertainment Business Association president says only about 20% of the 324 registered members are expected to reopen initially, but he expects more to reopen soon. Among the 22 rules announced last week- to be presented to the CCSA for approval- were that all staff must wear face masks and face shields, but performers may wear face shields only. No bottles are to be served, and all drinks are to be served in glasses. No pool table games (including snooker and billiards) and no dart games are to be allowed.
The number of guests in each venue is to be restricted to cater for social distancing, with at least 2 metres between tables, or partitions must be installed to ensure patrons are seated at least one metre away from each other.
Undercutting the main reason people visit popular venues, the draft rules also call for groups to be limited to 5 people, and for guests to be prohibited from dancing and singing, gathering, shouting, or "wandering around the premises".
"I have no idea what the rules will be, but we will open anyway. If the full list of 22 rules for pubs, bars and entertainment venues is to be applied, we won't be able to enforce all the rules, because enforcing all these rules is impossible. But we can follow some of the rules, such as social distancing, wearing masks and checking temperatures."
Even Patong's mayor told The Phuket News that she is yet to receive a copy of all the rules to be enforced.
"The next thing to do is follow up with the CCSA about the rules. This is very important for the entertainment industry in Patong. I will help and consider being flexible with the rules for entertainment businesses in Patong, because the rules announced by CCSA are the general rules for many places. But some of these rules are not appropriate for businesses here. We have to apply the right rules and optimise them for businesses in Patong."
The PEBA president dismissed a few entertainment zones being singled out in other countries as "hotbeds for starting a second wave" of Covid-19 infections.
"I do not care what some people claim is the risk of being in a bar. If the government is genuinely concerned about the risk of Covid-19 spreading, then it is not just about bars, pubs and entertainment venues. The risk of Covid-19 spreading applies anywhere where people are around, not only at bars and pubs."
SOURCE: The Phuket News
Keep in contact with The Thaiger by following our
Facebook page
.