Shots fired as Phuket yacht robbery thwarted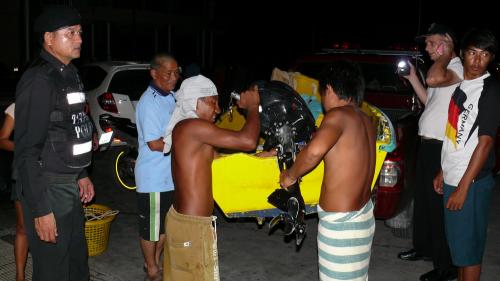 PHUKET: Witnesses reported at least two shots fired in the dark on Chalong Bay tonight as a gang of thieves gave chase to a Phuket boat captain who outfoxed the criminals until the police arrived in force.
Capt Bruce Issell was warned by a silent alarm at about 11:30pm that intruders had boarded the well-known Davinci catamaran, renowned in local yachting circles for its participation in the annual Phuket King's Cup and Phuket Raceweek regattas.
Capt Issell raced to Chalong Pier, boarded the Davinci's dinghy and headed for another Davinci vessel, a Sunseeker 50, to investigate what had triggered the alarm.
Once aboard the Sunseeker, he motored to the Davinci catamaran with spotlights ablaze at full strength.
"The thieves found themselves well and truly lit up, but could see only one person aboard the Sunseeker," a witness told the Phuket Gazette.
Seeing only one boat approaching them, the thieves attacked the Sunseeker and attempted to board the luxury yacht and capture Capt Issell and his one young Thai crewman.
A chase ensued throughout the moored yachts and commercial craft in the bay for some 20 minutes, with the Sunseeker ducking and weaving to hold off the raiders.
"There were at least two bright flashes as the thieves fired shots at the Sunseeker. You could see the flashes from the shore," the witness said.
Police reinforcements quickly arrived in dinghies, changing the balance of power.
The thieves soon surrendered and were escorted to the floating marina under construction in the bay.
"They were questioned and handcuffed, and the stolen items were inspected," the witness told the Gazette.
"For all their efforts, the thieves had managed to steal only some children's foam paddle boards, a set of binoculars, some flashlights and other odds and ends," the witness confirmed.
Scuffles broke out as the officers placed the gang of about four men under arrest.
The men were then transported to Chalong Police Station in the back of a police pickup truck.
The bright yellow dinghy the thieves had used in the thwarted raid was also seized as evidence.
The Davinci catamaran was taken from its mooring to the marina for further police inspection later this morning.
"I could not be less than 100% impressed with all concerned – Bruce Issell and his crewman – and the very professional Chalong Police," said the witness, who asked not to be identified publicly.
The Gazette has yet to confirm whether or not the men arrested tonight were the same raiders who have terrorized the Baan Nit area off Cape Panwa for the past week.
A Frenchman whose yacht was anchored in that area was startled by raiders late Thursday night. A scuffle broke out on board and the Frenchman suffered at least seven knife lacerations during the attack, including a cut to his head.
Fearing for his safety, the Frenchman did not return to sleep on his yacht last night. It may have proved a prudent move as the thieves returned last night and made off with what was reported as a substantial bounty of yachting 'removables'.
The yacht has been since moved from the area.
Keep in contact with The Thaiger by following our
Facebook page
.
Suspected British Coronavirus patient, confirmed NOT to have the virus – UPDATE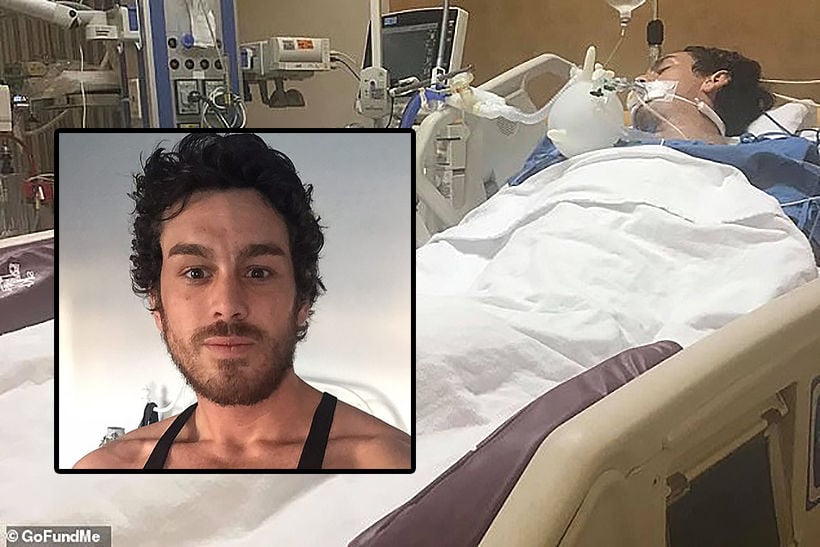 It's now been confirmed that a British man, in critical condition in a Thai Hospital, has not contracted the Chinese Coronavirus. Ashley Shorley, who was holidaying on Koh Phi Phi at the time, became seriously ill with a "flu virus" on December 27. He was rushed by boat (reported as a sea plane in other media) to Phuket where his condition worsened. He is now reported to remain in critical condition in a Bangkok hospital.
However, doctors have now confirmed the 32 year old, from Lancashire in the north of England, does not have the Chinese virus. They have confirmed that the virus is "a severe strain of flu".
It was initially reported that doctors feared he may have contracted the Chinese Coronavirus, which originated in Wuhan and has been contracted by more than 250 people, along with 4 deaths from the new strain of virus.
Ashely's parents, Chris and Julie, were on holiday in Spain when they received the news about their son being taken ill. They are now in Phuket with their son. While Ashley has medical insurance, his friends and family set up a crowdfunding page to help support the mounting costs during his stay in Thailand.
The mysterious SARS-like virus has so far killed 4 and infected up to 250 confirmed (as of Tuesday afternoon) cases.
Thai Visa reports that Ashley in the intensive care unit at Bumrungrad Hospital in Bangkok.
SOURCE: Thai Visa
Keep in contact with The Thaiger by following our
Facebook page
.
32 year old British patient recovering in Phuket, suspected Coronavirus victim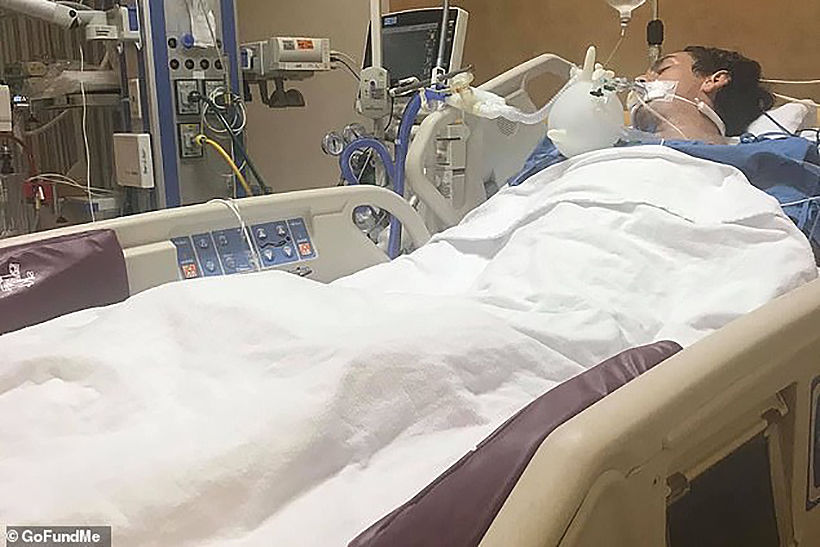 UPDATE HERE.
A British tourist is reported to be fighting for his life in a Phuket hospital. He could be the first Western victim of the coronavirus strain sweeping through China, according to Doctors at the hospital, but is yet to be confirmed. This latest coronavirus, related to the SARS (Severe Acute Respiratory Syndrome) and MERS (Middle East Respiratory Syndrome) viruses, is new and was first discovered in the Chinese city of Wuhan last month.
32 year old Ash Shorley remains in critical condition in a Phuket hospital after being infected with a virus while visiting Koh Phi Phi, in the Krabi province. He has been in hospital for nearly a month. His parents, Chris and Julie, who live in Lancashire, are now in Phuket whilst tests are being processed to determine the virus that has attacked Mr Shorley. His parents report that Ash has lost 52 kilograms since contracting the mystery disease.
"He was two days from death. If he wasn't so fit, he wouldn't be with us now. We are now waiting on tests. It is very serious." – Ash Shorley's father.
Ash was transported to Phuket by seaplane because "his lung had collapsed", according to the Daily Mail Online. Phuket doctors claim his symptoms are consistent with the Chinese coronavirus but a confirmation on their suspicions is yet to emerge. Experts, speaking to Daily Mail Online, say Mr Shorley's symptoms are consistent with the new Chinese coronavirus, but could also be a sign of other respiratory infections, as yet, undetermined.
The mysterious SARS-like virus has so far killed 3 and infected up to 220 confirmed (as of Tuesday) cases, although estimates by the WHO speculate that there are as many as 1,700 cases in Wuhan, central China, since December.
The virus is now confirmed to have spread to other parts of China – 5 cases in Beijing, 14 in Shenzhen and one in a province adjacent to Shanghai. Four other confirmed cases have been reported in Thailand, Japan, and South Korea.
The spike in reported cases comes as millions of Chinese are packing their bags to travel overseas for the Chinese New Year holiday. Meanwhile, a spokesperson from the Chinese Ministry of Foreign Affairs maintains the country has "stuck to a serious, earnest and professional attitude" to prevent and control any further outbreak of the disease.
SOURCE: Daily Mail Online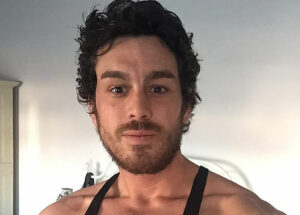 PHOTO: Instagram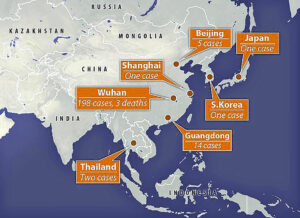 GRAPHIC: Daily Mail Online
Keep in contact with The Thaiger by following our
Facebook page
.
The rise of the e-bicycle in Thailand, a bit of motorised assistance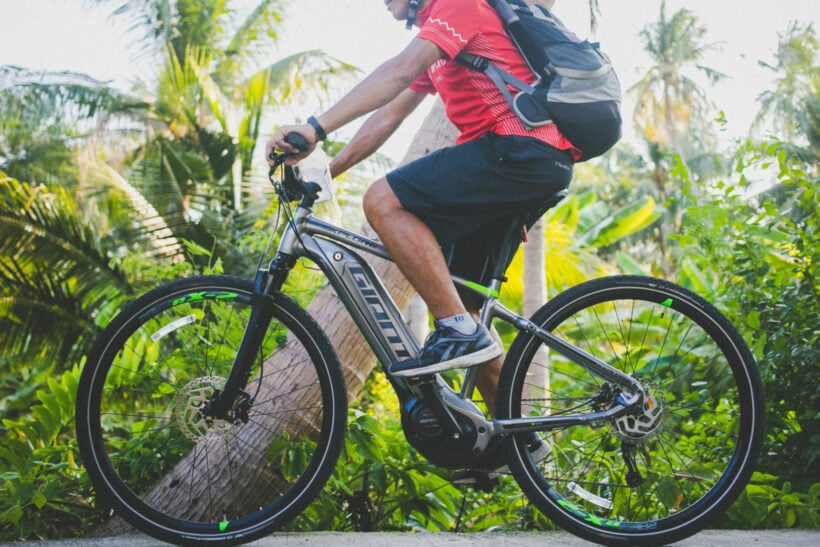 by Nicole Kash
Cycling tours offer a unique way to explore Thailand. Faster than walking but slower than driving, cycling tours cover plenty of ground while allowing cyclists to immerse themselves in the sights, smells, and culture of Thailand without the boundary of a car window.
Cycling tours can cover up to a heart-pumping 150 kilometre a day. Though exciting for many, some find longer distances daunting, especially newer cyclists or those out of practice. This is where the e-bike has begun filling a unique gap in Thailand's adventure tourism industry. Thanks to e-bikes, longer distance day tours and challenging multi-day cycling tours are no longer reserved for fitness fanatics. 
Popular in the US and Europe, the e-bike has made its way to Thailand is now thriving within the Kingdom's tourism industry. These motorised bicycles offer the option to assist cyclists with pedaling, which is especially useful for long distances and tough uphill climbs. Even with the help of the motor, cyclists still get plenty of exercise, as the pedal-assist system requires the rider to put some work in.
Unlike a scooter or motorbike, an e-bike does not run without the pedaling effort of the rider. They feature rechargeable batteries and an and off switch, allowing cyclists to challenge themselves as much as they'd like and get a little extra help when needed. 
The option of swapping our traditional bikes for e-bikes on cycling tours offer more tourists the opportunity to join in on cycling tours than ever before, growing the number of potential clients for Thai adventure tourism companies while fostering a climate of inclusivity.
Looking to join in on the fun? Here's a look into a few of the single-day and multi-day bicycle tours with e-bike options offered by Bangkok based SpiceRoads Cycling! 
Road Cycling Bangkok to Phuket (10 days)
Starting in bustling Bangkok and ending in along Phuket's sparkling coastline, this 10-day bicycle tour with e-bike options is the perfect mix of must-see sites and tucked away local spots all on smooth roads. Pedalling toward the scenic south, ride beyond the city lights and explore rural Thailand's rich culture and welcoming villages while making stops at the east and west coast's local beach spots along the way.
Rolling hills, golden sunsets, a real taste of local life, and of course serene sea views await you! This trip is fully supported with an air-conditioned van and riders can take a break and cool off while still enjoying the same views as the rest of the group. 
Phuket Highlights (½ day) 
Take a break from beach life to explore Phuket's unique and often overlooked old town on this ½ day bicycle tour with e-bike options. We start on the town's peripheral, exploring Koh Sirey's community of sea gypsies and on to see and smell the fresh catch of the day as locals bid for the best deals at the fishing port.
Then we head downtown to admire Phuket Old Town's Sino-Portuguese architecture, Jui Tui Shrine museum, and unique shops by bike. This leisurely 27 kilometre tour ends with a drive to stunning Khao Khad viewpoint for a scenic sea view and bird's eye view over where we have ridden. 
Kanchanaburi Explorer (3 days) 
Immerse yourself in Kanchanaburi's natural beauty and historic sites on this 3 day bicycle tour with e-bike options. Cycle along country roads and through local villages, enjoying mountain views and the thrill off jungle clad and dirt trails along the way.
Then explore off the bike, boarding a local train for a stunning train ride on Death Railway, visiting the historic and dark Hellfire Pass, and taking an optional boat trip to visit a Mon village. A diverse itinerary combining Kanchanburi's stunning natural sites with stops at historical must-sees on a mix of tarmac and dirt trails assures you will never get bored on this 102 kilometre bicycle tour!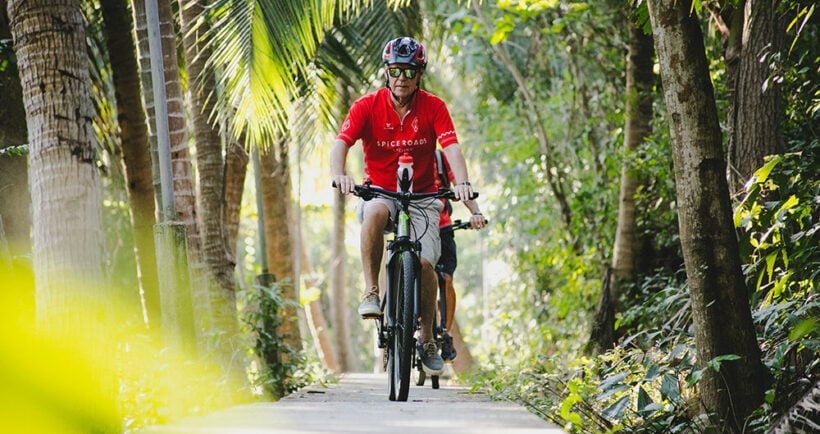 To find out more, and see more tours from the Spice Roads team, click HERE.
Keep in contact with The Thaiger by following our
Facebook page
.