Phuket
SURF REMINDER: Meet the Phuket Surfers awing spectators at Patong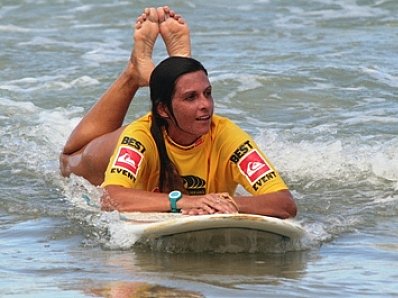 PHUKET: Surfers vying for the crown of the Quiksilver Thailand 2011 Surf Competition are donning their rash vests and waxing their boards for today's heats.
But wait, why are you not there? Yes, you, our loyal readers? Why are you reading this story? Are you aware you're missing one of the year's best sporting events?
This is a reminder to go see this wonderful sporting spectacle (north end of Patong to be exact), taking place right now. This is Day Three of the competition. Finals are tomorrow, but today will be a day when eliminations come thick and fast.
Almost 100 of the region's best surfers are there, so why aren't you?
You only need a pair of shorts, so no need to get changed. Grab the sunscreen, put a hat on and get going.
If we can't convince you to go see this awesome competition, then maybe these guys can. Here's the low-down on a few of the surfers competing this year (today, now, right now).
In the following posts Fraser Morton profiles a few of the stars competing in this year's Quiksilver Thailand Surfing Competition.
— Fraser Morton