Race to repair Patong Hill road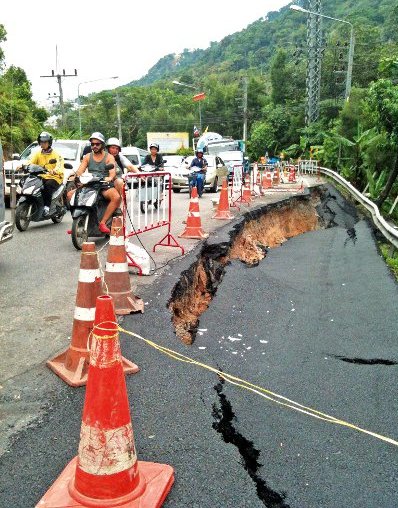 PHUKET: The Highways Department hopes to begin shoring up one landslide-prone section of the road over Patong Hill in June, but work on another section of the same road will have to wait until at least next year.

Sathaporn Sornchana, deputy director of the Highways Department office in Phuket, told the Phuket Gazette that the plan to reinforce a section of Phra Barami Road, on the Patong side of the hill, is still awaiting final approval from the Highways Department in Bangkok.

"We are following this project closely. We hope to gain final approval and begin work as soon as possible in this fiscal year," he said.

Once approved, his office would have one month to find a contractor to undertake the work, which would be scheduled for completion within 150 days, Mr Sathaporn said.

Under such a time frame, the work would take place during the rainiest months of the year in Phuket and be completed at or around the beginning of the next high season for tourism.

The project site would be a stretch of road on Phra Barami Road eastbound, the breakdown lane of which dramatically slid away during heavy rains last October. It was subsequently patched with a temporary cover, but fears of another landslip in the area are a major concern, even more so after the recent seismic activity in the area.

Funding for repairs will be covered under the government's budget for emergency repairs for flood damage, although the real cause of the slide was hillside development in the area along Soi Kuan Yang that exposed the base of the road to erosion. Rubber plantation and zinc-roofed homes in a temporary workers camp still occupy downslope areas.

The site is well known to Phuket commuters as it runs along the stretch of road about 100 meters west of the San Chao Phor Suea (Tiger God Chinese Shrine) at the top of the hill, where local commuters typically sound their horn to pay respects to the local spirits that are believed by some to dwell there.

The project would cover a 200-meter stretch of road, extending 60 meters downslope. Workers will bore steel galvanized "soilnails" and install PVC drainpipes into the ground beneath the road to prevent further erosion. When completed, the exterior surface would be covered with "shotcrete" (sprayed concrete), with exposed areas further downslope at lower gradients covered with anchored erosion control mesh.

During construction, the 200 meters of road will be closed to traffic for about five months, Mr Sathaporn said.

His office is also waiting for an additional 5 million baht in funding approval to conduct "permanent" repairs to a section of Phra Barami Road further to the west where a large sinkhole opened up in the middle of a lane in August, 2009, he added.

On the Kathu side of Phra Barami Road, where a landslide toppled power poles and caused a 100-meter section of road near the Patong City sign to slump in October last year, there seems to be little hope that landslide prevention work will begin in fiscal 2012.

Mr Sathaporn said responsibility for this section of the road was consigned to his office from Kathu Municipality only on April 2.

No project plan for landslide prevention work has yet been drawn up by either Kathu Municipality or the Highways Department and the period to apply for funding under the emergency flood repair budget for fiscal 2012 has already closed.

Looking to the future, many officials see the long-term solution as tunneling though Patong to create a new four-lane road. An in-depth study was conducted by Patong Municipality and Cabinet recently assigned the project to Transport Ministry's Expressway Authority of Thailand (EXAT).Several groups of foreign investors have shown interest in the project, which EXAT Governor Ayyanat said would take about six years and 6 billion baht to complete.
— Atchaa Khamlo


Read more headlines, reports & breaking news in Phuket. Or catch up on your Thailand news.
Police hunting for driver in hit and run – Patong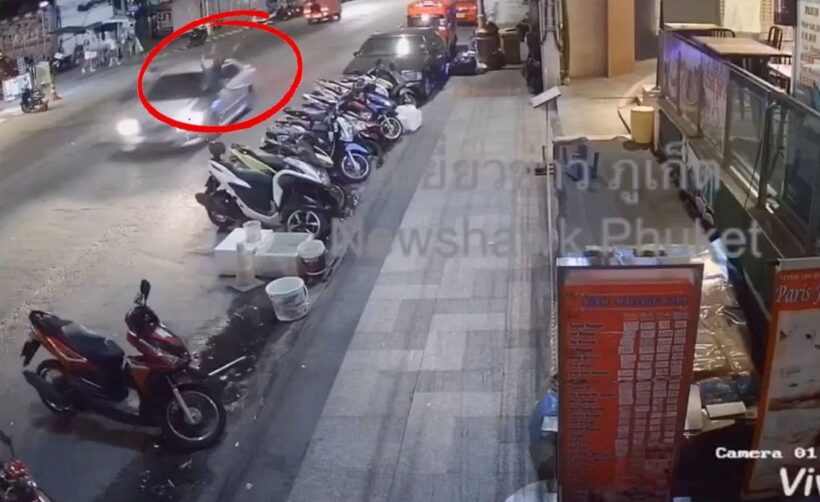 WARNING: Extreme graphic content
Patong Friday, January 18, 2.06am – Police are trying to locate the driver of this hit and run silver sedan in Patong. If you have any information please contact the Tourist Police or Patong Police – 1155 or 191 (Thai)
VIDEO: Newshawk Phuket
PHUKETWARNING: Extreme graphic contentPatong Friday, January 18, 2.06am – Police are trying to locate the driver of this hit and run silver sedan in Patong. If you have any information please contact the Tourist Police or Patong Police – 1155 or 191 (Thai)VIDEO: Newshawk Phuket

Posted by The Thaiger on Saturday, January 19, 2019
UPDATE: Response to Rabies zone in Chalong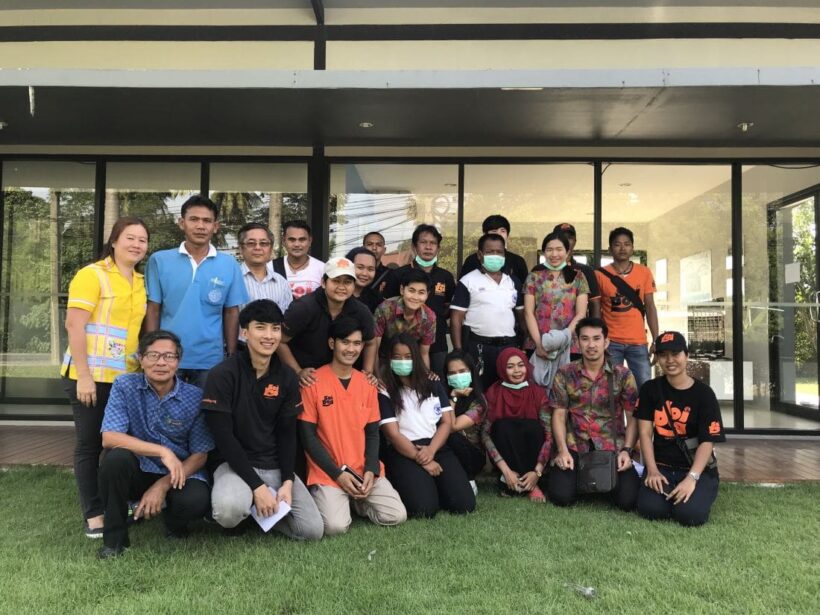 'Following the earlier reported rabies incident in Chalong, the Soi Dog Foundation yesterday (Friday, January 18) teamed up with The DLD and Chalong OBT to carry out vaccinations in the area the infected dog was discovered.
Jointly, the team was successful in vaccinating 128 dogs in a swift response to what is hoped to be an isolated case.
Working alongside the Chalong OBT and DLD, they carried out a door-to-door exercise, alerting local residents of the specific area in order to perform precautionary vaccinations of their pets, as well as street dogs in the vicinity.
Soi Dog Foundation, along with the Chalong Public Health Representative and DLD Representative, Dr.Suthat, are keen to urge the public that this is not an outbreak and are hopeful that it is an isolated incident.
However, as a further measure to ensure this remains as such, the team will continue with the rabies vaccination program on Monday, January 21.'
Police searching for the killer after shooting near Saphan Hin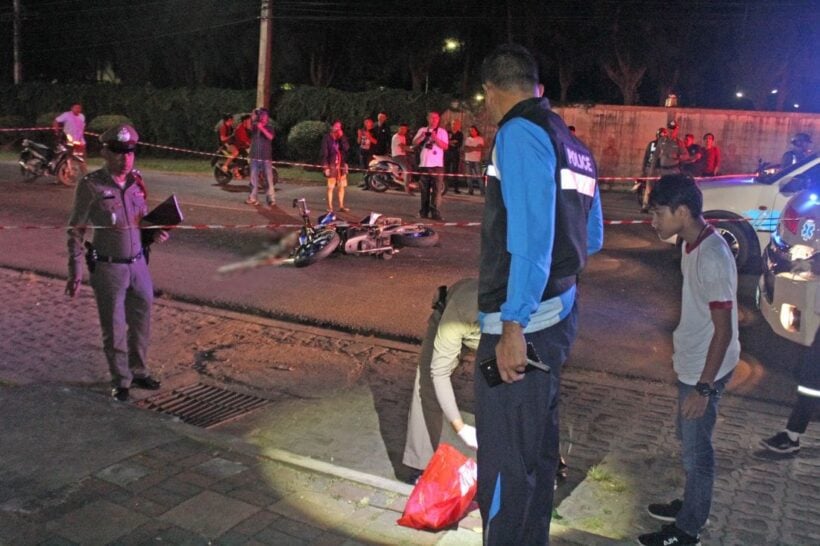 A Thai man has been shot dead near Saphan Hin in eastern Phuket earlier today. The arrest warrant has already been issued for the suspect.
The Wichit Police were notified of the incident on Rattanakosin 200 pi Road near Saphan Hin at 3.40am this morning.
Police and rescue workers arrived to find the body of 30 year old Teerasak Saeong from Phuket covered with blood and laying on the road. Two bullet wounds were found on his right and left temple.
Seven bullets were also found around Mr Teerasak's body. Nearby they found a motorbike. His body was taken to Vachira Phuket Hospital for full autopsy and identification.
Witnesses told police that Mr Teerasak was stopped on his motorbike and was talking with the suspect who was in a black car. The suspect shot at Mr Teerasak and sped away.
Mr Teerasak was the son of a member of Rassada's Municipal Council. At this stage police believe that the two had personal conflicts. Police are now searching for the driver of the vehicle who shot Mr Teerasak.