Phuket
Pregnant Swede still in Phuket hospital after chlorine gas exposure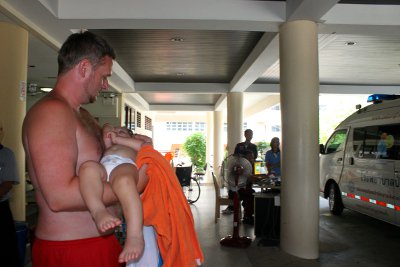 PHUKET: A pregnant Swedish woman exposed to a cloud of chlorine gas at a Phuket resort on Saturday remains in the hospital, despite the resort management's claims that all of those affected were treated and released the same day.
Patong Hospital official Hathairat Rangsansarit told the Phuket Gazette today that all 37 victims, initially rushed to Patong Hospital, were later transferred to Vachira Phuket Hospital, Bangkok Hospital Phuket or Phuket International Hospital.
All have been released with the exception of 27-year-old Annika Ober Hrnic of Sweden, who is still under observation at Bangkok Hospital Phuket because she is seven months pregnant, Ms Hathairat confirmed.
Staff at Bangkok Hospital Phuket declined to divulge to the Phuket Gazette details of Mrs Hrnic's condition, other than she was still under observation in the intensive care unit.
However, Mr Hathairat, who has continued to follow the Swede's condition, said, "Even though her fetus is fine, Mrs Hrnic has to remain under observation. She will probably be released in a few days."
Mrs Hrnic, who initially had difficulty breathing, discontinued the use of an oxygen mask yesterday, she said.
Mrs Hrnic's husband Adnan and their three-year-old daughter Laura have both already been released from hospital.
According to a report at the Patong Hospital, nine of the 37 injured were children under 15 years of age, and the youngest was one-year-old boy Martin Ohrstrand.
"According to the hospitals' records, most of patients were released Saturday evening. A few were released on Sunday," she said.
This news of people being released from hospital yesterday comes after Phuket Orchid Resort General Manager Philip Raiss told a press conference on Saturday: "Every single person taken to hospital has returned to the resort. Not a single person has checked out. They are all okay."
— Atchaa Khamlo