Phuket
Pre-Songkran re-opening for aquarium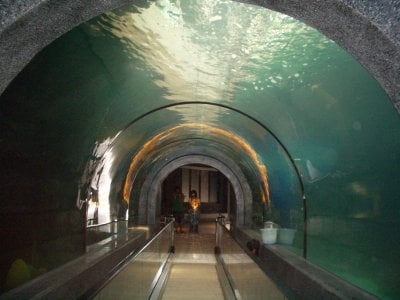 AO MAKHAM: The Phuket Aquarium will reopen to the public on April 9, after being closed for renovations and improvements for two and a half years.

The management is marking the reopening by offering free admission to all on April 9 and 10.

Wannakiat Tubtimsang, Director of Phuket Marine Biological Center, which runs the aquarium, told the Gazette that 81 million baht had been spent on improving the facility and adding an underwater walkway.

"We expect that to be a real draw for visitors," said K. Wannakiat. "In the past, we had around 300,000 visitors a year and I'm expecting at least as many as that now, if not more.

"We have more than 200 species of fish on show here, salt and fresh water, including some really big ones and some that aren't often seen in the Indian Ocean."

The highlight of the reopened aquarium is likely to be the nine-meter-long "underwater world" walkway running beneath a tank containing around 200 tonnes of water – and lots of fish.

Information cards throughout the aquarium will carry descriptions of fish in Thai and English.

Sadly, the Mineral Resources Department in Bangkok, which controls the Aquarium, has decided that double-pricing is the way to go. Admission will be 50 baht for Thai adults, 20 baht for Thai children, and 100 baht for all foreigners, though there will be a 50% discount for anyone visiting between April 10 and May 10.

The aquarium will be open every day between 8:30 am and 4 pm. For more information, call 076-391126.