Phuket
Phuket on high alert, but no tsunami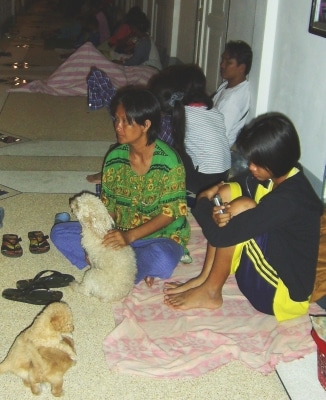 PHUKET: Seaside towns and villages around Phuket were evacuated last night after warnings from the Meteorological Department that there was a high possibility of another tsunami hitting the island.
The warnings came after a massive earthquake jolted Sumatra, just 200 kilometers from the site of the temblor that caused the tsunami on December 26 last year. That wave killed an estimated quarter-million people around the rim of the Indian Ocean, including 5,395 in Thailand.
In the event, last night's quake, reported as registering 8.7 on the Richter scale by the US Geological Survey (USGS), caused no tsunami, though it did take some 300 lives on Nias, the Indonesian island closest to the epicenter of the jolt. (For more details of the quake, see here.)
The USGS, contacted by the Gazette immediately after the quake, described it as a "great" quake, and advised that it was strong enough to cause "wave motion".
The earthquake, to the southwest of Sumatra at about 11:15 pm, rocked Malaysia and southern Thailand, and was felt as far away as Bangkok, where tall buildings swayed.
Within minutes, Thai TV channels were receiving SMS messages from viewers. The warning from the Meteorological Department followed soon afterward, advising that there was a growing likelihood of a tsunami, and urging anyone near the sea to head for higher ground immediately.
The message was relayed by people with mobile phones to the point that within half an hour or so the network was jammed. Government officials went around banging on doors, as did ordinary people.
In Phuket City, some 300 people from Saphan Hin, Koh Sireh and other low-lying parts gathered at Phuket Provincial Hall. Others climbed Toh Sae Hill and Rang Hill. In Patong, most people moved to the mountains that surround the town on three sides.
Pol Col Teeraphol Thipjaroen, Superintendent of Kathu Police Station, which is in Patong, told the Gazette that as soon as he learned about the warning, his officers and officials from the Patong Municipality went about telling people to move to higher ground immediately.
"The warning system that was just installed was also working well last night," he added, saying that he believed that almost everyone in Patong had been evacuated.
A Gazette reader who was in Kalim around the time of the quake heard the alerts being issued in Patong about an hour after the event.
She said, "They were loud enough to be heard in Kalim, so they must have been very loud in Patong.
"I was indoors, so I don't know whether people were panicking, but there seemed to be a lot of cars driving away from Patong towards the higher ground in Kalim."
In Phuket City, Provincial Governor Udomsak Usawarangkura convened an emergency meeting at 1 am at the Provincial Hall.
After the meeting he said, "We recommend that people who do not live next to the water stay at home and listen for news from the government. If people go out, it will only add to traffic congestion.
"There has been a problem with telephone connections, especially by mobile phone. We will need some swift solutions from TOT."
"Announcements have gone out by TV and radio. I have asked the police to watch people's homes until everyone is evacuated."
At 2:30 this morning, three hours after the quake, the Meteorological Department announced that there would be no tsunami after all, and Phuket went back to bed.
Asked this morning how he thought last night's drama would affect tourism, the Governor said, "There will certainly be an effect on tourism, so we have to make sure that tourists know we have a good warning system. Japan often has earthquakes, yet it is still a major tourism destination.
"I believe we will see some cancelations of bookings, but I also think that the next high season, starting in November, will be good," he added.