Phuket
Phuket youngster killed in shrimp farm machinery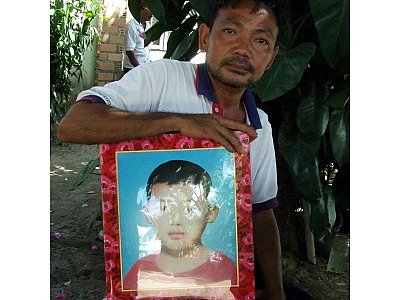 PHUKET: A seven-year-old boy was killed on Saturday after becoming stuck in an aerator drive shaft at a shrimp farm pond.

Chonnakan "Thua Lek (small child)" Sae-lao suffered multiple broken bones, including a broken neck, when his clothing was snagged by the rotating drive shaft.

Chonnakan's parents, Sommai Pengpaitoon, 37 and Piraphong Sae-lao, 41, are fruit vendors and had gone out to work for the day, leaving the youngster to play with his ten-year-old sister and nine-year-old brother at the shrimp farm in Wichit, near Phuket Villa 3.

At lunch time, Mrs Sommai returned home to feed her children and left again to visit her husband, who was selling fruit in a nearby residential area. When she left, her kids were playing with two other children in the neighborhood, as they had on many other days.

Just as she arrived to meet her husband, Mrs Sommai received a phone call from a neighbor telling her that her son had been involved in an accident.

She rushed home to find her son's battered body stuck in the drive shaft.

She said that her son had been sitting on the rotating shaft, playing, as it gradually moved him toward a joint, which caught his clothing.

His ten-year-old sister, Ploy, told the Gazette that she and the other kids were playing when she saw Chonnakan's body spinning in the machine. She ran to the neighbors for help.

The neighbors rushed to stop the machine, but knew it was too late. Young Chonnakan was already dead.

Mrs Sommai traveled with Kusoldharm Rescue Foundation workers when they transported her son's body to Vachira Phuket Hospital for examination.

"I feel horrible. We have lived here for four years and nothing happened, and then three days ago the farmer moved that machine to where it is now – only ten meters from where it was before. It must have been his time to go," Mrs Sommai said.

Phuket City Police Capt Virat Thanthong said that after the funeral he will ask them if they want to seek compensation from the farmer.

The farm is on rented land in Wichit.

However, the boy's father, Piraphong, said, "It's our fault. My son went onto their land and played on the machine, so it's not the responsibility of the farmer. The farmer and the landowner gave us 50,000 baht to help with the funeral."

"He was our dear son. He was a good boy and easy to take care of. I'm still in pain and think we will stop working for awhile to console ourselves," Mr Piraphong said.
— Atchaa Khamlo