Phuket
Phuket yachties help re-float Aussie's beached boat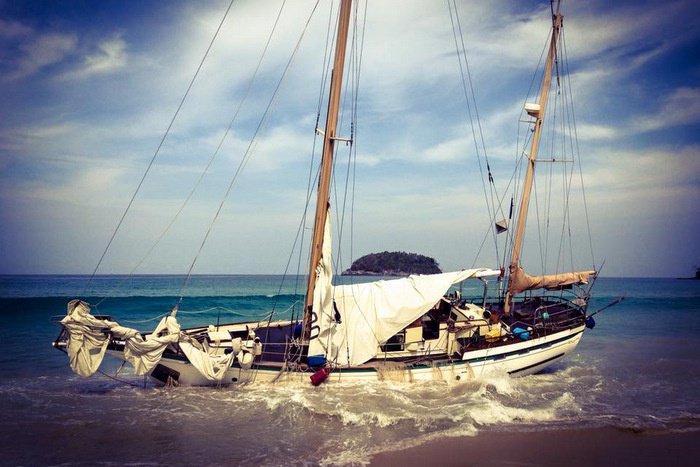 PHUKET: Local yachties rendering assistance to a 50-foot ketch stranded on Kata Beach hope to have the classic timber yacht afloat tonight.
Two Australians were on board the boat, the Inisfail of the Isles of Scilly, when it was beached by a passing storm on Wednesday.
They had recently arrived in Phuket from near Ranong when they were caught out by the storm, said Kirill Stashevsky of Phuket's Gokova Sailing School, who rendered assistance yesterday.
"It was also spring tide at about the same time, about midnight on Wednesday," Mr Stashevsky said. "The yacht was on anchor at low tide, but they might not have had enough chain out to ensure the anchor stayed on the bottom. Other boats have been caught out by this at Kata before.
"The crew on board dropped a second anchor and tried to start the engine, but it wouldn't start. They also tried to hoist the sails, but they didn't have enough time."
Bob Mott of Phuket-based Faraway Charter Catamarans and a long-time stalwart at the Ao Chalong Yacht Club (ACYC), was at the scene this afternoon with Manop Seeriratthikan, owner of the Chalong Coconuts boatyard.
"We have secured the boat to help keep her upright and we're using a backhoe to dig a trench to help re-float her. We also have pumps working hard to empty her of water," Mr Mott explained.
"So far, the only damage we can see is to the rudder. The boat is a sturdy, old build. The keel is solid and the propeller is well protected.
"If that's all the damage the boat has suffered, the owner of the boat is a very lucky man"
— Chris Husted