Phuket toy boy murder suspect: 'I acted alone'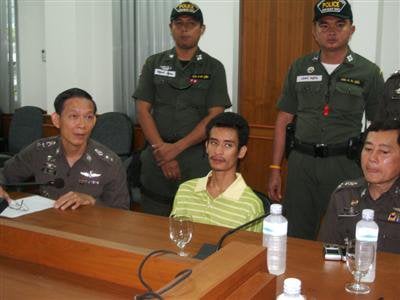 PHUKET CITY: The 21-year-old man suspected of murdering elderly Japanese citizen Yukiho Yamada and burning his body in Phuket continues to insist he acted alone, but police remain skeptical.
Suwit Maengsri told police his 50-year-old lover Tubtim Saehak – Mr Yamada's wife – was not involved in either the killing or the disposal of the body.
Mr Suwit said he killed 75-year-old Mr Yamada out of anger over Mr Yamada's treatment of Mrs Tubtim.
Police investigating the crime doubt Mr Suwit's account of events, however.
They are charging both Mr Suwit and Mrs Tubtim with conspiracy to murder and dispose of a body, among other charges.
Chief among their reasons for doubting Mr Suwit's story is the testimony of Wichit Mapan, who witnessed the burning of Mr Yamada's body inside his Honda Civic car.
Mr Wichit claims he heard a voice say, "We can't go any further, it's a dead end," shortly before the car was set alight.
Understood to have ruled out a friend of Mr Wichit's as the accomplice, police now suspect Mrs Tubtim of being present when the car was torched.
Mr Suwit and Mrs Tubtim are believed to have met in July this year, while Mr Yamada was in Japan.
By the time Mr Yamada returned to Phuket in late October, the two accused were lovers, police said.
Mr Suwit has told police he resolved to kill Mr Yamada after hearing Mrs Tubtim's stories of her appalling treatment at the hands of her husband.
Mrs Tubtim said the 75-year-old Mr Yamada still had a voracious sexual appetite, needing sex three times a day.
He sometimes ordered her to find him prostitutes; if they did not satisfy him he blamed her and beat her, she has alleged.
Mr Suwit said that about a week before the killing he told Mrs Tubtim of his plan to kill Mr Yamada.
He claimed Mrs Tubtim tried to persuade him not to do it, but he ignored her pleas.
At around midnight on Monday, having already scoped the house earlier in the evening, he sneaked inside.
He found Mr Yamada asleep on the sofa.
He said he grabbed a crowbar from the shoe cupboard and hit Mr Yamada twice in the face, knocking him unconscious.
He used some cloth to bind the old man's wrists and feet and pulled him onto the floor.
When the victim woke up, Mr Suwit stabbed him in the leg with a knife, before stealing his cell phone and fleeing the scene.
Mrs Tubtim called him on Tuesday to say Mr Yamada was dead, he claimed.
He returned to the house to clean up traces of the killing, covering the body with a blanket but leaving it at the house, he said.
He went to meet Mrs Tubtim, who sold a gold necklace and gave him the proceeds, 30,000 baht, to escape with.
On Wednesday he returned to the house at 3am to dispose of the body.
He hauled Mr Yamada's corpse onto the passenger seat of the married couple's Honda Civic, driving it to a quiet lane in Chalong Village 7, he said.
When the car got stuck in mud, he became worried it would be seen by someone, so he set it on fire, fleeing the scene via a nearby rubber plantation.
Mrs Tubtim picked him up at 12pm that day, driving him to the Sarasin Bridge, he said.
His lover tried to persuade him to flee the island but he refused, saying he was worried about what would happen to her, he claimed.
Instead, he persuaded her to drop him off at The Valley housing development in Cherng Talay, Thalang.
He stayed there in hiding until his arrest on Saturday.
— Sitthipong Nongkeaw


Read more headlines, reports & breaking news in Phuket. Or catch up on your Thailand news.
Man found dead in pickup with charcoal burner in Rassada, Phuket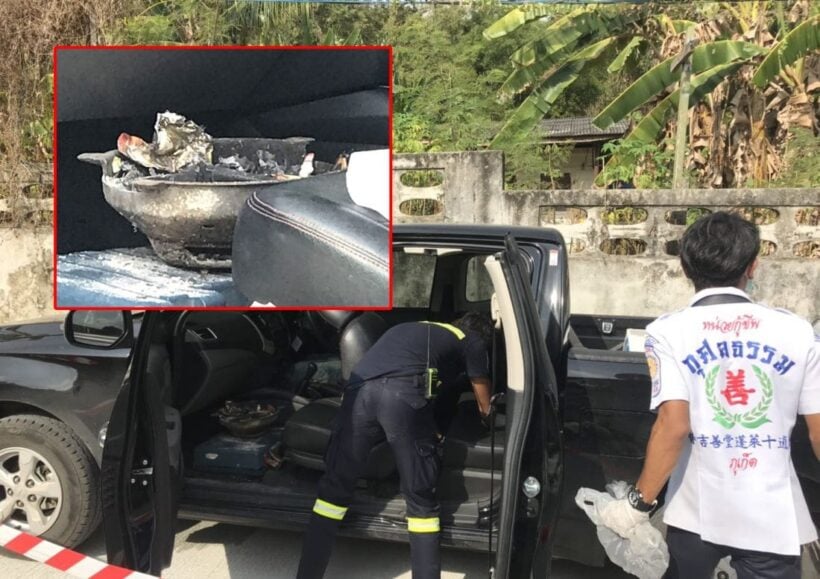 A man has been found dead inside a pickup truck with a coal burner also inside the vehicle in Rassada this morning. Police were notified of the situation in Soi Muen Sri in Rassada.
Police and emergency responders arrived to find the man's body in the parked pickup truck. The man was identified as 28 year old Weerawat Pakdeewirot from Phuket.
A coal burner was also found inside the vehicle. A suicide note addressed to his girlfriend was also found. The letter stated that he was facing financial problems. His body was taken to Vachira Phuket Hospital.
Police says that Mr Weerawat is a CCTV camera and internet contractor. His home was only 50 metres from the scene. Yesterday locals noticed his pickup parked at the scene. Today they saw the pickup in the same location and went to check out the situation.
Police are continuing their investigation.
If you or anyone you know is in emotional distress, please contact the Samaritans of Thailand 24-hour hotline: 02 713 6791 (English), 02 713 6793 (Thai) or the Thai Mental Health Hotline at 1323 (Thai).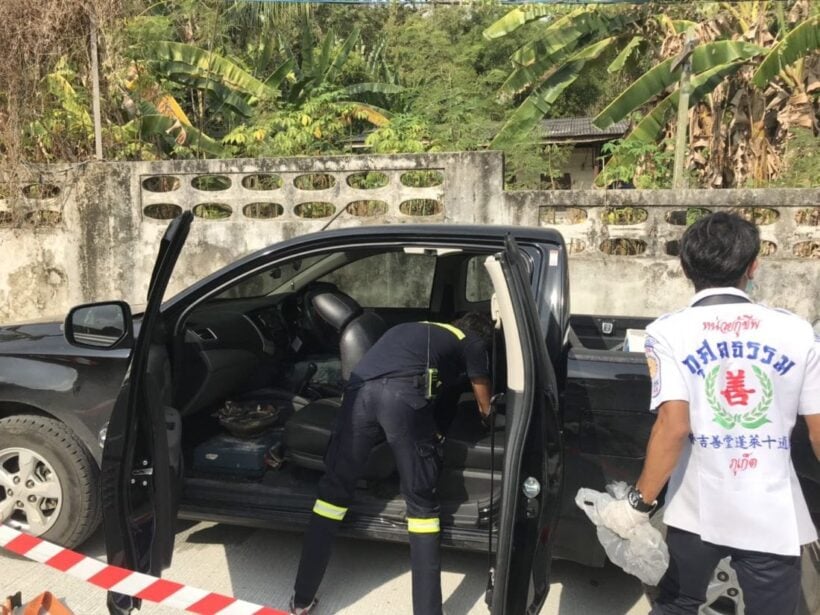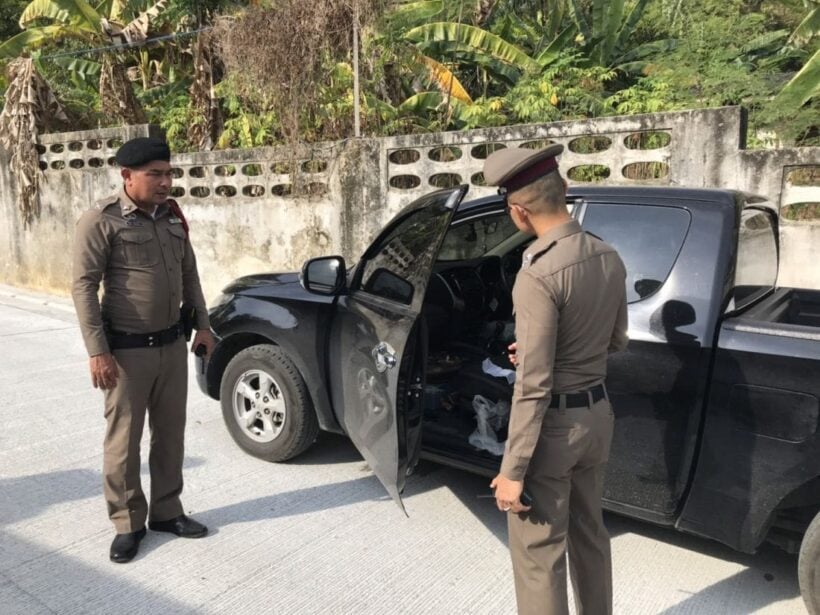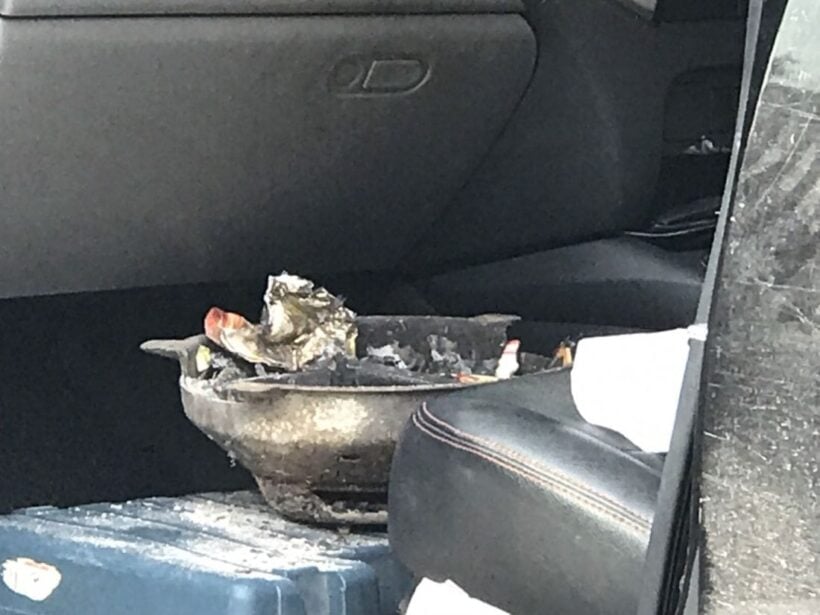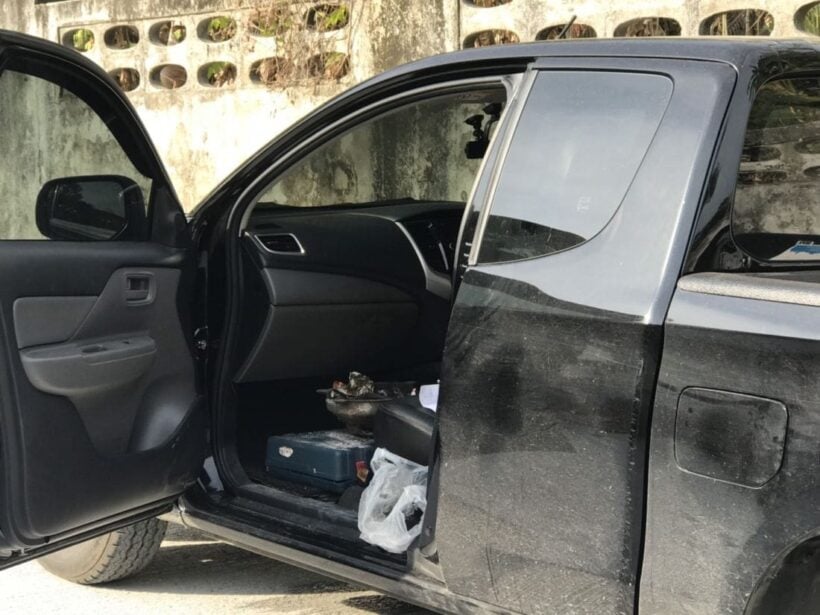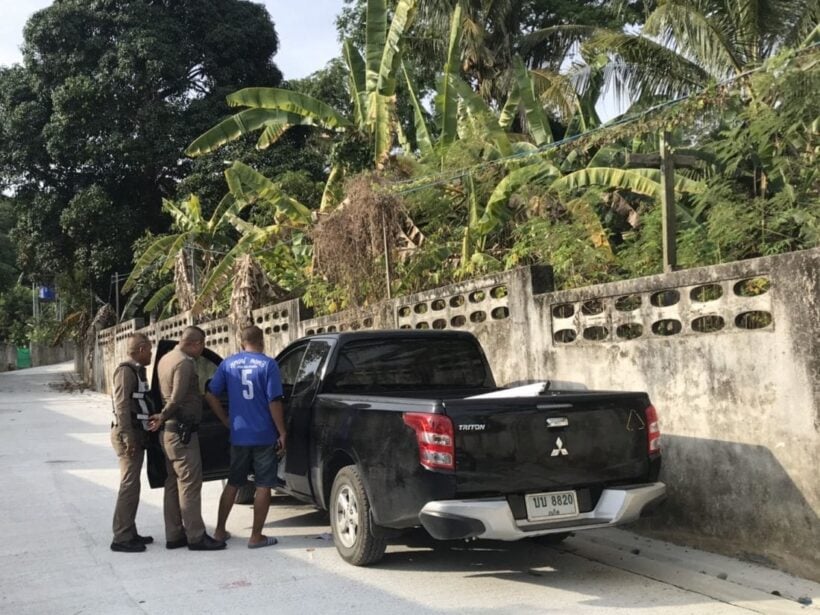 Injured Brahminy Kite (bird) rescued in Karon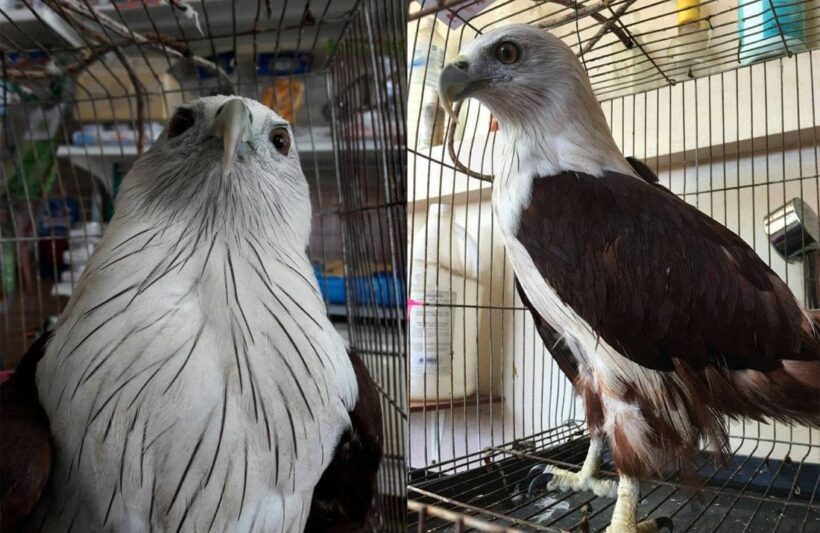 An injured Brahminy Kite has been rescued by locals in Karon, Phuket.
The mature Brahminy Kite was found in Karon this week. Locals who found the bird contacted the head of Khao Phra Thaeo Non-Hunting Area, Pongchart Chueahom.
The Brahminy Kite had a wound similar to a bite wound under its wing. It was unable tp fly. It is now being treated at a pet hospital in Thalang until it is ready to be set free.
The Brahminy Kite is a protected species in Thailand.
The brahminy kite (Haliastur indus), also known as the red-backed sea-eagle in Australia, is a medium-sized bird of prey in the family Accipitridae, which also includes many other diurnal raptors, such as eagles, buzzards, and harriers. They are found in the Indian subcontinent, Southeast Asia, and Australia. They are found mainly on the coast and in inland wetlands, where they feed on dead fish and other prey. Adults have a reddish-brown body plumage contrasting with their white head and breast which make them easy to distinguish from other birds of prey – Wikipedia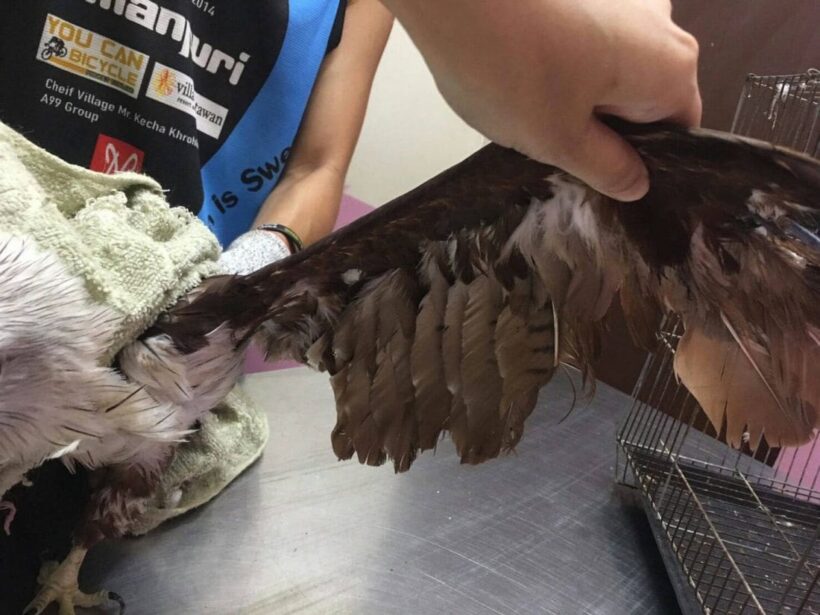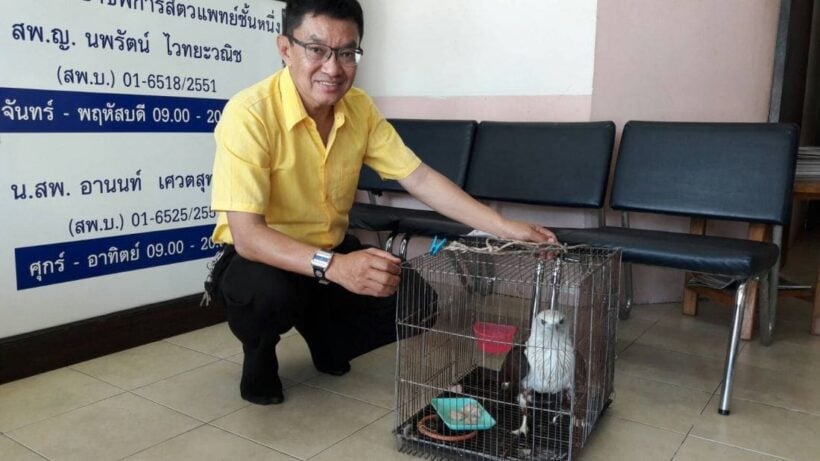 Army commander visits Phuket residents to discuss water shortage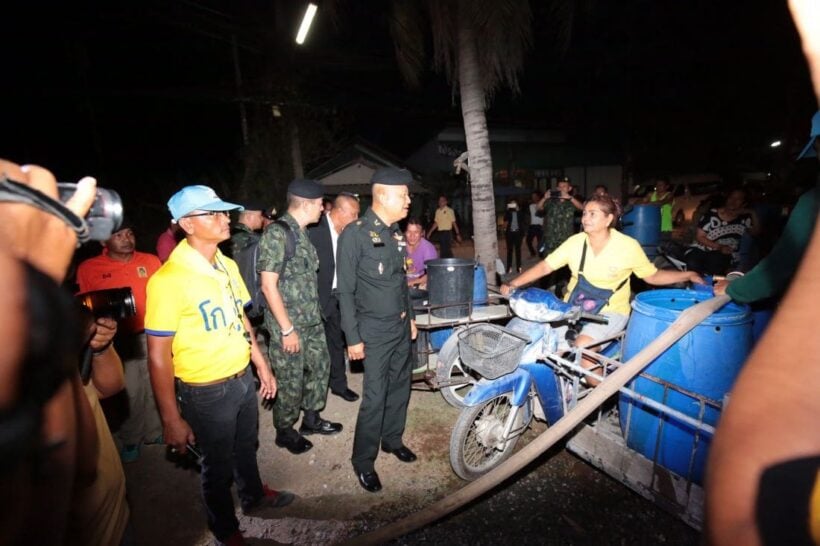 Lt Gen Pornsak Poonsawat, the Commander of the Fourth Army Region (Southern) in Nakhon Si Thammarat, came to Phuket to visit residents over water shortage issues in Rassada.
Lt Gen Pornsak says "we were contacted from the Phuket Governor that Phuket is facing serious water shortages. We have come here with water trucks to help residents to join with other government agencies in Phuket.
There are now 23 water trucks which are delivering free water to residents around Phuket. However we need cooperation from every one to save water."