Phuket threatened as airfares soar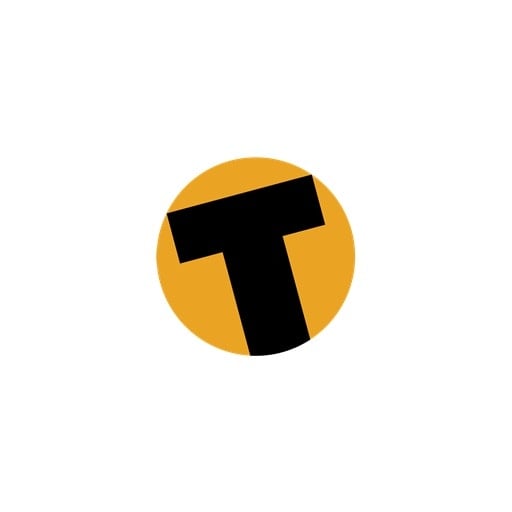 Phuket NEWS Hound
– A daily, pocket-sized packet of news from around the world, compiled by Phuket Gazette reporters for foreigners who want it short, sharp and straight to the point.
PHUKET: In what might look like an April Fools' Day joke but isn't, Thai Airways is increasing its domestic fares tomorrow in hopes that its passengers will be willing to underwrite the carrier's 'higher fuel costs'.
The Bangkok Post reports that the increases, set by the Civil Aviation Board, fall within a range of up to 13 baht per kilometer. The highest increment, 2,920 baht, is imposed against customers on the Chiangmai-Phuketroute.
"We decided to raise fares because operations on most domestic routes remain loss-ridden," said airline President Piyasvasti Amranand. Specifically, an 'economy' class ticket on the 696km Bangkok-Phuket route will rise a whopping 46%, from 2,575 to 3,770 baht.
But not to be outdone, the 1,263km Chiangmai-Phuket run is boasting a 64% hike, from 4,535 to 7,455 baht.
The airline says its international fares, governed by stiff competition from major world carriers, remain unchanged.

Beach threat for Phuket
The Malay Mail
When planning a holiday in Thailand, the first thing that comes to most people's minds is places like Phuket, Krabi and Koh Samui. However, there are many other choices that holidaymakers often fail to see.
The Tourism Authority of Thailand(TAT) recently organized a media and travel agent familiarization trip to the 'Ample Moon Festival' in Nakhon Sri Thammarat, which is also home to some of the most beautiful beaches in Thailand, situated in Khanom District. The beaches here are proof that there is more to Thailand than just Koh Samui and Phuket. Many of them remain unspoiled and provide complete privacy.
Among the attractions offered by these beaches are 'pancake rocks', pink dolphins and Ample Moon parties.
Phuket's beaches in recent years have been threatened by pollution, the noise and dangers of jet-skis, and, most recently, the complete absence of lifeguards.

US Healthcare may affect Phuket
Asia Times Online
The long-awaited United States healthcare reform package became law last week, and may affect Thailand's medical tourism industry, much of which is based in Phuket.
Thai hospitals treating American medical travellers will have to wait longer to see whether the bill will have a significant impact on their businesses, but US insurers will feel the reforms' impact more quickly, and that could lead them to look more closely at international options.
"Greater coverage for more Americans presumably would mean fewer Americans would need to travel abroad for care," Bangkok Hospital's international marketing manager Judy Mitchell said. Uninsured and under-insured Americans are at present the primary market for medical travel in Thailand, which now has to focus on cosmetic surgery and attracting US insurance companies to outsource their surgeries.
Medical tourism in Phuket to date has been focused primarily on Lasik eye procedures, cosmetic and 'gender reassignment' surgery, and dental care.

Who's behind the bomb attacks?
The Nation
The numerous bomb attacks in Bangkok have raised suspicions as to who is responsible. The attacks have been aimed at places that were symbolic enemies of fugitive former prime minister Thaksin Shinawatra, now patriarch of the red-shirted protesters. However, if the red shirts were responsible, it seems almost too obvious a list of targets.
Furthermore, certain incidents, such as the grenade fired into the 11th Infantry Regiment Headquarters on Saturday night, gave the government justification to threaten to impose martial law inside the compound ahead of a planned red-shirt demonstration there.
It could also be 'the other side' wanting to frame the red shirts, or the red shirts wanting to look like they are being framed. Or it could be a third party wanting to undermine the government; or it could be a third party wanting to undermine the red shirts.
Last but not least, it could be all of the above.

Thaksin assets will be seized
National News Bureau of Thailand
Comptroller General Department Director General Pongpanu Svetarunda is prepared to seize 46.3 billion baht in assets of Thailand's run-away former Prime Minister Thaksin Shinawatra after receiving a document from related authorities enabling the department to do so.
Mr Pongpanu says his department is prepared to audit assets and all bank accounts of Thaksin, which would be seized by the Ministry of Finance following a rumor of cash withdrawal by members of the Shinawatra family.
Finance Minister Korn Chatikavanij earlier disclosed a report that Thaksin family members had gradually withdrawn about 0.8 to 1.0 billion baht in cash from their deposits in commercial banks. However, there is no report of large overseas money transfers.
On January 26, 2010, Thailand's Supreme Court ruled to confiscate 46.3 billion baht out of 76 billion in Thaksin family assets as recompense for Thaksin's abuse of power to facilitate his own business interests.
— Gazette Editors
Keep in contact with The Thaiger by following our
Facebook page
.
Never miss out on future posts by
following The Thaiger
.
Phuket's annual Vegetarian Festival lowers flags, spirits return to the heavens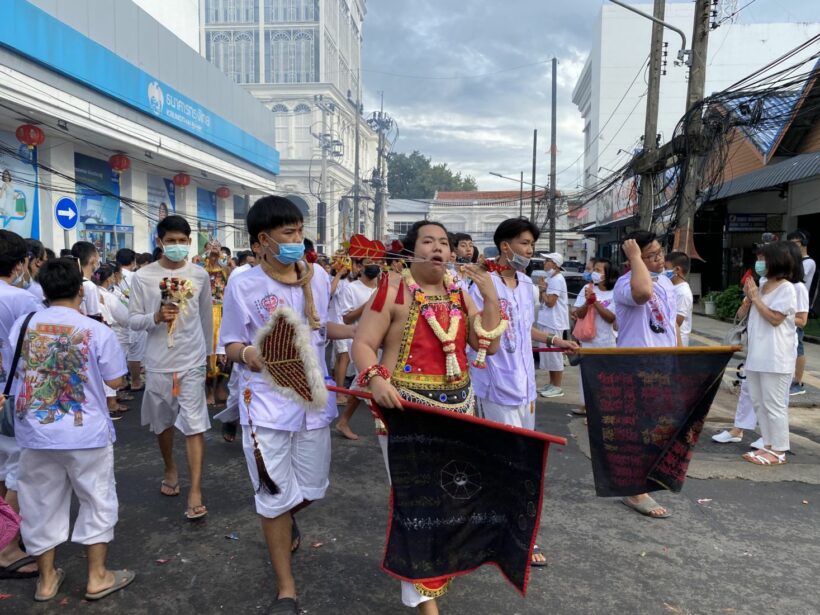 WARNING! Content below contains photos of self-mutilation that some may find disturbing.
The flags on Go Teng poles were lowered on Monday, ending Phuket's annual Vegetarian Festival and symbolising that the spirits have returned the heavens. The flags are raised at the start of the festivities each year at participating shrines, calling on the spirits to descend from the heavens.
This year, 2 men were electrocuted while taking down the festival flags. A steel pole with the flag touched a power pole, electrocuting and burning the workers as they were trying to lower the flags. They were taken to the hospital.
During the festival's street processions and ceremonies so-called "mah songs" channel the descended spirits. They enter a trance-like state and many practice self-mutilation to channel the spirits. "Mah" means horse in Thai, and some say the mah song acts as a horse for the spirit to ride.
Some mah song pierce their cheeks and other parts of their body with steel spikes and sometimes swords or other bizarre choices (we've seen petrol pumps, javelins, samurai swords and kitchen utensils). During the street procession, they walk for hours with the self-inflicted piercings, seemingly posessed by 'spirits' and muttering all sort of strange chants, verging on mild cases of Tourette syndrome. A team of devotees for each mah song wipe away blood and keep the wounds clean. Some mah songs even slice their tongue for the street procession. Blood drips on their chest and the ground. Waiting bystanders line the streets hoping for the blessing of a passing mah song. Some mah songs carry a black flag.
The event is an annual spiritual 'cleansing' for those in watching the processions. Onlookers lining the street bow their heads and place their hands in the "wai" position as the mah song waves flags and banners over their heads. Businesses along the procession route often set up an altar outside their shop and mah songs stop at each one to do a short ritual.
The Phuket government gave the festival organisers the "okay" to hold this years event with hopes that it would increase domestic tourism and generate much-needed revenue after the Thai government's response to the Covid-19 pandemic crippled Phuket's tourist economy. Before this year's festival, Phuket City Mayor Somjai Suwansupana asked that the mah songs "limit the level of torturing." He also called for a limit on the number of people at ceremonies to prevent the spread of the coronavirus.
His calls were largely ignored.
The spirits will again return in 2021 to Phuket again cleanse the island's large Thai-Chinese community.
Photos of the 2020 Vegetarian Festival by Marina Krasnopolska.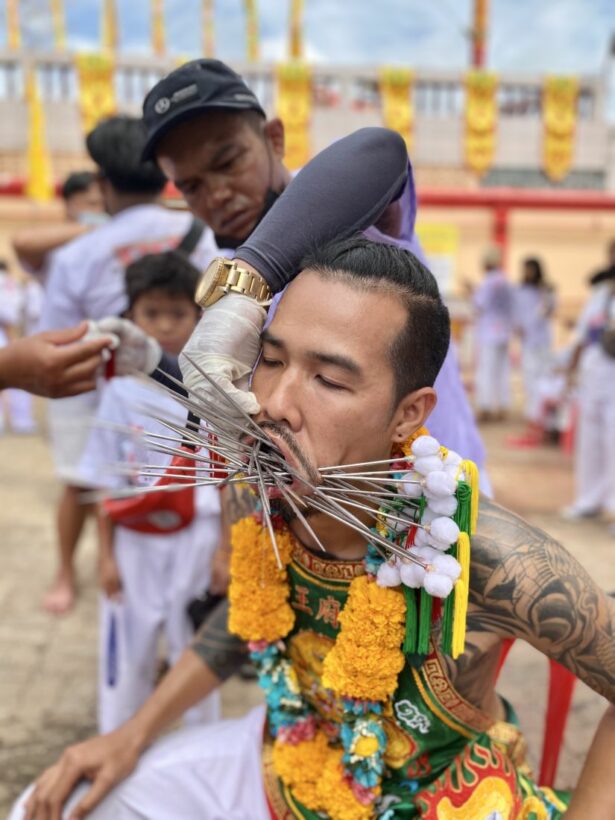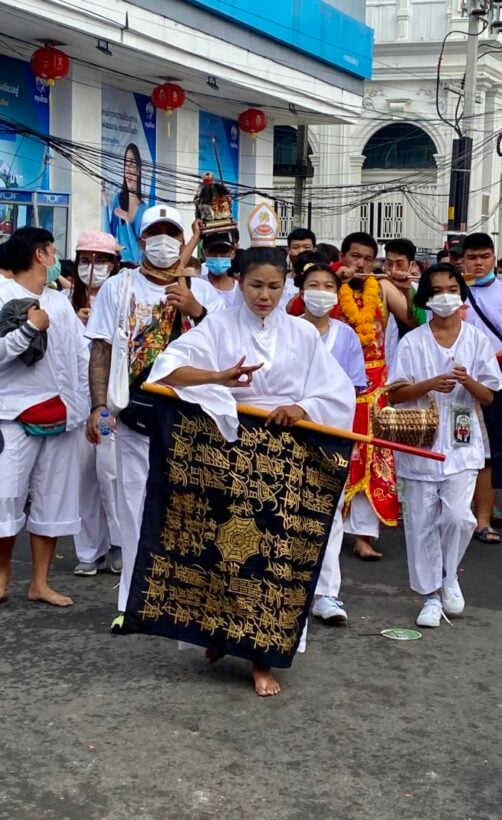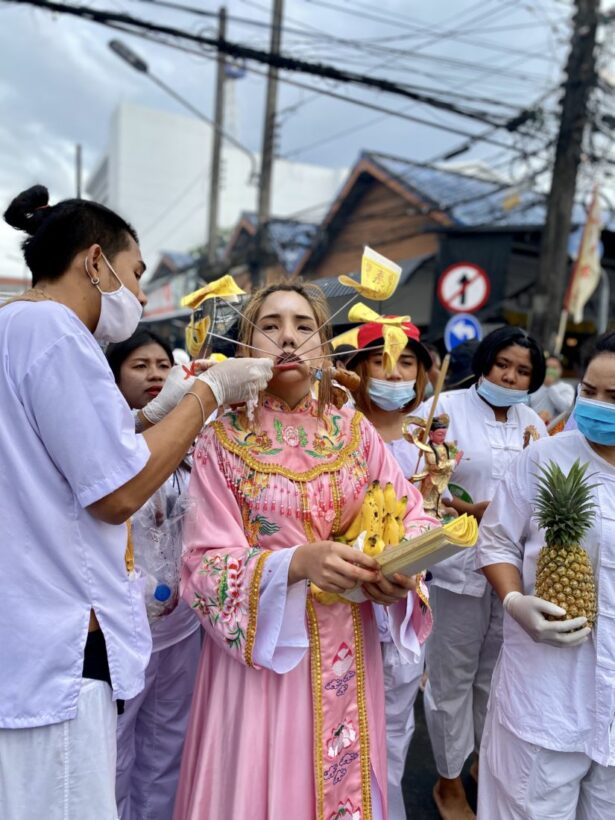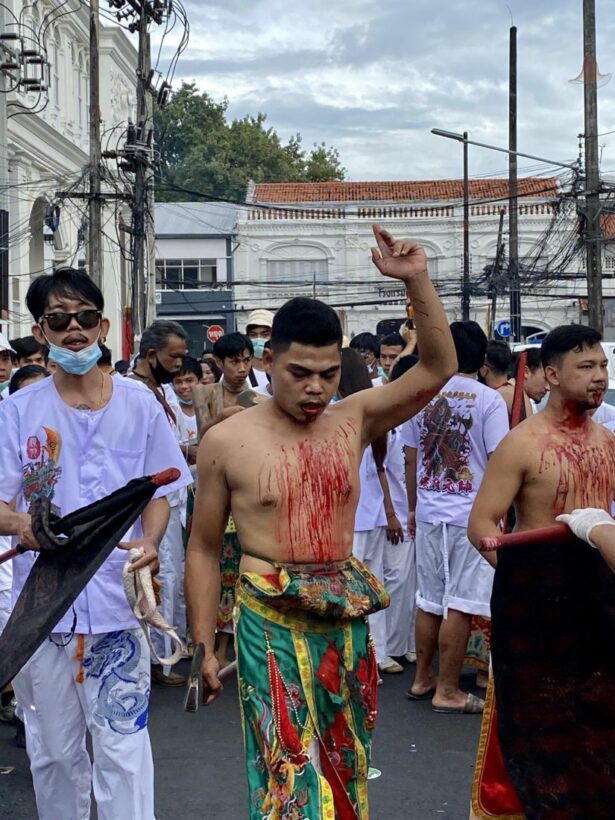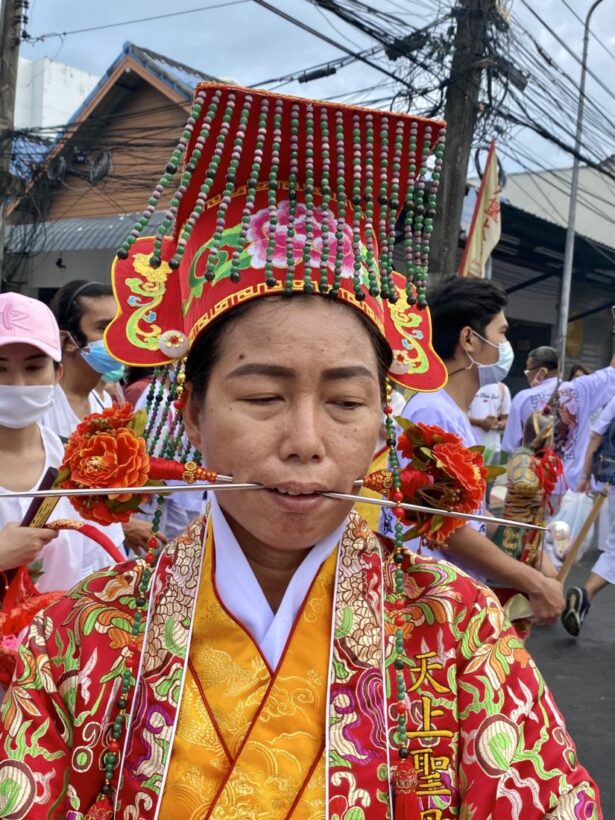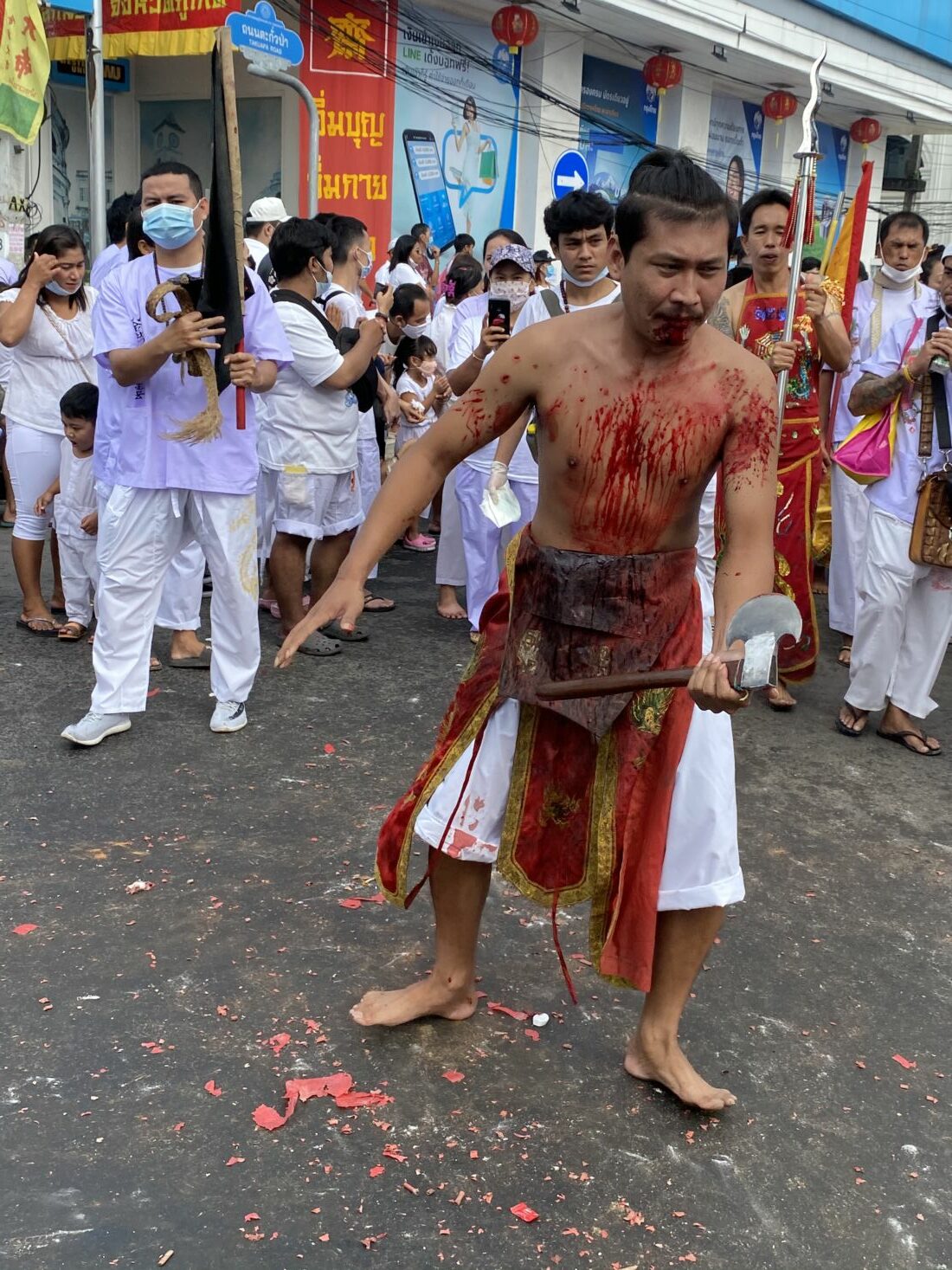 SOURCE: Phuket News
Catch up with the latest daily "Thailand News Today" here on The Thaiger.
Keep in contact with The Thaiger by following our
Facebook page
.
Never miss out on future posts by
following The Thaiger
.
Phuket told to prepare "response plan" in case of second Covid-19 outbreak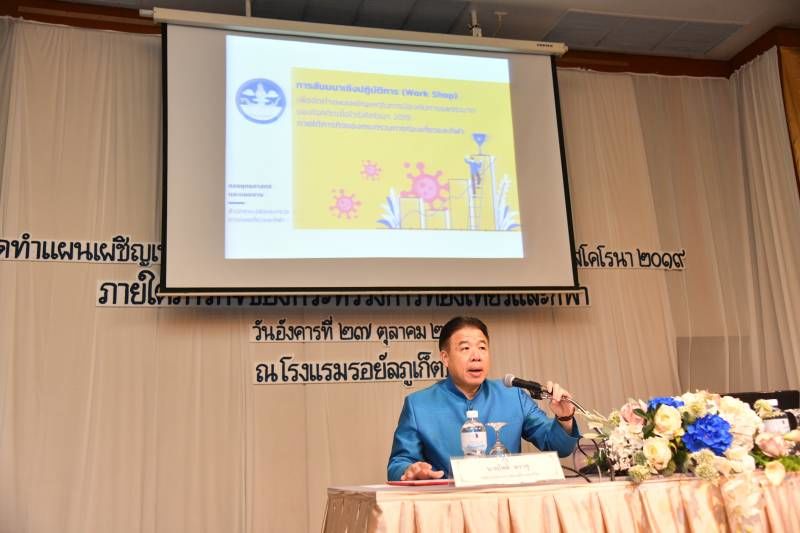 As Phuket awaits foreign tourists, city officials are told to prepare a "response plan" in case of a second wave of Covid-19. An official from the Ministry of Tourism and Sports held a workshop in Phuket today to discuss the risk of another outbreak as the country opens up to those on the Special Tourist Visa.
The ministry's permanent secretary Chote Trachu says now that the country is allowing tourists (who are required to quarantine upon arrival) an infection "may somehow slip through." He says a response plan needs to be in place in case this happens, adding that there should be corporation from the Ministry of Public Health and Ministry of Defense.
"If any tourists are found to be infected, the disease must not be allowed to spread among the people. There should be no panic, and public health officers will investigate the case. Tourist Police will track down the suspected person in an investigation with the Ministry of Public Health."
Chote says all provinces – not just Phuket – should have a response plan. Although tourists must go through a mandatory 14 day quarantine upon arrival, Chote says there are some cases where the incubation period for Covid-19 is longer than 14 days.
"There are a variety of cases. Sometimes, the infection does not show after 14 days, or even 15 or 16 days. Each situation is different."
Recently, a woman in Koh Samui tested positive for the coronavirus 5 days after she was released from a Samut Prakan quarantine facility. Traces of the virus were found on gym equipment the woman used at the quarantine, leading health officials to suspect she was infected before arriving to the island.
"We urge Thai people to not let their guard down. Everyone must wear masks, wash their hands and take care of personal hygiene. This will help prevent them from contracting the disease."
SOURCE: Phuket News
Keep in contact with The Thaiger by following our
Facebook page
.
Never miss out on future posts by
following The Thaiger
.
Approval sought for multi-billion-baht Phuket medical hub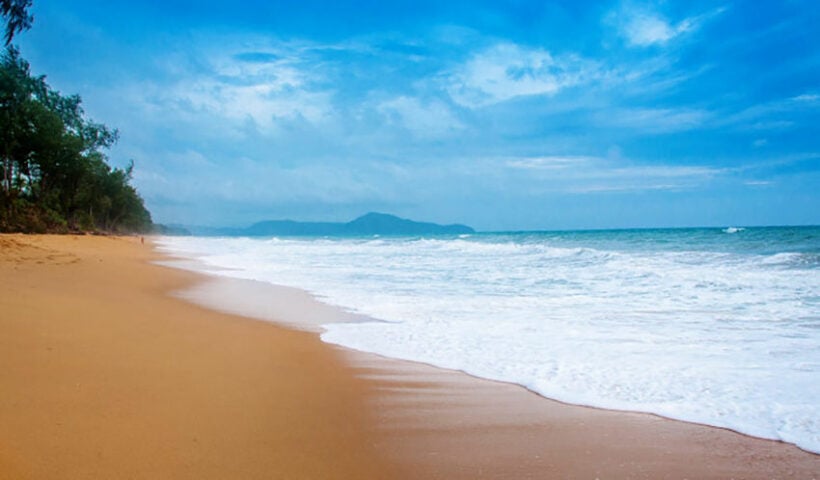 Industry officials are seeking the go-ahead for a project to transform over 140 rai of government land in Phuket into a world-leading medical hub. The project is budgeted at 3 – 4 billion baht, depending on which report you read. Kitkong Tantijaraswarodom, from the Federation of Thai Industries, believes the development of a medical and wellness hub in the sub-district of Mai Khao, north Phuket, will help revive the southern island's battered economy. Phuket has become increasingly reliant on a steady flow of tourists over the past 2 decades.
The southern division of the FTI covers Phuket, Krabi, Phang Nga, Nakhon Si Thammarat, Trang, Patthalung, Surat Thani, Ranong, Satun, Chumphon, and Songkhla.
"The FTI will ask the government to green-light the project during the scheduled mobile cabinet meeting on the island on November 3."
Kitkong says businesspeople in the south are anxious for the government to approve the project, which will provide both locals and foreign medical tourists with state-of-the-art medical care. The facility is expected to include long-term care, hospice and rehabilitation services, in addition to a dental hospital, sports therapy centre, and a medical training school for doctors, nurses, pharmacists and medical laboratory scientists.
The chair of the FTI's southern chapter is also calling on officials to provide small and medium-sized businesses with additional support, in the form of access to loans, in order to deal with cash shortages.
"In the short term, the FTI wants the government to help SMEs, especially those in the tourism sector."
SOURCE: Bangkok Post
Keep in contact with The Thaiger by following our
Facebook page
.
Never miss out on future posts by
following The Thaiger
.