Phuket
Phuket to receive B71bn for infrastructure, traffic management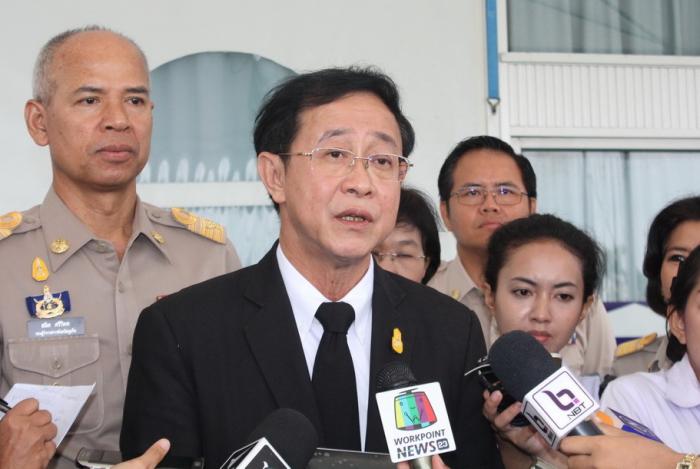 PHUKET: Phuket is slated to receive 71 billion baht in infrastructure funding, with an emphasis on improving traffic management and chalking out effective solutions for the island's growing traffic woes, the Ministry of Transport announced yesterday.
Transport Minister Arkhom Termpittayapaisith held a meeting at the Phuket Boat Lagoon with relevant officers to discuss details of the plan.
"Phuket has one of the highest economic growth rates, mostly from tourism, which brings more visitors to the island. However, there is only one main road to enter and exit, namely Thepkrasattri Road. Public transport is not good enough, so most people use their own private vehicles. This causes frequent traffic jams and exacerbates traffic congestion in Phuket," said Mr Arkhom.
"We are aware of these problems and are actively working to help Phuket improve. A few of the mega-projects that we have undertaken in the past include the Samkong and Darasamuth underpasses, as well as the Khlong Koh Pee Bridge. Additionally, the Bang Koo underpass will be ready by August this year – Chalong and airport underpasses will also be completed soon.
"We also have plans for two flyovers – one at the Mud Dok Khao junction near Phuket International airport and another at Baan Yee Teng in Koh Kaew. In total, there will be five underpasses and two flyovers in Phuket," he added.
However, Mr Arkhom pointed out that with the exponential growth of locals, tourists and long-term residents in Phuket, even these projects would not be enough to sustain Phuket's traffic.
"As you can see, even though the Samkong and Darasamuth underpasses are already fully functional, the traffic situation is still terrible," he said.
Nearly 44 per cent of the budget, or 31bn baht, is to be utilized for the long-awaited, multi-billion baht light rail project. Mr Arkhom said that a detailed Environmental Impact Assessment (EIA) proposal would be ready for submission by the end of this year.
About 18 per cent of the budget, or 13bn baht, will go toward the construction of the Sakoo-Koh Kaew Road. Construction of this 22-kilometer long thoroughfare is under consideration, with a proposal to be submitted to cabinet by next year.
About 12bn baht is to be set aside for airport development, including construction and improvement of a parking area for taxis.
The rest of the funds – about 15bn baht – will be invested in the Patong tunnel (also known as the Kathu-Patong expressway). The Expressway Authority of Thailand is studying the project and working on a proposal for its EIA at the moment, which is expected to be ready for submission by next year.
"It is worth spending this money to improve infrastructure in Phuket, especially if we compare it to how much the province earns each year, which is about 300-400bn baht," said Mr Arkhom.
"However, most importantly, we wish to emphasize improvement in the traffic management system. Regardless of how much money we invest in infrastructure, the traffic situation will not improve if there is a lack of proper management. Building more roads does not mean that the traffic issue will automatically be resolved," he added.
Mr Arkhom urged local officials to come up with better traffic management strategies, especially while construction of the new projects is ongoing.
"This is especially important. Commuters will face a lot of inconvenience, so we have to discuss the problems beforehand and find a solution to ease the flow of traffic during rush hours," he said.
"We are open to suggestions for improvement and are always ready to support Phuket in any capacity, as it is a world-renowned tourist destination and upholds the reputation of Thailand."
— Kritsada Mueanhawong