Phuket property under fire: Lersuang revisited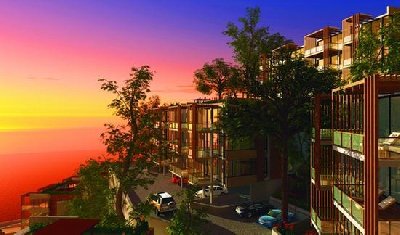 PHUKET: Earlier this month, Web blog thephuketinsider.com and the Phuket Gazette reported on an article in the UK's Daily Mirror about the Phuket-based Lersuang Group. The Mirror story put Lersuang in the international limelight, saying that customers were demanding their money back but offering no comments from company management.
The Phuket Gazette promised to get comments from the companies involved and to compile a report on the holding company as well as the fate of several of its individual development projects.
Here is our report, based on comprehensive interviews with Lersuang CEO Errol Salih as well as property industry insiders, Lersuang customers and a new investor in one of the Group's key properties.
Background on the Holding Company
Lersuang Group Holdings Co Ltd was established with registered capital of 30 million baht (approx US$ 860,000) on July 19, 2005. Documents obtained from the Phuket Companies Registry office list five individuals as directors and shareholders: Selwyn Casey, Errol Salih, Viroj Chinpracha, Jumlong Sittichok and Maedta Vissesombat.
Mr Maedta is the only director not profiled on Lersuang's website. However, buyers of units in Lersuang's incomplete Tamarind Hills project are being told that "Dr Maedta" is now handling that project, according to Lersuang CEO Errol Salih.
Completed Projects in Phuket
Phuket residential projects successfully completed by Lersuang include Club Lersuang, comprising 56 apartments; Lersuang Apartments, 12 units; Lersuang Town Houses, with four free-standing villas plus six duplex homes; and Lersuang Apartments Phase 2, comprising six premium apartments. All five of these projects are located in the Bang Tao/Surin Beach area.
Owner Comments
According to a Lersuang property owner who, like most, was willing to speak to the Gazette only on condition of anonymity, early buyers of Lersuang properties are satisfied. "It's the ones who came in later who are having problems," he said.
Asked if he was happy with the quality of the construction and workmanship of his home, he said that he had been living there since its completion about three years ago and was satisfied with the construction standards. However, although he lives in the property, he and his neighbors are concerned that their assets might now be at risk.
"Nothing that I've paid for can be registered. The land that they [the project's units] sit on is in question. We're in limbo at the moment and we're negotiating to get the matter settled," he said.
The homeowner wouldn't reveal which of the Lersuang developments he resides in but said that the issue he and his neighbors face is whether the units should have been built in the first place.
"I don't think it's a con," the homeowner said. "There is a road that was laid around the property by the OrBorTor. It has drainage and electricity poles running along it but there's an issue with the Land Department, who claim that the road is in the wrong place and should have been put somewhere else. Hopefully, there is no need to go to court over this issue and everything can be sorted out," he said.
An Insider's View
A respected local property professional, who also insisted on anonymity and who claimed to have insider knowledge of the Lersuang Group's operations, contacted the Gazette and said that the group began having difficulties with cash flow in November 2008. "They did do some small developments in the Bang Tao area which were completed and very successful. But the later ones were too big, way out of their league," he added.
He went on to explain that the company stopped paying some of its staff and suppliers late last year. "I know they were having land issues. They didn't exercise enough due diligence. I believe they were still trying to sell to customers while having the land issues," the source said.
"On one of the projects, the access was not correct. It went across land belonging to a temple," he added.
The source told the Gazette that he'd watched Lersuang attract a series of investors one after another from around the world. The company would use up the advance payments from their first buyer and then find a new buyer to cover their debts, he said.
"Eventually, the growth in debt outstripped the company's ability to generate cash, and they couldn't attract any more investors," he added.
Asked if he thought Lersuang intended to run away from its debts, the source said 'no', that he knew the directors were still on the island and that they had been making efforts to pay the people they owed.
Stalled Projects – Phuket
About two years ago, Lersuang launched Turtle Cove. About a year later, Tamarind Hills was started in Layan. Both projects remain unfinished.
The group went on to launch Infinity Heights – two- and three-bedroom luxury apartments above Bangtao Beach, with prices starting at 13.4 million baht – again selling off plan. They also launched Lersuang Village, which comprises detached and semi-detached houses in Cherng Talay.
Lersuang Group CEO Errol Salih told the Gazette that Lersuang has a 50% share in the Infinity Heights project with the remaining 50% belonging to a company called A-Plan, which initially raised the capital to start the development.
Pressed for reasons behind the stalling of Infinity Heights, Mr Salih admitted that one of the issues, ironically, is the 'height' of the site.
He said that on the strength of advice from an early survey, his company initially believed the entire site was within Phuket's legal height limit of 80 meters over sea level, but that it now appears that some parts of the land are higher than that. He adds, however, that there is still enough land below the 80-meter level to build 'financially viable' homes.
Mr Salih also blames construction delays on local political turmoil and global economic issues, adding, however, that buyers would eventually see their homes completed.
When asked to comment on Turtle Cove, he said that Lersuang originally owned 40% of the shares in that project, but that those shares had now been 'given away' to a private investor who is currently revamping the plans.
On Tamarind Hills, he said that Lersuang initially owned 1/3rd of the project, but had also 'given away' its shares – in this case, to Sepco Sustainable Energy Products – and that Mr Maedta Vissesombat was now running the operations and dealing with the project's customers.
Stalled Projects – Hua Hin
On its website (www.lersuang.com), Lersuang lists Infinity Heights, Lersuang Village, Turtle Cove and Sariya Kamala Villas as its current Phuket projects. Also listed are developments in Hua Hin, including the Hua Hin Country Club Apartments (123 luxury units with five penthouses) and the Black Mountain Golf Course.
Joe Cole, the Daily Mirror, and the Hua Hin Country Club Apartments
It was the Hua Hin Country Club Apartments that received attention in the Daily Mirror story, which focused on Chelsea Football Team celebrity Joe Cole's association with that project as the result of his appearance in widespread publicity for it. It's not clear precisely what the footballer's deal was with the developer, and Mr Salih was not at liberty to elaborate, saying only that Lersuang's association with the Hua Hin Country Club Apartments was "as a brand n
— Nick Davies & Tipwarintron Tannakarachod
Phuket News

Join the conversation and have your say on Thailand news published on The Thaiger.
Thaiger Talk is our new Thaiger Community where you can join the discussion on everything happening in Thailand right now.
Please note that articles are not posted to the forum instantly and can take up to 20 min before being visible. Click for more information and the Thaiger Talk Guidelines.