Phuket
Phuket prison raid turns up box cutters, inmate tests drug positive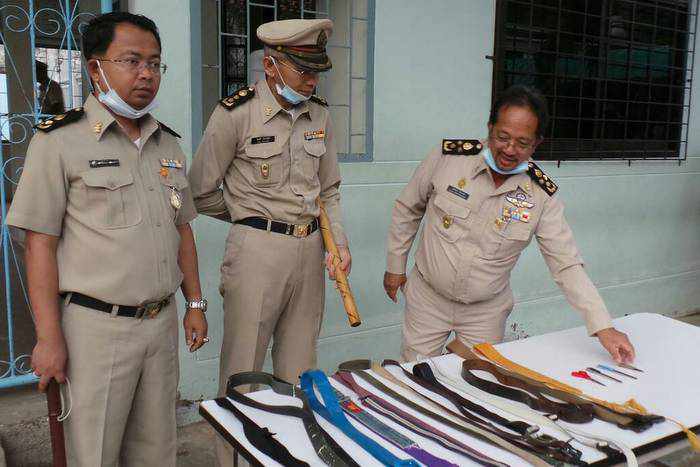 PHUKET: Despite an early morning search of Phuket Provincial Prison turning up a slew of contraband items and one inmate testing positive for drugs, the facility's "White Prison" certification remains intact.
"We have come out of many searches like this empty-handed. This is just one during which we found contraband items and only one inmate tested positive for drugs," said Phuket Prison Chief Rapin Nichanon.
"One search like doesn't take away our 'White Prison' status."
Chief Rapin led more than 75 officers from the prison and the Phuket Provincial Health Office on the 5:30am search.
"We tested 200 of the 2,890 inmates we have here, both male and female, for drug use," said Chief Rapin.
"The inmate who tested positive was incarcerated on August 4. He confessed to officers that he had used ya ice [crystal methamphetamine] before he was brought to prison. We will not press additional charges against him."
Officers found several banned items during the raid, which included a search of personal lockers, sleeping quarters, the infirmary and other areas where they believed contraband could be hidden.
"In our search we found two box cutters, one pair of scissors and one small knife. We also found 10 belts," said Chief Rapin. "We seized all of the contraband items."
No charges have been added for the prisoners found in possession of banned items.
"We just warned the prisoners this time, but they will be punished if they are caught again," said Chief Rapin.
Chief Rapin said guards will carry out more mass inspections to prevent drug use and contraband among the inmates.
"We want to maintain our 'White Prison' status, so we will step up our searches to once or twice per month to make sure that the facility is free of drugs and contraband," he said.
"Of course, every search will be conducted at random."
Officers have been patrolling the grounds every day to prevent contraband from being thrown over the walls into the prison, added Chief Rapin.
"Our guards patrol the grounds 24 hours a day. Guards walk the perimeter every day before inmates leave their sleeping quarters to make sure that nothing was thrown into the prison, like mobile phones," he said.
"We also make it clear to visitors that they could face criminal charges if they are caught sneaking in banned items for an inmate.
"We are happy to report that we have had no issues with any relatives or visitors who have come to the prison."
— Kritsada Mueanhawong