Phuket police on heightened alert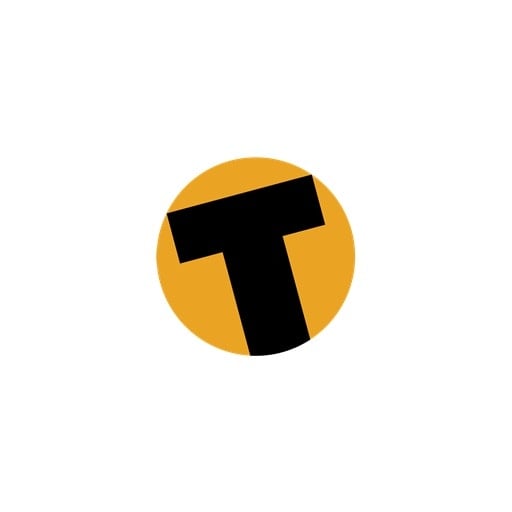 PHUKET CITY: Governor Udomsak Usawarangkura has ordered a heightening of security for all government buildings and tourist areas in Phuket following Wednesday's killings in Pattani, Yala and Narathiwat, and warnings by a Muslim separatist group that foreigners should stay away from the South and neighboring provinces. Phuket's Provincial Police Commander, Maj Gen Veerayuth Sittimalic, said "We have seen the trouble in the South and will not be careless when it comes to people's safety." He said that security had already been beefed up at important places such as the airport and the oil storage depot on Cape Panwa, and more police had been moved to the night shift. In addition to extra guards at public places, Gov Udomsak also said that police will be posted at all government offices around the island, and office lights will left on throughout the night. "In the dark, it is easy to have trouble," he explained. The decision to increase security coincided with a warning issued last night by the United Front for the Independence of Pattani (Bersatu) to "Dear People of the World" that the violence may spread from the South to other parts of Thailand. In its warning, delivered to the news agency Agence France Presse (AFP) and reported around the world this morning, Bersatu said, "Persons who plan to visit Thailand NOW are warned not to travel to Patani Raya Region, (Pattani, Yala, Narathiwat, Satun, Songkhla) and the neighbour provinces (Phuket, Phang Nga, Krabi, Pattalung)." The statement concluded starkly, "Pattani people are not responsible for anything that happens to you after this warning." Bersatu was formed in 1989 to unite the splinter separatist groups in the Thai-Malaysian border area. Leaders from the various terrorist groups, including the Pattani United Liberation Organization (PULO) and the Mujahadeen Pattani, met with the aim of "gathering fighters for Pattani". The threat to people and interests in areas outside the five predominantly-Muslim provinces in Thailand (Satun, Pattani, Songkhla, Yala and Narathiwat) appears to be the first open declaration of hostile intent toward a wider population, including foreigners. Whether Bersatu genuinely intends to attack other parts of Thailand, or whether it is simply using the threat of violence to rattle tourist markets and thereby damage the Thai economy, is unknown. The warning came after more than 100 people, dismissed by Prime Minister Thaksin Shinawatra as "teenagers who were given drugs and cash", were killed by Thai security forces in Pattani. At least 30 were killed when police stormed a mosque. Although some within the ranks of the Thai authorities resolutely deny that this week's violence was carried out by separatists, Singapore's Straits Times today quotes Thailand's Deputy Director of the National Security Command, General Panlop Pinmanee, as saying "It is absolutely certain that they are separatists. They were trained as guerrillas for separatist actions by BRN (the Barisi Revolusi Nasional) and PULO." Australia was quick to advise its nationals to "exercise caution" during their time in Thailand, particularly in areas frequented by tourists and expats. The travel advisory from the Australian Department of Foreign Affairs stated, "We continue to receive reports that terrorist elements in the region are planning attacks." Foreign ministries of other countries updated their travel advisories to offer similar warnings, though none so far have mentioned specific tourist resorts by name. The affect on the tourism industry of the latest incidents and of Bersatu's warning has yet to assessed. However, AFP quoted Napasorn Kakai, the TAT's No 2 official in Phuket, as saying tourism "will be affected if the unrest is not over soon. "We are concerned that if the unrest continues it will finally affect Phuket and Krabi," she was quoted as saying. There are serious doubts in many quarters in Phuket about the government's ability to restore peace in the South. In particular, critics have targeted the national security forces' perceived heavy-handedness and Prime Minister Thaksin Shinawatra's apparent continuing belief that he can solve highly complex problems with simplistic "just do it" policies.


Read more headlines, reports & breaking news in Phuket. Or catch up on your Thailand news.
Power outage in parts of Chalong tomorrow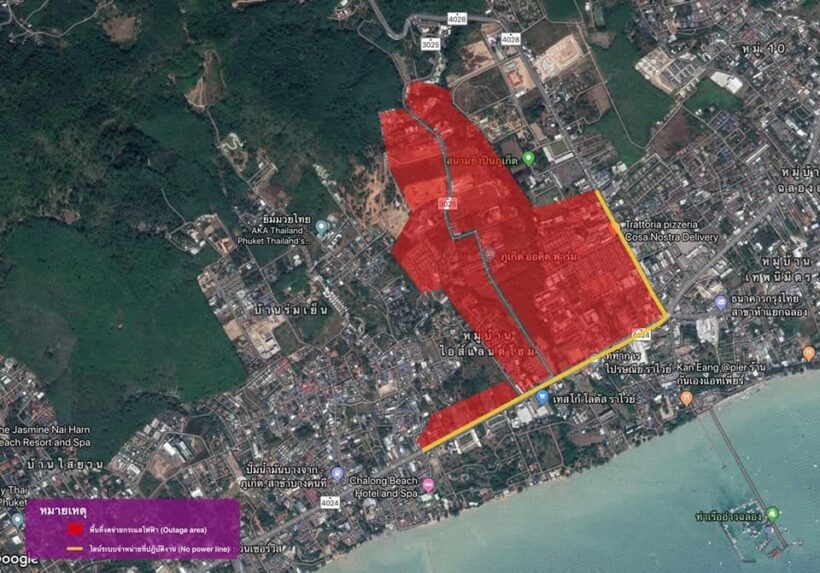 PHOTO: PEA
Residents of Chalong should be aware that there is a scheduled power outage from 9am to 4.30pm tomorrow (Tuesday) as the Provincial Electricity Authority (PEA) continues its work on high power voltage systems in the area.
The blackouts will affect the areas from the Shell petrol station on Patak Road to Bayshore law office opposite Chalong Beach Hotel on Wiset Road.
As always, the PEA apologises for the inconvenience.
For more information contact the Operations and Maintenance Department of the Provincial Electricity Authority on 07 652 1099 (24 hr)
Free water schedules for residents in Patong and Rassada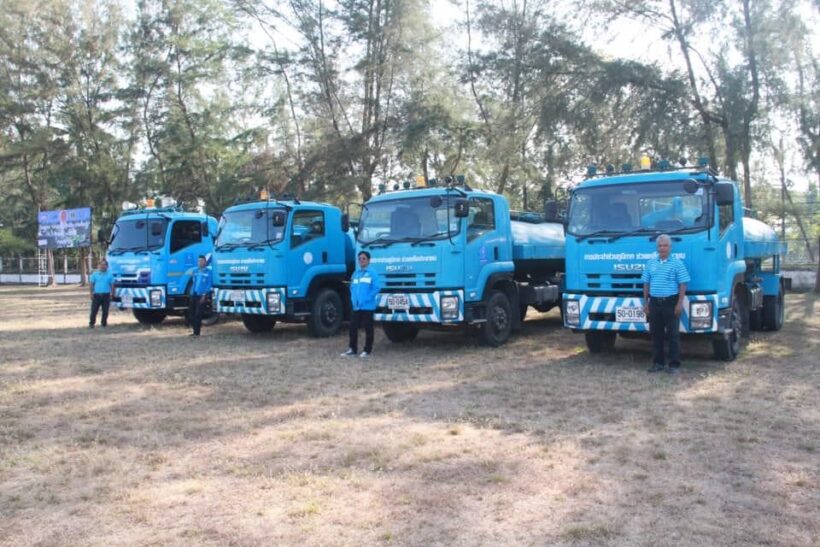 PHOTOS: PWA
Authorities have announced schedules of free water distribution for residents in Patong and Rassada.
In Rassada by the Phuket Waterworks Authority (PWA)
Koh Siray, from 8pm to midnight every day at Supitcha housing estate
Soi Kingkaew and Soi Honsaithong, from 9am to 3pm every day.
Nattakamon housing estate, one time per three days.
Thep Buri housing estate, one time per three days.
Sri Suchart 2 housing estate , Rock Garden housing estate and Kietsin hosuing estate, one time per three days.
In Patong by Patong Municipality
Free water is available on Phra Baree Road, Phisit Koranee Road and Nanai Road on Monday, Wednesday and Friday from 10am, onward starting today.
Residents are told they need to bring water buckets.
Alleged Greek murderer of Phuket beautician remains at large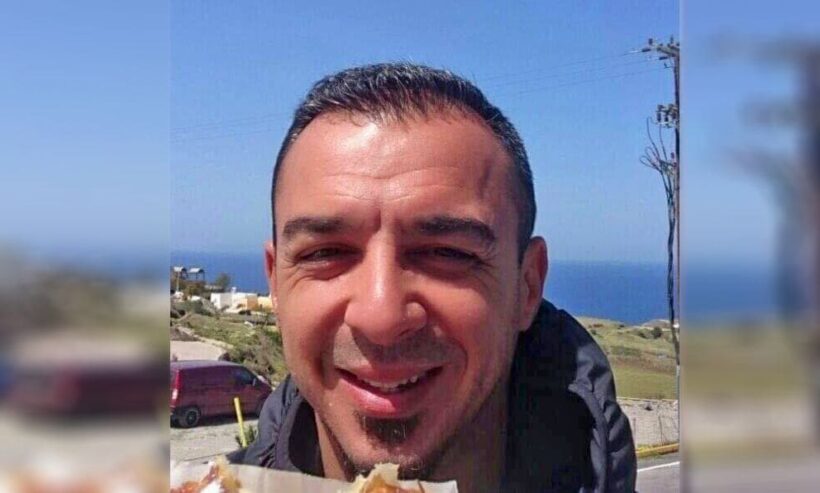 PHOTO: Dimitrios 'Dim' Chairopoulo, wanted and believed to be living in Greece
Local Phuket police are yet be informed of the latest in an international hunt for a Greek alleged murderer Dimitrios Chairopoulos. He remains wanted as a suspect in the murder of local beautician 43 year old Niramon 'Bea' Aewkaew in Phuket during February.
Cherng Talay police say they want an Interpol Red Notice issued so that they can track down and arrest 42 year old Dimitrios 'Dim' Chairopoulos, wanted for the murder. Bea and Dim were seen leaving their accommodation on February 11. It was the last time Bea would be seen alive.
Mr Chairopoulos was recorded as clearing Immigration at Phuket International Airport to board a flight to Dubai in the hours after Ms Niramon was last seen alive. He boarded an Emirates flight EK0379 to Dubai, departing Phuket at 2am. Police also confirmed that he arrived in Dubai on the same day.
"If he comes back to Thailand he will be arrested," said Chief Col Sen Kwannimit of the Cherng Talay Police.
A request for a Red Notice was submitted with the Foreign Affairs Division of the Royal Thai Police on February 19 but, for now, no formal international's notice has been published..
Cherng Talay Police confirmed that Dim was seen leaving the room at a guesthouse in Bang Tao where Ms Niramon's body was found on Saturday, February 16.
In the days leading up to her murder her family had been desperately trying to contact her.
'Bea' was the eldest of 5 children from Phatthalung province and had been working in Phuket as a beautician at the time.
One of her sisters, May' was contacted on February 15 by one of Bea's workmates trying to locate her.
Neither May or Bea's other sisters, relatives or friends were able to contact her. Bea had just moved to a new house so nobody knew where she was living. Another sister, Pichy, spoke to friends and was able, using Google Maps, to locate the guesthouse she was staying.
The owner of the room told the family that the air-conditioning was on in the room but there was no response. When the owner returned with a key he informed the family that Bea was found on the bed with a black cloth stuffed in her mouth and her hands and feet bound.
CCTV footage shows the couple leaving the room in the afternoon of February 11, the last time that Bea was seen alive.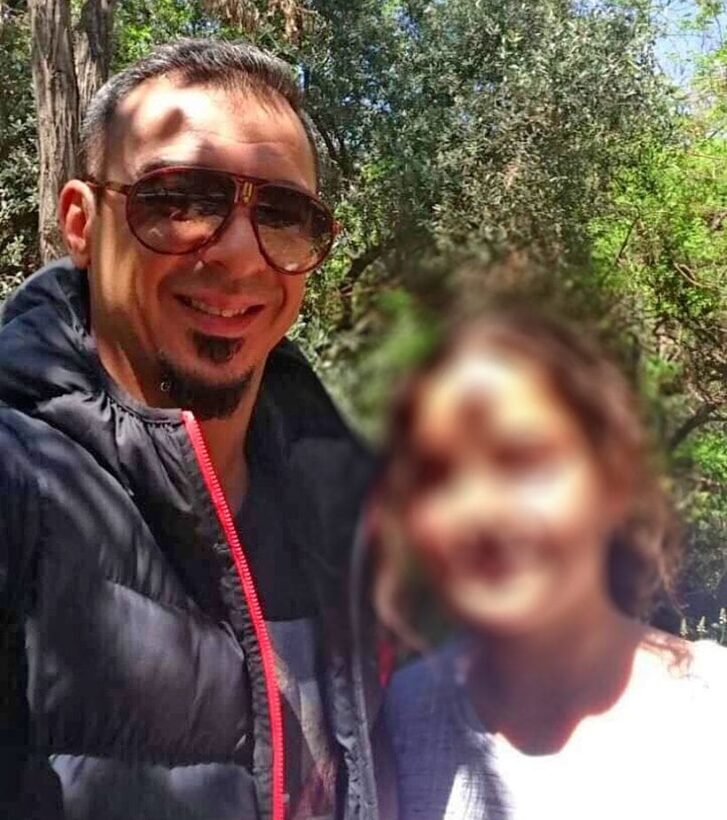 Dimitrios 'Dim' Chairopoulos with his daughter from another relationship
What we know about the alleged murderer?
Dimitrios 'Dim' Chairopoulos, who remains at large and thought to be in Greece, worked as security in a night club in Athens. He already had a daughter to another woman in Greece.
During his relationship and marriage with Bea he was said to be 'controlling' and 'jealous' by members of Bea's family. A close family friend told The Thaiger that the family had concerns for Bea's safety and were 'uncomfortable' with her ongoing relationship and marriage with Dim.
"We tried to get to know him at family functions but he was not easy to know and seemed very possessive of Bea," said one of the close family members who asked not to be named.
"He did threaten to kill her if she ever left him and Oh, another of her sisters, went with Bea to file a report of the threats at the Cherng Talay police station at the time," they explained.
That report was made to police in 2016. A year later the pair married and were still married at the time of the murder.
"He would drive past the beauty shops that Bea worked at and spy on her."
The family claim that, apart from his own possessions, he also stole Bea's phone before he headed to the Phuket International Airport on the evening of the murder.
So where is Dimitrios Chairopoulo?
At this stage the Greek Embassy has made no comment about the case or followed up with Greek Police about the pursuit for the fugitive man.
There are currently approximately 58,000 valid Red Notices worldwide of which only 7,000 are public. An Interpol Red Notice has not been issued to alert international police or Immigration officials to be on the look-out for Dim.
For now, the alleged murderer of Bea – an innocent Phuket beautician, beloved sister and family member – remains at large, most probably in Greece.
If anyone has any information about Dimitrios 'Dim' Chairopoulo's whereabouts or information that may lead police to arrest him, please send a confidential message to The Thaiger.