Phuket
Phuket officers take down taxi drivers for intimidation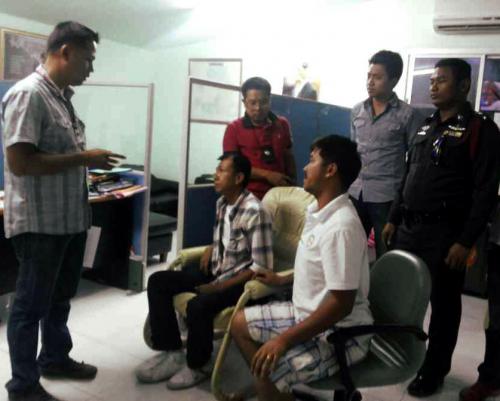 PHUKET: A sting operation involving an undercover Patong Police officer disguised as a taxi driver put two men operating a hotel taxi queue behind bars yesterday.
Pamorn Maipuek, 40, and Narathid Wangaree, 27, were charged for threatening the plainclothes officer, who was attempting to pick up guests at Avista Hideway Resort and Spa at about 7pm.
"We had a team of officers on standby and had Lt Sakson Prakapsin pick up guests at the hotel without a ticket voucher – as we wanted to observe how the taxi drivers would react," Patong Police Deputy Superintendent Paisarn Sangthep told the Phuket Gazette.
A hotel security guard stopped Lt Sakson's car at the entrance of the hotel, so he could inform the hotel staff that the taxi had arrived.
"While Lt Sakson was waiting, Mr Pamorn and Mr Narathid approached him, checking for a ticket voucher," Lt Col Paisarn said. "Because he didn't have a ticket, the drivers told him that he couldn't pick up guests at the hotel. They claimed to operate the taxi queue in that area."
The drivers then started to threaten Lt Sakson.
"They said that if he tried to pick up any guests in the area without a voucher he would have a problem with them," Col Paisarn said.
To prevent the situation from escalating further, a team of Patong Police officers rushed in and arrested both men.
The men were charged with section 309 of the Criminal Code, which carries a penalty of up to three years imprisonment, a 60,000 baht fine or both.
The Department of Special Investigations launched a similar sting operation in November (story here).
In that operation, a taxi driver tried to force a DSI officer out of his vehicle, but no arrest was made. However, Somboon Sarasit, head of the DSI's Bureau of Special Crime Unit 3, believes enough evidence was gathered to gain approval from Bangkok to add the case to the DSI investigation list.
— Thawit Bilabdullar