Phuket
Phuket locals protest closure of access to Laem Singh Beach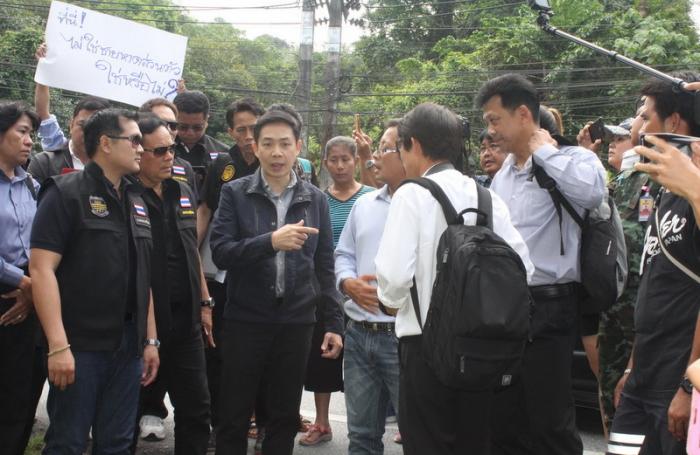 PHUKET: Officials from the Ministry of Justice visited Laem Singh Beach this morning to follow up on a long-standing land dispute between the public, particularly local Thai people and thousands of foreign tourists, and an organization called 'Bangkok Broadcasting & Television Co Ltd (BB&T)'.
The company, which airs Thai national television Channel 7, has announced that starting April 17, they are cutting access to Laem Singh Beach entirely.
The issue started in March 2012, when BB&T ordered a fence to be built around a 65-rai tract of land leading up to the beach. Locals submitted a formal letter of complaint to Dussadee Arayawuth, Deputy Permanent Secretary of the Ministry of Justice, calling for authorities to investigate the title deed for the land (story here), but little progress was made on the issue.
In July last year, BB&T started charging beachgoers an "entrance fee" of 100 baht (story here).
Locals in the area protested the move, saying it was public land and alleging that the company's documents were illegal. They requested Mr Dussadee and other officials to look into the matter.
About 200 of them gathered together this morning, holding signs and messages while waiting for Mr Dussadee and other officers, including investigators from the Department of Special Investigations and local police.
The protesters were then called in for a meeting, but no definite solutions were agreed upon. Officials said they plan to call another meeting "soon".
"We are investigating the issue, but at this stage, we are not ready to provide any more details. Please rest assured that we are checking from all sources, including government officers involved in the land documentation," said Mr Dussadee.
"The court has yet to conclude the case, but we want both sides to remain calm until we come to a decision," he added.
As far as the April 17 deadline is concerned, Mr Dussadee has assigned local Kathu District Chief Sayan Chanachaiwong to negotiate with both sides.
At the meeting, BB&T representative Pairot Thanakulwinit reiterated that the land is legally under the company's name.
"We bought the land in 1986, and the title deed does not indicate that it is public land. Yet we have been kind enough to allow locals to do their business on our land for 31 years, without charging any fees. However, in 2015, after the government issued a revised beach management policy, we wanted to develop the land for our own purposes. At that time, locals asked for negotiation, so we agreed to postpone our plans by a year and eight months. That deadline is next month," said Mr Pairot.
"We are happy to fully cooperate with the investigation, as we are confident that everything we have done is above board and legal," he added.
Mr Pairot added that the 100 baht fee is levied "only against tourists", and insisted that it had never been imposed on Thai people.
"The fee that we collect is used for land maintenance and hiring security personnel to protect the area," said Mr Pairot.
Mr Sayan said he would do his best to help both sides.
According to beach management policies [in Phuket], no vendors are allowed on Laem Singh Beach. But so far, we have continued to allow a few of them," said Mr Sayan.
"Locals have requested that Laem Singh be removed from the category of virgin beaches and that they be allowed to operate their business there. We will raise that topic in the next meeting. In the meantime, we have arranged for them to work at Kamala Beach," he added.
— Kritsada Mueanhawong