Phuket
Phuket Vegetarian Festival drives need for blood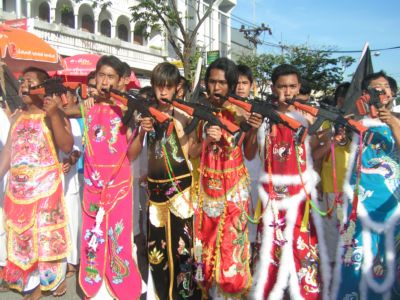 PHUKET CITY: Entranced participants at Phuket's Vegetarian Festival can pierce their faces with sharp objects, sprint across hot coals and climb knife-blade ladders – without shedding blood, according to local belief.
But that hasn't stopped Phuket Regional Blood Center launching a fresh donation drive in time for the festival, which starts on October 18.
Porntip Rattajak, the center's acting chief, said there was high demand for blood during the Taoist celebration, which coincides with the start of Phuket's high season.
"Lots of tourists visit the island, which means there is a higher number of accidents and need for blood," she said.
During the festival, the ma song (mediums) who join the procession through the streets of Phuket refrain from eating meat, and most non-participating Thais will attempt to go vegetarian for at least some of the festival period.
Those who can't stomach the idea of 10 days without meat might wish to donate blood, suggested Ms Porntip.
"Besides stopping eating meat, blood donation is an alternative way to make merit," she explained.
Anyone who wishes to donate blood can visit Phuket Regional Blood Center, close to Phuket Provincial Employment Office, at the following times:
Monday, Wednesday and Friday from 8.30 – 16.30.
Tuesday and Thursday from 8.30 – 20.00.
Saturday, Sunday and government holidays from 9.00 – 15.00.
Alternatively a mobile donation unit will be stationed at the following places and times:
October 5, 15 and 29 from 12.00 – 18.00 at McDonald's, Tesco Lotus Phuket.
October 16 from 12.00 – 18.00 at HomeWorks Phuket.
October 30 from 12.00 – 18.00 at Phuket International Airport, first floor.
For more information call Phuket Regional Blood Center on 076-251 178 or 081-413 4004 or visit www.blooddonationthai.com
— Pimwara Choksakulpan