Phuket
Phuket Sports: Reaching the ultimate goal [Video]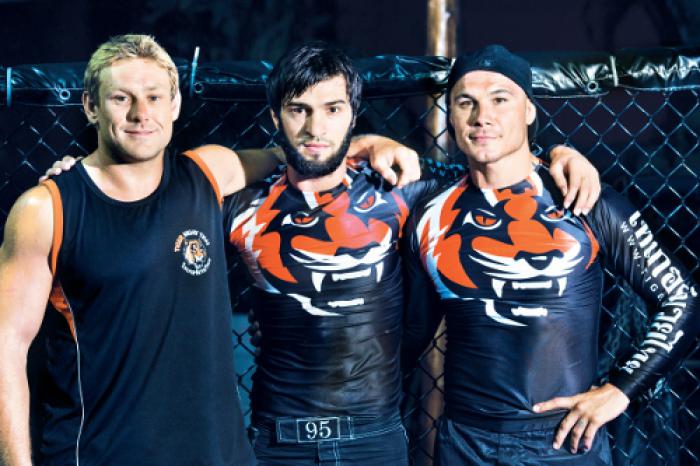 PHUKET: The ancient martial art of Muay Thai is alive and strong, especially in Phuket, where fighters from around the world make their way to train with some of the best. The Phuket Gazette and PGTV were able to get the scoop on what's new in the island's fighting scene during a recent visit to Tiger Muay Thai gym.
Located on Soi Ta Led in Chalong, the Tiger name has become somewhat synonymous with Muay Thai and mixed martial arts (MMA) fighting. Tiger- sponsored fighters Mairbek Taisumov, 25, and Zubair Tukhugov, 22, are now bringing the Tiger name to another level with their accomplishments on the world famous Ultimate Fighting Championship (UFC) circuit.
Chechnyans Taisumov and Tukhugov have been training in MMA for over a year under Tiger coach Roger Huerta.
"I used to fight for the UFC. My background first came from wrestling, then jujitsu and then Muay Thai. Then I put that all together," says Huerta. Huerta's four years of experience on the UFC circuit taught him what it takes to be a winning fighter – lessons which he now passes on to his protégés.
"Mairbek used to fight for M1 Global and Zu [Zubair] was fighting for Fight Nights, which are pretty big in Russia," says Huerta. M1 Global is based out of the Netherlands and Fight Nights in Russia – both are large fight promoters similar to the UFC.
"I had the time to go somewhere to train and I just took my bag and came to Thailand and met this guy [Huerta]," recalls Taisumov. Since then Taisumov has been making Huerta proud, sporting 21 wins and just four losses on the UFC circuit, including his recent win at the Marina Bay Sands in Singapore.
Tukhugov is looking to chalk up another victory to his 15 win and three loss record with an upcoming UFC fight in Brazil next month.
"UFC is based out of Las Vegas but they bounce around the whole world – Zubair will be fighting next month in Brazil, then the next show will be in Macau and they [UFC] are going to do seven shows in Asia over the next year. They are constantly opening new markets. They went to Europe already and now they are coming to Asia," says Will Elliot, director at Tiger Muay Thai.
"The UFC is basically the Mecca of MMA. That's where you're going to fight the best fighters in the world… these guys want to be the best fighters in the world, fight the best fighters in the world,"
declares Huerta.
To fight with the best, Taisumov and Tukhugov subject themselves to a ruthless training regimen under Huerta's guidance. No alcohol or partying, training morning, day and night with a slew of weights, strength conditioning and flexibility exercises are part of the lifestyle they commit to in order to stay at the top of their game.
Huerta's guys usually get a week off after a fight for some much needed rest and healing time but sometimes the rush of the win leaves them wanting more. "We won by a unanimous decision, beat a really tough Korean and he [Taisumov] is ready to rock and roll again – he's ready to fight again already," says Huerta.
— Jeremie Schatz