Phuket Sports: Dragons still on fire despite the rain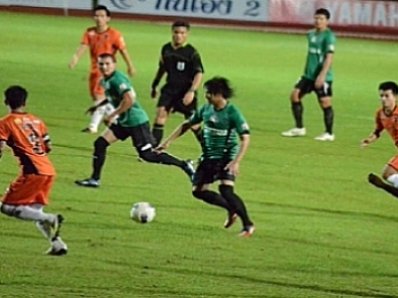 PHUKET: A single goal in the final minutes of the first half was enough for Thai Yamaha 1 runaway league leaders, Ratchaburi FC to prevail over Phuket FC last night.
Played on a damp pitch under overcast skies at Surakul Stadium, the match was one of the first for Phuket FC this season to be broadcast live on national cable (True Visions).
Despite the threat of rain the match still managed to attract 3,570 fans, a new home attendance record for Phuket FC this season.
The previous high of 3,200 was set on May 19 when Phuket hosted Airforce United, a turnout which was matched again on July 7 when Krabi FC were in town.
Standing out from the crowd was a vocal and reasonably-sized contingent of orange and blue shirted away fans who had bused it down from Ratchaburi.
Enjoying strong support, even on their away games, the Dragons were promoted to Division 1 after being crowned Division 2 national champions last year.
The scoreline could have been wider with Ratchaburi dominating possession and having most of the opportunities on goal.
The first real shot came on 10 minutes when Ratchaburi's leading scorer, Brazilian striker Douglas Gordoza, took a free kick from the edge of the penalty box.
Though on target, the shot went straight through to Phuket's keeper, local kid, Kampon Phatomakkakul.
Ratchaburi continued to dominate play, but it was looking like a struggling Phuket defense would escape to half time with the scores level.
However, in the second and final minute of added time, Ratchaburi got one last chance before the break with a free kick.
Taken by midfielder Attapong Nooprom from the left side of the box, the shot bounced past Phuket's keeper and hit the far post.
Gordoza was positioned well to capitalize on the deflected ball, sending it into the back of the net, scoring his 13th of the season.
With the outcome looking hazy for the home team, a stroke of luck looked to work in favor of the Islanders when Ratchaburi midfielder Rattana Phectaporn was given his second yellow card and sent off.
But even with a man advantage, Phuket failed to find an equalizer.
Their best attacking moment all night came on 74 minutes.
Midfielder Jongnok Wattana, who had a surprise start finally shaking off a foot injury, took a free kick near the half-way line, finding the head of Nenebi.
The header hit the cross bar and Niran Panthong had a chance to cash in, but his shot was sailed way over the cross-bar.
Phuket's Wuttipong Sittitanyakit was given his second yellow late in the game with a dangerous sliding tackle on Ratchaburi's towering Cameroonian, Bouba Abbo, who had broken through the defense in the minutes of the game.
For all highlights of the game click here.
Other Thai Yamaha One scores this weekend:
JW Rangsit 0 – 2 Khon Kaen
Songkhla 0 – 1 Suphan Buri
Krabi 2 – 0 Gulf Saraburi
Royal Navy 1 – 0 Phatthalung
Chanthaburi 0 – 2 Airforce United
Rajpracha 0 – 1 Bangkok United
Nakhon Ratchasima 2 – 2 Bangkok FC
PTT Rayong 1 – 2 Sri Racha Suzuki FC
— Steven Layne
Keep in contact with The Thaiger by following our Facebook page.
Never miss out on future posts by following The Thaiger.
Phuket police confirm speed limit of bypass road after locals complain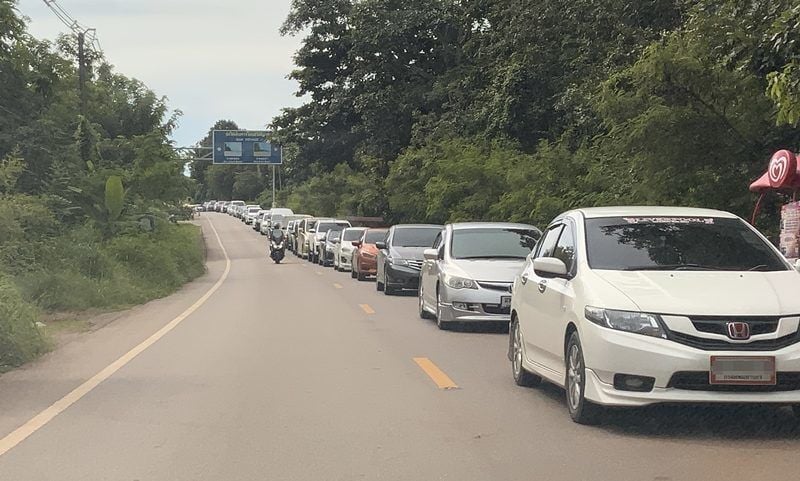 Phuket police are confirming the island's bypass road speed limit as 50 kilometres per hour. That is, despite years of back and forth between motorists and the law. The latest announcement comes after locals posted online copies of their speeding tickets, which showed the confirmed limit. The stretch of road, almost the only stretch of road where you could get a car up to 100 kph, has long been a speedway for cars, trucks and vans.
The reason they are complaining is due to the fact that they say they were under the impression that speeding tickets would only be given to those caught exceeding 100 kilometres per hour along the bypass. They say police have assured for years that this would be the case.
Phuket City Traffic Police Deputy Chief Rungrit Rattanaphakdee says that normally motorists are allowed to drive up to 80 kilometres per hour on municipality roads but the bypass road's speed limit is 50 kilometres per hour.
"Although drivers of private cars and motorbikes can drive not over 80 kilometres per hour on municipality roads in accordance with the Road Traffic Act B.E. 2522, all drivers must follow the 50 kilometres per hour signs installed along the bypass road."
But his interpretation of the law contradicts a statement in 2015 by former Phuket Highways Office Chief Samak Liedwonghat and Teerawat Liamsakun, who was Phuket City Police Chief at the time. Samak said back then, that the signs with a white background and red circle are advisory only. In other words, not mandatory. Teerawat also concurred with Samak, in 2015, by saying that the signs were advisory only but warned that drivers may have an accident if they don't comply with the advisory speed limit on the signs.
"Actually, speed is limited by law on this road [the bypass road] to 80 kilometres per hour in tessabaan (municipal) areas and 90 kilometres per hour in other parts. Our speed cameras are set to detect vehicles going faster than 100. Anyone caught going faster than that risks receiving a speeding ticket in the mail."
Now, Rungrit says the speed limit is mandatory but motorists would not be issued tickets by the speed cameras unless motorists' speeds were higher than 100 kilometres per hour.
Locals say they are still confused as they say Rungrit didn't respond as to why the motorists were being ticketed when travelling under 100 kilometres per hour as he maintains that fines are only given to those going over 100 kilometres per hour. The photos of the tickets showed most of those ticketed to be travelling at speeds of 90-99 kilometres per hour, which directly contradicts Rungrit's new interpretation of the law.
"….So far we have had tickets issued only to the drivers who drove faster than 100 kilometres per hour."
"The signs are there to remind drivers to drive carefully under the speed limit, as normally drivers drive very fast on the road, leading to accidents."
"We are trying to use technology to charge drivers' behaviour, so we use speed cameras and have tickets sent to their homes. As you can see, we never set up any checkpoint along the bypass road, except during the long holidays."
To be clear, Rungrit says the bypass road speed limit is 50 kilometres per hour, but you may be ticketed if your speed exceeds 100 kilometres per hour. That is, despite locals receiving tickets for going 90-99 kilometres per hour.
SOURCE: The Phuket News
Keep in contact with The Thaiger by following our Facebook page.
Never miss out on future posts by following The Thaiger.
UPDATE: Confusion over Covid-19 tests for visa extensions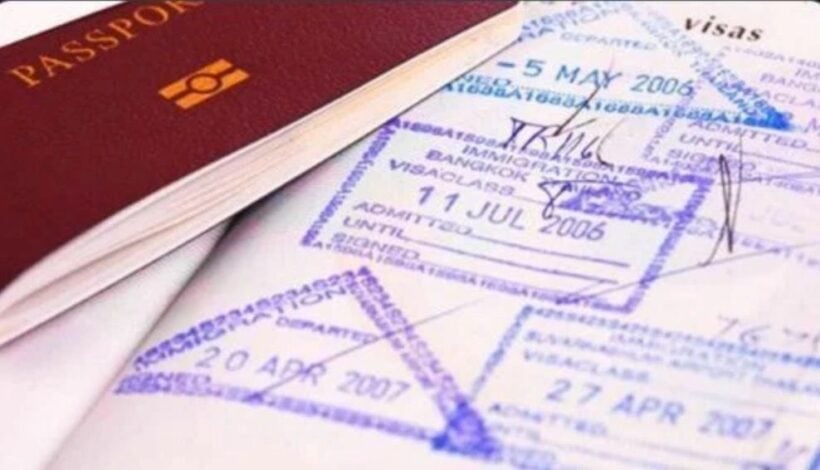 UPDATE: Khaosod English removed a story on Covid-19 tests for those seeking visa extensions and replaced it with the article "Immigration backtracks on plan to require Covid-19 test for visa extensions." They say the previous report sparked uproar among expats and immigration police spokesperson has since apologised for the misunderstanding.
Original article…
Confusion reigns today over whether Covid-19 tests will be required for visa extensions. While The Phuket News spoke with an immigration official who said "no… you don't need a Covid-19 test to extend your visa or apply for a work permit", Khaosod English wrote an article headlined "Covid-19 test will be mandatory for all visa extension".
The Thaiger also contacted a respected visa agent who said Covid-19 tests are, indeed, now required for applying for both visa extensions and work permits, even renewals.
The Thai Immigration Bureau has not made any official announcement regarding Covid-19 tests. Talk about Covid-19 tests for foreigners was brought up after a rule was published in the Royal Gazette last month, officially adding Covid-19 to a list of dangerous diseases, prohibiting those infected with any of the listed illnesses from entering the country.
Immigration Police Bureau spokesperson Archayon Kraithong told Khaosod English that proof of a negative Covid-19 test will be required for visa extensions, regardless of how long a foreigner has stayed in Thailand. On the other hand, Phuket immigration deputy chief Nareuwat Putthawiro told The Phuket News that Covid-19 tests will not be required for visa extensions or work permit applications.
"We do not require any medical documents for an application to renew a visa, because there are few foreigners' movements outside Phuket. Most of them live and work in Phuket, and have done so before the new wave of Covid-19… So they do not have to worry about it. Everything is still the same."
Medical exams are currently already required for most work permit applicants (including tests for Syphilis and Elephantiasis). A visa agent told The Thaiger that Covid-19 tests have been added to the medical examination requirements for work permit applicants. But, on the other hand, Phuket immigration says they DO NOT require Covid-19 tests for work permit applicants.
"We have not received any notices about Covid-19 requirements for processing applications to renew visas. If we do receive any such orders, we will let the public know."
It isn't the first time there has been conflicting statements coming out of different officials, in different immigration offices on different days.
SOURCES: Phuket News| Khaosod English
Catch up with the latest daily "Thailand News Today" here on The Thaiger.
Keep in contact with The Thaiger by following our Facebook page.
Never miss out on future posts by following The Thaiger.
Visitors to Phuket from "highest risk" areas must show Covid-19 test results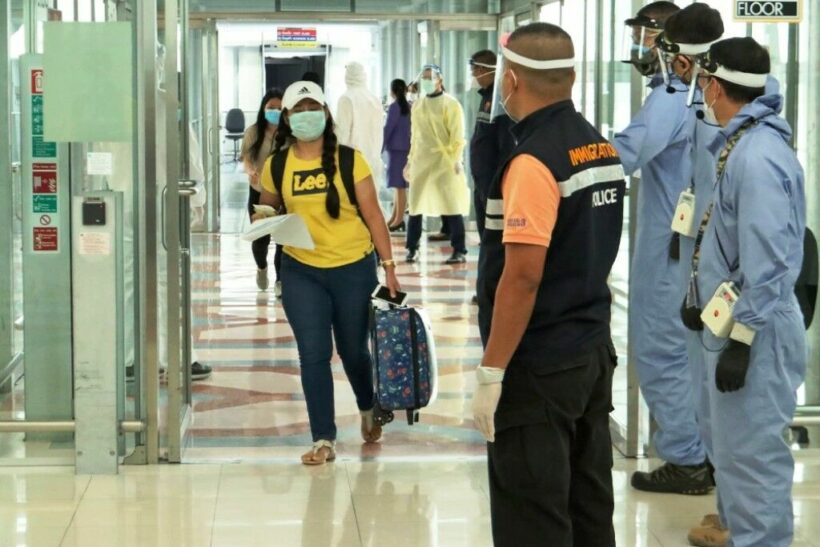 People arriving Phuket from the "highest risk" areas are required to take a swab test by the staff at emergency operation centres (EOC) or show the test result document endorsed by the EOC staff made within 72 hours of their arrival. The revised order is effective from now until January 31, according to the Phuket Governor.
Those people who are on a brief business trip to Phuket need to show certificates from their employers describing the reason and necessity of their trips. If they want to leave their accommodations, they have to make a request to the EOC and clearly explain the reason as well as the time and destination. Visitors are also asked to avoid going to the community areas to avoid crowded gatherings.
It is noted that the revised order by the governor has not been officially promoted by the Phuket office of the Public Relations Department. However, all visitors are still asked to register online via the Mor Chana contact tracing application and via www.gophuget.com according to the order re-issued on Friday.
SOURCE: Phuket News
Keep in contact with The Thaiger by following our Facebook page.
Never miss out on future posts by following The Thaiger.