Phuket Sports: Breaking free from the fear of choking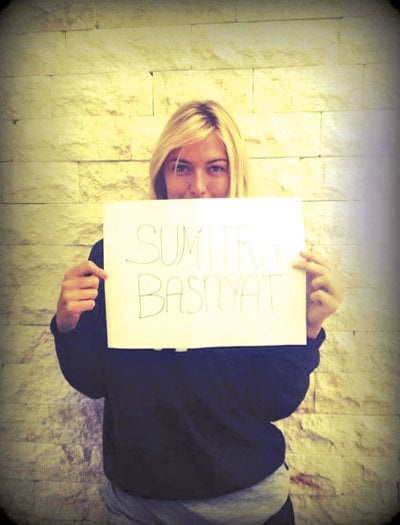 PHUKET: It's been an eventful few weeks with Sumitra "Dear" Basnyat winning the inaugural Sugarpova contest and playing events in Bahrain and Bangkok.
Sumitra concluded a major change with her equipment sponsor, which means for the next critical phase of her career we will be using and promoting Pacific racquets/grips and strings.
Maria Sharapova launched her Sugarpova candy brand a few months back and each month someone wins free candy. Sumitra was the first winner and she was delighted to have Maria hold up her name.
For this article, I would like to address a common problem, which affects many people (including Sumitra) and causes distress in several areas of their lives.
The effect is commonly known as "choking" and it is a tightening feeling, which results in poor performance and can make people panic when under stressful situations such as: public speaking, interviews, exams and pretty much anything that involves you wanting to perform or make a good impression.
At the start of tournaments, you see many young players practicing well, hitting it hard and looking very strong.
Parents and coaches look pleased and everything seems in place.
Once the event begins, however, it can be like watching different players. They often get caught up in the emotional pressures that come with the knowledge of sacrifices and commitments that have been made for them to be able to play. It can just become too much to cope with.
At the professional level, possibly the most famous "tennis choke" ever was the Novotna v Graf Wimbledon final of 1993. Novotna was 4-1 and 40-30 up in the final set, but her serve simply deserted her; she lost and wept on the Duchess of Kent's shoulder at the awards presentation.
It was really pleasing to see her win years later in 1998.
And even the great Federer suffered in the Davis Cup semifinal in 2003, losing to Hewitt 6-1 in the 5th after holding a two set lead and a break in the third.
Many top players discuss "choking" in their autobiographies as just something you have to go through as a young player. It's just that some struggle and take longer to conquer it than others.
Many people think it only affects shy and unconfident people, but this isn't true. It can affect anyone at anytime, and even confident people, who have taken a knock back, can then be concerned about future scenarios, and that worry could then potentially lead to a 'choke' performance.
How to solve the problem?
The four key areas are breathing; visualization; creating a good environment; and to focus on the task in hand.
Regulating your breathing pattern is crucial to controlling emotion and that in turn will help you to keep a clear head when needing to make decisions at critical times.
Visualization, is the process of mentally rehearsing the situation and replacing negative reactions and thoughts with the positive responses you wish to occur.
To create a good environment is key to being able to relax early and having a good experience. Even top athletes and performers sometimes build situations up too high and then can't control the situation/environment that they themselves have mentally created.
Last but not least, is to focus on the task in hand. The best way of not being affected by past experiences and previous mental baggage, is to just focus on the moment and deal with things instinctively and naturally.
You don't have to live in the grip of choking, it can be dealt with. You can break free!
Darran can be contacted with questions or comments by email on darranferre@hotmail.com.
— Darran Ferre
📱 Download our app on Android or iOS for instant updates on your mobile
📧 Subscribe to our daily email newsletter
👍 Like/Follow us on Facebook
🔔 Subscribe to or Join our YouTube channel for daily video updates
Pattaya, Phuket and Hua Hin brace for increased restrictions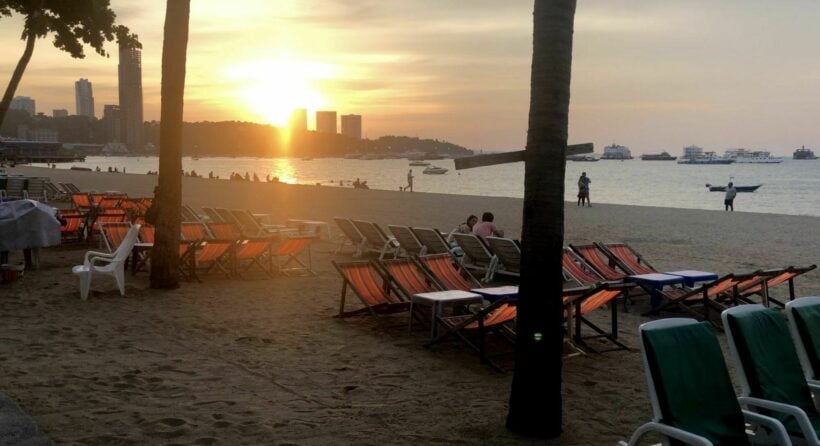 Three of Thailand's biggest expat areas are seeing sharp rises in new infections, partly from pre-Songkran traffic. The Songkran holidays, now officially over (but will see many people taking today off and making a weekend Songkran extension), and the government says they are expecting to see a rise in the cases numbers reported in the popular holiday locations.
Chon Buri Public Health office says they now have a total of 910 infections since April 1. They have 103 new cases in the past 24 hours. Most new cases are in Bang Lamung district which includes Pattaya City with 47, Siracha with 12) & Chon buri City with 8.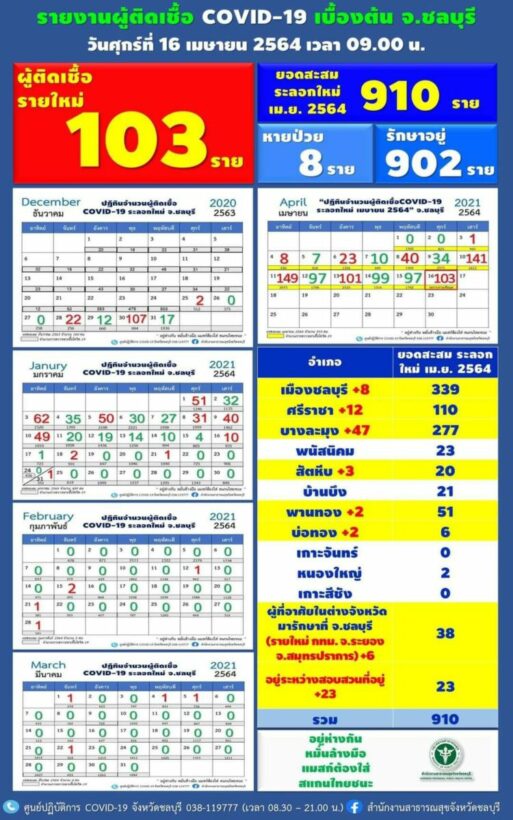 Meanwhile Phuket has a total of 142 infections recorded on the island with the Governor still insisting there will be no need for a lockdown. Here's a breakdown of the areas and the numbers of recorded infections so far (below).
Governor Narong announced that the Phuket Infectious Disease Control Committee won't be implementing an official lockdown, but will "strictly raise the intensity of public health measures to counter the spread of Covid-19″.
"Everyone should wear a face mask, maintain social distancing, wash their hands frequently and install the Mor Chana app (available for free from App Store and Google Play Store)."
A meeting of the CCSA, chaired by PM Prayut Chan-o-cha is expected to upgrade restrictions in red zone areas around the country, which includes Phuket and Pattaya. Read more about the latest red and orange zones HERE.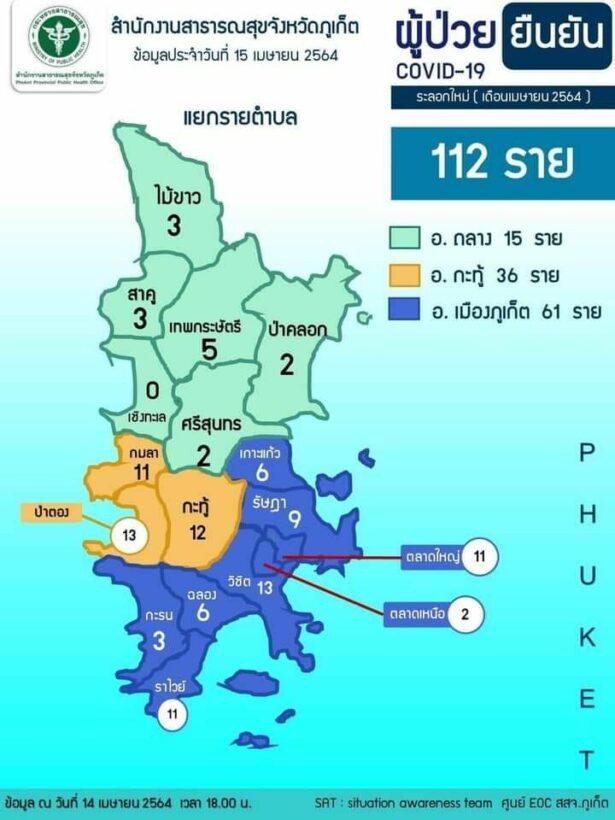 For Hua Hin expats, there's been 100 new Covid-19 infections announced in Prachuap Khiri Khan in the past 24 hours, 75 cases from Hua Hin. This takes the total in the province since April 1 to 625. Hua Hin accounts for nearly 90% of the district's total cases.
📱 Download our app on Android or iOS for instant updates on your mobile
📧 Subscribe to our daily email newsletter
👍 Like/Follow us on Facebook
🔔 Subscribe to or Join our YouTube channel for daily video updates
Footbridges stop luxury yacht travelling from Phuket to Samui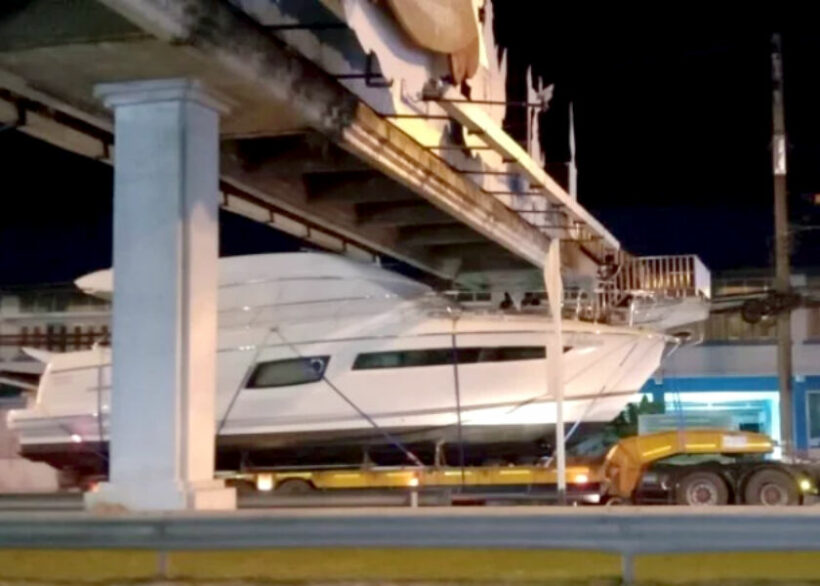 Footbridges in Phuket stood in the way of a luxury yacht travelling from its home in Phuket to Koh Samui when the boat was too tall to pass. Police received a call around 8 pm last night from the truck driver after his trailer carrying the yacht had trouble getting under one of several bridges for walkers to pass over the highway. The boat was travelling down Thepkrasattri Road, where it was stopped by the bridge near Baan Tha Reua School. The boat also had trouble at the pedestrian bridge at the Provincial Electricity Authority Thalang Branch and the bridge at Baan Lipon School in Srisoonthorn.
All the bridges were supposed to have a 5-metre clearance, though one observer speculated that all the repaving of the road over the years may have raised the road and lowered the clearance. Traffic police responded to the first bridge incident by sending officers to direct traffic and make sure bikes and cars didn't pass and impeded progress on freeing the boat. The second incident about 30 minutes later was resolved by letting air out of the truck's tires to lower it just enough to pass under the bridge. The third snag prompted the driver to go in person to the Thalang Police station to request help yet again.
This time police were less amused and suggested the truck driver try to resolve the issue himself and call back to the police only if he was unable to free the luxury yacht. A traffic police officer went to follow up with the stranded boat at the end of his shift and found the driver had given up and decided to return the yacht to its Phuket origin at Boat Lagoon Marina in Koh Kaew. The boat, now damaged from the bridge bumps, wasn't going to make it to Surat Thani to be sailed to Koh Samui on this journey. The boat radar had broken off on one of the bridges. No word on any major damage to the pedestrian bridges.
SOURCE: The Phuket News
📱 Download our app on Android or iOS for instant updates on your mobile
📧 Subscribe to our daily email newsletter
👍 Like/Follow us on Facebook
🔔 Subscribe to or Join our YouTube channel for daily video updates
Hotel blog suggests Phuket should push ahead with July reopening despite Covid surge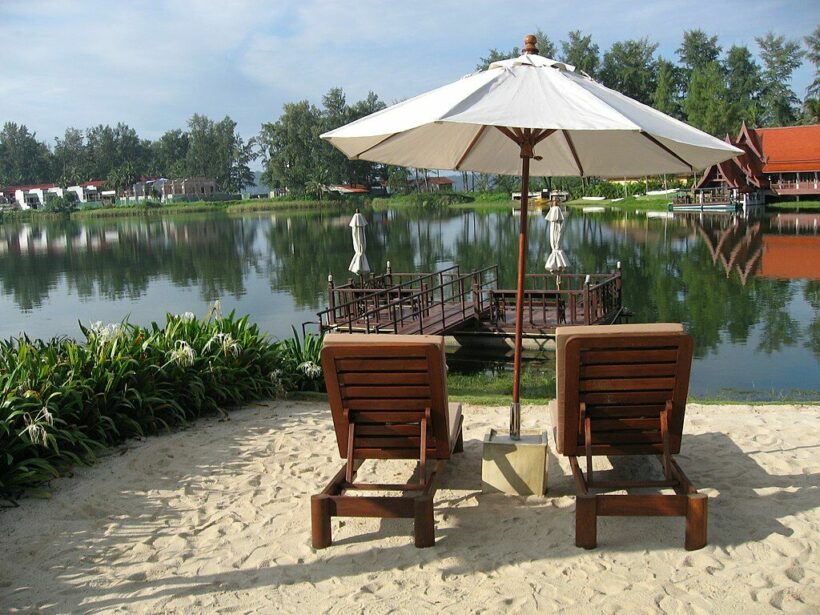 A hotel information blog is claiming that, despite growing Covid-19 numbers, Phuket should stick to its schedule in reopening to travellers without quarantine in July. That's only 2 and a half months away.
In an interview with the Director of Travel and Tourism Consulting at GlobalData, they stressed that while it is crucial to rein in the spread of Covid-19 and the B117 strain now menacing Thailand, the risk must not overshadow the need to push forward with vaccinations and the march towards eliminating the quarantine by July in order to save the tourism industry and all those dependent on it.
"The Phuket pilot program is essential in creating a path towards economic recovery for Thailand, a country heavily dependent on tourism. More than 17% of Thailand's gross domestic product is attributed to tourism and the Covid-19 pandemic has lead to the worst economic free-fall in over 20 years"
The blog acknowledges the inherent risk and possible appearance of foolishness to prioritise the plans to reopen and carry on with the same rollout schedule. But they urge Thai authorities to consider that July 1 is still 2 and a half months away, leaving ample time to recover and make progress towards the approaching Phuket reopening. A vital aspect of the reopening plan lies in vaccinating over 70% of Phuket's provincial residents, a sizable task, but one that brings great benefit with or without the scheduled reopening.
"Pushing ahead to achieve this goal puts Phuket on track to welcome back tourists, perhaps in a "bio-bubble", and restart the economy. The economy is desperate with household debt growing, pushing the government to enact emergency decrees to provide relief. These households need the return of tourism and the influx of cash international tourists will bring."
The blog hopes that Thai authorities can balance the necessary Covid-19 safety measures in Phuket to protect the Thai population with the economic need to bring back tourism. They believe that with sufficient measures in place, vaccinated locals could welcome vaccinated international tourists back to Phuket reopening safely in July.
SOURCE: Hotel News Resource
📱 Download our app on Android or iOS for instant updates on your mobile
📧 Subscribe to our daily email newsletter
👍 Like/Follow us on Facebook
🔔 Subscribe to or Join our YouTube channel for daily video updates