Phuket Sports: Avram grants an audience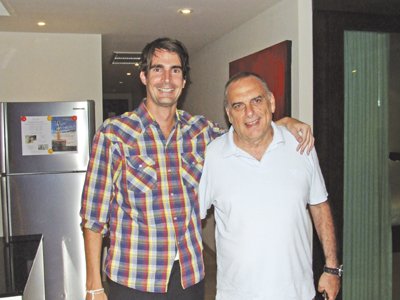 PHUKET: Famous football manager Avram Grant is a softly spoken man who spent his formative managerial years in Israel coaching Maccabi Haifi, Hapoel Haifi and the Israel
national team.

The Israeli took over as manager of Chelsea in 2007 and brought them to the brink of a Champions League final victory, only for a John Terry penalty miss to snatch it away.

He led Portsmouth to the FA Cup final in 2010, the same season they went into administration. He then managed West Ham the season they were relegated and recently helped guide Partizan Belgrade to their fifth successive Serbian Championship before resigning earlier this year.

The Phuket Gazette's Andrew Scott spoke with Avram Grant at Serenity Resort and Residences in Rawai, Phuket.

Phuket Gazette: How did you find the transition from coaching the Israel national team and coaching club teams in Israel prior to coaching Chelsea?
Avram Grant: For me it was not a big surprise. Since the age of 22 I had visited England five times each year and was in Europe to study.

I was Bob Paisley's guest at Liverpool and I watched training for one week to 10 days – watching games to see how the club was run. Arsene Wenger and Alex Ferguson are friends, so it was not something I didn't know before.

I thought that I could give something to English football and it could give something to me.

Why did it take you so long to leave Israel?
Even if you look at England now, there is no coach or manager from a small country. It's very difficult for them to accept someone from a small country.

People only really noticed me when they watched the Israeli national team's qualification for the 2006 World Cup in Germany, where we didn't lose a game and missed out on qualification by only two goals.

Who is the best Israeli player you have worked with?
I have worked with many good Israelis, but if I was to choose one it would be Yossi Benayoun who has played for Arsenal, Chelsea and now plays for West Ham. I think he is the most famous one. I started to coach him in 2000 when he was 19-years-old. Then we won the championship with Maccabi Haifi in Israel.

After Israel he moved onto Spain and to England. He is the type of player I believe in because he is also a very nice person.

What makes him so special?
He is very clever and can think a lot quicker than other players with or without the ball. I have to admit I was not so sure he would succeed in England as he is not so physical. He is an intelligent player that can help the dynamic players around him.

Why do you think fewer English players play abroad?
I don't know if you know the color of the money (laughs)? I think [for] two reasons. First: it is the most exciting league in the world. Stadiums are always full, even if you go to the Championship – the stadiums are always full. A football player is like an actor, he wants to play where everybody will see him. Second: Money.

Players always get paid on time. When I was at Portsmouth the owners didn't pay on time and this was a big thing in England.

When you took over from Jose Mourinho at Chelsea, was it hard to leave his shadow?
I can tell you that one of my friends sent me a message saying, 'I don't know if you know what you are doing to [take over] after Jose Mourinho'. I knew it would be very difficult and that all the world expected I would fail after Mourinho.

As I have done all my life, I took on the challenge and only thought about what was best for the team. It was not easy but it was a big challenge.

Do you think your time at Chelsea was a success?
Some of the players said at the time that they didn't think any other manager could've taken over after Mourinho and carried the team the way that I did. When I first saw them, the team was not good, nor was the atmosphere.

With me they were almost the champions of England. We came down to the last game on the same points as Manchester United, which nobody was expecting when I started, and then the Champions league final. It was a very good season and a good base for Chelsea for the future.

Did you feel hard done by losing your job after the Champions league final?
Yes. When you become a manager you expect everything but football changes… you are [only] as good as your last result. My last result was good and other results were good [but] it was a decision from the owner. I didn't even ask him why. I moved forward and had good days after that.

What are your views on the John Terry racism case after working with him for so many years?
It is good to fight against racism but I think it went a little bit too far.

John Terry is not a racist. Even though he said a few words he didn't need to say. But, we are playing football. If we played here five on five, maybe also we would say something that is not so nice. It is good to fight against racism.
— Andrew Scott
Keep in contact with The Thaiger by following our
Facebook page
.
Never miss out on future posts by
following The Thaiger
.
Phuket police arrest 6 after finding large amounts of methamphetamine in raid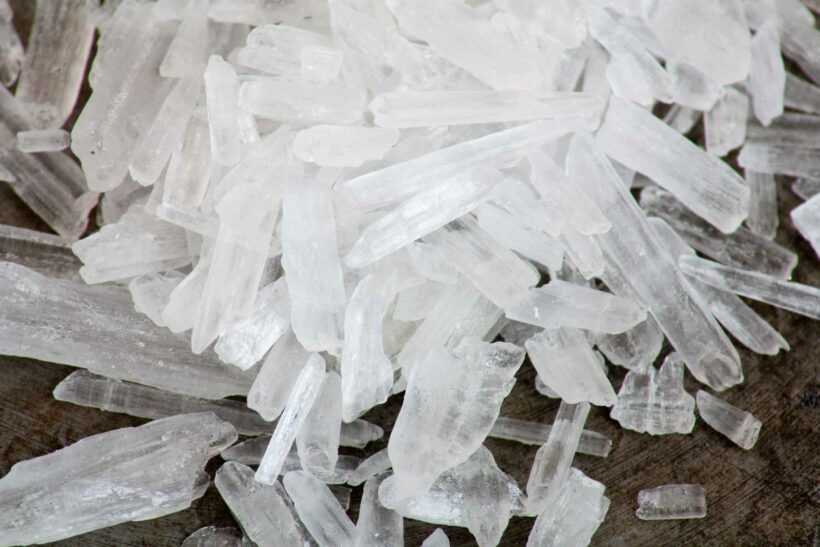 Phuket Provincial Police have arrested 6 people after finding large amounts of methamphetamine and other drugs during a raid. One suspect alone allegedly had 7.6 kilograms of crystal meth (ya ice) and over 12,500 methamphetamine pills (ya bah). 29 year old Surasak 'Bank' Wijit and 27 year old Panida 'Mei' Saeyang were arrested at an apartment car park in Soi Lookkaew, Moo 6, Rassada, in eastern Phuket, after they were found in possession of the drugs.
Police also found 2 mobile phones and a red Honda PCX, registered in Phuket, as evidence. Both suspects have been charged with posessing a Category 1 drug with the intent to sell.
Other suspects arrested at the same time include 36 year old from Chiang Rai, 42 year old Sarawut 'An' Srichanon, from Ranong and 31 year old Pornthep 'Iew' Thepchampa, who were charged with the same crimes in Chalong after police found more drugs in their possession. 33 year old Kamon 'Kung' Sae-ngow, was arrested as well after police found kratom juice and leaves at a house in Rassada. He was taken to Phuket City Police station and was charged with a Category 5 drug possession.
SOURCE:The Phuket News
Keep in contact with The Thaiger by following our
Facebook page
.
Never miss out on future posts by
following The Thaiger
.
Phuket Muay Thai fighter is the first Thai national to compete in UFC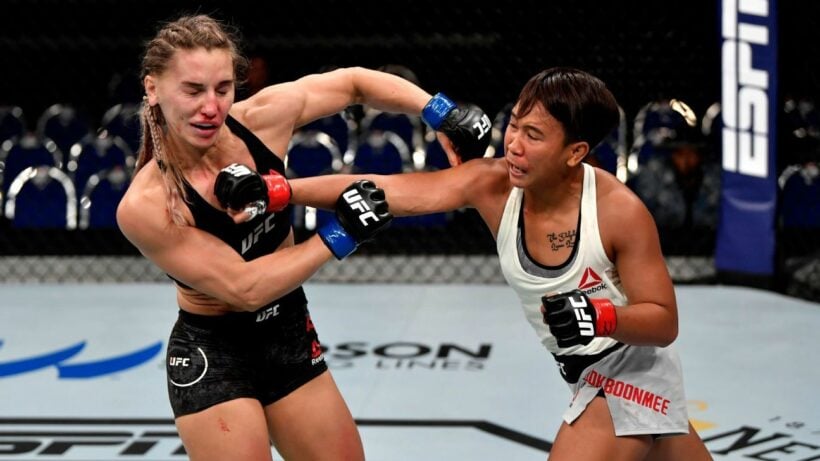 The upcoming Ultimate Fighting Championship Fight Night event in Abu Dhabi will feature Thailand's only national marking her third fight with the UFC, the world's largest mixed martial arts competition. 24 year old Loma Lookboonme, from Burirram in northeastern Thailand, will fight in the event on October 3, 2020.
Loma is a Muay Thai fighter who has adapted her MMA skills to fight in the UFC where she currently trains at the Tiger Muay Thai gym in Phuket. Loma qualified for the national team at the age of 19 and has fought in over 12 nations worldwide. She currently trains 6 days a week starting daily at 6:30am with a 3 kilometre run. In the UFC, she will be competing against China's Angela Lee who is the undisputed champion of the 52 kilogram fist weight category.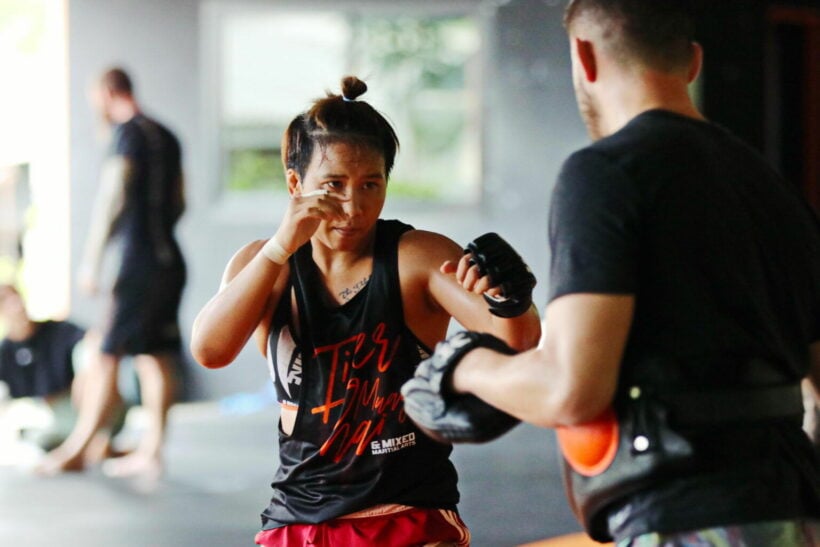 Loma's parents are former Muay Thai fighters and her 2 sisters currently compete as well. She reportedly started training at 8 years old after being inspired by her father, whom she describes as her "hero."
Like most Thais in such fighting sports, Muay Thai offers a way to rise out of poverty-and fighting for the UFC can be financially lucrative. But Loma says her only Thai sponsor is the gym where she trains, with the rest of her sponsors being from foreign brands. She says she is trying to get more Thai sponsors but feels that maybe she needs to win the UFC first before Thai brands notice her.
Loma lost her last fight and says her new opponent gives her nothing to lose. She says her goal is to get into the Top 10, but is not sure when it will happen. Loma says for now, it would be good to fight against someone in the Top 10 to help her prepare for her future.
FULL INTERVIEW: Thisrupt.co
Keep in contact with The Thaiger by following our
Facebook page
.
Never miss out on future posts by
following The Thaiger
.
Phuket airport ready for tourists after finishing Covid screening labs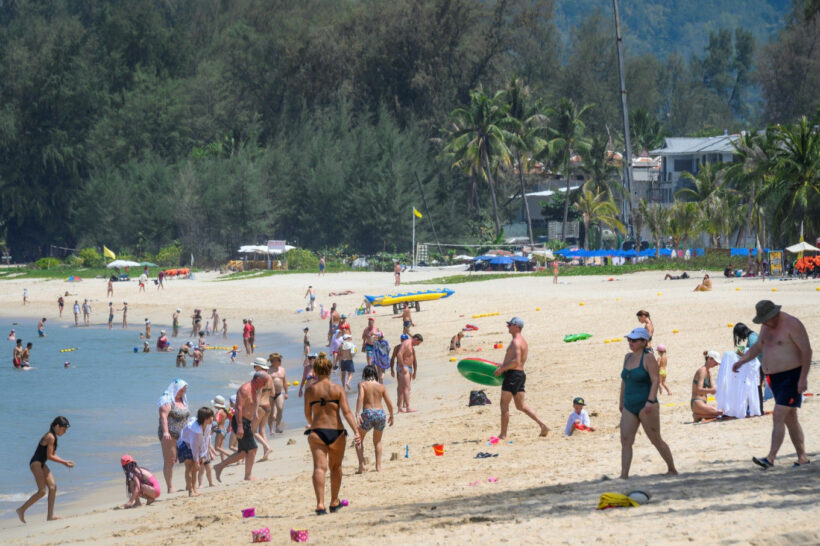 Phuket Airport is officially ready for tourists as authorities say they have finished installing Covid screening labs in an effort to welcome international travellers. The 5T Model for Covid-19 is being used at the airport with the goal of screening large groups of people in a quick and efficient manner. The Phuket health chief says the 5T's stand for Target, Testing, Treating, Trusting and Tracing.
Phuket has one large airport at the north end of the island but is separated into two separate terminals – a domestic terminal (the original airport terminal), and a new international terminal opened in 2016.
The target category refers to the target groups of tourists while the tracing stands for software that will be used to monitor their movements. The testing category refers to Covid tests that will be implemented to travellers upon arrival along with the treatment and trust categories signifying the readiness of resources for medical treatment and confident communications between all parties respectively.
The Covid-19 lab container module has been set up at Phuket airport's Terminal X (the terminal opened for charter flights opened in 2014) and will be tested tomorrow with its operation to start on September 30. As large groups of tourists could arrive (later in the year, the lab is reportedly capable of testing 96 people at a time with test results becoming available in 6 hours. What the airport would do withe tested passengers whilst waiting for 6 hours, has not been detailed at this stage.
Such a readiness plan to welcome foreign tourists originally singled out Phuket due to its popularity with travellers, and as a so-called guinea pig model to test in a controlled environment (Phuket is an island joined to the Thai mainland by a single 300 metre road bridge). Once dubbed the "Phuket Model", authorities have proposed to rename the plan to "Special Tourist Visa" due to the confusion and opposition it reportedly caused. The scheme is reportedly now being proposed for all areas of Thailand but only allowing foreigners from specific countries.
SOURCE: Pattaya Mail
Keep in contact with The Thaiger by following our
Facebook page
.
Never miss out on future posts by
following The Thaiger
.