Phuket Sport: Inaugural Thanyapura Junior Challenge triathlon winners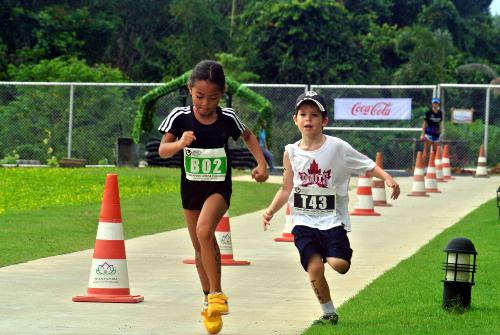 PHUKET: Hundreds of junior athletes and spectators alike turned up at Thanyapura Phuket this morning to participate in the inaugural Thanyapura Junior Challenge triathlon event, which turned out to be a special and timeless day for many.
Indeed, the spirits of staff, local media, peers, parents and relatives were seemingly unhindered by the morning's blistering heat and humidity; supporters wholeheartedly and energetically cheered on from the sides in support for the courageous and talented youth triathletes, aged 4 to 18, in their respective mini-triathlon legs – swimming, cycling and running – courses on and around the lush and scenic Thanyapura in Thalang.
Presiding over the event were newly appointed Thanyapura executives – CEO Michael Gilliam and Executive Chairman Chris McCormack. (Click here to read about their recent appointments.)
All finishers were awarded a medal and, it goes without saying, the invaluable boost of confidence that comes with such great accomplishment.
Following are the top three finishers in each category:
Under 6 (overall/swim/bike/run/TR1/TR2 – minutes:seconds)
1. Timofei Aleksandrov (17.46:0/1:34/12:30/1:38/1:17/0:49)
2. Chiara Jessica Egger (24:16.2/1:26/18:30/1:43/1:47/0:53)
3. Logan Starr (27:55:2/1:31/19:50/1:58/3:13/1:26)
7-8 years old
1. Rowan Mccallum (13:28.0/0:58/9:08/1:17/1:21/0:46)
2. Pind Chintakanon (14:28.6/0:53/8:50/2:14/1:43/0:51)
3. Nelson Schwalb (14:43.5/1:03/9:39/1:38/1:37/0:49)
9-10 years old
1. Matthew Trott (20:55.7/2:28/10:37/6:04/1:10/0:39)
2. Randall Liew (21:44.4/2:41/10:50/6:29/1:08/0:39)
3. Samuel Compton (22:01.5/2:53/10:30/6:45/1:15/0:40)
11-12 years old
1. Russell Liew (19:06.5/2:13/9:28/5:46/1:04/0:38)
2. Lachlan Kimpton (19:49.6/2:23/10:13/5:27/0:56/0:54)
3. Kantawat Chawaldit (19:56.7/3:02/9:53/5:19/1:11/0:33)
13-14 years old
1. Chris Thomson (36:41.0/4:31/17:43/12:55/0:58/0:37)
2. Ryan Qai Shen Tan (37:29.4/4:26/17:57/13:27/0:58/0:43)
3. Adi Shazli Azreee (39:26.2/4:49/18:28/14:09/1:01/1:02)
15-18 years old
1. Caleb Sadler (34:34.5/4:41/16:42/11:42/0:51/0:41)
2. Dylan Whitcraft (41:25.7/5:38/18:02/15:08/1:22/1:18)
3. Jin Sen Lee (41:32.1/6:51/20:16/12:40/1:07/0:40)
Junior Relay
1. R-2 M (20:17.5/1:29/14:48/1:25/1:45/0:53)
2 HeadStart Panthers (20:47.0/1:24/15:48/1:25/1:14/0:59)
3. Fire Dragons (22:06.7/1:33/16:24/1:44/1:23/1:05)
Intermediate Relay
1. BIS Awesomeness (44:00.9/24:24/12:07/5:42/1:07/0:43)
2. Angry Birds (45:19.8/24:06/12:54/6:43/0:59/0:40)
3. The LCDs (46:03.0/24:35/13:47/5:46/1:06/0:51)
Senior Relay
1. Morokco Junior (35:41.2/5:41/16:40/11:52/0:51/0:39)
2. Muang Thalang 11 (41:35.4/7:32/18:48/13:43/0:57/0:37)
3. Muang Thalang 8 (46:27.5/9:03/20:24/15:04/1:04/0:55)
For full results, click here.
— Steven Layne
Phuket News

Join the conversation and have your say on Thailand news published on The Thaiger.
Thaiger Talk is our new Thaiger Community where you can join the discussion on everything happening in Thailand right now.
Please note that articles are not posted to the forum instantly and can take up to 20 min before being visible. Click for more information and the Thaiger Talk Guidelines.