Phuket
Phuket Raceweek: Foxy Lady breezes to victory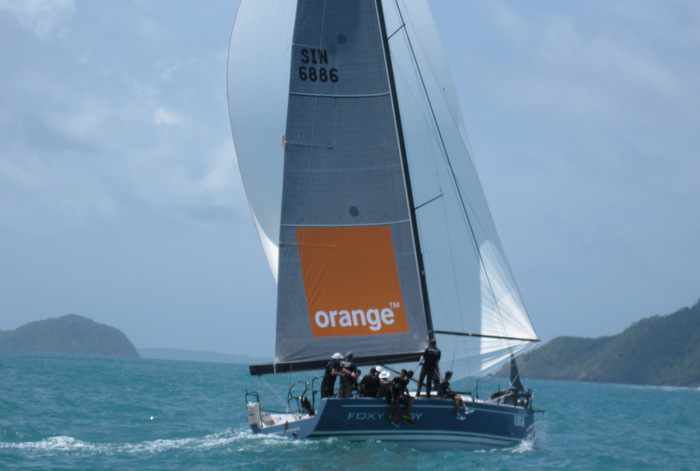 PHUKET: Bill Bremner's Foxy Lady VI breezed around the course off the east coast of Phuket today to win the IRC Racing I Class of the 2014 Cape Panwa Hotel Phuket Raceweek Regatta.
Placing fourth in today's race was little more than a formality for the too-hot-to-handle Foxy Lady (story here) crew to ensure they had enough points to allow one discard after racing was abandoned yesterday due to lack of wind.
Foxy Lady's nearest rival, Paul Winkelmann's Island Fling, out of Hong Kong, finally climbed to the top of the podium for their win today to finish the regatta in second place overall in the class.
Peter Ahern's Oi! placed third today on corrected time to close the regatta in third place overall.
Red Bull Racing Australia Principal Roland Dane's Jessandra II secured top honors in the IRC Racing 2 class with a clean sweep. After amassing an unassailable lead in the first two days of racing, the crew rounded off the regatta today with their fifth win in five races.
To guarantee second place in the class overall, all Greg Reynolds' Foreign Affair had to do was cover John Vause's Ruby Tuesday, and that they did with the boats crossing the finish line in fifth and seventh places, respectively.
However, Stuart Williamson's Skandia Endeavour of Whitby from Malaysia placed fourth in today's race in an interesting twist. A third-place finish would have drawn them level with Ruby Tuesday in the final standings.
Instead, the third-place overall podium place went to Ruby Tuesday by a single point.
Phuket yachtie Alan Carwardine and his crew on Asia Catamarans Hurricane secured top honors in the Multihull Racing class today with a third-place finish.
Zam Bevan's Corsair trimaran Bullet closed the regatta with a win today to give the crew's first outing in an international regatta a third place overall.
Consistent quality sailing by John Coffin's Java, scoring one first and four second-place finishes, staked their claim to second place overall with a second-place finish today.
In the Firefly 850 class, John Newnham's Twin Sharks lost their second race in the regatta, coughing up first place to Hans Rahmann's Voodoo in today's outing.
However, Twin Sharks scoring three wins and a second in the first four races in the regatta was enough carry them to victory and successfully defend the title of champions in the Firefly class.
Neil Ayre's Advanced Racing Mamba, although disqualified from Race 4 after a protest, placed third today to secure second place overall in the class with eight points, with Voodoo placing third overall on nine points.
Yet the scuttlebut of the regatta is sure to be the final day commotion in the Cruising class. Despite a win today, totalling three wins in four races, Mike Downard's Sail in Asia Pinocchio did not win the class.
Top honors instead went to Richard Barnhurst's Hedonist, which scored three second places and one first in the four days of racing.
After scoring two firsts in the first two races, Downard and his crew of youngsters on Sail in Asia Pinocchio retired after finishing (RTF) in Race 3.
As ISAF rules require five races to be completed in order to be able to discard a team's worst result, Sail in Asia Pinocchio was awarded full points for Race 3 – which handed first place overall to Hedonist.
Transpac racer Patinyakorn "Ging" Buranrom on Sansiri Windstar placed third overall.
Patience and practice proved a challenge for the crews today. Light winds finally pushed in from the east – very unusual at this time of year – to allow racing to start at midday, after a two-delay to race start.
Regardless, Principal Race Officer Simon James still managed to send the cruisers on a passage race around the outlying islands off the east coast, with classic yachts heading out on a longer windward mark, and the rest of the classes racing windward-leeward legs around the cans to the south of Koh Lone.
"It was a especially difficult to organize races with winds shifting like this, but in all it was a successful regatta," James said.
Organized by Media Business Services, the Cape Panwa Hotel Phuket Raceweek Regatta, now in its 11th year, has become a benchmark yachting event on the Asian yachting circuit.
This year's edition attracted a fleet of 33 yachts and more than 400 racers and support members from at least 11 countries, including Russia, China, Australia and Germany.
All of today's results reported above are provisional and subject to any protests yet to be filed.
For the full race results of the Cape Panwa Hotel Phuket Raceweek Regatta, click here.
For more information go to phuketraceweek.com, facebook.com/PhuketRaceweekRegatta, twitter.com/phuketraceweek and youtube.com/phuketraceweek
The Phuket Gazette and PGTV's 'Phuket Today' show, the island's only nationally broadcast television program (aired daily on True Visions channels HD-79 and SD-107), are proud to sponsor the Cape Panwa Hotel Phuket Raceweek 2014.
— Chris Husted