Phuket PAD protest; oil drills defended; Bangkok bombs; economy booms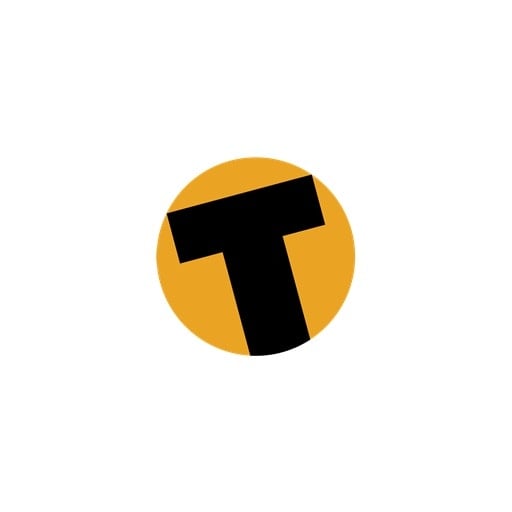 Phuket NEWS Hound
– A daily digest of news about Thailand from around the world, compiled by Gazette editors for Phuket's international community.
Phuket PAD adding fuel to temple fire
Phuket members of the People's Alliance for Democracy are on their way to Bangkok this morning to join a rally at Government House.
The Phuket contingent wants to help the 'yellow shirts' put pressure on the government to resolve the ongoing dispute over the Preah Vihear temple.
Prime Minister Abhisit Vejjajiva thinks it's a bad idea.
"Frankly speaking, the rally could make the situation more complicated, but if they really want to hold the demonstration, it should be done in accordance with the law," he said yesterday.
PAD leader Chamlong Srimuang has called for a demonstration in front of the prime minister's office on Saturday to demand the government revoke the Memorandum of Understanding (MOU) on boundary demarcation signed with Cambodia in 2000.
The MOU, which recognizes the Siam-French demarcation map, would allow Cambodia to claim Thai territory, Chamlong said.
"As Thai citizens, we have the duty to protect our sovereignty," he said.
With Bangkok still under a state of emergency, any public gathering of more than five people is prohibited. However, Abhisit declined to say if the emergency law would be enforced to block the PAD protest.
PAD Phuket coordinator Aparat Chartchutikumjorn is low key about her group's participation in the controversial rally.
"We just want to present a letter that asks for clear information about the agreement that Natural Resource and Environment Minister Suwit Khunkitti signed with UNESCO, as we are afraid that he might have signed an agreement with Cambodia [that infringes on Thai sovereignty]," she said.
For further background on the escalating temple dispute and the PAD-Phuket participation in it, click here.
Offshore drilling: Phuket spared for now
The Jarkata Post
Though silent on future oil exploration off Phuket, the prospect of drilling in the Andaman moved a step closer on Wednesday when Energy Minister Wannarat Channukul announced that Thailand plans to move ahead with drilling off the coast of Koh Samui, despite feverish protests from environmentalists and the tourism industry.
The Jakarta Post yesterday reported that the Thai energy minister rejected calls to scrap plans to operate four offshore drilling rigs, and quoted him as saying: "I believe that energy and tourism can move forward together."
The minister claims the objections on Samui were [somehow] based on a "misunderstanding".
But there appeared to be no misunderstandings among the protesters on Samui and in Bangkok on Monday. (See Phuket News Hound report here.)
The energy minister contends that the government would risk legal problems if it were to "annul" exploration contracts apparently already granted for the Samui area.
The drilling is scheduled to take place in exploration blocks belonging to Chevron and three smaller oil companies: NuCoastal, a wholly owned subsidiary of the London-headquartered Coastal Energy Company; Salamander Energy of the UK; and Pearl Oil Thailand, part of Singapore-based Pearl Energy.
Although there have for at least 15 years been concession blocks for drilling off Phuket, none of the oil companies has yet to commence operations there.
Increased bomb checks in Bangkok
Today Online
Thai police increased checkpoints in Bangkok's business areas on Wednesday after receiving a tip-off that bombs could be placed in cars and motorcycles, as well as in trash cans and bags.
"We have to take every tip we receive seriously," said a police spokesman.
Last week, Bangkok was hit with two grenade attacks that killed one person and wounded about a dozen.
Thai Prime Minister Abhisit Vejjajiva asked the public to alert authorities to any acts of sabotage after intelligence reports indicated that opponents may target cars as bomb sites.
"If we get public cooperation, sabotage won't happen easily," the prime minister said.
Surge in Thai economic growth
Bloomsburg Business Week
Thailand's economy may expand as much as 8 percent this year, the fastest pace since 1995, as surging overseas shipments help spur a recovery from the nation's worst political violence in almost two decades.
"We are surprised by the rebound in exports and also the level in private investment and consumption," Finance Minister Korn Chatikavanij said late yesterday.
"Even with the political crisis, we can expect 7 percent. If things hum along the way they are, perhaps 8 percent will be achievable," he said.
The central bank increased its benchmark interest rate last month for the first time in almost two years as the export-led rebound helped blunt the effect of clashes between troops and anti-government protesters that caused 89 deaths in April and May.
— Gazette Editors
Keep in contact with The Thaiger by following our
Facebook page
.
Never miss out on future posts by
following The Thaiger
.
Woman arrested for abandoning newborn baby on a bench in Phuket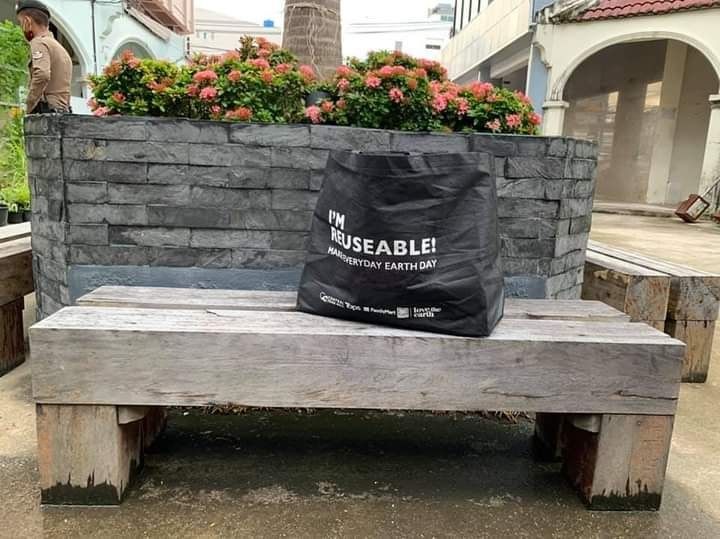 Police tracked down and arrested a Burmese woman who allegedly left her newborn baby on a bench in Phuket's Patong area last week. The mother faces charges of abandoning a baby.
The newborn was left in a reusable shopping bag on a bench behind a Krungthai Bank branch. A woman in the area heard the baby crying and found the newborn in the bag along with a bottle of milk, diapers and clothing. Police reviewed surveillance camera footage shows a woman, police later identified as Ei Ei Phyu, leaving the bag on the bench.
Police say the woman gave birth on September 9 at a local hospital in Surat Thani's Phun Phin district. Ei Ei allegedly took a van from Surat Thani to Phuket on September 22 and stayed with a friend in Patong. The early the next morning, she allegedly left her baby on the bench before boarding a bus back to Surat Thani.
Burmese workers in the Patong area told police Ei Ei used to work at a local Indian food restaurant before she moved to Surat Thani to work as a rubber tapper. Ei Ei allegedly told police she is not in the position to raise a child.
In earlier reports, police said the baby is healthy and does not appear to have any injuries.
SOURCE: Bangkok Post
Keep in contact with The Thaiger by following our
Facebook page
.
Never miss out on future posts by
following The Thaiger
.
Phuket police arrest 6 after finding large amounts of methamphetamine in raid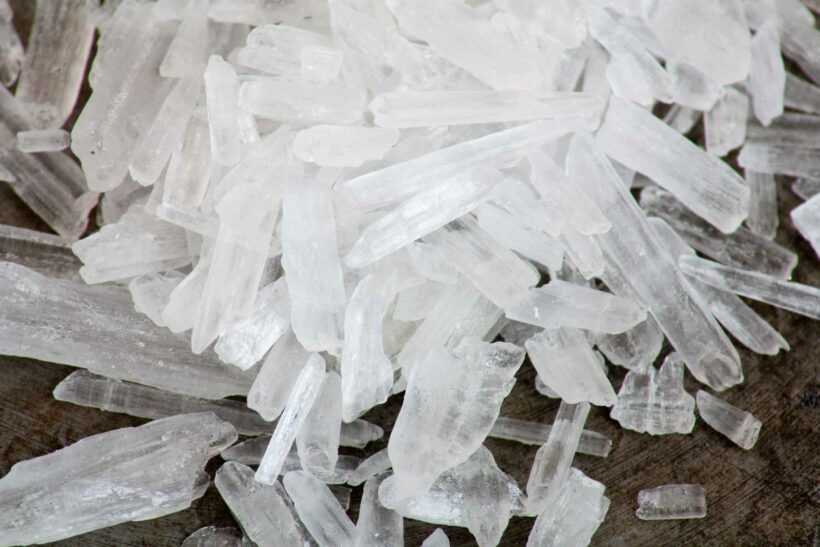 Phuket Provincial Police have arrested 6 people after finding large amounts of methamphetamine and other drugs during a raid. One suspect alone allegedly had 7.6 kilograms of crystal meth (ya ice) and over 12,500 methamphetamine pills (ya bah). 29 year old Surasak 'Bank' Wijit and 27 year old Panida 'Mei' Saeyang were arrested at an apartment car park in Soi Lookkaew, Moo 6, Rassada, in eastern Phuket, after they were found in possession of the drugs.
Police also found 2 mobile phones and a red Honda PCX, registered in Phuket, as evidence. Both suspects have been charged with posessing a Category 1 drug with the intent to sell.
Other suspects arrested at the same time include 36 year old from Chiang Rai, 42 year old Sarawut 'An' Srichanon, from Ranong and 31 year old Pornthep 'Iew' Thepchampa, who were charged with the same crimes in Chalong after police found more drugs in their possession. 33 year old Kamon 'Kung' Sae-ngow, was arrested as well after police found kratom juice and leaves at a house in Rassada. He was taken to Phuket City Police station and was charged with a Category 5 drug possession.
SOURCE:The Phuket News
Keep in contact with The Thaiger by following our
Facebook page
.
Never miss out on future posts by
following The Thaiger
.
Phuket Muay Thai fighter is the first Thai national to compete in UFC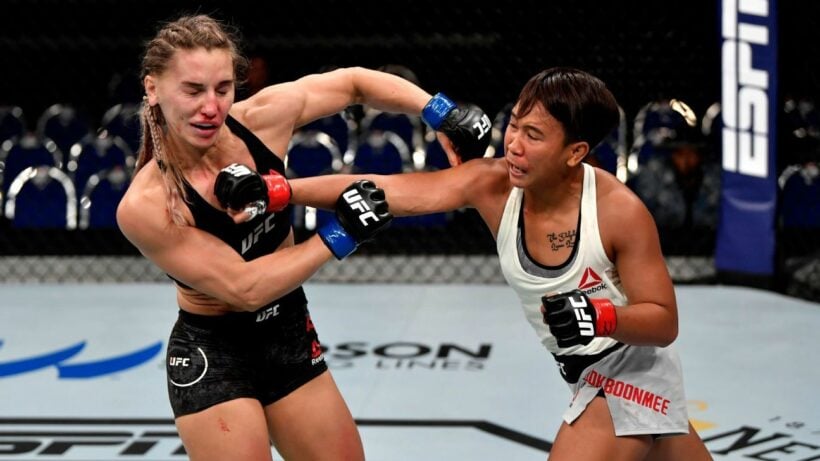 The upcoming Ultimate Fighting Championship Fight Night event in Abu Dhabi will feature Thailand's only national marking her third fight with the UFC, the world's largest mixed martial arts competition. 24 year old Loma Lookboonme, from Burirram in northeastern Thailand, will fight in the event on October 3, 2020.
Loma is a Muay Thai fighter who has adapted her MMA skills to fight in the UFC where she currently trains at the Tiger Muay Thai gym in Phuket. Loma qualified for the national team at the age of 19 and has fought in over 12 nations worldwide. She currently trains 6 days a week starting daily at 6:30am with a 3 kilometre run. In the UFC, she will be competing against China's Angela Lee who is the undisputed champion of the 52 kilogram fist weight category.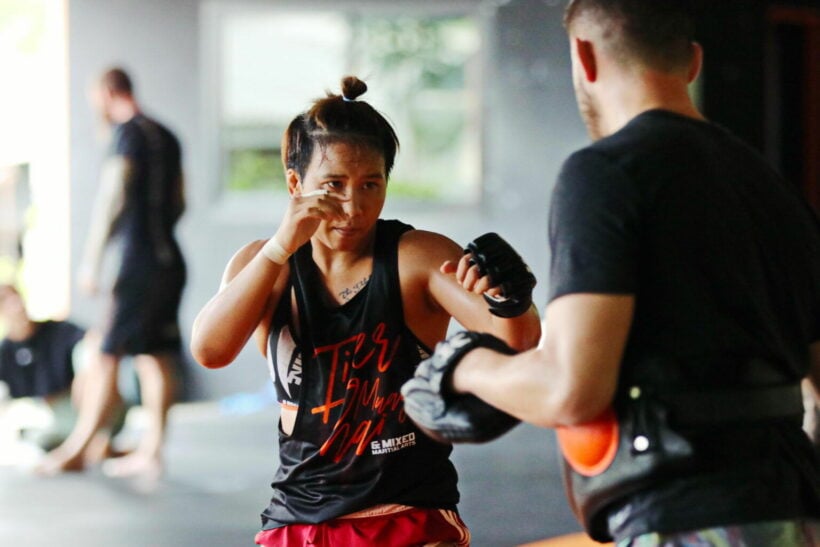 Loma's parents are former Muay Thai fighters and her 2 sisters currently compete as well. She reportedly started training at 8 years old after being inspired by her father, whom she describes as her "hero."
Like most Thais in such fighting sports, Muay Thai offers a way to rise out of poverty-and fighting for the UFC can be financially lucrative. But Loma says her only Thai sponsor is the gym where she trains, with the rest of her sponsors being from foreign brands. She says she is trying to get more Thai sponsors but feels that maybe she needs to win the UFC first before Thai brands notice her.
Loma lost her last fight and says her new opponent gives her nothing to lose. She says her goal is to get into the Top 10, but is not sure when it will happen. Loma says for now, it would be good to fight against someone in the Top 10 to help her prepare for her future.
FULL INTERVIEW: Thisrupt.co
Keep in contact with The Thaiger by following our
Facebook page
.
Never miss out on future posts by
following The Thaiger
.