Phuket Live Wire: Protect yourself from ATM skimming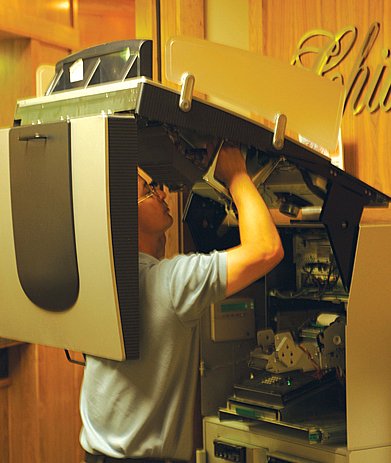 PHUKET: Recently the Gazette ran a story about ATM skimming, describing how two long-term Phuket residents lost hundreds of thousands of baht at the hands of clever thieves. The banks involved came up with good advice: use ATMs either inside or at the front of bank branches; use ATMs from major banks as they have better anti-tamper systems and beware of people milling about or offering to help with your transactions. But there is much more than you can do, and it isn't all that difficult.
Phuket's a magnet for ATM scammers because the island draws lots of well-heeled tourists. People on vacation are less likely to keep close tabs on their bank accounts and if they get ripped off they aren't likely to stick around to see the judicial process through. The bad guys know it. That means we who live here have to work all that much harder to protect ourselves.
ATM skimming is a world-wide phenomenon, and recently it's gone very high tech. There's a series of articles on the advanced toys now in use by computer security guru Brian Krebs at krebsonsecurity.com/tag/atm-skimmer. While most ATM cons rely on the old-fashioned guy looking over your shoulder routine, some are straight out of Buck Rogers.
There's a card insert in one of Brian's articles that fits inside a regular ATM card scanning slot: put your card in the bogus slot and as a magnetic stripe reader looks at your card number, a pin-size camera watches as you punch in your Personal Identification Number or PIN, and a Bluetooth connection transmits all of your card information to anyone nearby with the proper mods to a mobile phone. Unless you knew to look for it, you'd never see it. That's how sophisticated the technology is getting.
Bottom line: No matter how careful you are, there are ways to get your account number and PIN. Of course, you shouldn't tell anybody your PIN, you should make sure nobody's watching as you punch in your PIN, you should use ATMs in high profile locations… and so on. You should certainly choose a bank that notifies you by SMS every time your account has a transaction. But in the end, you have to accept the fact that no ATM technology is perfect.
So what can you do? Aside from getting rid of ATM cards entirely (which may be a good option for some people), is there a better way?
A friend of mine has a simple technique that he's used for years. Here's how it works.
He keeps two bank accounts, both at the same bank. Both accounts have online access, so he can log on and transfer money between the accounts any time. Both have SMS notification, so he gets an SMS every time more than 5,000 baht moves in or out of the accounts. But only one of the accounts has ATM capabilities.
He keeps a small amount of money – maybe 10,000 or 20,000 baht – in the ATM account. If he needs more cash, he logs on to the non-ATM account and transfers enough to the smaller ATM account, to cover whatever he'll need.
He keeps most of his money in the account that doesn't have ATM access. It's his main account. When people are going to transfer money to him, he has them transfer the money into the non-ATM account. When he sets up automatic payment for credit cards or electricity or telephone, those all go into his main account. The ATM account is just for cash, and it's only as full as it needs to be.
He's also very careful about logging on. He uses AI Roboform (roboform.com) or LastPass (lastpass.com) to manage his passwords, and changes his banking passwords frequently. He never logs on from public computers. And he logs on several times a week to both accounts, just to make sure nothing funny is happening with either of the accounts.
Paranoid? I don't think so. If you have an ATM card issued in a country that has strict banking laws that cover fraudulent use of the card, you're in luck. But if you need to work with the Thai banking system – where no such laws exist – taking precautions like that are not only reasonable, they're necessary.
Fortunately, the two people mentioned in the Gazette column last week managed to convince their banks to refund the stolen money. In one case, it took almost a year of complaints and threats of lawsuits by a very tenacious friend to get the money back. The banks involved deserve credit for making things right. But with no specific laws on the books in Thailand, there's no guarantee that the same thing will happen, should you end up tumbling down this particular rabbit hole.
How does your school use technology?

There's been a flurry of education-related computer announcements in the past few weeks.
Apple announced "the reinvention of the textbook": iBooks 2, a plan for getting electronic books into middle and high schools throughout the US and Europe; iBooks Author, a free program for writing and assembling books; and iTunes U App for distribution. The intent, ultimately, is to make textbooks electronic, with an enormous amount of potential upside for everyone except the entrenched textbook publishers.
At the Consumer Electronics Show in Las Vegas two weeks ago, the OLPC project finally revealed the $100 One Laptop Per Child device.In separate news, an Indian firm claims to have a similar device.
Wealthy school districts all over the world are rolling out tablets (primarily iPads but also Androids) in the classroom. Many of them are working on a bring-your-own model. This kind of grass-roots approach is a big challenge to teachers who aren't comfortable with the technology. It's also a direct assault on long-established educational programs which rely on proprietary software for classroom activities – electronic whiteboards, interactive curricula.
In 2010, though, the University of Bristol published a report stating that 10- to 11-year olds with more than two hours of screen time a day show "higher psychological difficulty scores."So the adoption of tablets – technology in general – in the classroom isn't universally recognized as a good thing.
I'm curious. How is your school using computers? Is it working now, or in the planning stage? Write to me. I'll devote a Live Wire column to the topic in the near future.
With Woody hunkered down writing a book, the weekly Computer Clinics are taking a new turn. Until Woody emerges with an 860-page copy of "Windows 8 All-In-One For Dummies" under his arm, around May or June, Seth Bareiss will hold computer sessions every-other Wednesday afternoon, from 1 to 3pm. If you have a Windows problem that needs to be solved, drop by one of Seth's free afternoon sessions at the Sandwich Shoppes. Details in the Phuket Gazette Events Calendar.
Sponsored by the Phuket Gazette and Khun Woody's Sandwich Shoppes.
Live Wire is Gazette columnist Woody Leonhard's weekly snapshot of all things internet in Phuket.
Follow him on Twitter: @PhuketLiveWire; "like" pages at facebook.com/SandwichShoppe; and facebook.com/phuketgazette.net.
— Woody Leonhard


Read more headlines, reports & breaking news in Phuket. Or catch up on your Thailand news.
What to do in Phuket – A Unique Guide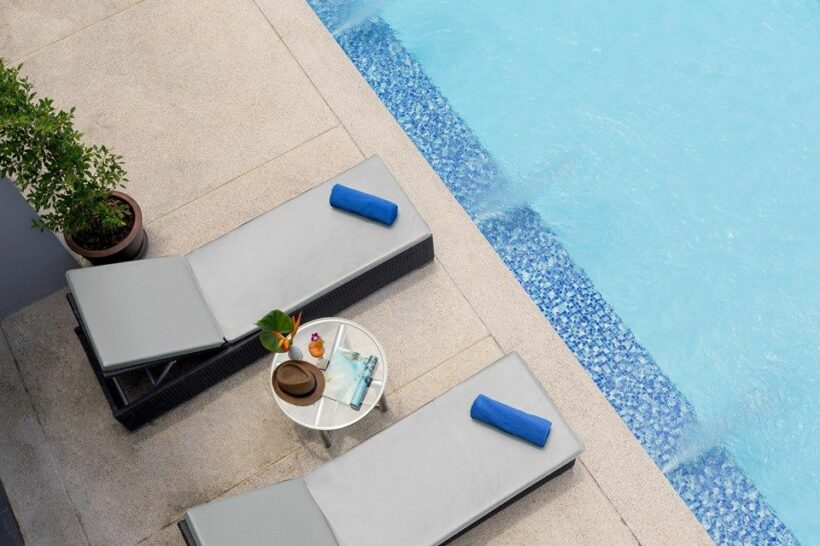 A modern Holiday Membership Club with its flagship office at the luxurious Patong Bay Hill Resort on Hasibpee Hill, Club Unique offers members an endless choice of possibilities as well as an almost limitless array of luxuries across a global platform. While a stay with Club Unique is exceptional in itself, the staff are eager to offer members & guests insight into local experiences in order to take full advantage of all that Phuket truly offers. 
Here, we offer up a Unique Guide on What To Do in Phuket. Whether it be a local temple or a famous landmark, we urge you to get out and explore some of our favorite spots when staying with us at Club Unique in Phuket. 
A Visit to Phuket Old Town
Phuket Old Town is an interesting journey back in time to Phuket's heritage of tin mining, away from the fast-paced lifestyles of today. It is worth taking a wander around the Old Town to admire the stunning Sino-Portuguese shophouses and architecture. Don't forget to bring your camera!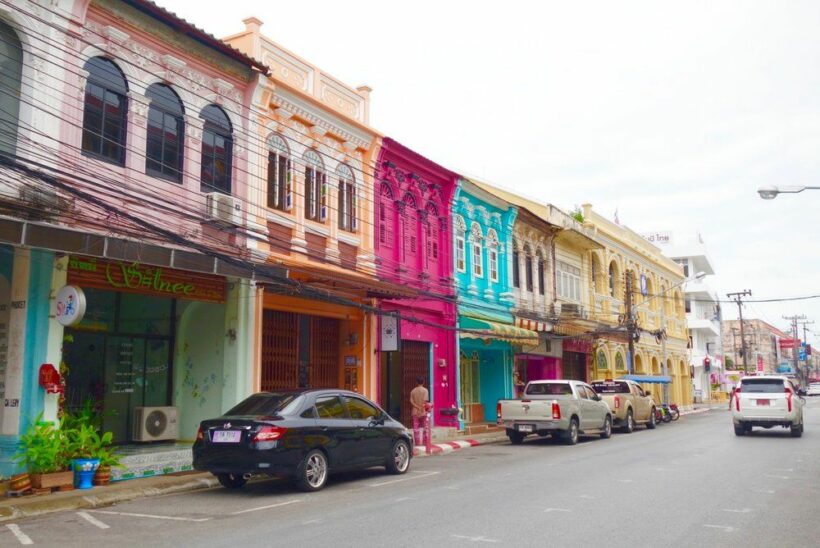 Phuket Thai Hua Museum
Originally the first Chinese language school on the island, Phuket Thai Hua Museum is located on Krabi Road. It is one of the most-preserved of all of the original colonial-style buildings in all of Phuket Old Town. The museum consists of 13 rooms that feature exhibitions in both English and Thai languages. All of the displays are a walk through history and connect the dots between the Phuket and China relationship that started in the tin mining days.
Big Buddha
Without a doubt Phuket's shining star, the Big Buddha is Phuket's ongoing man-made attraction. Also known as Ming Mongkol Buddha, the statue is perched atop a 380 metre hilltop in the Nakkerd Hills between the Chalong and Kata neighborhoods. 
This structure was dedicated to the late HM King Bhumibol Adulyadej in honor of his 80th birthday. There is also a smaller Brass Buddha that is 12 metres high and constructed of 22 tonnes of brass, which is dedicated to HM Queen Sirikit. 
Big Buddha offers stunning 360 views over Phuket and is a must-see while visiting the island.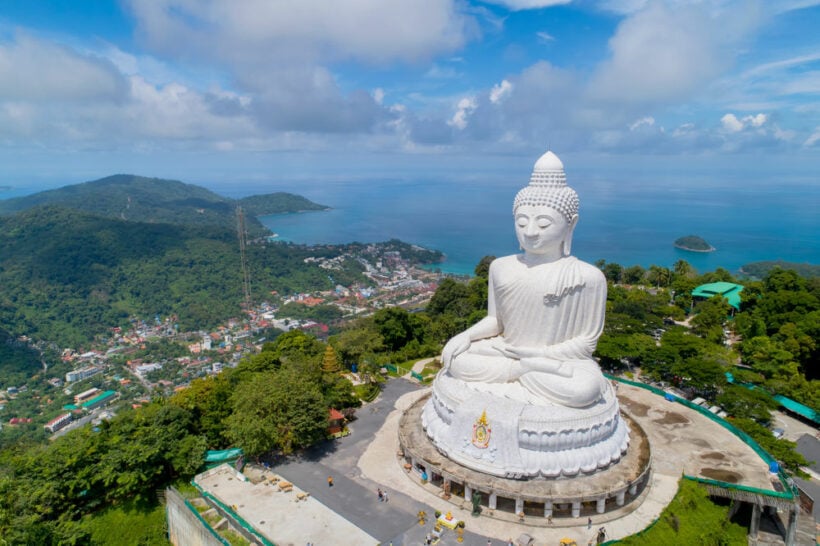 Karon Viewpoint
The winding coast road between Kata and Nai Harn has some lovely scenery. Just two kilometers along it from Kata is Karon Viewpoint. There is a small car park, a couple of shops and a pavilion from which to enjoy the view. 
If you climb the steps to the top of the pavilion, you have a wonderful view north across three of Phuket's best beaches. 
The nearest beach you can see is Kata Noi,in the next bay is the sweeping Kata Beach. In the distance, you see the long stretch of Karon Beach, if you keep driving south on this road, you will pass Nai Harn Beach and then reach Promthep Cape. 

Wat Chalong
Built at the beginning of the nineteenth century during the reign of King Rama II, Wat Chalong is the most important of the 29 Buddhist temples in Phuket. The temple contains several structures and halls. One of the halls features a gilt-covered statue of the famous and revered Luang Poh Cham statues of Luang Poh Chuang and Luang Poh Gleum, all ex-abbots of the temple. The Grand Pagoda is decorated with wall paintings depicting the Buddha's life story and features various Buddha images. 
Phuket Elephant Sanctuary
Phuket Elephant Sanctuary is an elephant retirement home set on 30 acres of stunning forest bordering the Khao Phra Thaeo National Park in north east Phuket. 
Phuket Elephant Sanctuary is the first elephant sanctuary on the island pioneering ethical elephant tourism. The sanctuary rescues sick, injured and old elephants who have spent their entire lives working long, exhausting hours in the logging or tourism industries. A visit offers a unique experience observing retired working elephants rehabilitate into forest life. To be in the presence of an elephant is simply breathtaking and a day at Phuket Elephant Sanctuary will leave you captivated by how incredible the largest land mammal on earth truly is. 
To learn more about unique things to do while holidaying in Phuket, visit Club Unique at our flagship office in Hasipbee Hill in Patong, just minutes away from fantastic Patong Beach.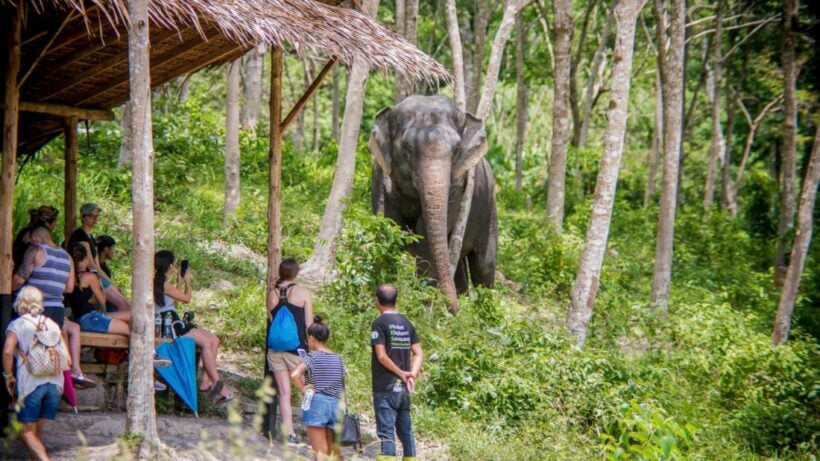 UPDATE: Suspects arrested over ambulance attack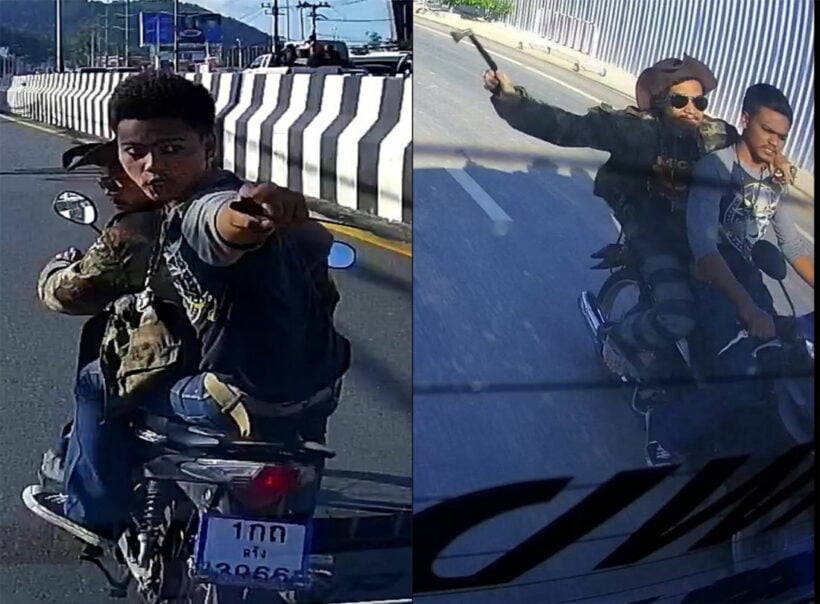 Phuket police today have arrested suspects who attacked and harassed an ambulance and the driver.
The suspects tried to stop the ambulance and were captured on video attacking the ambulance whilst chasing it along Phuket's roads. Read more about the attackers HERE.
Police today have arrested two suspects following their attack on the ambulance and drivers this week after the issue was viral in social media today. The pair, and their motorcycle, were easy to identify.
Police are now questioning the two over the incident and will be pressing charges.
Local social media has been very vocal over the incident…
"A few nights in a cell… attacking emergency personnel is the lowest of the low."
"Throw them in the prison for 10 years and let them grow up the hard way."
"Punks, a lack of parental discipline, no respect. I personally think parents should be held responsible for their childrens' actions."
Phuket police hunting for suspects who attacked an ambulance – VIDEO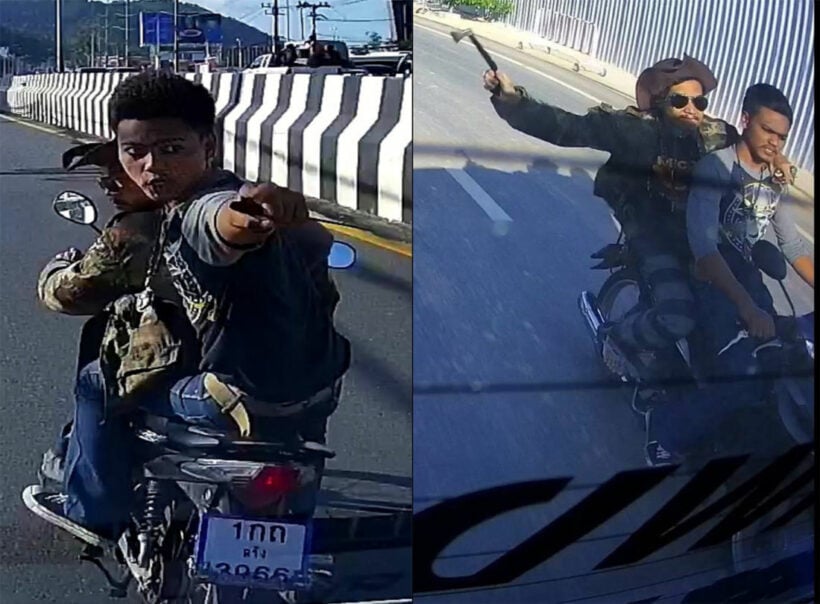 VIDEO: Detnarong Songsang
Phuket police are hunting for suspects who tried to stop an ambulance and attack rescue workers. They have good photos of the attackers and say it will be easy to track them down.
The Wichit Police were notified of the incident earlier in the week. 41 year old Detnarong Songsang, a rescue worker, was driving the ambulance through the Darasamut Underpass.
Two suspects on a motorbike chased after the ambulance when the rescue worker driving the vehicle beeped their horn at them. One of them threw a solid item at the ambulance and then tried to use a sharp steel rod to stab at the driver and damage the ambulance.
The driver had to speed up the ambulance and headed directly to a police station to reported the incident to police.