Phuket Live Wire: Don't lose that number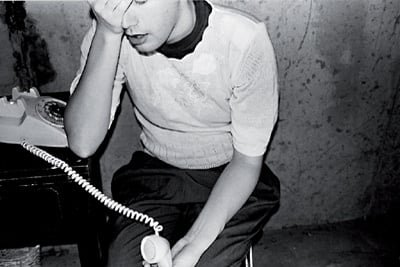 PHUKET: In the past few Live Wire columns I've tried to answer some of the questions I hear frequently about computers, phones, tablets and TVs in Phuket. Here's the next common question – and, surprise, it has a good solution.
"Woody, I want to get a 3G phone (or I want to get 3G service on my current phone), but I don't want to change my phone number. Is that possible in Phuket? I have a DTAC telephone number, and I want to use that number on my new iPhone 4S. Are there any problems?"
The short answer: yes, there are lots of problems, unless you switch your telephone number from DTAC to AIS or Truemove. A year ago, switching phone numbers from one carrier to another was difficult, if not impossible. If you had a number that was issued by True, for example, you were stuck with True, unless you wanted to change your phone number. Now, switching carriers is easy, and you can keep your current phone number, if you know the tricks.
First, let's look at why you might want to change carriers. There are currently three "3G" companies in Phuket: AIS, Truemove, and DTAC. Within a month or two, CAT should be in the game, too.
These are some common reasons why you may want to switch carriers:
AIS has a good network, based on TOT's 900 MHz HSPA technology. Unfortunately, if you have an iPhone 3G, 3GS or original iPad (some call it the iPad1), your phone or pad won't work on the AIS network. You can use the phone for voice calls, SMSs and slow GPRS/EDGE data – but you can't get 3G. That list isn't exhaustive and other phones and tablets won't work on the AIS/TOT network. If in doubt, go to gsmarena.com and look up your phone. If gsmarena.com doesn't specifically list 900 MHz HSPA (or HSPDA) support, AIS's 3G won't work with your phone.
The Truemove-H network runs on CAT's 850 MHz HSPA+ technology, and it also works well in almost all parts of Phuket. But if your phone doesn't speak HSPA or HSPDA at 850 MHz, you need to drop Truemove, for example, the original Samsung Galaxy S can't pick up a 3G signal on the Truemove-H network, and there's nothing you can do about it. The iPhone 3G, 3GS and iPad1 all work with Truemove, as do the iPhone 4 and iPad 2. Again, check with gsmarena.com if you have any doubts.
I've heard a lot of complaints about the DTAC 3G network. As best as I can tell – DTAC doesn't publicize the details – the DTAC 3G network only works in Patong, Kamala and some parts of Phuket Town. If you have a phone with a DTAC number, buy a new iPhone or Android phone and want to use 3G in most parts of Phuket, then you have to switch to either AIS or Truemove.
All of this sounds ridiculously complicated I know. 3G technology has a long and tortured history in Thailand, resplendent with powerful people, lots (and lots) of money and a succession of governments that haven't been able to get their 3G act together. The bottom line is that some phones and pads work on AIS, some work on Truemove, some work on both, and there's nothing you can do about it. If you want 3G service, you have to switch to whichever carrier can talk 3G with your phone or tablet.
Remember that I'm specifically talking about 3G. If you have a DTAC number, for example, your phone undoubtedly works all over Phuket – all over Thailand, and even to the outlying islands, no sweat. If you have a 3G phone and DTAC service, you're fine, as long as you don't want to use the 3G. But if you need the speed of 3G and you're not sitting in one of DTAC's limited service areas, you'll be dropped back to a much slower connection.
I bet they never told you that, huh?
Now for the good news. You can switch carriers without changing phone numbers. About a year ago Thai legislature enacted a law that required carriers to implement something called Mobile Number Portability. There's now
a clearinghouse set up that manages the transfers and I can tell you, firsthand, that it works.
The process is basically the same for pre- and postpaid accounts. Here's the easy way to do it:
1. Go to your current carrier. Make sure your bill is paid, and verify that they have your correct name, address, passport and work permit numbers and/or Thai ID number.
Any of the carrier's offices should be able to get everything set for you (for AIS, go to Telewiz).
2. Go to your new carrier. If you're transferring to Truemove then you need to go to the True office downtown, next to Ocean Center and Robinson.
For AIS, I would suggest going to the main office on Thapae Road.
3.Tell the new carrier that you want to switch carriers from the old one to them. They will have you fill out a form that's similar to (if not identical to) the form you fill out when you get a new phone number. Make sure they get your name spelled correctly, have the right address and that the passport/work permit/ID numbers you give them match the ones at your old carrier. You will have to pay 99 baht for a new SIM card and may have to pay a month's advance billing if you have a pre-paid account.
4.Wait…
Some people get their number transferred in a day but for some it takes two to four days. When the transfer's complete, you'll receive an SMS saying that every thing's ready. Slip the old SIM card out of the phone, and put in the new carrier's SIM card.
You're done.
With Woody hunkered down writing a book, the weekly Computer Clinics are taking a new turn. Until Woody emerges with an 860-page copy of "Windows 8 All-In-One For Dummies" under his arm, around May or June, Seth Bareiss will hold computer sessions on every-other Wednesday afternoon, from 1 to 3pm. If you have a Windows problem that needs to be solved, drop by one of Seth's free afternoon sessions at the Sandwich Shoppes. Details are in the Events Calendar. The Computer Clinics are sponsored by the Phuket Gazette and Khun Woody's Sandwich Shoppes.
Live Wire is Phuket Gazette columnist Woody Leonhard's weekly snapshot of all things internet in Phuket.
Follow him on Twitter: @PhuketLiveWire; "like" pages at facebook.com/SandwichShoppe; and facebook.com/phuketgazette.net.
— Woody Leonhard

Join the conversation and have your say on Thailand news published on The Thaiger.
Thaiger Talk is our new Thaiger Community where you can join the discussion on everything happening in Thailand right now.
Please note that articles are not posted to the forum instantly and can take up to 20 min before being visible. Click for more information and the Thaiger Talk Guidelines.