Phuket Live Wire: To 3BB or not to 3BB?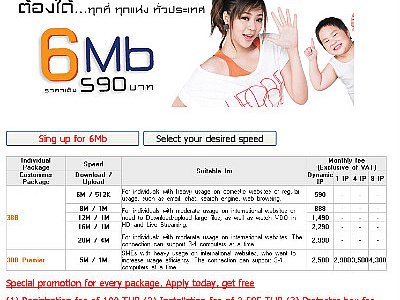 PHUKET: I'm tired of paying so much for ADSL. I have ADSL lines in three of the four Sandwich Shoppes (CAT EV-DO in Villa Market), plus one in the bakery and two in my home office. That's six ADSL lines.
For years I've been using the TT&T, then 3BB, MaxNet Premiere 4 Mbps service. For years, I've been paying almost 2,600 baht per line per month – more than 15,000 baht a month for ADSL.
About a year ago, I switched one of the lines at my home office over to True 10 Mbps. It costs half as much as the 3BB Premiere service, and the international download speeds are twice as fast.
In December, I switched the line at Sandwich Shoppe Laguna to the 3BB Indy 12 Mbps package, for 1,600 baht per month.
Last month, I decided to try a little experiment. I turned in three of the 3BB MaxNet Premiere lines, and the 12 Mbps line, and traded them all for 3BB 6 Mbps "Indy" lines. My ADSL bill went from 2,600 baht per line (1,600 baht for Laguna) to 590 baht per line.
The folks at 3BB said I would be sorry. The MaxNet Premiere line is the best service they have, the sales clerk said. It has a fixed IP address, and everybody who's serious about Internet in Phuket needs a fixed IP address.
MaxNet Premiere has a maximum of 10 users per line. And, besides, the cheap Indy lines won't even connect to overseas – they're only for use inside Thailand. That's what the lady said.
Er, right.
Here's the facts.
Nobody in their right mind needs a "fixed IP address" in Thailand. A fixed IP address is a prerequisite if you're going to run a web server in your home or office, facing directly onto the internet. But who would run a web server in Thailand? (Well, OK, the big banks in Bangkok run web servers in Thailand. But Thai Air doesn't have its server farm in Thailand – they're based in Colorado.)
It's much easier to spend US$10 a month and get a server someplace with reliable connections and big bandwidth. You don't need a fixed IP address in Phuket.
While it may be true that 3BB "Premiere" service limits each DSLAM (that's what the box on the telephone pole is called) to 10 lines, there's no guarantee that those 10 people will use their connections gingerly. You may well get better speeds with the 20-line Indy service, unless one of your 20 neighbors likes to download torrents at the wrong times.
And as far as accessing international web sites, sorry, but if you can get to a site inside Thailand, you can also get to sites outside of Thailand. The internet doesn't care where you're headed. Anyone who tells you otherwise doesn't know what they're talking about.
Here's what I found. All of these times are international download speeds, measured using our regular test at phuketinternetspeed.com
Home office Patong: Expensive line average 6.1 Mbps. Cheap line average 3.1 Mbps.
Sandwich Shoppe Patong: Expensive line average 4.1 Mbps. Cheap line average 6.2 Mbps. Yes, the price went way down, and the speed went way up.
Sandwich Shoppe Laguna: Expensive line (Premiere 4 Mbps) average 4.1 Mbps. In December, the cheaper (Indy 12 Mbps) line averaged 5.9 Mbps. In February, the very cheap line (6 Mbps) average 4.7 Mbps.
Sandwich Shoppe Chalong: Expensive line average 4.0 Mbps. Cheap line average 3.4 Mbps.
You can slice and dice those numbers many different ways, but the bottom line to me is that there's very little difference in speed between 3BB's MaxNet Premiere 4 Mbps package and its Indy 6 Mbps cousin – at one-fourth the cost.
Take a look at the numbers for yourself. They're posted on the Phuket Internet Speed reporting site, www.phuketinternetspeed.com. While you're there, sign up and start posting your speeds, too.
Sometimes you don't get what you pay for.
Computer Clinic
The next Phuket Computer Clinic meeting will be this Sunday (March 13) from 10am to midday at Sandwich Shoppe Laguna, near the entrance to the Laguna complex. Look for us in the newly renovated (and almost complete) Meeting Room, at the back. Sponsored by the Phuket Gazette and Khun Woody's Sandwich Shoppes.
Facebook 101
Able Wanamakok will be conducting a series of three seminars called "Facebook 101" starting on March 19. The free seminars will meet every Saturday at 10am at The Meeting Place in Sandwich Shoppe Laguna.
Each session is limited to 20 participants. To sign up, go to www.facebook.com/SandwichShoppe and on the left click the link marked Facebook Seminar.
For news updates about computers in Phuket, follow me on Twitter: @PhuketPC
Live Wire is IT guru and Phuket Gazette columnist Woody Leonhard's weekly snapshot of all things internet in Phuket.
— Woody Leonhard

Join the conversation and have your say on Thailand news published on The Thaiger.
Thaiger Talk is our new Thaiger Community where you can join the discussion on everything happening in Thailand right now.
Please note that articles are not posted to the forum instantly and can take up to 20 min before being visible. Click for more information and the Thaiger Talk Guidelines.