Phuket
Phuket King's Cup Regatta: Light winds lead to tricky, tight racing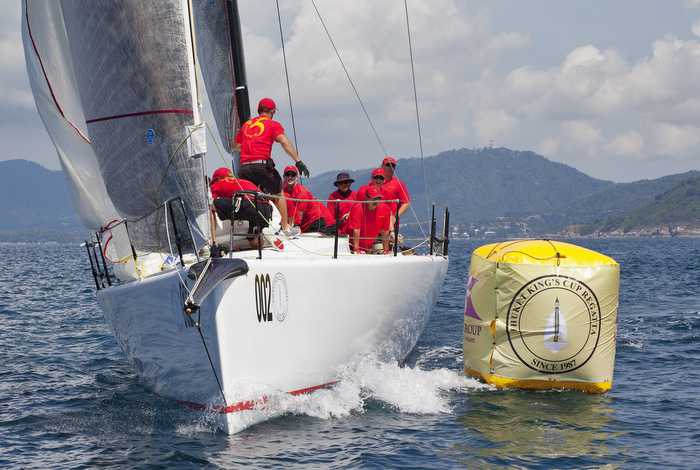 PHUKET: Following Day One's extremely close racing, Day Two of the Phuket King's Cup Regatta served up a trickier challenge to crews in the form of very light wind conditions.
All of the classes were fought in close-quarters positions, reflecting well on this year's revised class structure, which was designed to encourage very tight and visually impressive racing action.
Karl Kwok's Team Beau Geste continued their awesome form with another win in ICR 0 class Race 4. Yet the 13-man crew on Neil Pryde's advanced HiFi racer came back strongly to win Race 5, making this year's IRC 0 a constantly evolving spectacle.
"The first race we were a little unlucky on the last beat to windward, doing well against the handicap but fell out of a breeze, enough to make a difference. In the second race we won the start, and worked well up the front of the lap," explained Pryde, a four-times King's Cup winner.
"It was very close between us and Team Beau Geste, and will be all week. We're quite happy with light conditions; our boat is designed for conditions up to ten knots, so we hope it continues! The heat was a challenge today, a definite electrolyte day! It was very hot!"
Winkelmann's Island Fling came home with another win to consolidate their great early form in IRC 1. Malaysian team Uranus were second on adjusted times in a tight pack. This is a very open group with wins that could come from many directions, with Wan Ma Rang and EFG Mandrake looking for faster days throughout the rest of this week. Winkelmann's crew claimed another victory in Race 5, with Mandrake about a minute behind on corrected times.
TBG Team Premier is the early pace-setter in IRC 2, and continued their good run with another two wins on Tuesday. Bill Bremner's Foxy Lady team finished third and second, with challengers WindSikher claiming the runner-up and third place slots in the two respective races. This is a class split literally by seconds, with a lot more action to come as the week unfolds.
"Very light air today, so very demanding," said Hannes Waimer, skipper of TBG Team Premier.
"We are learning the boat, and sailed it for the first time on Sunday.
"The boat is from 2005, but we chartered it from Hong Kong, arriving on Thursday evening. We took the boat over Thursday and made it ready to go. The core team is always the same; the 10 people I sail with are professionals and friends. We sailed together for 10-12 years, so no crew work issues – a well-oiled machine, just learning the specifics of the boat.
"The King's Cup is the best event in Southeast Asia; the weather, organization, the people – everything is amazing, such a great job."
Aussie team Foreign Affair won Race 4 in IRC 3, with Team Kata Rocks 1 skippered by Peter Dyer in second place. Thailand's Royal Thai Navy 1 skippered by CPO.1 Wiwat Poonpat took third place, as they try to establish consistent form heading into the second half of the Regatta. Race 5 went to Foreign Affair also, although it was anything but an easy win with a few minutes separating the top half of the competing fleet.
Race 3 in Premier class, resplendent with its big, beautiful fleet of nine craft, saw Andy Cocks and Starlight claim the win, with Pine-Pacific managing second place. With Starlight's two runner-up finishes on Monday, these two teams look utterly each other's equals – one to watch for the rest of the regatta.
Bareboat Charters were split into two classes this year (A and B) due to the sheer size of the fleet. Andrey Duvanov on Uhuru beat his compatriots on Isabella to win their race in Charter A, while another Russian team, Sarawadee, took the B Series.
Tony Pfeiffer's Kata Rocks 3 romped home in the top slot among the Open Charter class with a long, hard run through the slower conditions. The Australian team beat rivals Sailplane, another King's Cup regular competitor.
Voodoo skippered by Hans Rahmann took Race 4 of the Firefly 850 Sports class, the German team ahead of all three British rivals. Six minutes covered all competitors, with this series wide open for several 2014 glory claimants. Race 5 went to Kata Rocks, the Thai entry in this five-boat class, with Advance Racing just eight seconds behind on corrected times.
Of the Multihull Racing entrants, Alan Carwardine's Asia Catamarans Hurricane took the win by a wide margin, establishing the pace for the class with superb early form. Asia Catamarans' second entry, Java, placed second, mirroring exactly the results from the first day; that is, four wins for Hurricane, four runner-up spots for their rivals.
In Multihull Cruising, there are just two registered vessels, resulting in a division that sees Russia versus Japan. Masami Yamashita's crew on Minnie came home almost eight minutes (four minutes corrected) in front of Star Fruit – a comprehensive rebuttal in response to Monday's results.
Amongst the remaining classes, New Zealand team Farrgo Express emerged as a new winner in Modern Classic, Lady Bubbly proved once again to be the fastest Cruiser, and SY Ravensong quickest of the Classics. At the time of writing, Modern Classic and Cruising classes were still subject to ongoing protest decisions.
All results are provisional and subject to any protests filed.
For the full results, visit www.kingscup.com
Inaugurated in 1987 to celebrate the 60th birthday of His Majesty the King of Thailand, the event has been held during the first week of December every year since.
Under Royal Patronage, the Phuket King's Cup Regatta is organized by the Phuket King's Cup Regatta Organizing Committee under the auspices of the Royal Varuna Yacht Club, in conjunction with the Yacht Racing Association of Thailand, the Royal Thai Navy and the Province of Phuket.
Sponsors of the 2014 Phuket King's Cup Regatta include Kata Group Resorts Thailand, PTT Global Chemical, Jaguar Land Rover, FINCA de MALPICA by Siam Winery, Singha Corporation, and Haadthip PLC. Media Partners include Phuket Gazette, Phuket Today, Sail-World.com, SEA Yachting, YachtStyle Asia, Prestige, Real Life Magazine, The Guide Phuket, Image Asia, Art & Culture, and Phuket Marine Guide.
This event is proudly sponsored by the Phuket Gazette and PGTV's nationwide 'Phuket Today' show, which broadcasts daily on True Visions channels 85 and 59.